What to Look For in an Outdoor TV
These television sets can stand up to sunshine and moderate weather, but picking one takes some know-how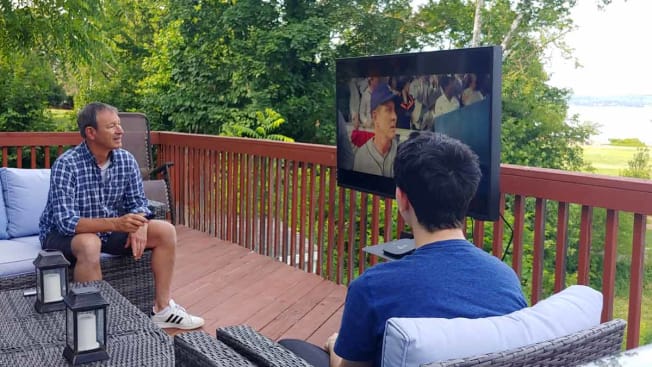 Spending time outdoors and watching TV are mutually exclusive activities for most of us—but they don't always have to be.
For the past few days, my family has been spending time out on our deck using an outdoor TV we borrowed from Consumer Reports. And we found a lot to like in the experience.
You can catch a baseball game out in the sun, just like you'd do at the ballpark, or see a blockbuster movie under the stars, as though you were at a drive-in. Depending on where you live, an outdoor TV might make sense for just a few months each year, or in every season.
Outdoor TVs have always been expensive, but prices have been dropping in recent years, even as screen sizes have increased. Prices start around $1,500 for a 55-inch model, or twice that for a top-tier television from a major brand. Just a few years ago, an outdoor TV this size would have cost at least twice as much. The options get pricier if you move up in screen size, or choose a TV that is easy to watch in direct sunlight.
Taking Outdoor TVs for a Spin
Our two sets were the Samsung QN55LST7T and the Furrion Aurora FDUP55CBS. We didn't do the kind of full, exhaustive testing we apply to the televisions in our ratings, but we did examine them both in our labs and at an outdoor area at our headquarters in Yonkers, N.Y.
Since I've never owned an outdoor TV, I brought the Samsung home for a long weekend to get better acquainted with how it worked.
We found that the two TVs were similar in several ways, but we also saw stark differences, beyond the $900 disparity in their prices.
Both TVs, for example, have well-constructed enclosures to protect against the elements. They both have special rectangular compartments on back, with doors that block the TVs' connections and power cord from the weather. This extra protection makes the TVs both bulkier and considerably heavier than regular TVs. Each of the sets weighed about 65 pounds, compared with about 40 pounds for regular 55-inch LCD TVs in our ratings.
The Samsung TV is about twice as thick as the Furrion model, though its narrower bezel gives it a sleeker, more stylish and modern look when viewed head-on.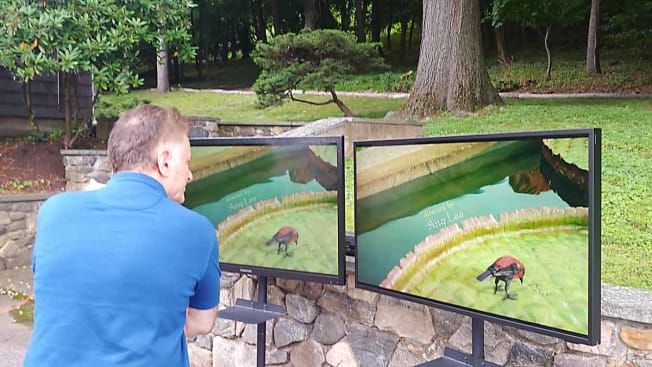 Both of these outdoor TVs required a setup beyond their default settings. The Furrion's default picture setting was User, while the Samsung's was Standard, although they both offered higher-brightness preset modes such as Dynamic. Those settings can be a good idea during the brightest part of the day, but they tend to make colors look oversaturated, crush black and white shadow detail, and make images look oversharpened. (Learn about the TV settings that deliver the ultimate picture quality.)
The manufacturers of both sets recommend using them in partial sun, and caution users to avoid sunlight shining directly on the screen. The expectation is that you'll be able to place them in a shaded area, such as beneath a patio roof. (There are other TVs designed for use in direct sunlight.)
Even a casual examination of the sets reveals that the Samsung Terrace is the more full-featured option. It's a 120Hz QLED TV, and like regular, indoor QLED sets it uses quantum dots for an extended range of colors.
It has a full-array LED backlight with local dimming, which can help improve blacks and contrast. It's also a smart TV with access to a lot of streaming services, and it has voice capabilities, thanks to built-in support for Amazon Alexa, Google Assistant, and Samsung's Bixby digital assistant.
By contrast, the Furrion Aurora is a basic 60Hz TV without any local dimming, and it lacks smart TV features. So if you want to stream movies and TV shows, you'll need an external streaming player, such as an Apple TV or Roku. If you want to use a stick-style player that plugs directly into an HDMI port, you'll need to keep the connections door open to keep the WiFi signal from being degraded. It also lacks Bluetooth audio, a feature found on the Samsung set.
And while both sets are 4K TVs that support high dynamic range content, the Samsung supports the HDR10, HDR10+, and HLG formats, while the Furrion is limited to HDR10.
The Furrion set also has a more primitive user interface and menu; in fact, it appeared to be identical to the ones we see on less expensive Westinghouse TVs. It also had fewer options for optimizing the picture. For example, the tint control was grayed out, so we weren't able to get skin tones as accurate as on the Samsung.
One plus was its remote control, which, while not as stylish as the Samsung remote, had a higher IP67 rating—the Samsung's is IP54—so we'd be more comfortable leaving it outdoors during bad weather. (See below for information about IP ratings.) Also, the remote is magnetized, so it attaches to the TV's cabinet for safekeeping.
After only a few moments of viewing, it was also pretty clear that the Samsung Terrace TV was the better overall set. For one, in its out-of-box setting (Standard), it was noticeably much brighter than the Furrion, with better contrast and more vivid colors.
This higher brightness was confirmed in our labs when we measured both TV's brightness with a full-field test pattern. The Samsung hits 1700 nits, while the Furrion measures 700 nits. While this extra brightness isn't always apparent with normal video content, it does enable the Samsung to offer brighter, more detailed images and more vibrant colors. Though we didn't test this, that extra peak brightness should allow this Samsung outdoor TV to produce an engaging HDR experience.
When we took the sets outside, we noticed the Samsung's screen did a better job of absorbing light; the Furrion set was more reflective, which made images look a bit washed out. And while both of these outdoor TVs had relatively narrow viewing angles, the Samsung set did a bit better maintaining picture fidelity when the TVs were viewed at an angle.
We also found that the sound was much better on the Samsung, both in terms of power and sound quality. We struggled to hear dialog on the Furrion at a normal 8- to 10-foot viewing distance but didn't have this issue with the Samsung.
Our unanimous feeling was the that the Samsung set's superior performance, more robust feature set, and higher IP rating justify its higher price.
What to Consider When Buying an Outdoor TV
Think about where the TV will be placed, and whether it can be properly shaded from the direct sun. Outdoor TVs come with recommendations for full sun, partial sun, partial shade, and full shade. Where it's placed can also affect how much of weatherproofing the TV needs. Finally, you'll also need to know that the TV can safely operate within the temperature ranges in the area where you live.
Let's start with weatherproofing.
IP Ratings
All outdoor TVs—and many other products, such as portable speakers and fitness trackers—carry an IP, or ingress protection, rating. These two-digit codes are set by an international standards organization called the International Electrotechnical Commission. The first digit indicates how well the set protects against intrusion by things like dust, dirt, blowing sand, and even insects, while the second reflects how well it guards against water and moisture. The Samsung set we bought has an IP rating of 55, while the Furrion's is IP54.
Intrusion protection basically lets you know how tightly the casing encloses the TV. The ratings scale goes from 1 to 7, with one being no protection (the enclosure is basically open) and seven indicating that the TV is completely sealed and dustproof. The 5 rating for the two TVs in our lab indicates that nothing bigger than 1mm (about 3/64 inch) can get through the enclosure.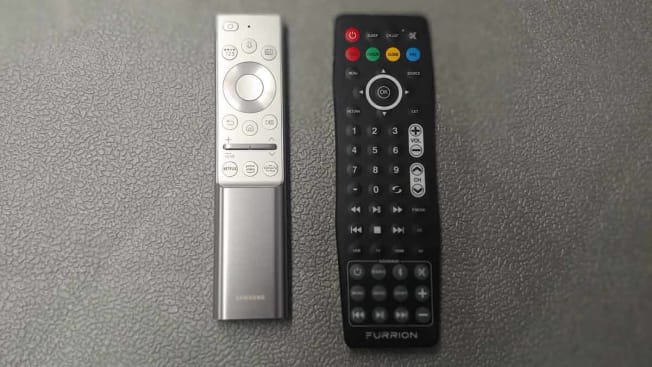 The moisture protection scale is similar, but it has nine levels, ranging from 1 (no protection) to 9 (completely submersible in water under pressure, for extended periods of time).
Obviously, a TV placed under a patio roof or veranda won't require the same degree of protection as a TV placed out in the open, where it's susceptible to heavy rainstorms, splashes from a pool, or sprays from a sprinkler system. The Samsung set has a moisture rating of 5, meaning it's protected from water spray coming from any direction. The Furrion has a lower 4 rating, meaning it's safe from water that comes from above, regardless of angle, as well as from condensation.
For most consumers, an outdoor TV should have 5 or 6 as its first number, and a 4 to 6 rating for moisture, unless you have a unique need for a TV that can be completely submerged.
Temperature and Amount of Sunlight
Your TV will also need to be able to safely operate within the upper and lower temperature limits of your region. Most outdoor TVs we've seen have fairly wide temperature ranges.
For example, Samsung says the set we bought can handle temperatures ranging from -22 to 122° F, while Furrion says its set can survive temperatures from 4 to 122° F. If you live in a more extreme weather region, you may need a set that can handle the outer limits of these ranges. Even if you won't be outdoors in that type of weather, your TV will.
You'll also need to match your outdoor TV to how much sunlight you expect it to receive. Both of the sets we tried are for "partial sun," according to their manufacturers. That means they should have some degree of anti-glare protection, as well as sufficient display brightness for this type of viewing.
The expectation for these sets is that they'll be placed in a shaded or covered area, such as under an eave, a patio roof, or a pergola, away from direct sunlight hitting the screen. "Full sun" models typically cost substantially more, so it's worth trying to find a location that offers some shade.
But remember that, ultimately, these are also TVs, so factors like screen size, picture and sound quality, viewing angle, and whether it's a smart TV will also matter. If you intend to stream movies and TV shows, you may want to get an outdoor router, or place a mesh router close to your viewing area.
Also, as we found out, most outdoor TVs don't some with stands or mounts, so you'll need to buy one separately. These TVs are considerably heavier than regular sets, so you'll want to choose an outdoor-rated model that can support that heavier weight and stand up to the elements.
One last thing: To prolong the life of your set, it's not a bad idea to get an outdoor TV cover that can add protection when the TV isn't in use. It can help keep dust and debris—not to mention insects, birds, and small critters—out of the TV, especially in the winter. Be sure to get one that matches the size of your TV,