Best Waterproof Wireless Outdoor Speakers
These rugged, go-anywhere models from Bose, JBL, Sonos, Sony, and others can fill your summer with music
When you shop through retailer links on our site, we may earn affiliate commissions. 100% of the fees we collect are used to support our nonprofit mission. Learn more.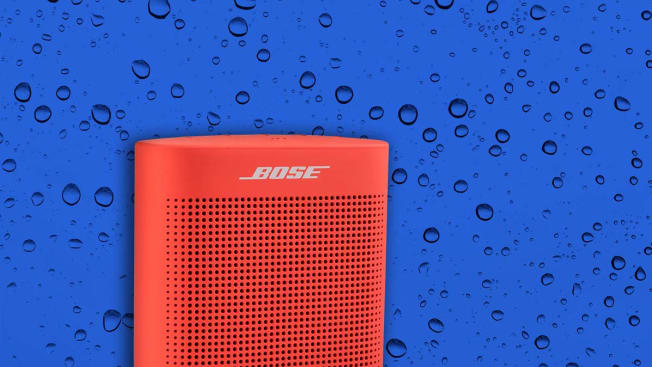 What's a better way to boost your late summer fun than to listen to your favorite music in the great outdoors? Many of today's best wireless and Bluetooth speakers—including the models listed below—are ready to take on the challenge of music alfresco. They provide good battery life and generate enough volume to fill your yard with music from your favorite playlists.
Most of the speakers listed here are also water-resistant, so you don't need to panic if it starts to rain lightly or you knock over a water bottle. A few of these can even handle a trip to the splash zone near a pool or an accidental dunking.
All of these models were lab-tested by our expert technicians for sound quality, ease of use, and versatility. We only test samples purchased through regular retail channels, so we're evaluating the same models you can buy. No special treatment for us. Consumer Reports doesn't test speakers for water resistance, so we can't confirm manufacturer claims about it.
If you're looking for a terrific speaker that just plays indoors, see our review of the best wireless multiroom speakers.
If sound quality is your top priority, the Ultimate Ears Hyperboom will serve you well. It features robust bass and a clean midrange, and it's plenty loud. Our testers find its large controls easy to use, and it gets good grades for versatility. It features an optical input, so it can double as a TV soundbar or upgrade the sound of a game console.
The Hyperboom's vertical orientation, which differs from boom-box-style speakers with a horizontal footprint, lets it take up less room on a picnic table. The more subdued styling also allows the Hyperboom to blend in better when you take it indoors, where its impressive sonics can shine even brighter.
Ultimate Ears claims an IPX4 water-resistance rating, which means the model is splashproof and spillproof, but the Hyperboom isn't designed to stand up to a full-fledged dunking.
This is a portable speaker that sounds great indoors or out—but it doesn't belong too close to the pool. The Audio Pro T3+ sits right at the top of our portable speaker ratings for sound quality from our testers. It features good bass impact and those all-important midrange tones are clean and clear. It also plays loud enough to fill a medium-sized room.
The T3+ puts all that sound quality into a surprisingly compact 8-inch-by-5-inch package, and its reported battery life is impressive at 30 hours. Our testers also find the Audio Pro T3+ easy to use with an array of physical buttons that are quite attractive. The Audio Pro T3+'s styling combines retro touches, like a leather carrying handle, with a little whimsy: Squint and you might think that the speaker's front face resembles a koala. However, unlike the other speakers in this list, this Audio Pro speaker doesn't claim to be water-resistant. All told, the cool, compact, and good-sounding Audio Pro T3+ checks a lot of boxes. Just remember to bring it in if it starts to rain.
JBL's Boombox 2 delivers a lot of the same advantages as its predecessor, the Boombox. The lightly updated Boombox 2 is an elegant, modern rethinking of those giant cassette boom boxes from the 1980s, which means that it looks cool and is easy to carry.
Our lab testing shows that the JBL Boombox 2 pumps out truly impressive bass—maybe even too much—along with plenty of distortion-free volume for the great outdoors.
But unlike its battery-powered predecessors, this speaker doesn't eat D cells. The JBL Boombox 2 features a robust rechargeable battery that's smaller than the one in the earlier Boombox but provides enough juice, according to JBL, for as much as 24 hours of nonstop music. There's also power to spare for charging phones and other devices. The JBL Boombox 2 also features IPX7-level protection from the elements, which means you should be able to fish the speaker out after a dunking in shallow water, then continue to crank out your Ventures playlist.
The Ultimate Ears Megaboom 3 features whimsical and colorful styling that says it's time for fun. It's a little larger than its less expensive sibling, the Boom 3, and our testers report that it sounds significantly better, too. The Megaboom 3 also provides enough volume for use outside or in a large room.
Though it boasts almost comically large volume buttons, the Megaboom 3 achieves only average ease-of-use scores from our testers because routine functions require the use of unlabeled buttons.

According to the manufacturer, the Megaboom 3 can pass a water-resistance test that immerses it in 1 meter of water for a half-hour. So it could be the right choice for blasting the Beach Boys' "California Girls"—or Katy Perry's "California Gurls"—on your beach blanket. The manufacturer claims that the Megaboom 3 floats, but it's still probably a good idea to move it before the tide comes in.
Sometimes "basic" is a good thing. The Bose SoundLink Color II doesn't have the biggest menu of features, but testers report that it shines where it matters most.
Speakers are all about playing music, and the Bose SoundLink Color II simply sounds good, with powerful sonics that belie its modest size and moderate price of about $130. If you simply want to listen to "Walking on Sunshine" while sitting out in the actual sunshine, the SoundLink Color II might just be the speaker for you.

Bluetooth pairing is easy and intuitive, and the speaker is splashproof–but not fully dunkable–according to Bose. And though it's not the cheapest portable Bluetooth speaker, the Bose SoundLink Color II is also less expensive than many competitors with similar sound quality.
Sony's SRS-XB23 is an example of when less is more. The manufacturer's earlier wireless Bluetooth speakers were laden with bells and whistles, including colorful LEDs that pulsed with the music and digital sound effects that bleated when you beat on the speaker. These features were fun but ultimately beside the point.

A speaker should be all about filling your life with music, and the more straightforward XB23 performs its primary function admirably. It's a medium-sized speaker that checks a lot of boxes, and it's relatively inexpensive. Sony claims that it's water-resistant. And it sounds good.
The low bass of the SRS-XB23 is a bit lacking, and the midrange is missing some of the clarity of the very best portables. But on balance, the speaker's sound is satisfying.
Portable wireless speakers often take a beating, rattling around in the bottom of a backpack or getting knocked off a picnic table—and sometimes even getting lost entirely. All of which argues in favor of a modestly priced speaker like the high-value JBL Flip 5, which performs very similarly to the Flip 4 it has replaced.

Despite having a price just a little over $100, the Flip 5 boasts solid sound quality with decent bass, adequate volume, and sound quality that's not as detailed as some more expensive competitors, but not hard on the ears, either. Our testers say it's easy to pair the speaker with a phone via Bluetooth, and the 12-hour battery life claimed by JBL is long enough for even your epic 81-song Abba-to-ZZ Top playlist. JBL says the Flip 5 is not only splashproof and spillproof, but even totally dunkable. One other cool feature: If you buy the Flip 5 from JBL, you can opt to get your speaker personalized, choosing the color and even printing your own images or text on the grill.
If you need a speaker that's not just portable but actually invites you to carry it with you, look no further than the Bose SoundLink Micro. At just under 4 inches square, this device can easily strap onto a backpack or bicycle handlebars.
And though the baby Bose falls a bit short of larger models in our sound-quality testing, our techs find the Micro to be enjoyable to listen to. It has a silicone cover in black, dark blue, or orange and is designed to meet IPX7 water-resistance standards, which means the Bose SoundLink Micro should survive a not-so-deep dive into the kiddie pool.
If you've got a Sonos multiroom system and want a portable speaker, the Sonos Roam SL is worth your consideration. That's because—brand loyalty aside—the Roam SL actually adds features to the rest of your Sonos system.

The Roam SL is the "non-smart" version of the portable Sonos Roam and it performs well in our lab tests, albeit with some limitations. The bass has impact but doesn't go very deep, and the sound can get harsh when you crank up the volume. The model carries an IPX 67 rating, which means it's sealed against dust and can be submerged in up to 3 feet of water.

Like the Roam, the SL can add Bluetooth functionality to your other Sonos speakers. That means you can take a playlist from a friend's smartphone and easily pair it to your Sonos Five or even a Sonos soundbar via the Roam SL. That's a feature that helps to justify the Roam SL's relatively high price.
For whatever it may lack in sound quality, the JBL Clip 4 has two important things going for it: It's inexpensive and it's small.
The model fits easily into your palm and features a carabiner that easily clips onto a backpack, a beach bag, or even your shorts, if you're so inclined. JBL claims an IPX 67 rating, which means the speaker is both water-resistant and dustproof. Our testers found the Clip 4 to be easy to pair and gave solid marks to the prominent controls.
Sonically, the Clip 4 is somewhat challenged. The highs are a little sizzly, the midrange is a bit nasal, and there's not much bass to speak of. The performance can't match the similarly small but significantly more expensive Bose SoundLink Micro. But if you're taking a walk or bicycle ride and want to bring along your tunes (or, better still, your favorite podcast), the JBL Clip 4 provides a significant step up from the built-in speaker on your phone for not much cash.