When you shop through retailer links on our site, we may earn affiliate commissions. 100% of the fees we collect are used to support our nonprofit mission.
Learn more.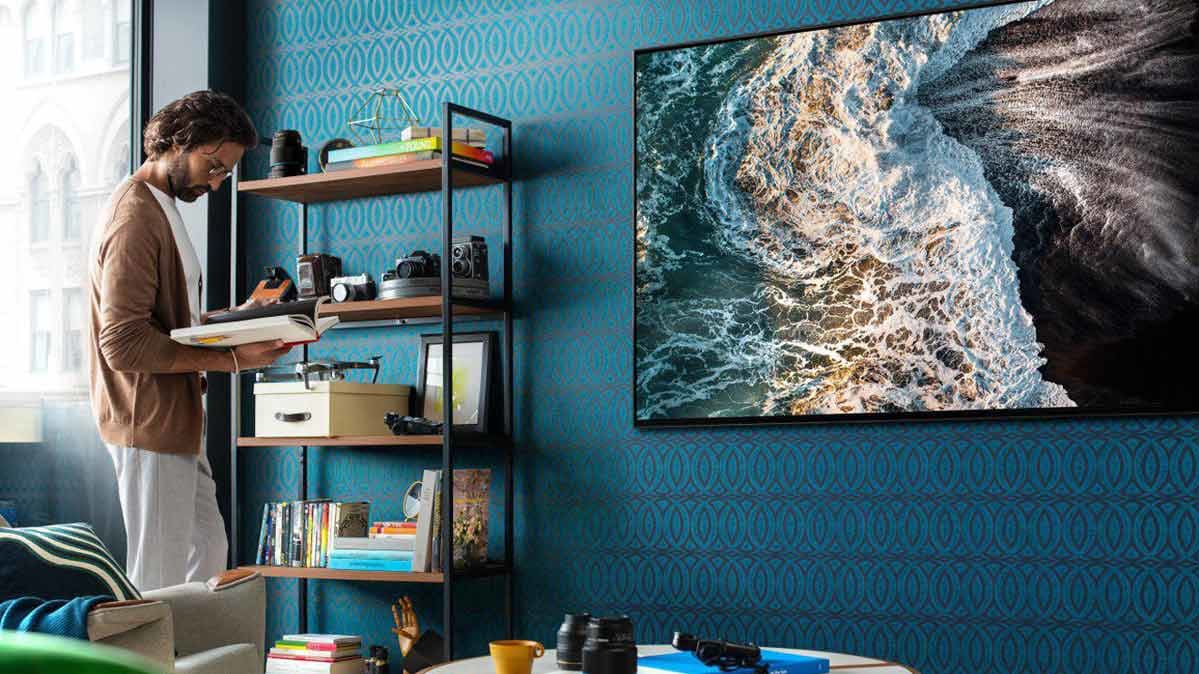 In the coming months, you'll be hearing a lot about 8K TV sets, which boast four times the resolution you get with 4K sets. We've just completed testing on the first 8K TV to enter our labs—the 65-inch Samsung QN65Q900R—and we can say it's truly impressive.
But that doesn't mean we think buying an 8K set this year is a smart purchase. At $5,000, the Samsung TV is currently the most expensive set in our ratings and, for most consumers, there's little benefit to the extra detail you get with those higher-resolution screens.
What's more, the majority—if not all—of the more meaningful features provided by the set will be available in some of Samsung's less expensive 4K QLED models.
To fully appreciate the TV's higher resolution, you need a really big screen. In fact, the 65-inch option—the smallest size Samsung offers on an 8K TV—isn't large enough. While 4K TVs have about 8 million pixels—the tiny dots that make up a set's picture—8K TVs boast more than 33 million. That enables the screen to produce finer, sharper images, but it's really not apparent at normal seating distances.
The TV sports an attractive, if not flashy, thin design, with very slim, dark metal bezels and a sturdy, elbow-shaped foot-style stand that supports the model well. All connections are made to a separate OneConnect box, which links to the TV using a very thin optical cable.
Befitting its status as a top-tier QLED TV—the manufacturer's designation for models that use quantum dots to produce a wider range of colors—the Samsung 8K TV is loaded with features. That includes full-array LED backlight with local dimming, where the TV divides up the LEDs into small zones that can be brightened and dimmed separately. This can help improve black levels and contrast, as well as TV brightness, though on this set the local dimming feature's effectiveness gets mixed reviews.
The Q900R sets also include high dynamic range (HDR) capability, technology now found on almost all 4K TVs. When done right, models with HDR provide a higher peak brightness and wide color capability that allows sets to present HDR content—already available in many movies and TV shows—more accurately.
Last, like all Samsung QLED-series models, this one is a smart TV, featuring the company's Bixby digital voice assistant, plus compatibility with Google Home and Amazon Alexa. It will be getting an Apple iTunes app, too, for watching video clips, shows, and movies right from the TV.
Picture Quality
Apart from the screen resolution, an 8K TV is much like a 4K TV with HDR. And so, we test both options in the same manner, with one exception: On an 8K TV, we also use a special test pattern, called a multiburst, that lets us see whether the set can display the full 7680x4320 8K resolution.
The Samsung TV aced this test, clearly taking image detail to the next level.
It performed admirably in our typical battery of tests, too, which includes both test patterns and real-world video. The set earned top-notch scores for high-definition picture quality, UHD performance, and how well it displayed HDR content.
HDR performance is one big differentiator among 4K TVs, and the Q900R model was able to deliver a very effective HDR experience.
When HDR is at work, the TV should be able to deliver on the wide range of brightness levels included in HDR content. That means you experience not only the enhanced brightness of a blazing sun burning in the onscreen sky, but also the shadowy details in the darker areas of the image, while maintaining more natural illumination on simple highlights within the scene.
You should also be able to see brighter, more realistic "specular highlights," such as the sun's reflection off a car's chrome bumper. With HDR, those flashes of light pop; without it, they don't stand out nearly as much.

Become a member of Consumer Reports to get access to our TV Screen Optimizer, which will help you get the perfect picture on your TV in just minutes. Join today to get started.

For great HDR performance, a TV has to be sufficiently bright, and this set didn't disappoint; it's among the brightest we've tested.
Also, consider that because there are no native 8K movies or shows yet, all 8K TVs have to upscale lower-resolution content to the set's higher native resolution. This Samsung did an admirable job, no small feat considering the differences between the two.
Viewing Angle
In our opinion, the real breakthrough with this set is the wider-than-average viewing angle for an LCD-based model. In fact, it's the best we've ever seen from an LCD TV.
Samsung managed this with a specific type of LCD panel (called a "VA" panel) generally known for less-than-stellar off-angle viewing.
VA panels tend to offer better black levels and higher contrast than non-VA panels, but the picture starts to look washed out from even modest viewing angles. The alternative—an "IPS" panel—can deliver wider-than-average viewing angles, but not without sacrificing quite a bit in depth of black level and contrast.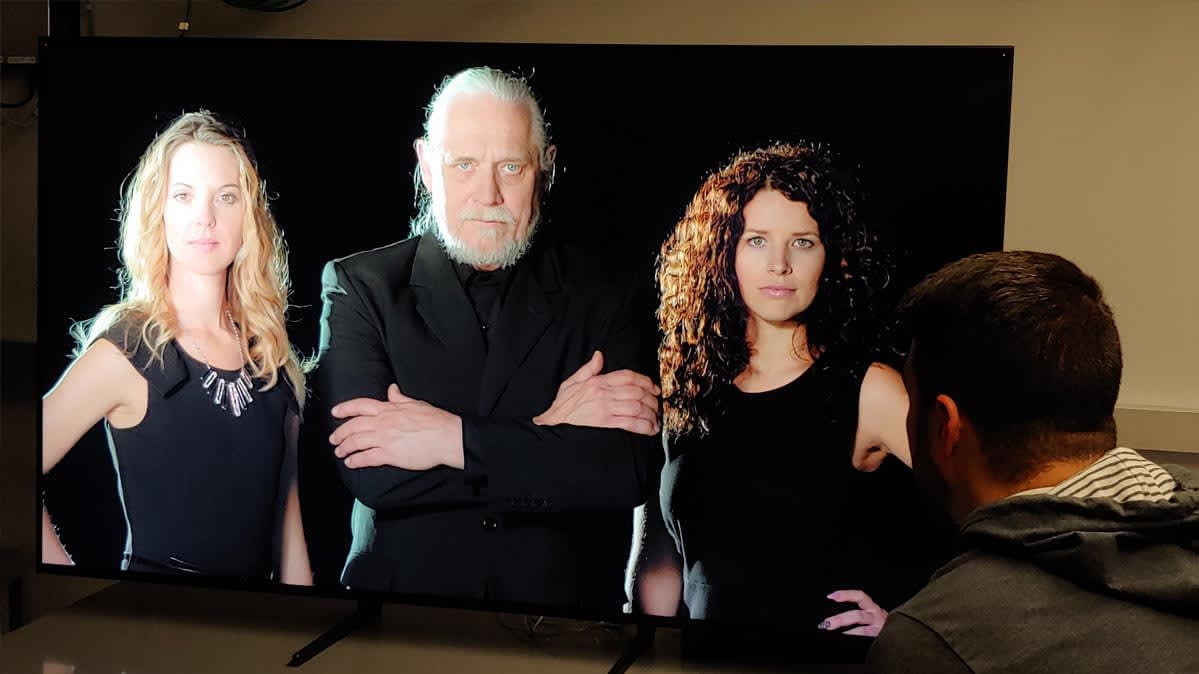 But Samsung's "Ultra Viewing Technology" uses a different VA panel structure—one that retains the better blacks and contrast, while also widening the viewing angle. When we viewed the set from off to the side in our TV labs, we saw little or no variation in contrast or depth of black level. And though we did see a slight shift in color tone, the overall color remained consistent, with no significant degradation in overall image quality.
In the end, although the Samsung 8K TV scored very well in some areas where LCD sets typically display shortcomings, such as blacks and contrast, it still couldn't match the performance of the OLED TVs in our ratings. With the Samsung, we saw some brighter cloudy areas and noticeable halos in very dark scenes, something you'd never see on an OLED set.
In more complicated dark scenes, such as a view of Las Vegas at night, the TV wasn't able to maintain a consistent deep black level, essentially diminishing contrast and reducing HDR effectiveness. In brighter scenes, it couldn't compete with the deep native contrast of an OLED. The local-dimming feature wasn't as effective, either, as darker details within the bright scenes weren't as deep as they should be.
CR's Take
Though OLED sets continue to dominate our big-screen TV ratings, the Samsung QN65Q900R is proof that LCDs can move past some traditional limitations, edging closer to OLED performance.
But in many regards, the 8K resolution—the thing that makes this TV different—is its least impressive attribute. And, given the relatively high price that extra resolution commands, it's worth noting that you can get most of this set's step-up features—including the full-array LED backlight and wide viewing angle—in one of Samsung's Q80 and Q90 models. Though neither is inexpensive, the 65-inch QN65Q80 set sells for $2,800 and the QN65Q90 for $3,500.
That's not to say that 8K TVs will never make sense. Not too long ago, 4K sets seemed unnecessary; now it's difficult to find a big-screen TV in a lower resolution.
But at the moment our advice is to buy a 4K set, because prices have fallen significantly and more 4K content is available from streaming services and Blu-ray discs.
Just don't be surprised if that advice changes two years from now.