When you shop through retailer links on our site, we may earn affiliate commissions. 100% of the fees we collect are used to support our nonprofit mission.
Learn more.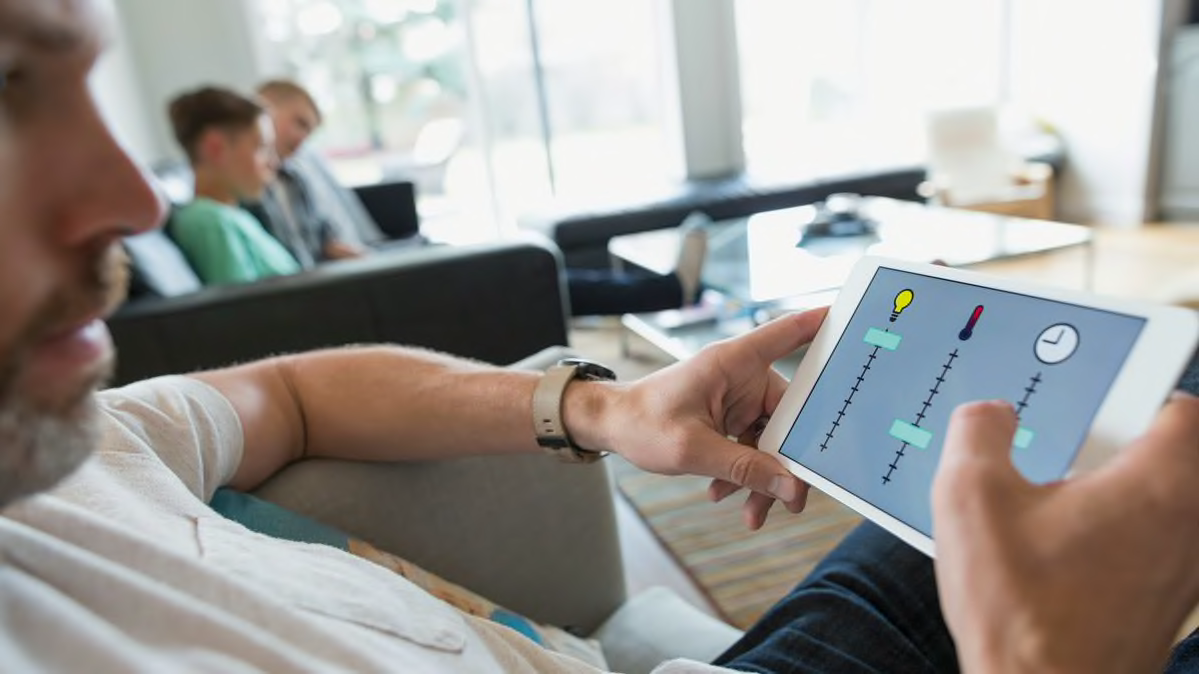 Next time you open your electric bill, take time to read the notices stuffed in the envelope. It may save you money—if you're willing to be flexible on your air conditioning preferences.
Utilities across the U.S. are offering incentives in exchange for the ability to adjust the temperature in your home during times of peak power demand.
The various programs, with such names as Cool Points, Peak Rewards, Smart Therm, and Bring Your Own Thermostat (BYOT), offer benefits that include free thermostats and rebates or credits on your bill if you use less energy when there's high demand.
Collectively called "demand response" programs, they're designed to reduce stress on your local electric grid during the hottest times of the day by encouraging consumers to use less energy or to shift energy-intensive tasks to times when demand and rates are lower, often at night.
A hallmark of most programs is that they require you to register a smart thermostat or smart A/C with a utility, essentially giving it permission to take control of your air conditioning system on very hot days. That can mean turning your A/C off for a short time, but more typically it means adjusting the temperature upward.
"If you enroll in the program, when the grid is under stress we can bump up the temperature in your house from, say, 68 degrees to 71 degrees," says Shira Horowitz, manager of demand response for Con Edison in New York. "And when you use less energy, you save."
In addition to the savings you'll see on your bill, some utilities offer extra financial incentives for enrolling in a demand response program.
With Con Edison's BYOT program, for example, you get a one-time sign-up bonus of $135: $85 for enrolling your thermostat and a $50 energy-efficiency rebate. The company says that 25,000 of its customers have enrolled a total of 34,000 thermostats.
Before the advent of smart thermostats, taking advantage of these programs was more difficult because utilities usually had to go into homes to install demand response switches. But now most utilities allow people to enroll on company websites if they have a compatible smart thermostat, such as the Nest or Lyric.
"The idea that consumers can use their own thermostats has helped increase participation," says Jessie Mehrhoff, a research analyst at Navigant Research, which studies the energy sector.
Worried that you'll be sweating it out if you sign up? Joining may be less of an inconvenience than you'd imagine. Last year Con Edison adjusted home A/C temperatures during four peak power events in New York. Plus, if a utility nudges your temperature up at a time when you'd rather have it cooler, you still have the option to manually change it back to your desired temperature, Mehrhoff says. There's no penalty; you just won't see savings for that particular demand response event.
Smart Moves to Keep You Cool
If you already have a smart thermostat such as one from Ecobee, Honeywell (Lyric), or Nest and are using your smartphone to control your central air conditioning, you're well on your way to being able to enroll in a demand response program.
But what about window units? More and more room air conditioners are coming WiFi-enabled, giving folks without central air the opportunity to enroll in a demand response program, too. If you're in the market for a smart A/C, check your utility's website to see which models can be enrolled in a demand response program. Con Edison in New York, for example, lists models from Friedrich, GE, and Frigidaire.
A WiFi-enabled window unit costs about $30 to $50 more than one without smart capabilities, according to John Desmarais, senior marketing director at GE Appliances. "And they work on any connected platform, including Alexa, Apple, and Google Home," he says.
With a smart A/C you can turn it on and off remotely and also check and change the temperature, control modes and fan speeds, and set up a cooling schedule. In some cases, you can connect several air conditioners and run them at the same time. Some apps even monitor your energy use and send you alerts when your air filter needs cleaning.
Of the window A/Cs in our ratings, five models—from Frigidaire, LG, Kenmore, and Panasonic—have smart features or can be connected with an add-on kit. (See "Best Smart Air Conditioners.") Although we don't test every app, Chris Regan, who oversees our air conditioner tests, took a smart A/C home and said he appreciated the convenience of controlling it remotely. Even so, when shopping, first consider how well a unit actually cools.
Editor's Note: This article also appeared in the June 2019 issue of Consumer Reports magazine.