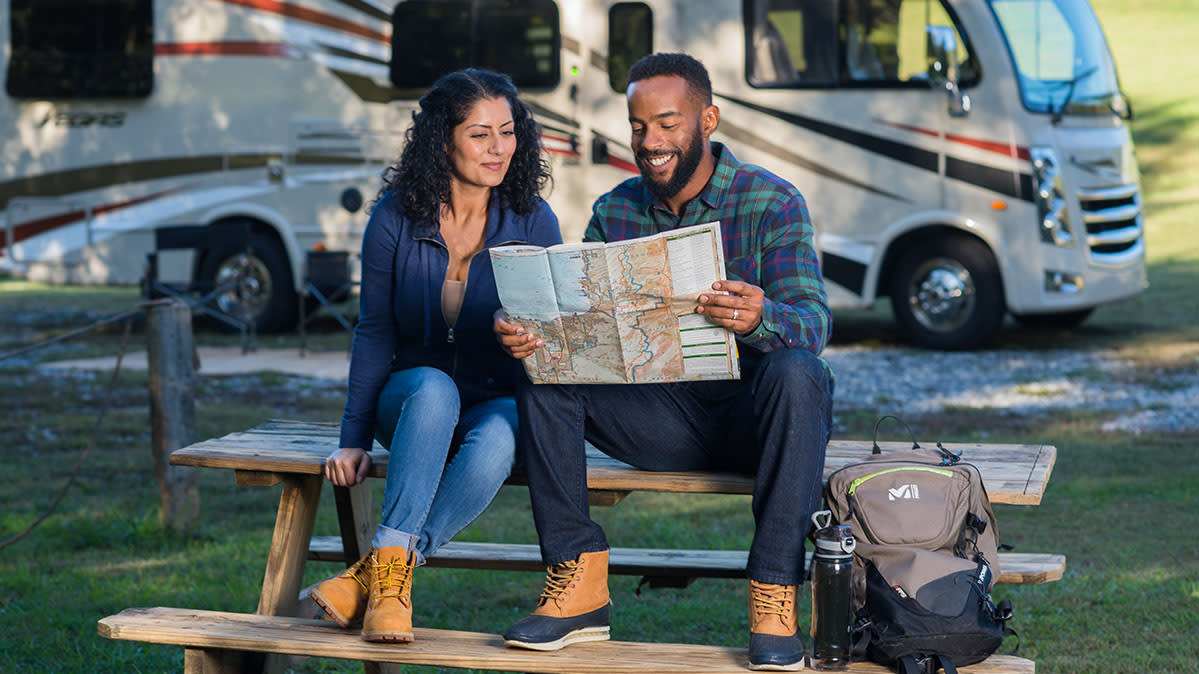 A motor home is an all-inclusive way to travel with your bed, living room, kitchen—even bathroom. You can tour the country and park overnight with all the conveniences of home right there.
For many drivers, a motor home can even be easier to drive than a truck and travel trailer, especially when it comes to backing up.
Motor homes have a clear appeal, but it takes some research to understand the different versions and to choose the right one for your budget and adventure plans.
They come in a dizzying array of sizes. The smallest ones aren't much bigger than a minivan; large diesel coaches can be as big as an interstate bus. Indeed, some companies that make buses, like Prevost, also make motor homes.
As with any vehicle, there are safety concerns. The National Highway Traffic Safety Administration (NHTSA) reported that 94 motor home occupants were involved in fatal crashes in 2016, and 18 were killed. Rollover crashes are the most prevalent, and common causes include underinflated tires, tire blowouts, overcorrection/oversteering, and inexperienced drivers.
Even though motor homes have seats for several passengers, you don't have the same level of protection that you'd get in a pickup truck being used as a tow vehicle for a travel trailer. This is especially a concern when traveling with children, who need to be secured in car seats.
Advanced safety features are becoming commonplace in cars, but they remain rare among motor homes. That will soon change.
Ford, the primary supplier of powertrains and platforms for popular Class C motor homes, has announced that its next-generation F59 chassis will be available with automatic emergency braking, lane-departure warning, and more by 2020.
For some shoppers, it may be worth waiting to buy an RV to get these advances, especially if they plan to own it for several years.
There are three core types of motor homes, and each class is signified with a letter. Within each class is a wide range of sizes and prices.
The class designation describes the vehicle structure used for the motor home's construction. While there are always variations within a theme, each class has typical accommodation and design trade-offs. Here's the most common breakdown:
Class A: Medium to large purpose-built RVs.
Class B: Camper vans that are based on a van. These RVs are typically the most expensive per foot.
Class C: These commonly have a van cab front, with an RV shell that typically includes an over-the-cab sleeping area.
While a few major RV brands dominate, such as Jayco, Thor, and Winnebago, there are many smaller brands to choose from.
Some are innovative, like Advanced RV's one-off Mercedes Sprinter van-based creations that never need to be plugged in for power. Others, like Lazy Daze, hew to a traditional heritage-inspired design.
Shoppers aren't finished after picking a brand and model of motor home, though. A model can come in a variety of floor plans and lengths. And often there is a choice of interior décor, along with seating, entertainment, and other options.
This guide below will help with a key decision on the road to RV ownership.
Class A Motor Homes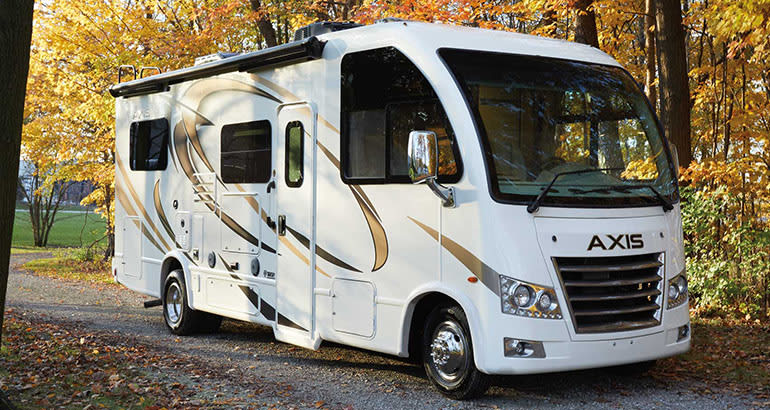 Class A motor homes probably offer the widest variation in size and price of any motor home type. They excel at providing a lot of space within their size. Many have slides—sections that extend out of the sides when parked, creating a wider interior.
A wide variety of lengths and floor plans can make choosing a Class A nearly overwhelming. Interior furnishings can range from purposeful and basic to resembling the gilded cabin of a corporate jetliner.
While the RV companies build the interior and exterior, the vast majority of moderately priced motor homes are built on a Ford chassis using a gas-powered V10 engine. Larger motor homes often use chassis built by Freightliner or Spartan.
A few smaller Class A motor homes use the same chassis as the Mercedes-Benz Sprinter van. Other companies, ranging from the relatively affordable brand Tiffin to the top-end custom bus builders Newell and Prevost, build their own frame and use an engine from a well-known manufacturer such as Cummins or Volvo.
Motor homes offer gasoline or diesel engines. Gasoline engines require less expensive maintenance. For instance, you don't have to hassle with the advanced emissions systems needed to keep modern diesel engines clean. Still, diesels tend to get better mileage and have more torque, which is helpful for pushing that big square box down the road.
The engine can be mounted in the front or the rear. Rear-engined motor homes are called "pushers" because the engine is basically pushing them along. Pushers are almost always diesel-engined. Generally speaking, diesel pushers are at the top of the motor home food chain in cost and size.
Safety can be a variable. Class A motor homes do benefit from their mass. But the strength of their structure can vary.
The driver's portion of a Class A motor home isn't designed to meet the same crash safety standards as the van cab found in other motor home types. While the front two seats have shoulder and lap belts, most of the other seating locations in the coach only have lap belts—and can be facing in various directions.
As mentioned before, advanced safety features are uncommon in Class A motor homes. Electronic stability control is relatively rare, and forward-collision warning and automatic emergency braking is a recent innovation limited to high-end coaches using a Spartan chassis.
Motor home buyers may well want to consider adding an aftermarket Mobileye forward-collision warning system to their coach.
How are they built? They're a box on wheels. Put less glibly, the motor home company builds the entire body and upper structure, which is mounted atop a frame and drivetrain components from another manufacturer.
How big are they? Sizes can range from about 25 feet up to nearly 50 feet long, but they are typically around 30 to 36 feet long. (Be aware that some national parks limit RV length for entrance.)
How many can they sleep? Typically six to eight.
How much do they cost? Starting around $90,000, but the sky is the limit.
Pros:
Most space per foot of any motor home type thanks to their width and boxy shape.
Variety of sizes, prices, and finish levels.
Diesel pusher models typically have a long life if properly maintained.
Can have generous storage space.
Cons:
Typically large and bulky to drive and park.
It often becomes desirable for owners to tow a car to make getting around locally easier, but that erases the advantage of not having to tow anything.
May not fit in smaller campsites.
Relatively low fuel economy.
Often few seating locations with full seat belts (shoulder and lap belts).
Diesel pushers, with their commercial bus-level components, can be expensive to purchase and service.
Wide variety of chassis options means that hunting down parts for some models can become a hobby as they age.
Class B Motor Homes
While Class A and Class C motor homes cover a wide variety of designs, Class B motor homes are rather homogeneous. That's because they're built fully within a commercial van's bodywork as it was delivered from the manufacturer.
That structure strictly limits how much space you have to work with. These vans are usually less than 7.5 feet wide—a foot less than many RVs—and are much shorter. Accommodations are more purposeful than plush; you won't find fake fireplaces or big recliners here.
But being built within that structure helps a lot with quality. After all, the exterior is completely painted metal, just as it came from Ford, Mercedes, or Ram. This reduces the chance of leaks and deterioration.
Design-wise, Class B vans are the safest choice. All of the vans have stability control and front air bags; the Mercedes is available with forward-collision warning and blind-spot monitoring. Class B vans can be equipped with full seat belts for multiple passengers—up to seven people. Although sometimes there isn't enough room for everyone to sleep inside.
Class B vans aren't the most generous RVs for camping, but they excel at touring. That's why they're sometimes called "traveling coaches."
In fact, some affluent families use them to shepherd kids to soccer games, and they make the ultimate tailgate party van. Driving one isn't much harder than driving a regular minivan. They just about fit in normal-sized parking spots.
"Stealth" camping in downtown areas is made easier, and you can find a suitable spot in almost every campground.
How are they built? Based on a van body shipped from the vehicle manufacturer (Ford, Mercedes-Benz, or Ram).
How big are they? Between 20 and 24 feet, and not much wider than a minivan.
How many can they sleep? Usually only two comfortably; sometimes four will fit.
How much do they cost? They're expensive for their size (between $85,000 and $150,000 new), but they hold their value better than most RVs.
Pros:
Very easy to drive and park.
Best fuel economy of any RV; can get up to 20 mpg.
Full metal body construction, right from the automaker, helps durability.
Automotive-level safety equipment is available.
Best resale of any RV type.
Cons:
Not much room inside; usually only comfortably sleep two.
Short on amenities, including small bathrooms, no ovens, etc.
Expensive for their size.
Relatively few floor-plan choices.
Once you choose to go with a Class B, you then get to pick from one of three vans. Over the last decade, the vast majority of Class B motor homes have been built with Mercedes-Benz Sprinters. But in recent years, the front-wheel-drive Ram Promaster has successfully invaded this market, and the Ford Transit is starting to be used by motor home manufacturers.
There are pros and cons to each:
The Mercedes-Benz Sprinter offers the longest available body length (24 feet), available four-wheel-drive, two different diesel engines, and a long list of available automotive-grade safety features. Most motor home manufacturers are familiar with the van, so you'll find a wide variety of brands and floor plans. But being a Mercedes, service can be expensive and finding dealers (even including Freightliner dealers, who also sell and service Sprinters) in rural areas is tough. The diesel emissions system can be finicky.
The Ram Promaster is considerably less expensive. It sits lower to the ground thanks to its front-wheel-drive, making getting in and out easier. Dealers are plentiful and service for the familiar Pentastar 3.6-liter V6, found in hundreds of thousands of Chrysler vehicles, is relatively inexpensive. Its (typically) shorter length makes the Promaster easier to park, and it's wider inside than in the Sprinter. The diesel engine uses an unrefined dual-clutch transmission that jerks the van when shifting.
The Ford Transit is the newest design, and it drives particularly well. The 3.5-liter gas-powered EcoBoost V6 is a powerhouse; a five-cylinder diesel is also available. A vast Ford dealer network is available in rural areas—including places where you might go camping—and it's used to dealing with commercial vehicles (the Transit is the best-selling van in America). But relatively few motor home builders have mastered outfitting this new design.
Class C Motor Homes
Class C motor homes offer the least expensive option. They are built on a "cutaway" chassis; the front of the van remains to the end of the front doors, with only exposed framework past that point. RV manufacturers build the remaining structure and interior atop that frame.
Many Class C motor homes have a "cab over" sleeping area, which is a bed over the front seats. That's why they have a rooftop bulge sticking out front. Class C motor homes without this bed (or bulge) are increasingly common. For marketing purposes, they are often called "Class B+" motor homes, although structurally they are in Class C.
The vast majority of Class C motor homes are built on a Ford E-Series cutaway chassis; it has been around for a very long time. A handful of Class C motor homes are built with the front end of a pickup truck. This creates more room in the cab because the truck's engine is fully out front under the long hood.
Luxury compact Class Cs are often built on the Mercedes-Benz Sprinter chassis; these are increasingly popular among Class A owners looking to downsize. A handful of Class C motor homes are built on the Ram Promaster chassis, but low payload capacity limits it to smaller coaches. Finally, manufacturers are starting to build with the new Ford Transit chassis, but because it has a lower payload capacity than the Ford E-Series, it too is limited to smaller coaches. Again, Ford promises that the next-generation chassis commonly used for Class C RVs will offer advanced safety features.
Going the other way, "Super C" motor homes are built on medium-duty truck platforms, just like larger moving trucks. These have beefier frames, commercial-grade engines, and much higher payload and towing ratings than other Class C motor homes. But they are large and expensive.
The range of available lengths means that there's plenty of variety in available floor plans. And while there are a few high-end Class C builders like Coach House, most Class C motor homes stop short of the decadence shoppers can get in Class A coaches.
How are they built? The front and frame is from a van or truck, and the rest of the body is built by the RV manufacturer.
How big are they? Usually 22-35 feet long.
How many can they sleep? Typically four to eight.
How much do they cost? $70,000 to $200,000.
Pros:
Least expensive way to get a motor home.
Overhead bed adds sleeping space while keeping length down.
Wide variety of floor plans.
Shorter Class C motor homes (under 25 feet or so) are relatively easy to drive and park.
Cons:
Cab area can be relatively cramped due to engine "doghouse" cover intruding into space.
Moderately priced cab/engine options are relatively limited.
Bottom Line
Realize that a motor home is one of the most complex products that a person can buy. It combines the mechanics of a truck with the infrastructure and furnishings of a house. Even new motor homes benefit from a thorough inspection to make sure everything works before you leave the lot. Be prepared for the demands of maintaining a motor home so that vacation time remains relaxing.
Unlike passenger vehicles, rear seats in motor homes are not held to the federal motor vehicle safety standards for occupant protection. Rear bench seats may have available seat belts, and these are anchored to the chassis, but they offer a false sense of security because their wooden bench supports can collapse in a crash. Additionally, the different configurations of the bench seats (rear- or side-facing) are not recommended for installing car seats or seating passengers. The safest option for additional passengers is to ride separately in a passenger vehicle or opt for a truck and travel trailer instead.
Finally, if you buy a used motor home, you'll find that many have surprisingly low mileage. That doesn't mean you can relax when purchasing. Time also takes its toll on components; replacing a set of six motor home tires because of dry rot can be costly. A thorough mechanical inspection, as well as making sure that everything in the "house" part of the coach works, is important.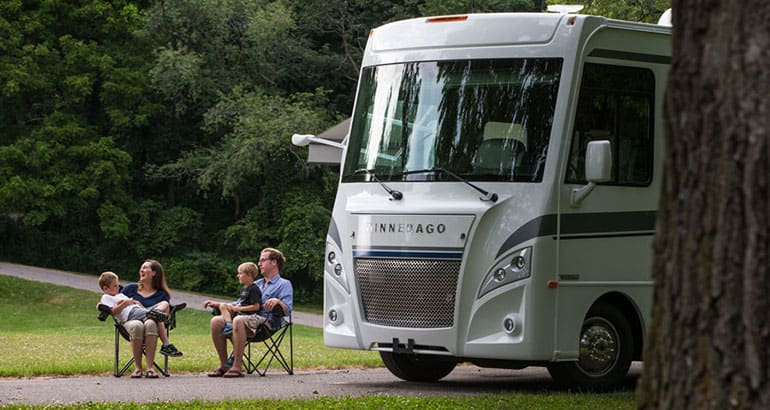 Consumer Reports is an independent, non-profit organization dedicated to helping consumers. We make it easy to buy the right product from a variety of retailers. Clicking a retailer link will take you to that retailer's website to shop. When you shop through retailer links on our site, we may earn an affiliate commission – 100% of the fees we collect are used to support our mission.
Learn more.
Our service is unbiased: retailers can't influence placement. All prices are subject to change.