When you shop through retailer links on our site, we may earn affiliate commissions. 100% of the fees we collect are used to support our nonprofit mission.
Learn more.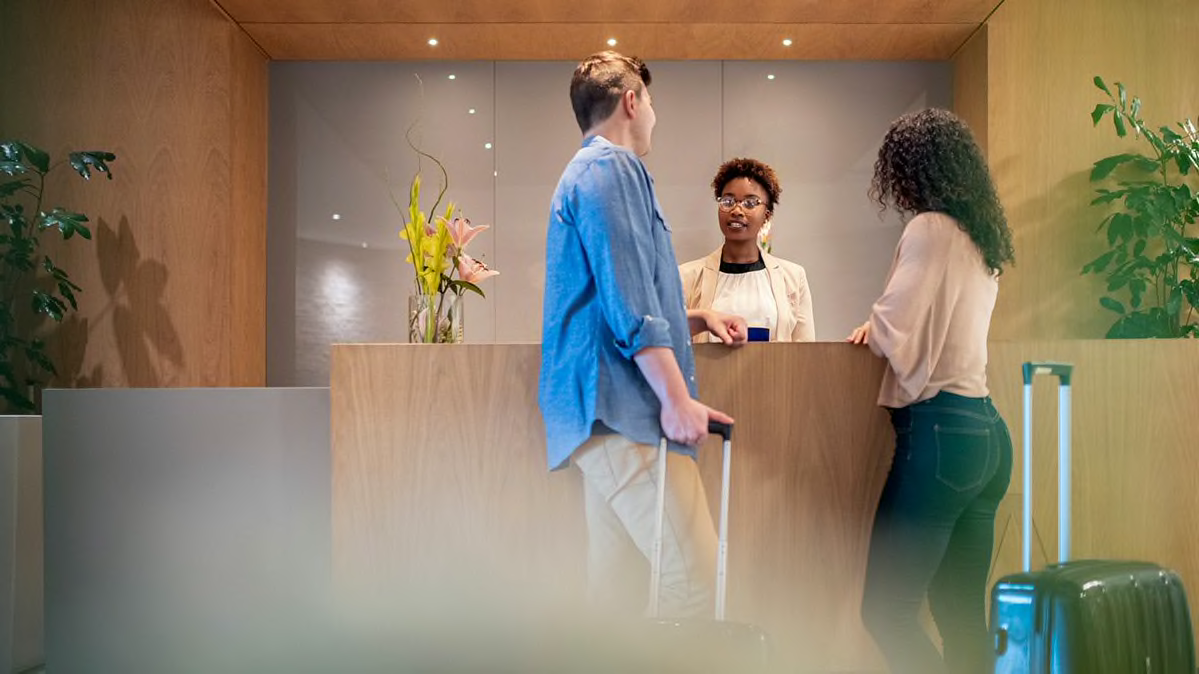 What happens if there's not only no room at the inn but also no inn at all?
That's what happened to Carolyn Thornlow, a New Yorker, a few years ago. She found what she thought was a great deal at a boutique hotel during Thanksgiving week in Los Angeles, where her daughter was in college.
On the eve of her trip, however, she learned that the hotel was shutting down for a gut renovation the very day she was due to arrive. Most galling, she says, was how she found out—from an email inviting her to a "farewell party" to publicize the hotel's impending makeover.
"At first I thought it must be a joke," she says.
She hadn't paid any money up front. But the hotel didn't offer to accommodate her elsewhere, she says, nor did the third-party booking site that she had used to make the reservation almost six months in advance.
Given that it was one of the busiest travel weeks of the year, nearby hotel rooms were scarce. She ultimately found one herself, but the stay cost her $1,000 more than she had planned to spend.
Her case is hardly unique. Fully 59 percent of travelers in a recent survey of 2,000 Americans conducted for AIG Travel said they'd been on a trip that didn't go as planned.
In many of the more catastrophic cases, you may be able to recover your losses. Many travel insurance policies provide coverage for trips upended by Mother Nature, airline problems, or the financial default of a tour operator, cruise line, or airline.
But if your trip goes awry for reasons that should have been (but weren't) disclosed in advance by the place where you're staying—like deafening noise from a major renovation at a beach resort—experts say it can be difficult to determine who is responsible and what rights you have.
"It's important to remember that unlike airlines, where there may be national regulations on what to do for consumers, you don't have those same rights or protections with a hotel," says Henry Harteveldt, president and travel industry analyst at Atmosphere Research. "It is generally handled on a property-by-property basis."
While consumers increasingly rely on proliferating third-party booking options and apps, they aren't always aware that when a problem arises, determining who's responsible isn't so easy. Below, some guidelines to use to help you avoid or get restitution for a variety of vacation accommodation problems.
Havoc at the Hotel
One trend that could be having some unintended consequences for consumers is a surge in hotel construction and renovation projects. Hotels are loath to put their inventory on ice for too long, and they might be inclined to accept bookings based on an overly optimistic completion schedule.
"If you are getting a 'too good to be true' price, then it might be worth asking why," says Jonathan Howe, a travel attorney with the Chicago law firm Howe & Hutton.
So what can you do?
Scout It Out
Hotels aren't legally required to disclose construction work to customers, even if that work ends up ruining your holiday. So check review sites for the property you're booking and if you're concerned, ask the on-site staff directly before you book.
Keep in mind that hotels tend to embark on major improvements during their slow periods, so if you're getting a good deal because it's the off-season, get assurances that you won't face unpleasant surprises. And make sure the property knows how to contact you, especially if you've booked through a third-party source.
Complain Correctly
On the other hand, if you're dealing with a more prosaic problem—a hotel with an out-of-service elevator, say, or faulty air-conditioning—then the squeaky wheel approach may be the most effective.
Jeffrey Miller, a lawyer and travel law professor at Florida Atlantic University in Boca Raton, says he has experienced a number of these annoyances himself.
"My wife and I were staying at a luxury hotel, and they put us right next to the freight elevator, which was running all night long," he says. "We got no sleep at all."
After complaining to the manager, he says he was ultimately able to switch to a new room and get some money back for the inconvenience.
"If the on-site manager doesn't help, then find out who the management company is," he advises.
Many hotel chains don't actually own most of the properties under their banner, he notes, and finding out who is in control and contacting them directly could help your cause.
Home Rental Wrecks
What if your lodging is in a vacation home rental rather than a hotel? Consider the case of an extended family group of 14 that booked a villa in St. Maarten for the week between Christmas and New Year's, for $14,000. When they arrived, they found the place was set up for only four occupants.
Attorney Miller, who represented the tenants in the case, says he successfully sued the owner of the condo, who was a U.S. citizen, in small claims court and won a complete refund of the charge.
Read the Rules
According to Stan Sandberg, co-founder of TravelInsurance.com, Airbnb, Home Away, and other home rental services have included language in their guidelines that reinforces the need for hosts to disclose conditions and potential safety concerns in advance.
Airbnb says that it recently reviewed and updated its guidelines, which cover everything from how to childproof the premises to requiring full disclosure about whether there are any security cameras or other surveillance devices in the property.
More Ways to Prevent Vacation Vexation
There's an infinite number of vacation-disrupting disasters out there, so they can be hard to guard against, but here are some general tips for how to protect yourself from lousy lodging situations.
Do Your Research
Don't just rely on the hotel or website's claims, check review sites (always taking the comments with a grain of salt). In the above-mentioned case of the Los Angeles hotel closure, for example, stories about the renovation appeared in local newspapers months in advance.
Go With a Pro
For extra protection, consider booking through a tour operator or travel agency. You may pay an extra fee for this service, but in return, you could get access to their negotiated rates and someone to run interference for you if problems arise that can't be resolved on-site.
If it's an agency, look to see whether it's a member of a major consortium such as Ensemble, Travel Leaders, or Virtuoso, which are large enough to have clout with most hotel chains.
"If it is not feasible to address the issue prior to to booking, then at least an agent can act as the client's advocate after the fact in attempting to secure a refund or similar compensation from the resort," says Peter Lobasso, general counsel at the American Society of Travel Advisors.
Consider 'Trip Interruption for Any Reason' Insurance
This is similar to trip cancellation for any reason plans, which require purchase well in advance. Not many insurers offer this, and these plans are also more expensive and won't refund the full cost of your trip.
That said, if you are worried about a vacation going wrong and want extra protection, it's one option to weigh (unless you live in a state like New York, which doesn't allow "for any reason" policies to be sold).