First Look: Ring Video Doorbell Pro 2
Ring's new flagship doorbell packs lots of features, but is it worth $250? It's been a little over a month since Ring released its last video doorbell, the Ring Video Doorbell Wired, but the company isn't resting on its laurels. Today, Ring begins shipping its new Video Doorbell Pro 2, a successor to the original Ring Video Doorbell Pro.
The Pro 2 has a higher resolution camera, improved motion detection, and clearer two-way audio than the Pro. But three of the Pro 2's most compelling features—Alexa Greetings, Quick Replies, and Pre-Roll Video—are also available on the Pro, which has dropped in price to $170. So I had to ask: Is the Pro 2 really worth the additional $80?
Like all of Ring's doorbells, the Pro 2 works with the Neighbors by Ring neighborhood watch network, and I do want to mention that there are some concerns surrounding this feature outside of performance.
Installing the Ring Video Doorbell Pro 2
Like the previous Pro doorbell and the recently released Wired model, the Pro 2 is a hardwired doorbell. That means it needs a constant flow of power, unlike battery-operated video doorbells. Luckily, Ring has an easy fix for those who, like me, don't have doorbell wiring: All I had to do was connect a power adapter (sold separately) to the back of the doorbell before mounting it to my home's siding, and run the plug from the adapter to an outlet inside.
The process is actually more involved if you have doorbell wiring. You'll need to find your doorbell's transformer to make sure it supplies the right amount of electricity for the Pro 2, remove your existing doorbell, and wire a special power module (which comes in the box) to your home's doorbell chime.
Ring provides detailed installation instructions in the Ring app, and we have our own step-by-step guide to installing video doorbells, but if you're not comfortable working with electrical wires, hire an electrician.
Setting Up the Ring Video Doorbell Pro 2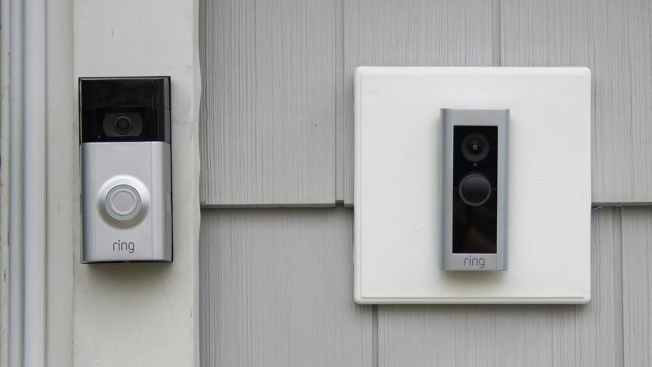 The in-app setup process for the Ring Pro 2 was simple and straightforward. Because I tested the Ring Video Doorbell Wired and already own a Ring doorbell, a lot of the setup was automatic. I scanned a QR code that came with the doorbell, added the Pro 2 to my home address—which was already in the app (you'll need to input your address if it's your first Ring device)—and connected it to WiFi.
The doorbell connected to the network quickly. But I did have to run a software update before I could finish setting it up. That's quite common with new devices though and, thankfully, the update took only a few minutes.
Because my own Ring doorbell had been connected to Amazon Alexa, the Pro 2 connected to Alexa automatically, which was nice.
The app also prompted me to set up certain features, like motion zones for noting areas in the camera's field of view that I want to monitor for motion. But I was surprised that the app skipped over some of the Pro 2's headline features: 3D Motion Detection, Alexa Greetings, and Quick Replies. I had to dig through the doorbell's settings to find them, which seems a little odd given how heavily Ring promotes them.
If this is your first Ring camera, you'll need to take a minute to subscribe to a Ring Protect cloud storage plan to save and view footage. The plans start at $3 per month, and one is required for all Ring cameras if you want to use certain features, such as alerts when a person is within view of the camera, and Alexa Greetings, which lets Alexa answer the doorbell for you.
Unlike some competitors, Ring doesn't offer any doorbells or cameras that can store footage locally.
The Ring Video Doorbell Pro 2's Video Quality
The Pro 2 boasts four different improvements to its video quality. Here's what you can expect.
HDR video: The Pro 2 records HD video in high dynamic range (HDR), helping it to keep bright areas, like clouds, and dark shadows from being washed out. My own Ring doorbell has HDR, too (the Wired model doesn't), and I have to say, the Pro 2's HDR looks better. It makes colors hyper bright—the grass and sky outside my home looked like something out of a Disney animated movie—but it's still better than what I get with my old Ring doorbell.
"Head to Toe" video: Instead of the widescreen 1080p HD format that the Wired model and my old Ring doorbell record in, the Pro 2 uses a square 1536p format that the company calls "Head to Toe" video, so you can see the ground in front of your doorbell for package deliveries. In hindsight, it was a glaring problem with my old doorbell and the Ring Wired. The format isn't truly square, though—the corners are rounded off at the edges of the camera lens, so you can't see anything there (see image below).

Pre-Roll Video: With this feature, the Pro 2 records 6 seconds of footage before the camera detects motion, which might be helpful if, say, someone is trying to steal a package from your porch. It can be useful for less serious situations. For example, my own Ring doorbell starts recording only when my mailman is at my mailbox, whereas the Pro 2 shows him walking up to the mailbox, so I can catch him if I have a package for him.
Color Night Vision: The Pro 2's color night vision makes for significantly better videos at night compared with my doorbell and the budget Wired model, both of which use black-and-white night vision. But there still needs to be enough ambient light outside. Because I turn off my porch light when we go to bed, I didn't get much use out of this.

The Ring Video Doorbell Pro 2's 3D Motion Detection
This feature uses radar—a first for Ring doorbells—for motion detection that's much more accurate than my old Ring doorbell's but only somewhat more accurate than the Ring Wired's. I have to admit though, I felt a little uncomfortable with the amount of information the feature requires.
When you set it up, you're presented with a map of your neighborhood labeled with the street addresses of your and your neighbors' homes. You then have to pinpoint on the map exactly where your doorbell is located on your home. Though my street address is technically public information, and anyone can see the doorbell's location just by walking down the street, it felt a little invasive to see all this information about my home compiled in Ring's app.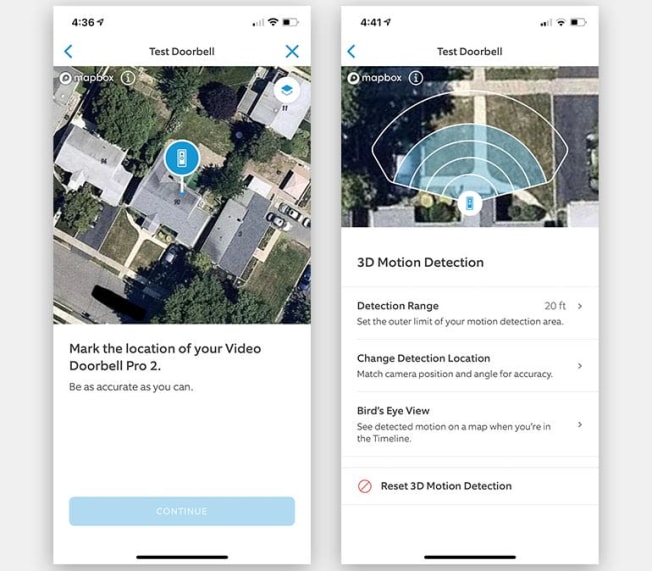 The app will prompt you to enter your desired range for the motion detection (up to 30 feet away) so that it can create Bird's Eye View aerial maps that show where motion is detected in real time. Ring suggests that "To respect neighbor privacy, keep your detection area within your property line."
The fun part: If you're familiar with Harry Potter, the maps work a bit like the Marauder's Map, with little dots appearing wherever people walk. It wasn't able to pick up my toddler or small dog, though, probably due to their size. And it couldn't detect movement in areas that were blocked from the view of the doorbell, like behind the pillars on my porch.
Of course, there's also the question of what Ring does with the location information of your doorbell. Ring says it will not share that information with law enforcement unless it is "obligated to comply with a valid and binding legal request."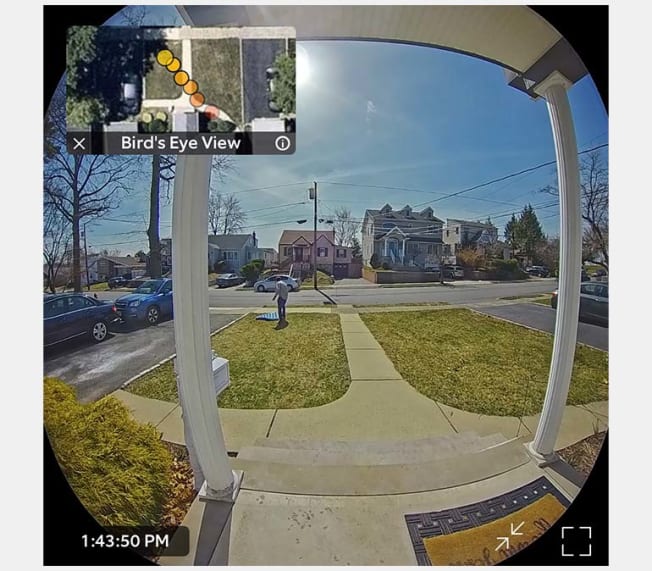 The Ring Video Doorbell Pro 2's HD Two-Way Audio
This is the first Ring model with "HD Two-Way Audio," but it didn't sound that much better than the regular two-way audio from my old doorbell (the Wired model also has regular two-way audio). In fact, it sounded much more muffled than the sound from my own Ring doorbell when I used it with my Amazon Echo Show speaker. And for speaking to visitors, the audio from the Pro 2 sounded virtually identical to that from my Ring doorbell. It sounded cleaner than my old doorbell only when I used two-way audio in the Ring app.
The Ring Video Doorbell Pro 2's Alexa Greetings
With the Alexa Greetings feature, Alexa can answer the doorbell for you. It doesn't require you to have an Amazon account, the Alexa app, or an Alexa smart speaker; all you have to do is open the Ring app, enable the feature, and set how many seconds you want Alexa to wait before it takes over (the time delay is there to give you the chance to answer the doorbell yourself).
Alexa Greetings is surprisingly sophisticated: The assistant will change what it says depending on the scenario. To put it to the test, I pretended to be a delivery person, a door-to-door salesman, and a friend visiting.
When I told Alexa I was delivering a package, it told me exactly where to leave it and offered to take a message when a signature was required. When I said I was a salesman, it asked for contact information, pricing, and the types of services I offered. When I said I was just there to visit, it simply offered to take a message, which is what Alexa also does when it doesn't understand what you're there to do. So far so good.
But Alexa wasn't perfect. A few times when I tried my visitor impersonations, Alexa wouldn't engage at all. Was it something I said?
The Ring Video Doorbell Pro 2's Quick Replies
Another option to have your Pro 2 answer your door: Quick Replies. You can select a pre-recorded message that the Pro 2 will play shortly after someone rings the doorbell.
Some of the message options are: "Hi! We'll be right there," "Sorry, we're not interested," and "Thanks for stopping by. If you'd like to leave a message, you can do it now."
When you answer the doorbell from the Ring app, you can also play these messages instead of talking to the visitor, which is handy if, say, you're on a Zoom call and can't talk to them at the moment. You won't get Quick Replies with the Wired model, though Ring says it's slowly rolling it out for other Ring doorbells.
Should You Buy the Ring Video Doorbell Pro 2?
Though the Ring Video Doorbell Pro 2 comes with plenty of nice new features, I can't say any of them make enough of a difference to make it worth $250. Alexa Greetings, Quick Replies, and Pre-Roll Videos are available on the $170 Ring Video Doorbell Pro, and the $99 Ring Video Doorbell is being updated with Quick Replies.
The "Head to Toe Video" is probably my favorite feature, but it's available on cheaper doorbells from Arlo and Google Nest (they cost $150 to $230). And while I appreciated the accuracy of the 3D Motion Detection, it's not as useful as the ability to differentiate between animals, packages, vehicles, and more, which Arlo and Google Nest do. As for the Birds Eye View aerial maps, they're a neat addition, but they feel more like a party trick than a truly useful feature.
You'll get more bang for your buck with the Ring Wired or a doorbell from another brand. We have ratings and reviews of top-performing video doorbells from our lab tests, including models from Blue by ADT, Eufy, Google Nest, Ring, and SimpliSafe.
Of course, we still have to see how the Ring Video Doorbell Pro 2 performs in our lab tests. Keep an eye on our video doorbell ratings in the months ahead to see how it stacks up.