Confessions of a Costco Virgin
I didn't think warehouse-club culture was for me. Could my maiden voyage persuade me to broaden my horizons?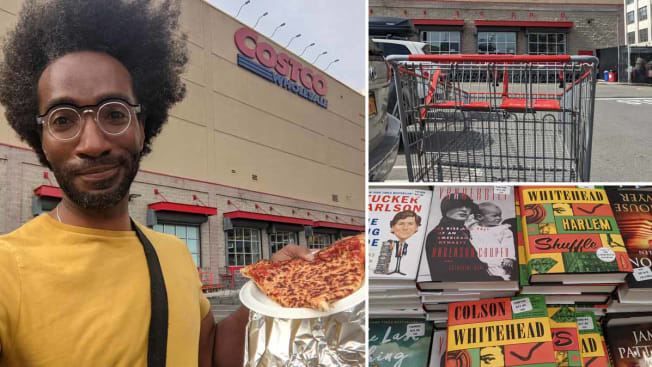 My Midwestern, minivan-driving mom has been a card-carrying Costco member for decades, regularly filling up on gas, Kirkland Tequila Añejo, and spinach artichoke dip. But somehow I've managed to never see the inside of an outpost of the world's fifth largest retailer. I'd help my mom unload the trunk and would pillage the chocolate-covered almonds, but that's about it. 
Adulthood didn't change me. But my colleagues at CR thought that writing about losing my Costco virginity would make a great dispatch, and they said they would pay for my membership (remember, no freebies from stores for any of us at CR). Still, I was hesitant. Like legions of other urban hipster transplants, with big-city ZIP codes and flyover roots, I have neither a car nor a pantry. 
But my hesitancy was about more than that, too. The way I saw it: Big warehouse stores like Sam's Club, BJ's, and Costco are all part of the deal you make with the devil when you trade bike riding and bodegas for the comfort of a den and a basement deep freezer. I love a bargain but worried about dancing on the edge of that slippery slope to the suburbs. 
A Grocery Store It Is Not
Not unlike a dollar store, Costco has a shallow selection. I saw a single brand of vanilla extract, two types of pancake mix, three brands of deodorant. 
To be fair, Costco doesn't claim to be a grocery store. By design its warehouses typically stock about 4,000 items, whereas a full-service supermarket may have as many as 30,000. The company says it curates its offerings so that everything is of the highest quality for the lowest price. They might say their offerings are all killer—no filler. 
From what I saw, it's an almost-everything store complete with an in-house pharmacy and optical department, plus everything from large and small appliances to pots and pans. There are sections typical of a supermarket—bakery, meat, produce—but aisles are otherwise not labeled to lead you through your shopping journey. So wear comfortable shoes if you intend to shop from a list. While you may not be able to choose between 13 flavors of ice cream, there's lots to see when it comes to flat-screen TVs and bulk packages of Halloween candy.
The conventional wisdom is that hunger makes you prone to impulse buys when grocery shopping. That rule may not apply at Costco, where there are sample stations in nearly every aisle. The day I visited, those samples—doled out in small cups by exceedingly friendly aproned, masked, and gloved people—were for stevia-sweetened soda, canned chicken breast mixed with olive-oil-based mayonnaise, and black-bean burgers. 
As 2021 comes to a close, who among us hasn't tried a black-bean burger or diet soda? I asked the sampler why she was dishing out chicken in mayo instead of the intriguing Snak Yard salted egg crispy salmon fish skins in the aisle a few feet behind her. She shrugged and said she was selling mayonnaise. As an adventurous eater, I would have given the fish skins a try. As a less-than-adventurous spender, I declined to shell out $13 to buy the 5.1-ounce bag. 
Maybe Costco can take a cue from Trader Joe's, where a crew member once told me I could take any product to the sample station for a tryout before deciding whether to buy it.
Costco is shopping without borders. There was a 56-ounce container of ghee, clarified butter widely used in Indian cooking, right next to an equally hefty jar of salsa, and no one seemed confused. Both products were across the aisle from organic maple syrup, which made me think that products are placed where the employees can fit them, and that you've got to grab them when you see them if you don't want to have to retraverse the whole warehouse.
The Sales Don't Disappoint
By my calculations, Costco's everyday prices for the things that are staples in my house are about the same as what I pay when I buy them on sale at my local supermarket. So imagine my surprise when I saw a six-pack of my go-to brand of dental floss, already well priced, on sale for $4 off. This was the caliber of deal I had in mind when I asked my neighbor to borrow her cart. I also bought a multipack body lotion I would have probably overlooked if it hadn't been $3.50 off. The everyday deals are worth the trip to Costco, but the sale prices really sweeten the entire experience. 
Too Much of a Good Thing?
Buzzing from my dental floss deal, I came upon Quaker old-fashioned oats. We love oatmeal in my house—we eat it all year long cooked conventionally or overnight-style—and I reflexively reached for a package containing two 5-pound bags.
But in a warehouse store, your reflexes may not be your friend. If you think making a list before embarking on a supermarket run is important, it's downright imperative before a visit to Costco. In the warehouse, surrounded by sales and samples, everything starts to look like a deal not to be passed up, and you can easily make choices you'll come to regret.
Which leads me back to the oatmeal. There are only two of us at home to feed, so at first I figured I'd freeze a bag and store the other in a jar. But on second thought, did I really want to sacrifice my limited freezer space to save a few cents? I used my phone to call up some price data to compare Costco's oat offer with the ones I usually buy. I found I'd have to purchase four 42-ounce packages of my usual brand of old-fashioned oats to measure up to the 10 pounds on offer at Costco. I'd get 8 ounces more oatmeal at Costco and would end up paying just $1.37 more. So yes, it would be a deal, strictly speaking—but come on, 10 pounds of oatmeal? That's a lot of deliberation over breakfast.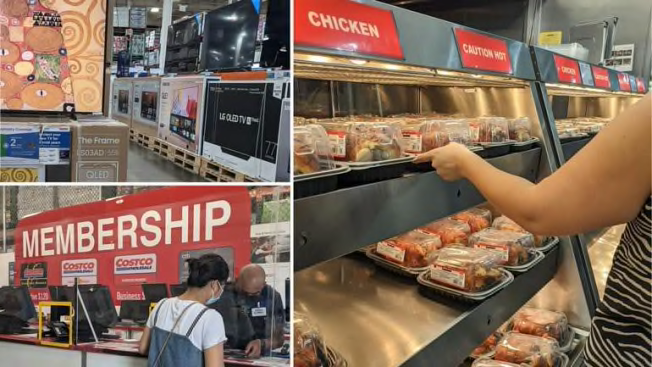 Growing up, buying a TV was always a family affair. My mom would research the brands and features while my dad would advocate for whichever screen was the biggest. We'd go to the electronics store and spend what felt like an hour looking and talking to salespeople. Which is why I was surprised when a sales associate working the TV department told me 75 percent of people who buy those big flat-screen TVs at Costco just grab and go without deliberating.
Perhaps those grab-and-goers are all CR members who did their research before hitting the warehouse. But for those who've yet to get the benefit of CR's expertise, the Costco salesperson I spoke with had some insights to share. I peppered him with questions I already knew the answers to, and he fielded them all while walking me around the floor explaining the nuances of the 85-inch models. He told me he was there to help and, though I didn't leave with that 85-incher, I believed him.
Books I actually want to read. A hardcover copy of "Harlem Shuffle," the just-released Colson Whitehead novel I've been meaning to pick up, was on sale for $11 below list price. There were also current titles by authors I've actually heard of, all at significant savings. There was also a large selection of children's books.
Costco Is the Bermuda Triangle of Style
There were gloves, mittens, underwear, socks, and even winter boots when it comes to apparel, and, if it comes with a drawstring, you can probably find it. I know it's been a long two years, but do we really need more sweatpants? If your answer is yes, Costco has you covered. Black, pink, navy, or gray, from toddlers to the biggest grown-up sizes, sweats have a home here. Shopping in the outside world I always wonder why sweats are so expensive. After my trip to Costco, I'm even more curious.
Membership Has Its Benefits
I have a feeling that Costco wants to curate my entire life, and I briefly considered letting it do it. At the member desk I was intent on purchasing the $60 Gold Star membership. After questioning my decision, the representative, a Costco team member since 2018 according to his name badge, outlined the benefits of the $120 Executive membership. 
He went on to inform me that as an Executive member I'd be entitled to all of the benefits of the basic Gold Star membership plus have the opportunity to receive a 2 percent annual reward of up to $1,000 back on qualifying purchases made within 12 months. Then the guest services rep came from behind the plexiglass-shielded counter and made a beeline for a wall of pamphlets. 
There was a 48-page brochure from Costco travel. Another dedicated to pre-owned vehicles, parts, and service via the Costco Auto Program. A one-sheeter offering identity theft protection, and a Costco Services reader with everything from home, auto, and life insurance to mortgage financing or refinancing and bottled-water delivery.  
I stuck to my guns and bought the $60 Gold Star membership. As a member, I can now purchase a Costco Shop Card, a gift card of sorts available from $25 to $2,000, which entitles anyone to shop at Costco or the company's website. If you're not sure that a membership is for you, ask a Costco member to buy a Shop Card for you and give it a go.
I Spent Only 25 Percent More Than I'd Planned 
I have never spent $250 on groceries. Not for a birthday party, not at the fancy Manhattan food shop where the pears are nestled in gold tissue paper, not even for Thanksgiving. But three hours after crossing the parking lot I was heading home with 22 items, including a four-pack of potted mums, a 3-pound container of Greek yogurt, a dozen bakery-fresh croissants, the compulsory rotisserie chicken, and more, all for $256.11. You can actually add about five bucks more to the tab because I couldn't leave without a slice of pizza and a cup of vanilla soft-serve—eaten in the parking lot before trudging back to the train. It was hard on my borrowed grocery cart but Costco was gentle with me.
So will my Goldstar status consign me to a life of khaki pants and lawn maintenance? First off, I don't even have a lawn, and second, shopping at Costco is no more likely to transform me into my dad than wearing skinny jeans would turn him into me. But to my concerns about whether buying toilet paper by the pallet would lead to a life of excess and sensory-dulling creature comfort? That hasn't happened.
It's possible to embrace Costco and still be the type who orders annoyingly specific drinks from independent cafes. I realize it's the duality that makes life interesting. Like eating whatever's in a cheese-covered casserole during a visit home and loving it while knowing a carb-free existence awaits you when you go back to "real life."
I can't imagine the folks down at the warehouse will be learning my name anytime soon, but they'll see me from time to time. At least, as soon as I begin to see the bottom of that 3-pound tub of Greek yogurt or all the floss runs out.