When you shop through retailer links on our site, we may earn affiliate commissions. 100% of the fees we collect are used to support our nonprofit mission.
Learn more.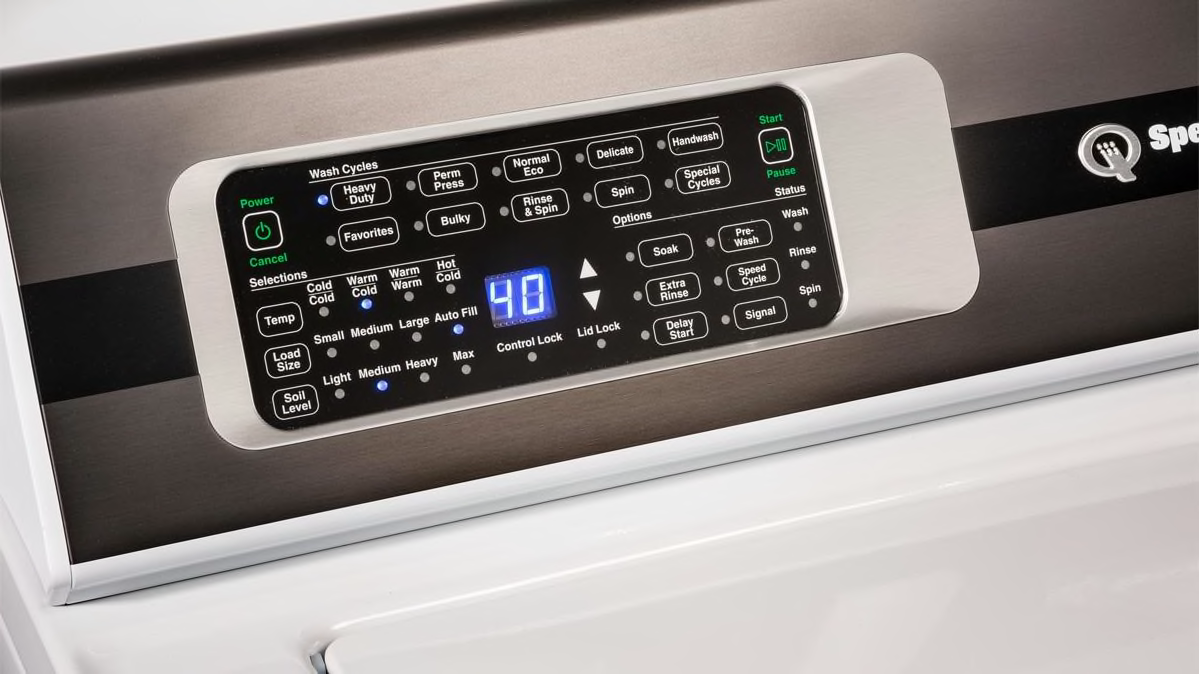 Update: Speed Queen recently told CR that it had made some changes to the TR7 top-loader. So we bought and tested the updated Speed Queen TR7000WN in September 2019. For the details, see our latest review of the TR7.
This article was originally published on April 27, 2018.
It's not every day that a washing machine earns a Poor rating in Consumer Reports' washing performance test, but that's the case with the Speed Queen TR7000WN, a new agitator top-loader that sells for more than $1,000.
The Speed Queen TR7 (model AWNE9RSN115TW01) earned an Overall Score of 31 out of 100. That means it holds the distinction of being the worst-performing washing machine of the 100-plus full-sized models in our ratings and the most expensive agitator top-loader. For the premium price, you could buy two machines in the same category that got a Very Good for washing performance (aka cleaning).
"Speed Queen's score in the washing performance test hurts its Overall Score," says Rich Handel, who oversees CR's laundry appliance tests. "It's the only washer in our ratings to earn a Poor for cleaning."
Speed Queen tests its own products before they go to market, of course, and the company told Consumer Reports that the Speed Queen TR7 has a unique wash action. "[It] was not arrived at casually," says Jay McDonald, vice president of the company's North American home laundry sales. "It is the culmination of three years and thousands of hours of research, development, and testing by a team of engineers."
But in CR's labs, the Speed Queen TR7's subpar cleaning result was notable enough that we reached out to Speed Queen's engineers to make sure the washer we purchased at retail was working properly. Our test engineers verified information about the TR7's cycle times and other parameters, such as water and energy use, and are confident that CR's unit of this model operated as intended.
Just how poor is a Poor score in CR's book? Check out the video below to see what our stained swatches looked like after they were washed in the TR7.
The Speed Queen TR7 does have a few positive performance highlights. This top-load agitator washer completes a cycle in a brisk 40 minutes, making it one of the fastest among agitator washers. And it's gentle on fabrics, scoring an Excellent in that test, which is unusual for an agitator model. It rated a Very Good in energy efficiency and a Good in water efficiency, a marked improvement over previous models.
It's noisy, as agitator washers tend to be. But if a washer can't clean well, the noise is the least of your worries.
The same might be said about reliability and owner satisfaction.
Speed Queen has a loyal following that raves about the sturdiness of its machines. Indeed, the brand is tops in CR's latest predicted reliability ratings of agitator washers. Our survey results are based on CR members' experiences with 76,517 washers bought new between 2007 and 2017 that are not covered by a service contract. Our survey also found that Speed Queen is the only agitator brand to get a favorable owner satisfaction rating.
We now incorporate lab test results, predicted reliability, and owner satisfaction into one Overall Score to make it easier for you to make a well-informed buying decision, as you'll see in our washing machine ratings and dryer ratings, too.
The Speed Queen TR7 comes with a seven-year warranty and is built to last around 25 years for residential use, according to the company. That's 15 years longer than what some other major manufacturers claim.
You'll find agitator top-loaders in CR's washing machine ratings that sell from $270 to $800. The Speed Queen TR7 costs $1,040, yet it has the smallest claimed capacity of any agitator model, at 3.2 cubic feet.
Speed Queen models similar to the tested washer are the AWN43RSN115TW01 and AWN63RSN115TW01 top-loaders.
A New Design
So what's different about the TR7 compared with the company's earlier top-loaders?
The TR7 operates unlike anything on the market, McDonald says. "As part of this new design, washing happens throughout the tub, as opposed to the old design, which used solely the agitator to deliver the mechanical wash action," he says. "So while the wash action may be different, it produces even better results. Our test results bear this out."
When Consumer Reports tests a washer's cleaning performance, we use the normal wash cycle and the heaviest soil setting. We launder fabric swatches stained with red wine, cocoa, and carbon, which is similar to soot, among other stains. The tests are meant to challenge the washer so that we can see real differences among the machines.
For the Speed Queen TR7, that means using the machine's normal eco cycle on the max soil setting, the same cycle and soil setting we used in earlier Speed Queens we tested, such as the Speed Queen AWNE92SP113TW01 agitator top-loader, which scored a Very Good in cleaning.
McDonald contends that stains such as blood, wine, and chocolate are not everyday stains and require a heavy-duty cycle.
In fact, we tested the TR7 on its heavy-duty cycle to gauge its best possible cleaning performance. "Many machines have a more aggressive wash cycle, and typically it will improve cleaning," Handel says. "We ran a load in the Speed Queen using the heavy-duty cycle and max soil setting, and found that cleaning performance did improve—from a Poor to a Fair."
Better, but not great, especially considering the price.
If an agitator top-loader is what you want, consider the top-rated Maytag MVWB865GW, $820, the GE GTW685BSLWS, $665, or any of the other models that made our list of recommended washers. To earn a spot on this list, agitator washers have to earn an Overall Score of 61 or higher. For high-efficiency top-loaders and front-loaders, we set the bar even higher.