Best Wireless Speakers Under $200
These models from Bose, JBL, Sony, Sonos, and Ultimate Ears are ideal for music lovers
When you shop through retailer links on our site, we may earn affiliate commissions. 100% of the fees we collect are used to support our nonprofit mission. Learn more.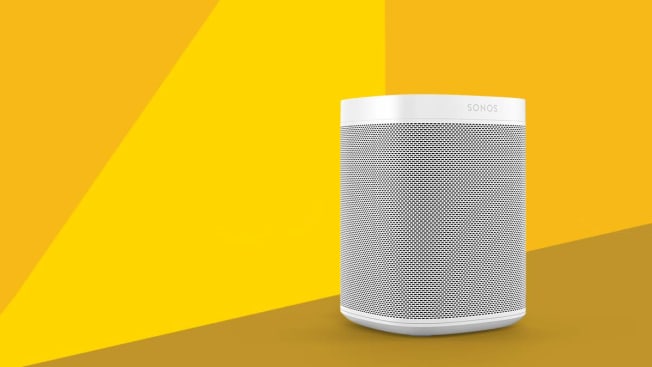 Wireless speakers are a triumph of modern electronics, combining great sound with convenience. And unlike many other electronic gadgets, wireless speakers aren't likely to become outdated in a year or two. That's why it makes sense to spend a few more dollars to get a speaker that sounds and performs great, especially because prices aren't nearly as high as for many other devices CR tests. Unlike a TV or laptop, a speaker that costs less than $200 can deliver great performance.
But which wireless speaker to choose? If you're thinking about using it away from home, say, at a park or beach, consider a Bluetooth model that's rugged and water-resistant. If you want to play that strictly indoors, consider a WiFi model for a more robust and stable connection.
Either way, you want to find a model that's easy to use and has good sound for the money. You can check off both of those boxes with the following models, which are the best speakers for under $200 that Consumer Reports recommends. All of them were purchased through regular retail channels and evaluated by our trained testers in our labs.
To learn more about selecting the right wireless speaker, check out our wireless speakers ratings and buying guide.
Appealing to anyone who wants a speaker to match their décor or even their mood, this midpriced Bluetooth model from Bose comes in a choice of colors that include basic black and an attention-grabbing citron yellow. Bose claims that the Color II is rugged and water-resistant, so it should be well suited to the park or your patio. (Consumer Reports doesn't test speakers for impact resistance or waterproofness.)
Don't be fooled by the model's petite size; the sound is surprisingly powerful for such a small box. Our testers were also impressed with the speaker's intuitive controls and how easy the SoundLink Color II is to pair with various devices.
If you're looking for a Goldilocks-like portable speaker—not too big but not too small—check out the JBL Charge 5. It's smaller and cheaper than the company's beefy Xtreme 3, but it's bigger and better-sounding than the smaller and cheaper Flip 5. It's also water-resistant, according to JBL, which makes it ideal for, say, an outdoor dance party.

Our testers found the Charge 5 easy to use and able to deliver enough volume for a midsized room with a bass that can pack a wallop and a generally pleasing midrange. But the Charge 5 is less versatile than its predecessor, losing its aux inputs and the mic that allow the Charge 4 to function as a speakerphone.
If you're looking for the foundation of a multiroom music system, consider this stylish, solidly constructed Sonos speaker. It delivers very good sound quality all on its own, but if you pair it with another One SL in a stereo configuration, you get even better sound.
And you can easily add more Sonos wireless speakers to create a whole-house system capable of playing different selections in different rooms. How about some Miles Davis in the dining room for jazz fans and Jay-Z in the family room for folks with more contemporary tastes? Nice. Note, however, that the One SL operates only on WiFi and AC power, so there's no battery or Bluetooth pairing.
The Sonos line also features a very similar Alexa-powered smart speaker, the Sonos One, that provides similarly fine sound with smart speaker functionality for a few dollars more. The Sonos One can integrate with the One SL in a Sonos multiroom system, but you need two identical speakers—either two Ones or two One SLs—to form a stereo pair.
Sony's SRS-XB23 is proof that less is more. The manufacturer's earlier wireless Bluetooth speakers were laden with bells and whistles, including colorful LEDs that would pulse with the music and digital sound effects that would bleat when you beat on the speaker. These features were fun but ultimately beside the point.
The more straightforward XB23 performs its primary function admirably. It's a medium-sized speaker that checks a lot of boxes. It's relatively inexpensive, and Sony claims that it's water-resistant.
And it sounds good. According to our testers, the low bass of the SRS-XB23 is a bit lacking, and the midrange lacks some of the clarity of the very best portables. But on balance, the speaker delivers satisfying sound.
The Megaboom 3 features whimsical and colorful styling that says it's time for fun. It's a little larger than its less-expensive sibling, the Boom 3, and our testers report that it sounds significantly better, too. The Megaboom 3 also provides enough volume for use outside or in a large room.
Though it has almost comically large volume buttons, the Megaboom 3 achieves only average ease-of-use scores from our testers because routine functions require the use of unlabeled buttons.
According to the manufacturer, the Megaboom can pass a water-resistance test that immerses it in 1 meter of water for a half-hour. So it could be the right choice for blasting the Beach Boys' "California Girls"—or Katy Perry's "California Gurls"—on your beach blanket. The manufacturer claims that the Megaboom floats, but we still suggest that you move it before the tide comes in.