When you shop through retailer links on our site, we may earn affiliate commissions. 100% of the fees we collect are used to support our nonprofit mission.
Learn more.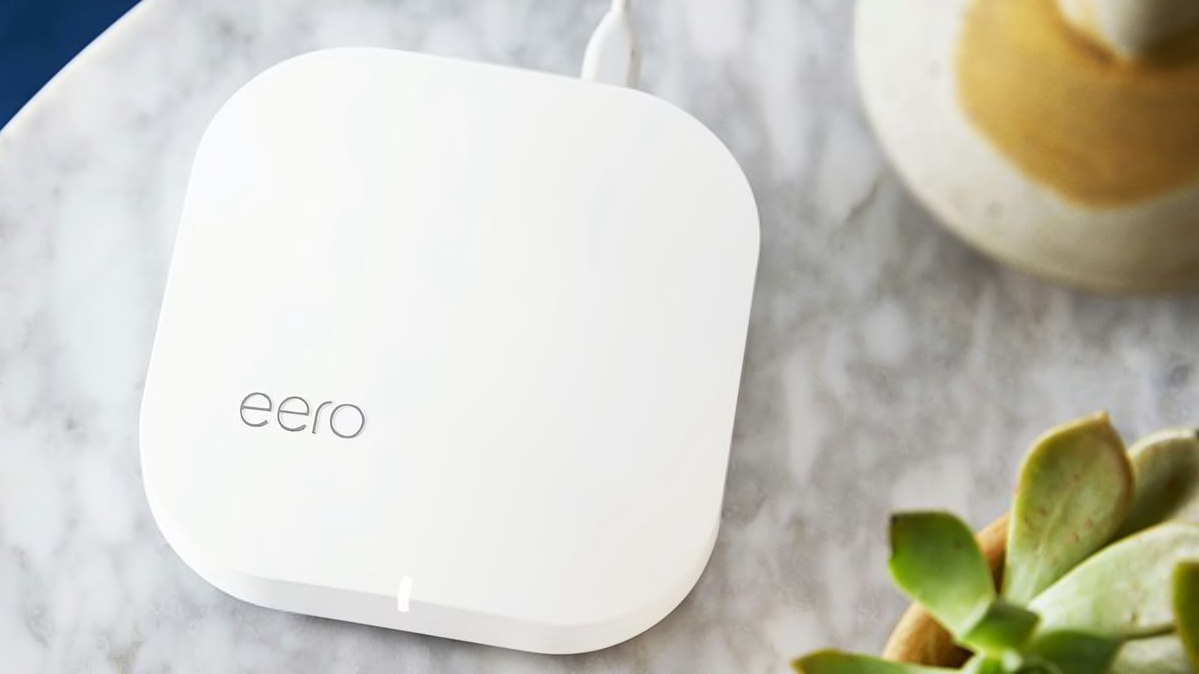 Amazon's agreement to buy the wireless router manufacturer Eero could make it easier for homeowners to manage a wide array of wireless devices, like smart thermostats and video doorbells, according to analysts and Consumer Reports' in-house experts.
But some of them expressed concern over how often high-profile startups get bought by the tech world's behemoths.
"The problem we face as consumers is that we don't know what we're missing" when innovative companies don't stay independent, says Stacy Mitchell, co-director at the Institute of Local Self-Reliance, an advocacy organization. "That may be a trade-off for the modest convenience that may come with Amazon owning Eero."
The deal will see Amazon absorb the company that helped popularize the concept of mesh networks. These are WiFi networks that combine a base station with multiple satellite units, or nodes, to uniformly spread WiFi signals throughout the home. The goal of a mesh network is to eliminate connectivity problems and stop devices from dropping their WiFi connections as users move from room to room in their homes.
"With mesh, you're getting increased range, a stronger signal, and probably better performance," says Richard Fisco, who leads electronic testing at Consumer Reports.
The Eero three-pack, $500, is one of the highest-ranked wireless routers in our ratings, with our testers noting strong performance (depending on the wireless network range), easy-to-use controls, and automatic firmware updates, which helps keep you and your data safe from hackers.

Amazon and Eero revealed few details of their plans, but in a press release posted on Amazon's site, Eero CEO Nick Weaver says, "We're excited to learn from and work closely with a team that is defining the future of the home."
Over the past five years, Amazon's Echo devices and Alexa digital voice assistant have helped popularized home automation. Amazon also owns Ring, a smart doorbell company.
What's Good About the Deal?
For consumers, Amazon owning Eero could make it easier to set up and manage the wide range of wireless devices in their homes.
"A number of companies have been trying to address a very real pain point for consumers around their WiFi experience at home," says Brad Russell, research director for the connected home at the Parks Associates research firm. "If you can control the router and the user interface, then you're golden."
Amazon could eventually let users control their Eero router using Alexa voice commands, Russell says, making it easier to add or remove devices from the network, or turn off internet access to select devices. That way parents could, for example, tell Alexa to disconnect their children's laptops from the internet so that they can put down "Fortnite" and come down for dinner.
"At the end of the day, Amazon wants to optimize the whole connected home experience, and the easiest way to do that is for the hardware and networking to be aligned with one another," he says.
Russell also says that the acquisition could lead to lower-priced options for Eero products. A bundle of one Eero base station and one satellite unit currently costs $300, while Eero Plus, a subscription service that enables advanced malware protection and ad blocking, is $99 per year. Even without waiting for new products, consumers might benefit from deals when Amazon puts its own devices, such as Kindle e-readers and Echo Dot smart speakers, on sale.
Should Consumers Worry About Privacy?
Routers sit at the center of your home network and necessarily handle all of the internet traffic entering and leaving your home. Amazon collects data through its Echo speakers, Fire tablets, and other devices, and it's technically possible for a router to do that, too.
"All of these issues will have to be dealt with appropriately, with things like privacy policies, consumer choice, and voluntary opt-in, in a way that consumer confidence is not eroded," says Russell of Parks Associates.
Amazon isn't the only data-driven tech giant in the router business. Google's privacy policy states that the company's mesh routers do "not track the websites you visit or collect the content of any traffic on your network."
Eero's website similarly clearly states the company does not track users' browsing habits, and in public statements Amazon has said it doesn't plan to change that policy.
Who Else Makes Mesh Routers?
Eero was one of the first companies to popularize mesh networking, but consumers who want to steer clear of Amazon products have other options.
Other well-known manufacturers, including Arris, Google, Linksys, and Netgear, also produce mesh network routers—and several of these products do well in our ratings.
"They didn't jump on the mesh bandwagon early like Eero, but they're there," Fisco says.
In the next few years, consumer options will increase even more, according to Fisco. The Wi-Fi Alliance, an industry consortium that manages WiFi standards, has developed a new standard called EasyMesh that will let consumers create mesh networks composed of routers made by different companies—and sold for different prices.
"You'll be able to hook up a $100 router that's compatible with the mesh standard to your network and suddenly you'll have a mesh network," Fisco says. "Now you won't have to go out and spend $400 on a whole mesh system."
EasyMesh hasn't rolled out yet, however. Router manufacturer Arris announced the first model last summer, but it hasn't been released yet.