When you shop through retailer links on our site, we may earn affiliate commissions. 100% of the fees we collect are used to support our nonprofit mission.
Learn more.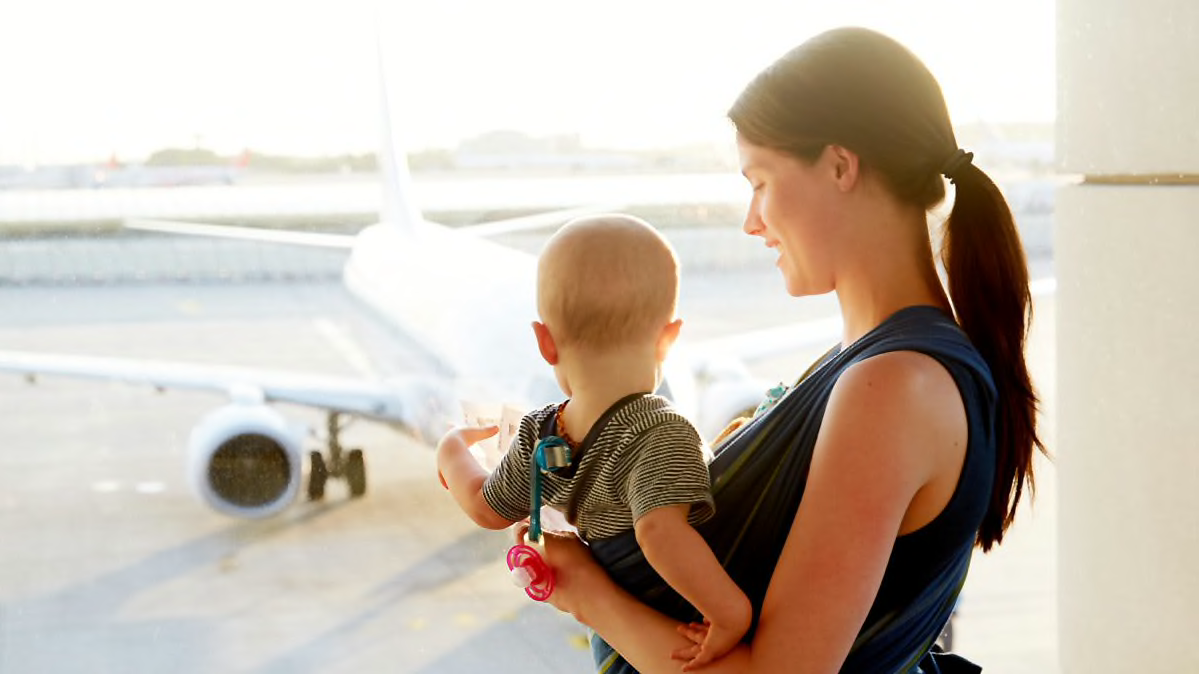 There are lots of ways to save money on air travel, but putting the youngest and most vulnerable passengers—infants—at risk shouldn't be one of them.
When you're flying with a child under 2 years old, the government and airlines allow you to travel with the baby in your lap. While that might lead you to believe the practice is safe, CR and other experts strongly advise against it. (And there are a few other, safer, ways to save on booking children's fares, though not as many as parents would like.) Your child should be securely restrained in an appropriate car seat.
Safety First
No matter how safety-conscious they are, busy parents are unlikely to visit the Federal Aviation Administration's website before booking their next flight with kids in tow. But if you do, and you dig deep enough, eventually you'll find this guidance: "Did you know that the safest place for your child on an airplane is in a government-approved child safety restraint system (CRS) or device, not on your lap?"
This is one safety issue on which all the experts are in agreement, since "lap kids" are simply never as safe as those properly restrained during turbulence or in-flight emergencies. In addition to the FAA, other advocates for child restraints include the National Transportation Safety Board, the National Safety Council, the Association of Flight Attendants, the Flight Safety Foundation, and the American Academy of Pediatric Medicine. No aviation expert that CR is aware of advises otherwise.
As far as CR has been able to determine, neither the government nor the airlines have released public data on the number of unrestrained infants hurt or killed by turbulence or other emergency events. But there have been fatalities. As the then acting Chairman of the NTSB stated in an official blog in 2014, "Preventable deaths and injuries have occurred in children under age 2 who were unrestrained."
In 2010, CR participated in a committee that officially recommended that the U.S. Department of Transportation (which oversees the FAA) should mandate restraints for children under 2, but the proposal ultimately was rejected.
That said, during the course of a flight, naturally there are times when parents and caregivers will want to hold infants. But the bottom line is that if the seat belt sign is on, then babies will be safest if they're properly restrained. During turbulence and emergencies in particular, the G-forces can be far too great for anyone who doesn't hail from the planet Krypton to properly hold on to what at least one airline calls an "infant-in-arms."
Although there is still no regulation forbidding lap kids, of late there have been some changes to airline policies, which are detailed below. What's more, there have been other shifts. For example, Alaska Airlines states, "Lap infants sharing a seat with a parent may still sit next to their parent in a car seat if there's an empty seat available." (Since there's usually no charge to check car seats if you don't use them, parents may want to bring them on board just in case.)
But such gestures may be meaningless in the near future. Passenger loads have been peaking at all-time highs in recent years. And this summer, cabins may be particularly full because Boeing 737 MAX aircraft have been grounded, and empty seats may be scarce. The safest strategy is to book a seat for your child.
General Advice for Parents Flying With Babies Under 2
The FAA requires all children 2 and older to have their own airline seats. If you're flying with a baby under the age of 2, keep the following in mind.
Be aware of health issues. There could be medical factors restricting your baby from flying, particularly for newborns. Get specific guidance from your pediatrician. In addition, see Kids Travel Doc for specific tips on flying with infants.
Check your carrier's minimum age for babies. Passengers under 2 years old must be accompanied by an adult. Beyond that, domestic carriers vary wildly in the minimum age for infants flying on them. Policies range from not stating a minimum age at all, to 2 days old (American), to 7 days old (Frontier, Spirit, and United), to up to 14 days old (Southwest). Birth certificates and/or medical waivers may be required.
Be sure your car seat measures up. An important point: All child seats must meet FAA requirements. But there can be additional restrictions based on the airline and aircraft, so it's important to check the dimensions on the airline's website since most airlines contain detailed specifications for the aircraft in their fleets.
Check seat assignments. If you are able to select your seats in advance, be aware that certain seats and even rows on the plane may not accommodate restraints due to exits or oxygen mask availability. And some airlines, such as American, don't allow safety seats in Business or First Class on certain planes.
When in doubt, bring the car seat. If you decide not to use your child seat and check it instead, there usually is no fee.
Take perks where you can get them. Most domestic carriers offer priority boarding to families with children. In some cases, bassinets may be available on longer international flights, but these are not approved restraints.
Request that family-seating fees be waived. When passengers buy cheaper tickets, they may not be able to select their seats. This can be a concern for parents, particularly when their children are infants. In July 2016, Congress directed the DOT to examine establishing a policy allowing kids under 13 to be seated with a family member at no extra cost. The DOT has not yet addressed this publicly, however, and many airlines continue to impose fees for this service. In 2018, CR filed a Freedom of Information Act request with the DOT to obtain information on why no action has been announced or taken. The bottom line: If an airline does attempt to impose such a fee for sitting together, you should request this fee be waived, even though the policy hasn't become law—you might get lucky.
Policies and Prices, Carrier by Carrier
Here's a rundown of how the country's 10 largest scheduled airlines handle kids under 2. All will allow you to take infants under 2 as lap kids (often for free on domestic flights) or purchase a seat for them to use with an approved car seat.
In most cases, they need to be ticketed. Only Southwest offers discounts for this age group on all flights when they're traveling in a car seat in their own seat. On other U.S. carriers, infant fares for lap kids are sometimes required on international flights, usually subject to taxes and/or fees, and sometimes as high as 10 percent of adult pricing.
And note: There may be different rules and fares for flights booked through one of these airlines but operated by another carrier.
Currently, Frontier is offering a Kids Fly Free program, but it expires soon and is restricted to domestic flights, so act quickly (details below). For all families, the cost of booking another seat should be factored into the budget as a necessary line item.
• Alaska Airlines. Lap infants travel free domestically, but are subject to fees of approximately $17 on international flights to the U.S. (more on flights from Costa Rica); on outbound flights from North America, lap infants "may need to be ticketed at a percentage of the applicable adult fare plus taxes."
• Allegiant Air. As with many airlines, proof of age is required for babies under 2, whether they're booked as lap kids or in restraints (for full adult fare).
• American Airlines. Lap kids fly free on domestic flights but incur taxes and a percentage of the adult fare on international flights.
• Delta Air Lines. On international flights, lap kids "usually" are charged 10 percent of adult fares, and "country-specific discounts may apply" for kids in their own seats.
• Frontier Airlines. There are no specific discounts for kids under 2. However, through July 30th, 2019, Frontier also offers the Kids Fly Free program, (flyfrontier.com/kidsflyfree) which allows one kid 14 and under (including lap children) to fly at no cost with each adult booking. The conditions include enrolling in the Discount Den membership club for $59.99 annually, and the program is limited to "select domestic flights" through March 2020, but with significant blackout dates.
• Hawaiian Airlines. For kids under 2, lap babies are free on flights within Hawaii and from Hawaii to North America; they cost 10 percent of the accompanying adult fare on international flights. For kids under 2 in purchased seats, the rates are: full adult fare for flights within Hawaii and to North America; 75 percent of adult fare on international flights; and 67 percent of adult fare on flights between Pago Pago/Papeete and North America.
• JetBlue Airways. Lap children fly free on domestic flights and incur fees and taxes on flights coming into the U.S. from another country. Infants in their own seats are charged full fare, both domestically and internationally.
• Southwest Airlines. As with many other airlines, lap kids fly free of charge. However, Southwest also offers infant fares for infants booked in their own seats on all flights; reservations can be booked at the ticket counter or by phone at 800-I-FLY-SWA (800-435-9792).
• Spirit Airlines. For lap children, Spirit states "taxes and fees may apply," depending on destination.
• United Airlines. Lap kids fly free on domestic flights but incur taxes on flights between the U.S. and Canada or to the U.S. or Canada from Mexico. Flights to other locations incur infant fares (10 percent of adult fares).
Editor's note: A previous version of this article stated that you could get infant fares on Southwest Airlines only by phone.