When you shop through retailer links on our site, we may earn affiliate commissions. 100% of the fees we collect are used to support our nonprofit mission.
Learn more.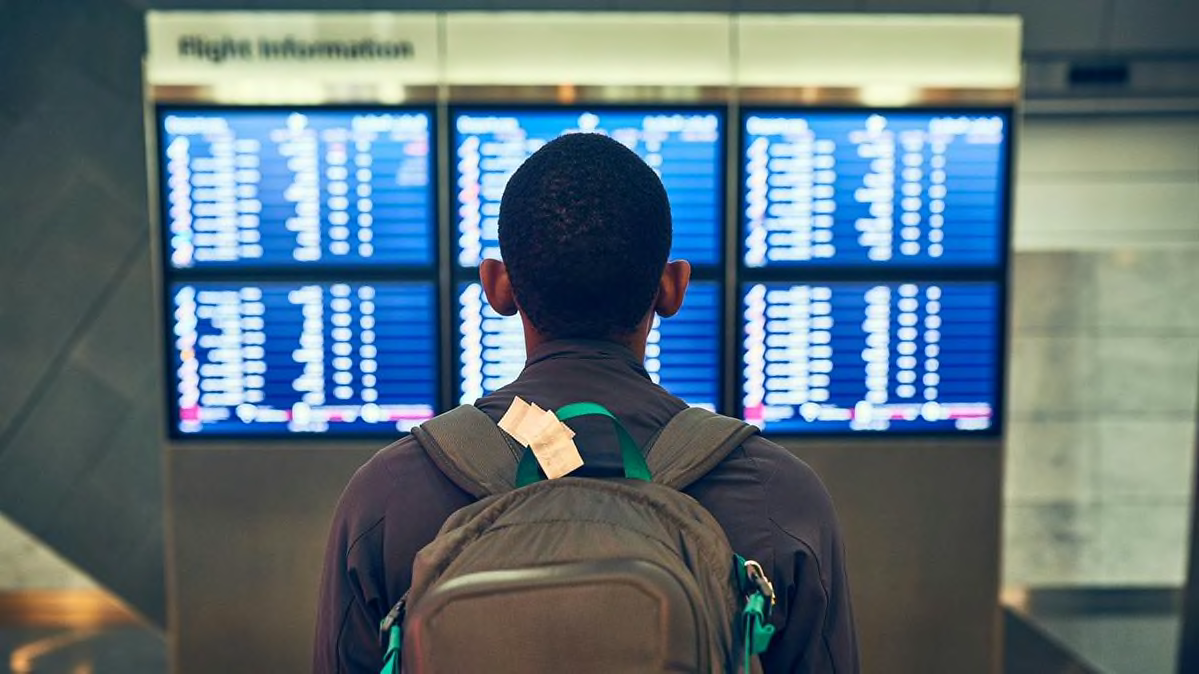 It's hard to forget the viral images of a bloodied passenger, Dr. David Dao, being dragged from a United flight in April 2017, when the crew decided he needed to give up his seat for an airline employee.
The incident became emblematic of the flying public's complaints that the airline industry lacks respect for passengers and provides poor customer service.
On Wednesday, Congress took a step toward ensuring that passengers are better protected by giving final approval to the Federal Aviation Administration (FAA) reauthorization bill.
The measure includes a rule that bans airlines from involuntarily removing passengers once they've boarded a plane. It also sets new rules banning onboard use of cell phones and e-cigarettes, permitting strollers to be checked at the gate, and giving pregnant women priority when boarding.
Though the bill also calls for establishing a minimum size for airline seats and takes steps towards limiting runaway air ambulance costs, consumer advocates criticized the bill for not going far enough to rein in the ever-expanding universe of fees.
"While the bill includes some hard-fought provisions to protect consumers, the airline industry succeeded in pressuring Congress to remove other important provisions, including those that would have helped rein in airline fees," says Anna Laitin, director of financial policy for Consumers Union, the advocacy division of Consumer Reports. (Read: "Airline Bill is Mixed Bag for Consumers.")
Paul Hudson, president of FlyersRights.org, an air travel consumer advocacy group and member of the FAA rulemaking advisory committee, agrees. "Overall it's a step forward for air travel consumers," he says. "But there are some things in the bill that are questionable."
Regulating Seat Size
Although the FAA will now establish a minimum size for airline seats, consumer advocates worry that the FAA may not set adequate requirements for health and safety.
Currently, the FAA mandates that plane seats be configured in such a way as to allow passengers to evacuate a plane in 90 seconds or less, and requires the airlines to do their own periodic testing.
But there are concerns about how the FAA actually monitors that requirement.
Hudson of FlyersRights says that "hardly any of the planes operating today have had a full-scale emergency evacuation test," and that the tests that have been done haven't taken passengers who are heavier, older, and more infirm—and thus more representative of the flying public—into account.
Of particular concern is that the FAA rejected advocacy group proposals to mandate that seats have enough width and pitch (the distance between rows) to provide passengers reasonable comfort and safety in situations in which a plane needs to be evacuated quickly.
Currently, the average seat pitch is between 30 and 31 inches, according to an analysis by William J. McGee, aviation and travel adviser for Consumers Union, the advocacy division of Consumer Reports.
But the seats in Spirit Airlines' fleet of planes have just 28 inches of pitch and no recline, the smallest in the industry.
Even tighter seats will further hinder evacuation speed, according to Hudson.
Sam Engel, vice president at ICF, an airline consulting firm, is concerned the FAA may set the minimum dimension limit to what is now used by Spirit and that other carriers will follow in its narrow footsteps.
Fee for-All Continues
Another of the big issues for travelers is the growing cost and number of fees, especially what are called ancillary fees, for goods and services like checking baggage, onboard refreshments, entertainment, WiFi, and early boarding privileges. But the FAA reauthorization bill didn't include any provisions to limit those add-on charges.
Because the FAA did not address the issue, consumer advocates and industry experts say that travelers can expect them to continue to rise.

Indeed, just before the reauthorization bill was voted on, Jet Blue airlines announced it will be raising fees for checked bags this summer.
Revenue from airline fees has been key to the airlines' financial strategies. Revenue from fees for the top 10 airlines has jumped from $2.1 billion in 2007 to $29.7 billion last year, according to the latest report on airline ancillary fees by IdeaWorksCompany, an industry consultant.

"The bill fails to protect Americans from the fast-growing problems with airline fees," says McGee. "Airlines are nickel-and-diming consumers with new and higher fees, while forsaking customer service for all but a very few. Lawmakers and regulators must put their constituents first and put meaningful protections in place when it comes to the fairness and transparency of fees," he says. "At best, this bill is a mixed bag for consumers."
First Steps to Fix Big Air Ambulance Bills
Consumers Union says the legislation takes important initial steps toward reforms for air ambulances, which have a history of leaving consumers who need air transport in a medical emergency with huge surprise medical bills. The average air ambulance bill is about $33,000, according to Research 360, an independent firm that tracks the industry. Most insurance companies cover only a fraction of that cost, if any at all.
The FAA bill requires the Department of Transportation to create an advisory panel to recommend new rules to protect consumers and to increase oversight of the industry to Congress. The bill also requires air ambulance operators to provide patients with a hotline number and contact info to an aviation consumer advocate charged with handling patient complaints.
While the final version of the bill did not include a stronger proposal that would have allowed states to regulate air ambulance pricing and services, as they do with other types of health insurance, George Slover, senior policy counsel for Consumers Union, says that the provision will provide a foundation for improved transparency and consumer protections in air ambulance pricing.
For more on how to fight air ambulance bills, read Consumer Reports' investigation, "Air Ambulances: Taking Patients for a Ride."