Maybe you've always been one of those people who plans ahead—making an extra pan of lasagna and sticking it in the freezer or stocking up on groceries at the warehouse club. If so, you were more prepared than most for the lifestyle adjustments many of us made during the pandemic—shopping less often and buying more food per trip.
As a result of those changes, there was a run on freezers in early 2020 and many retailers ran out of stock. There's no longer a shortage, so if you missed out early on and still crave the extra freezer space, now is a good time to take another look.
Before you shop, you'll want to decide whether a chest freezer or an upright model would best meet your needs—and your available floor space. Next, consider size, capacity, and energy use.
The good news is you don't have to spend a lot to get a good freezer. We found some impressive freezers for $600 or less. And a number of them make our best freezers of the year list.
One thing to keep in mind as you shop is that freezers are basically big empty boxes and can be hard to organize. Fortunately, some manufacturers are adding smart storage features—tiered bins and adjustable drawers and shelves—that make it easier to find what you're looking for.
Here are the types of freezers you'll find on the market and the pros and cons of each. For detailed test results, see our full freezer ratings and recommendations.
To test freezers, our engineers fill each model with boxes of frozen spinach and run them in our test chambers for approximately six weeks to evaluate how well they keep the packages frozen.
The results allow us to judge their thermostat control and temperature uniformity (the ability to maintain the same temperature throughout the freezer cavity). Our engineers also measure usable storage capacity, which doesn't always match what manufacturers claim.
In addition, we calculate energy efficiency, evaluate noise output, and judge how long a freezer can keep food frozen during a power outage. All this data is folded into an Overall Score for each model and appears in our freezer ratings charts. 
Stand-Alone Freezer Types
When it comes to the two most popular categories of freezers—upright and chest models—we find that there's no clear winner. Below, we consider the pros and cons of each type. Other options include freezer drawers and portable freezers, but they're a much smaller part of the market.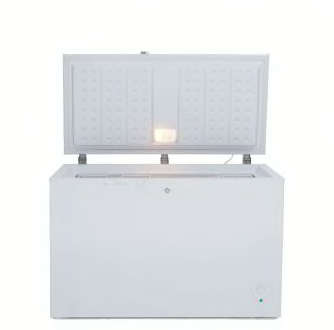 Chest Freezers
Pros: Chest freezers are wide open, except for their removable hanging baskets or, sometimes, dividers, so they offer more usable space than uprights. These models also tend to be slightly more energy efficient and are less likely to cause freezer burn on food. Because they don't self-defrost like uprights, the temperature stays consistently lower. They're also the better choice if the area where you live is prone to brownouts or power failures—they tend to keep food frozen longer when the power is off. We find that they're typically quieter than self-defrosting uprights.
Cons: Despite their hanging baskets, they can be harder to organize than upright models, and retrieving items buried near the bottom of the chest can be a reach. Their footprint is also larger than equivalent upright models—a 22 cubic foot chest freezer takes up a 2 x 6-foot area vs. the 2 ½ x 2 ½-foot area of a same-sized upright. Manual defrost (which can be time-consuming) is the only option.
Prices: From about $200 to $1,500.
Freezers Ratings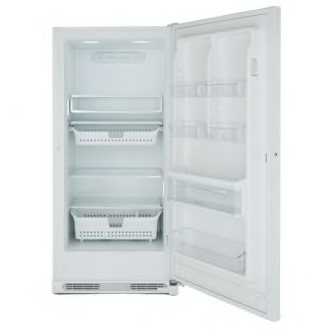 Upright Freezers
Pros: Uprights take up less floor space than chest freezers—2 ½ square feet for 22 cubic feet of storage compared with a chest's typical 2 x 6 feet. They're also easier to organize. As with a fridge, shelves and bins inside and on the door make it easy to find things. You have the option of manual or self-defrost. Note that manual defrost takes hours and you have to empty the freezer. But self-defrost freezers allow temperatures to rise temporarily, which might compromise performance. And, unlike chest freezers, uprights are available in a variety of finishes, such as slate and stainless steel.
Cons: In our tests, manual-defrost uprights had a hard time keeping their door shelves as cool as the rest of the interior. The shelves in these models also can't be adjusted to improve storage. Self-defrost uprights tend to be noisy and may cost more to run. They also allow more air to circulate around food, making food more likely to get freezer burn. In our power failure simulation, all uprights allowed a relatively large temperature uptick after only 9 hours. And in all uprights, shelves and bins take up more space (up to 20 percent) than in chest types.
Prices: Usually higher than chest models, from $300 to $2,000.
Freezers Ratings
Video Buying Guide
For more, watch our freezer buying guide video below.
Stand-alone freezers used to be all about utility, with no-frills designs and an open-box interior that made it a challenge to keep foods organized. Those bare-bones freezers are still available—and many of them do well in our freezer ratings—but we're also seeing a lot of improvements to the look and functionality of freezers. Consider these factors before you hit the store:
Location, Location
If you plan to keep the freezer in a living area, consider how noisy it is (and also how it looks). Most manufacturers say that their freezers can operate in a room where the temperature can reach up 110° F, but check product specifications if you plan to put the freezer in an unheated area, such as a garage. Make sure that the unit is not exposed to temperatures above 110° F or below 0° F, because that may damage the freezer.
Sizing Things Up
Freezers, whether chest or upright, come in three basic sizes: compact or small (5 to 9 cubic feet), medium (12 to 18 cubic feet), and large (more than 18 cubic feet). Upright freezers have a smaller footprint for the equivalent storage space. In our tests, we found five small freezers you can rely on.
Blackout Recovery
Most manufacturers say that their freezers can keep food adequately frozen for 24 hours with the power off, as long as the freezer remains unopened. But our tests simulating a prolonged power failure showed that some uprights allowed a relatively large increase in temperature after only 9 hours.
Consistency
Most of the freezers in our tests maintained a consistent temperature. Manual-defrost uprights were the exception. Without fans to circulate cold air, temperatures of on-door shelves were between 9 and 19 degrees higher than in the rest of the freezer. 
Energy Use
Don't expect your new freezer to be quite as energy efficient as its yellow EnergyGuide label implies. That's because our tests are tougher and, we believe, more like real-world conditions than those specified by the U.S. Department of Energy. Energy Star products must meet certain governmental energy-efficiency standards.
Once you've gotten your freezer, you may want to give it a little help keeping its cool—and making food last longer. Check out these simple tips from our experts:
Save Energy
Keep your freezer in a cool spot, such as the basement, where it tends to stay well below normal room temperatures. Even though most manufacturers say models will operate in temperatures up to 110° F, check the product info for specifications.
Minimize Frost
Open the lid or door less often. Keep an inventory of what's inside so that you don't have to hunt around. Label food well for the same reason.
Store Food Correctly
Repackaging food in several layers of plastic wrap helps reduce moisture loss and freezer burn. Some common freezing rules of thumb: You can freeze ground beef for up to 4 months, and a whole chicken for as much as a year. A pack of hot dogs should stay frozen only for 1 to 2 months. 
The Coolest Features
It's an appliance with a pretty straightforward purpose, but some freezer options can make them more convenient to use (although they may bump up the price).
Freezer Brands That Matter
Amana is a small brand that manufactures upright and chest freezers, with capacity ranging from 5 to 16 cubic feet. Amana freezers can be found at Sears, Home Depot, Best Buy, Lowe's, and independent dealers. Prices range from $250 to $750.
Frigidaire is one of the largest freezer manufacturers; it also produces models for a number of other brands. Frigidaire offers a wide selection of upright and chest configurations ranging from 5 to 25 cubic feet. Its upright line includes a number of self-defrosting models and a pro-style model. Prices range from $300 to $1,300. The freezers can be found at Lowe's, Home Depot, Best Buy, and independent appliance dealers.
GE offers a wide range of products in both chest and upright configurations, with a concentration in manual-defrost models. Sizes range from 5 to 25 cubic feet; prices range from $200 to $850. GE freezers are sold at Home Depot, Walmart, Best Buy, warehouse clubs, and independent appliance dealers.
Haier is another large manufacturer that produces models for other brands. It offers a wide selection of chest and upright freezers ranging from 5 to 20 cubic feet. Prices range from $250 to $900. Haier is sold at Walmart, Target, Best Buy, warehouse clubs, and independent appliance dealers.
Igloo offers products ranging from 3.5 to 7 cubic feet in upright and chest configurations. Prices range from $250 to $500. Products are widely available at retail, including Walmart, Home Depot, and Kmart.
Kenmore offers a wide assortment of products in both chest and upright configurations. It also offers a number of self-defrosting upright models in various sizes, as well as a pro-style product. Prices range from $350 to $1,500. Kenmore is sold at Sears.
Maytag manufactures upright freezers, which are sold at Home Depot and independent appliance dealers. Pricing ranges from approximately $500 to $700.
Whirlpool offers freezers in both chest and upright configurations. Self-defrosting upright models are available in two-door and professional styles. Sizes range from 7 to 25 cubic feet. Prices range from $350 to $1,500. Whirlpool is sold through independent appliance dealers, home centers, and regional appliance centers.
Additional freezer brands include Danby, Idylis, Magic Chef, and Midea.
Thanks for sharing.
Oops, we messed up. Try again later
Recently Tested Freezers
BEST TIME TO BUY:
May, August, September, November
Do you know when is the best time to buy Freezers? Learn more
More From Consumer Reports