5 Ways to Save on Large Appliances on Black Friday
The shopping season started early this year, but the deals may be less generous. Here's how you can still save.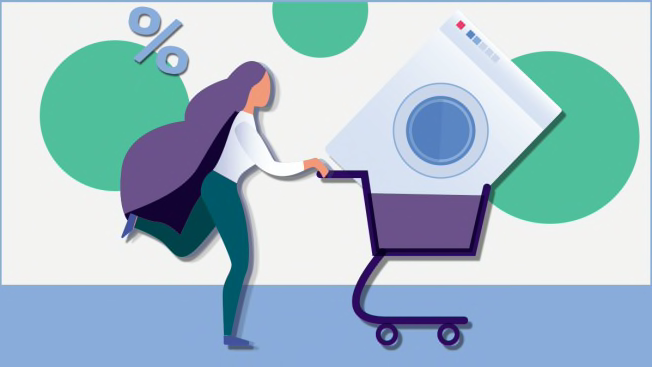 Looking for a great deal on a large appliance this Black Friday? Start shopping now.
Lower supplies and higher demand this season mean Black Friday large-appliance discounts could be modest, even when compared with last year's tepid markdowns.

But if you find a deal that's attractive—or need an appliance now—don't wait. Those sold-out promotional specials may not be replaced. For instance, Best Buy, which began its Black Friday push on October 18, says there will be no rain checks for items that are out of stock.

"This still might be the best time during the year to buy because of the savings," says Jordan Carter, who analyzes refrigerator market data for Gap Intelligence, a San Diego-based analytics company. "Historically, November discounts have been the deepest."
Lower Inventory + Higher Demand = Fewer Deals
Shoppers are back in force this holiday season. The National Retail Federation expects sales of all items during November and December to surge 8.5 to 10 percent over 2020.
1. Beware of Suites That Aren't Sweet Deals
You might be tempted by offers and rebates on matching kitchen suites—typically a refrigerator, range, dishwasher, and microwave—from the same maker. Lowe's, for instance, recently offered a suite of Samsung stainless steel kitchen appliances (including French-door refrigerator and smoothtop electric range) for $2,766—a price cut of 26 percent, not including a 10 percent manufacturer discount that consumers could apply for after they buy.
But price is only part of the equation when you're purchasing appliances. Reliability is key, and it can vary within a brand's offerings. Consumer Reports' exclusive brand reliability ratings reveal that Samsung French-door refrigerators, dishwashers, and microwave ovens are rated only Fair for reliability, and its smoothtop ranges earn a middling, Good score.
"Not every discount is a good deal, especially if you end up with a brand that's repair-prone," says Mark Allwood, CR's market analyst for large appliances.
We've found a few decent brand-mate kitchen suites, although our large appliance reliability ratings demonstrate that it's hard to find brands that are tops for reliability across all four categories.
Different styles of appliances from the same brand also can differ in reliability. For instance, GE's French-door and side-by-side refrigerators are just Good, but their top-freezer and traditional bottom-freezer models are rated Very Good. Among its ranges, electric models are more reliable than gas ones (though both have at least Very Good reliability ratings).
2. Don't Buy by Brand Alone
If you're brand-loyal, remember that not all models from one manufacturer are created equal.
We tested two comparably priced gas ranges from LG, a brand with Very Good scores for reliability and owner satisfaction. The CR-recommended LG LRGL5823S, currently selling for just above $800, earns a Very Good rating for the performance of its high cooktop settings; Excellent scores for its low cooktop settings and oven capacity; and Good scores for baking and broiling.
Its brandmate, the LG LRGL5821S, is priced essentially the same. But its cooktop performance on high earns merely a Good score, and it has just a Fair rating for broiling. So it earns only a middling rank in our range ratings.
At any retailer, keep in mind that you may be able to get a better bargain by haggling, even on items that have been discounted for Black Friday. In a recent member survey conducted by CR, 23 percent of major-appliance shoppers haggled for a better price. Two-thirds of those who negotiated succeeded, saving a median $119.
Among the most successful negotiating tactics when shopping for a major appliance were checking competing retailers' websites to compare offers, and purchasing multiple items at once. Other effective steps our members used: Asking for a senior, veteran, or membership discount; referring to prices found at other walk-in retailers; and checking deals at price-comparison websites. Another winning trick: Asking for a discount on a floor model.
Among hagglers who gained a discount, 15 percent used no special leverage; they just asked. And notably, online appliance shoppers are just as successful as their in-store counterparts at negotiating a discount, our survey found, though few do it.

Even if you fail to chip away at the sale price, there are other ways to save on a large appliance, such as asking the retailer to waive fees for shipping or delivery. Many already offer this service and also include free haul-away of your old appliance. Ask if the retailer can waive installation fees, especially if you're just replacing one appliance with another rather than undertaking an entire kitchen remodel.
Even with high consumer demand for their wares, stores still will often price-match to keep you from going elsewhere. Best Buy and Lowe's, for example, will match the prices of local competition and some major online retailers, as long as it's not a third-party seller. This year, Best Buy will refund you the price difference on its items labeled with a "Black Friday Price Guarantee," if the Best Buy price goes down on or before November 26. Check Best Buy for details and exceptions.
Big-box stores also match the prices offered by your local warehouse club. It doesn't go the other way, though: Costco does not price-match.
Keep watching prices for several weeks after you bought your appliance. Some retailers, like Lowe's, honor the price-match guarantee for 30 days from the date you bought your appliance. JCPenney honors it for 14 days. 
Note that Best Buy, Home Depot, JCPenney, and Lowe's do not offer a price-match guarantee if a competitor has a liquidation sale. You'll see all the details in the what's-not-covered section of their sites. 
5. Shop Online Efficiently
Though you wouldn't think twice about buying a toaster or a coffee maker online, ordering a large appliance online requires taking a bigger leap. But it's one that more and more shoppers are willing to make. Among our members surveyed about their purchases from January 2020 through June 2021, 29 percent of large appliances were bought online. That's nearly triple the percentage from our 2014 survey.
Major chains offer tools that let you quickly find what's in stock locally and available for delivery now—key to keeping your sanity while supplies remain low. On the Best Buy site, for instance, we honed our search of available top-freezer fridges to 98 from 195 by clicking on "Exclude Out of Stock Items" among search filters. Lowe's and Home Depot have similar options.
Some retailers offer extra online shopping tools. Nebraska Furniture Mart in Omaha, for instance, can demonstrate appliance features via video. Home Depot's app provides a two-dimensional image of an appliance on your smartphone; you can then use your phone's camera to place that image in your home virtually, so you can see how it looks.
Ordering online often comes with free shipping, though you probably can't skip out on tax. And you can still attempt to barter by contacting a customer service rep either by phone or in an online chat.