Tony Hawk Silver Signature Series Helmet Is Recalled Due to Risk of Head Injury
The helmet, which CR had rated a Don't Buy: Safety Risk, was a replacement for another recalled helmet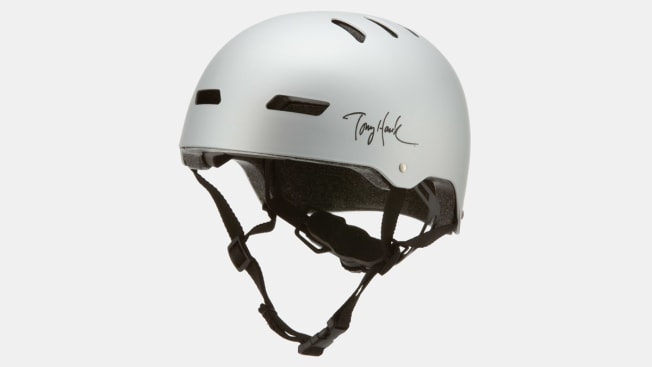 Sakar International has recalled its Tony Hawk Silver Metallic Multi-Purpose Helmets, according to a notice posted by the Consumer Product Safety Commission (CPSC) on July 14. The helmets "do not comply with the positional stability and retention system requirements" of the agency, according to the announcement. 
The Tony Hawk helmets, sold exclusively at Walmart, were provided to consumers as a replacement helmet for Sakar's Dimensions Bluetooth Speaker Helmets, which were recalled in March. In June, Consumer Reports rated the Tony Hawk helmet a Don't Buy: Safety Risk after the chin strap buckle on the helmet broke during our routine tests. (The chinstrap, which keeps a helmet on your head, is important because people often hit their head more than once when they fall off a bike.)
Products recalled: About 12,655 Tony Hawk Silver helmets. The helmets are silver, with Tony Hawk's signature printed on the exterior. They have black straps and a black buckle. The item number, shown in the bottom left corner of a white label inside of the helmet, is AGE2515STH-SIL. 
The problem: The recalled helmets don't comply with federal safety standards, putting a user at risk of a head injury in the event of a fall. 
The fix: Sakar International will provide consumers with a $40 Walmart gift card and facilitate a return using prepaid packaging. Consumers should not return the helmet to Walmart.
How to contact the manufacturer: Call 800-592-9541 or send an email to support@sakar.com for instructions on receiving your gift card.
Editor's Note: This article has been updated to reflect a comment from the CPSC. It was originally published on July 14, 2022.