When you shop through retailer links on our site, we may earn affiliate commissions. 100% of the fees we collect are used to support our nonprofit mission.
Learn more.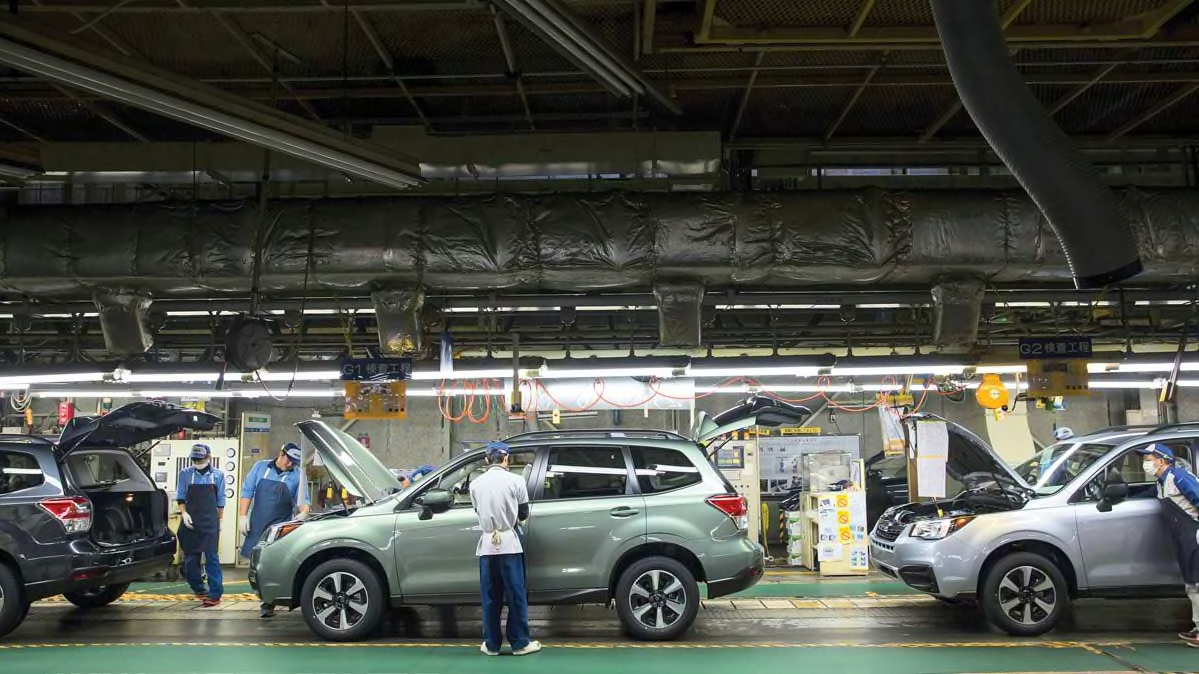 A few months ago, while driving on the highway and listening to a broadcast of "Madama Butterfly," I realized I'd fallen out of love with my hatchback. As is often the case with matters of the heart, my feelings weren't entirely rational. The car had served me faithfully for more than six years and 90,000 trouble-free miles, ferrying me safely to and from work and on weekend expeditions through cloudbursts, blizzards, and ice storms.
But there was no denying that the flush I felt when I first drove it off the lot had long faded: I was as eager to trade it in for a new model as Lt. Pinkerton was to trade in his poor Butterfly for a new wife.
For starters, it was loud. I was tired of shouting to be heard by passengers over the aggressive drone of road noise, which at high speeds sounded like a buzz saw chewing through a two-by-four. The cloth seats were hard to clean: No matter how vigorously I vacuumed, the fur my dog shed in the backseat clung to it so fiercely that it was beginning to look like a bearskin rug. Most vexing of all were the speakers, which issued a timbre as thin and tinny as the transistor radio I used to tote to the beach as a teenager.
I knew exactly what I wanted in a new car: All-wheel drive for control on slick roads, safety features including automatic emergency braking and blind-spot warning, leather or leatherette seats for easy cleaning, and a sound system as worthy of symphonies as of Taylor Swift. Dual-zone climate control would be a plus, because I'm married to someone who isn't comfortable until the dog and I are at risk of hypothermia, but having that feature was not a deal breaker.
With my modest list of must-haves in hand, I set out to visit the dealerships. Though my needs were simple, my search to find all of them in a new car turned out to be anything but.
A Trim-Level Primer
Pick a model, any model, of car or truck. Chances are it's available in at least four (and potentially several more) trim levels. These are essentially different versions of the same model, each with its own price and set of features—from drivetrain and engine type to safety enhancements to conveniences such as power seats and premium speakers. Consider all the various trim levels for a car model, what each includes or doesn't include, and the additional option packages and accessories, and you might start to feel as if you've driven into unknown territory without GPS navigation—or even a map. You may also find, depending on the trim level you choose, that the cost of the car you thought you could afford is actually twice the price and now out of your reach.
Of course, car trims are nothing new; manufacturers have been packaging models in different versions for decades. And there are plenty of good things to say about having choices. But the number of trim levels on some models has doubled over the past 15 years. And the price difference between the base and the top trim levels has stretched to the point that a front-wheel-drive 2019 Kia Sorento SUV can start at a budget-friendly $25,990 and run all the way up to $44,690, which is flirting with the cost of a luxury SUV.
All of this, I was to learn, can present a steep learning curve to the typical car buyer, who—like me—shops for a new vehicle about every six years, according to IHS Markit, a company that tracks the automotive market.
Unlike me, however, most new-car buyers don't have a dedicated team of automotive savant colleagues to help make sense of all of the various trims and options. As the executive editor of this magazine, I had the advantage of being able to check in with Jon Linkov, one of CR's auto editors, before heading to the dealerships. He and the other experts at our Auto Test Center in Colchester, Conn., put more than 50 vehicles a year through rigorous tests to judge performance, fit and finish, and safety on behalf of consumers. CR purchases all of the cars we test, and over the decades our autos staff has become as expert in the car-buying experience as it has in testing.
"Be sure to take along your list of must-haves, and don't get talked into buying anything that's not on the list," Linkov counseled me before I started shopping. "And check back with me before you decide to buy."
Linkov also helped me narrow down my list of candidate cars to just four: the Honda CR-V for its price and practicality; the Ford F-150 because it gets respectable fuel economy in its class and because I need to transport brush, branches, and bulky equipment from time to time; the Mercedes-Benz C-Class because I'm beginning to like the idea of a little luxury; and the Subaru Forester, which the experts at CR's test track place at the top of the compact-SUV vehicle category. The Forester was also at the top of my list, so I started my research at a Subaru dealership.
Stepping Into the Showroom
Within minutes after arriving, I was standing with a patient salesman in front of a large touch-screen monitor for a quick trim-level tutorial. On the screen was a side-by-side comparison of the six Forester trims and what they included. The $22,795 price of the 2.5i base trim immediately caught my eye.
"Does the 2.5i come with advanced safety features?" I asked.
"No. You can add as many accessories to the 2.5i as you want," the salesman said, gesturing to a neighboring display of mesh cargo bags, foldable sunshades, and bike racks, "but you can't add EyeSight," Subaru's suite of advanced safety features, which includes automatic emergency braking and forward-collision warning. "It's available on other versions of the Forester and standard on the top-trim Touring."
Like a majority of car buyers, to get the features I wanted I would need to climb the trim-level ladder, where each ascending rung comes with more features—and a higher price. The next step up was the Premium trim level, starting at $25,695, followed by the Limited, starting at $29,395. I asked the salesman the difference between the two.
"The Limited comes with extras like fog lights, chrome trim, and leather seats," he said.
"I don't care about fog lights or chrome," I said. "But I do want leather. Can I get leather seats on the Premium?"
"No."
"Not even if I pay for them?"
"No," the salesman said, again pointing to the long rows of dashes and dots displayed on the screen under each trim level, indicating what does or doesn't come included on the car and what can be added for a charge. "If you want leather, you need to go up to the Limited."
I'd just climbed two rungs—and tacked on more than $6,000 to the base price—in not much longer than the 8.7 seconds it takes the Forester to go from 0 to 60 mph.
"Okay. What about safety features?"
"The Limited comes with blind-spot detection and rear cross-traffic alert," he said.
That was encouraging. "What about automatic emergency braking?"
"You can add that in an option package. Look," he said, producing a piece of paper covered with numbered grids, each of them outlining various option packages for the Subaru model lineup. "You could go with option number 23, which includes the Harman Kardon speakers, the EyeSight safety package, and navigation."
"I want the speakers and the safety features, but I don't need navigation. Can you leave that out and charge me less?"
"No," he said. "The nav system comes with the package."
I looked back at the monitor, where the dots and dashes were starting to swim on the screen. Doing a little math on the fly, I could see that the price difference between the Limited and the top-of-the-line, fully loaded Touring, which starts at $33,090, was less than $4,000.
"So for less than $4,000 over the price of a Limited, what do I get in the Touring?"
"You get all the safety features you want, along with things like fancy rims, a heated steering wheel, LED lights, turn signals on your mirrors, and dual-zone climate control," he said. "But if you don't care about fancy rims and a heated steering wheel, just go for the Limited and add the safety package."
"How much would that cost?"
"Come with me," he said, leading me across the glistening white tiles of the showroom floor to his desk, where he searched his computer to see what was on the lot.
"We have a Limited with EyeSight, premium speakers, and nav for $34,193 and another for $34,609." The price discrepancy, he explained, was due to different accessories.
I liked the idea of saving money, but I was even more excited by the Touring's dual-zone climate control and the thought that I'd never have to fight again about turning down the air conditioner.
"And what's the cost of the Touring?" I asked.
"We don't have one on the lot right now, but I could find you one." He looked back at his screen. "To give you an idea of price, we recently sold a Touring for $34,461."
"But that's less than the price of one of the Limiteds on your lot, and it comes with so much more."
"I know," he said. "It doesn't really make sense."
Tangled Up in Trims
As carmakers increase the number of trim levels on their models, the price difference between the base and top trims also climbs. In some cases, the number of trims and the price difference has more than doubled over the past 15 years.
The graphic below shows how trims have trended on four popular models during that time.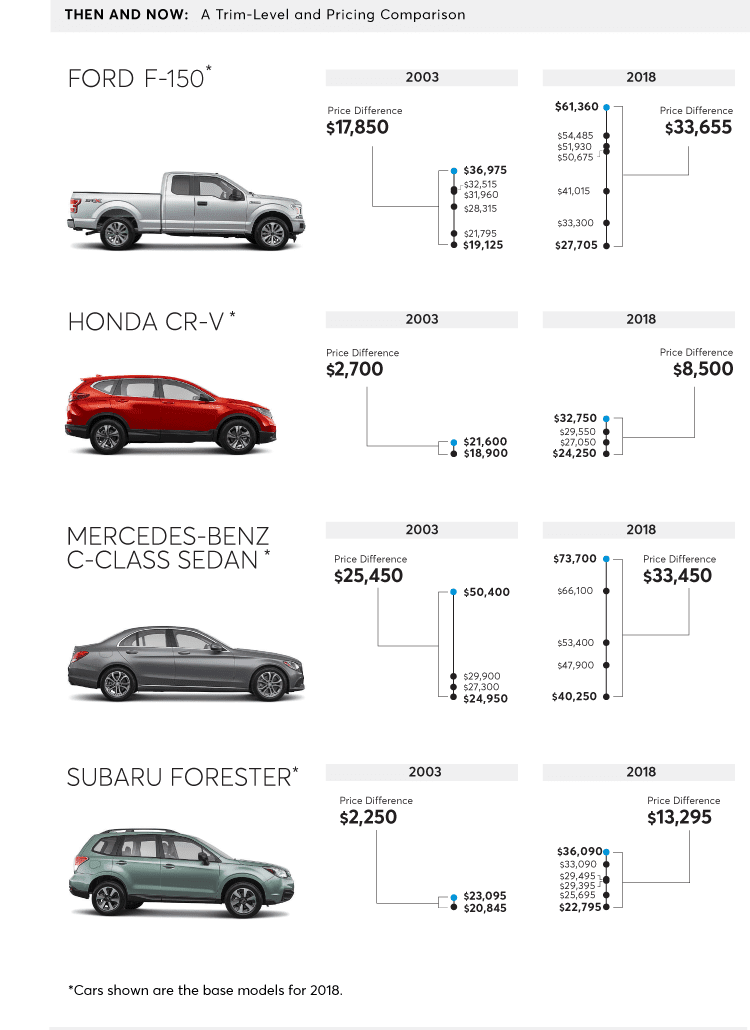 Carmakers Clarify Trims
If trim levels and option packages can leave even car salespeople scratching their heads, what are the rest of us supposed to make of them? (To be fair, Subaru says it is simplifying the Forester choices with its 2019 model year, making EyeSight standard on all trims and dropping the turbocharged engine.)
Auto-industry experts say that trim levels and option packages, frustrating though they may be, impose a necessary order to the growing number of features and conveniences available on cars today. Without them, they say, the sheer number of choices would become overwhelming for consumers and impossible for carmakers to deliver.
"If you allowed everything to be a separate option, the possible configurations of a vehicle would explode exponentially," says Anil Goyal, executive vice president of operations at Black Book, a company that tracks car prices. "So manufacturers group features based on past purchase data and consumer demand. But it is true that trim levels and option packages have become more numerous and more complex over the years."
For many car buyers, trim levels are at best confusing and at worst a frustrating way for car companies to bolster profits by bundling features in a way that forces us to buy things we don't want to get the things we do.
Nancy Daley of Elk Grove, Calif., a CR member, says she looked at several makes before recently deciding to purchase a Honda Clarity Plug-In Hybrid, in part because it only comes in two trim levels. "I wanted leather seats," she says, "but in most of the cars I looked at I had to go up so many trim levels that infotainment and navigation systems and all sorts of other features I don't need were included. I wish I could just get leather seats without all of that other stuff."
Another CR member, Ray Ayala of McMinnville, Ore., had similar complaints after recently shopping for a Toyota RAV4. "It was just plain frustrating that I couldn't get the satellite navigation system I wanted without also having to get a sunroof, power tailgate, and automatic lights that I didn't want," he says. "I told the dealer I just needed the nav system and wasn't interested in having the other features. But he told me he wouldn't charge me for the sunroof and gave me a reasonable price, so I took it."
Not all consumers want a simple car-buying process. Many luxury car buyers, Goyal says, want to highly customize their vehicles. They enjoy sifting through long lists of trims and options, which is why most luxury automakers provide choices that are as inventive as they are exhaustive. Mercedes-Benz, for instance, offers a mini fridge in the backseat of some of its higher-end models ($1,100), and, for thoroughly modern magi who want to follow their own star, an LED projector that casts an image of Mercedes' three-pointed logo onto the pavement (from $200). Porsche's add-on enticements include an ionizer to cleanse the cabin air ($400 in the Cayenne) and leather surfaces with contrasting interior stitching for a super-sporty look ($5,160 in the Panamera). "Higher trim levels also tend to be more profitable for the manufacturer," Goyal said.
The trim choices of the 2018 Forester I was thinking of buying were simple in comparison. Still, the Forester is available in six trim levels (the 2019 model will have five) with 10 option packages and up to 64 Subaru accessories (such as a $73 side cargo net and a $489 remote engine starter).
The Forester can be configured 19 possible ways based on trim, transmission, and option packages alone. Depending on which combination of these you choose, and which of the available accessories you add, there are an almost unlimited number of ways to assemble a Forester before you drive it off the lot, at prices from $22,795 to more than $40,000. With seven trim levels, three cab sizes, and an encyclopedic list of options and accessories, including power-deployable running boards and an in-vehicle safe, the Ford F-150 pushes the boundary of possibilities even further.
My experience shopping for a Honda CR-V, on the other hand, was mercifully straightforward. The car comes in four trims, three of which include advanced safety features. Honda does offer a few accessories for the CR-V, but only one or two premium features and no option packages.
As it turns out, the company has added only two trim levels to the CR-V in the past 15 years. "Our customers and dealers like trims that are well thought out, with simplicity and the customer in mind," says Gary Robinson, senior manager of product planning for Honda. "We try to keep our trims to a minimum and still satisfy the desires and needs of our customers."
Most carmakers, however, don't keep things quite so simple. "From a manufacturer's standpoint, it's hard to make a configuration that's perfect for everybody, but we try to get as close as possible," says Todd Hill, Subaru's car line manager. "We look at owner surveys and historical sales data to find correlations. For instance, we might find that people who want a high-end sound system also want a navigation system, so we would package them together. There are so many different things that can go on a car today that it's hard to keep it to just a few trim levels without making them all expensive. One way to manage that is to offer more trim choices."
The Price of Safety
I can understand why car companies need to package features in a way that will appeal to the broadest audience, even if those features don't necessarily appeal to me. What I don't understand is why advanced safety features aren't offered even as an option on some of the less expensive trims. For instance, I had to move up two trim lines—and $13,310—from the base F-150 for advanced safety features even to be an option. They were also not available on either the 2018 Honda CR-V or the Forester base trims.
Consumer Reports believes these safety features should be standard on every car. "Forward-collision warning and automatic emergency braking, among other technologies, should come standard on every new car and truck," says David Friedman, CR's vice president of advocacy. "Consumers should not have to wade through complicated menus to see if a car comes with these safety features, or pay thousands of dollars for them because they're packaged with high-end entertainment and other luxury items. Safety should come standard on every new car and truck. It should not be a luxury."
Goyal of Black Book says that some automakers are cashing in on consumers' growing awareness of the benefits of advanced safety systems by requiring car buyers to pay for them as part of option packages. Subaru says its EyeSight suite of advanced safety features will be standard on every Forester, Legacy, and Outback beginning with the 2019 model year. It will, however, remain optional on certain Impreza and Crosstrek trims.
At press time I still hadn't bought a new car. I was planning to wait for Subaru to roll out its streamlined trim selection and standard advanced safety features on the 2019 Forester, though I didn't know how much that would add to the sticker price or how it might influence my decision.
In the meantime, I went back to my colleague, Jon Linkov, for more guidance.
"A good place to start your research is the road-test section of the car ratings on CR.org," Linkov said. "It outlines the key features at each trim level and recommends the best one to choose."
Here are Linkov's other tips on how to sort through car trim levels and option packages. I call them Linkov's Lessons, and I'll be taking them with me as I continue the search for my new car. I recommend you do, too, the next time you go car shopping. They'll make it easier to find a model with the features and conveniences you want at a price you can afford.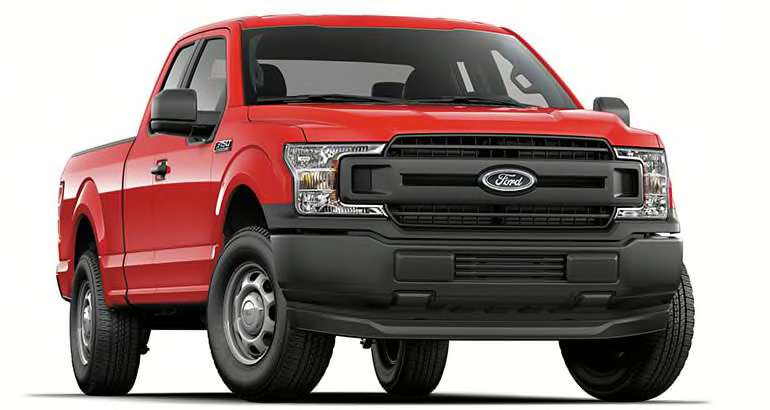 Lessons From Our Experts
The base price is a bust. Don't be enticed by a base model. Dealerships often have just one on the lot to attract customers with its lower price. When shopping for a Ford F-150, a Honda CR-V, a Mercedes-Benz C-Class, and a Subaru Forester, none of the dealerships I visited had the least expensive version of the base trim available. Before heading to showrooms, consumers should go to carmaker websites to study various trim levels, option packages, and accessories to see what's standard and how much added features cost. "Use Consumer Reports' online recommendations of the best version to get, which include a list of the features you must have and those that would be nice to have but aren't deal breakers," Linkov says. "It will impose some discipline on your search and help you stay within your budget."
Don't pay for features you don't want (and other negotiating tactics). Ray Ayala, the CR member who recently bought a new SUV, says he saved money by insisting he didn't want the sunroof that came with the package that included a navigation system, which he did want. "The salesman told me he would give me the sunroof for free and ended up charging me for the next trim level down," he says. "I didn't realize he could do that."
Linkov explains that salespeople and dealerships have monthly sales goals to reach to trigger sizable bonus payments from carmakers. "They're going to be more eager to make a deal—and you're going to have more negotiating power—the later in the month you go shopping," he says. "If you're not satisfied with the pricing, thank the salesperson and walk out. If they ask you to sit down and keep talking, you know you could be on your way to a better deal. If not, you know they've given you their best offer."
Start shopping below your budget. Always make sure you have a few thousand dollars in your budget on top of the purchase price, because there will likely be more costs to consider.
"Shopping below your budget provides room to pay for the destination charge and other associated costs," Linkov says. "Those fees can easily add $1,000 or more to the price of a car, and that's before taxes." Remember that moving up a trim level or adding options increases the price and your sales taxes. It also increases any local taxes you may owe each year. "If you start shopping at your budget, you're definitely going to exceed your target price," Linkov says.
And don't be swayed by a salesperson saying, "We'll just roll the added charges into the financing." You could be paying those costs for years to come because the length of the average new-car loan is nearly six years, according to Experian Automotive.
Be prepared to pay extra for safety. Toyota and Lexus are among the few carmakers that include advanced safety features on even the base trim level, Linkov says.
Some companies offer advanced safety features only at higher, more expensive trim levels. Cadillac and Kia, for example, include safety features only with pricey add-ons.
It costs $6,800 over the base price of the 2018 Cadillac XT5 to get the Driver Awareness Package of advanced safety features. With the 2019 Kia Sorento, you need to go to the fourth-highest trim level out of six to get forward-collision warning and lane-keeping assist.
"Buyers could end up paying nearly $10,000 over the base price to get advanced safety features that CR believes should be standard on all cars," Linkov says.
Editor's Note: This article also appeared in the October 2018 issue of Consumer Reports magazine.