When you shop through retailer links on our site, we may earn affiliate commissions. 100% of the fees we collect are used to support our nonprofit mission.
Learn more.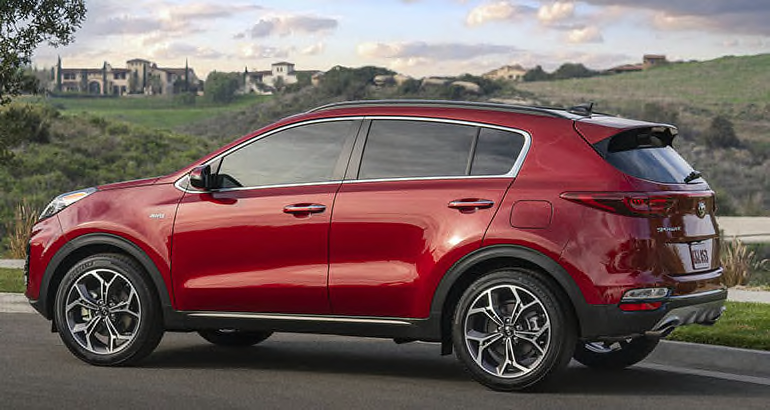 Kia is recalling nearly 380,000 Sportage SUVs and Cadenza sedans to fix an issue that can cause the vehicles to catch fire. The automaker warns owners to park their vehicles outdoors and away from structures until they are updated.
The issue is due to a potential short circuit in the vehicle's hydraulic electronic control unit (HECU), which is part of the braking system. If the HECU short circuits, it can cause a fire in the engine compartment. Before this happens, drivers may notice various illuminated warning lights on the instrument cluster behind the steering wheel, including the tire pressure warning light, ABS warning light, and/or check engine light. There may also be a burning or melting smell, or smoke from the engine compartment.
In documents provided to the National Highway Traffic Safety Administration (NHTSA), Kia says that it is unaware of any fires, crashes, or injuries in the U.S. related to this recall. However, it follows multiple other recalls involving fires in both Kia and Hyundai vehicles. Although Hyundai and Kia are separate brands, they exist under the same parent company, and their cars often share parts, design, and engineering.
MORE ON Hyundai/Kia FIRES
Previous fire-related recalls for Hyundai and Kia vehicles involved brake fluid leaks, faulty oil pans, fuel leaks, oil leaks, and problems with a specific four-cylinder engine. A version of this engine, called the Theta II, is also used in both the 2017-2021 Kia Sportage and 2017-2019 Kia Cadenza. When asked for further details, a Kia spokesperson did not confirm whether today's recall is related to any of these prior ones.
In 2019, after more than 3,000 reports of fires and a petition from the Center for Auto Safety, an advocacy group, NHTSA launched a still-ongoing investigation into the 2011-2014 Hyundai Santa Fe and Sonata, 2011-2014 Kia Optima and Sorento, and 2010-2015 Kia Soul. Separately, Hyundai and Kia paid a combined $210 million in penalties last year because of delays and inaccurate information reporting during recalls of vehicles equipped with Theta II engines.
If any vehicle you are driving catches fire, here's what to do, according to experts CR has consulted with.
First, pull over and shut off the engine. This stops the flow of fuel.
Get yourself and your passengers out of the car as quickly as possible. Make sure to stay a significant distance away—100 to 150 feet or more—and never go back into the vehicle to retrieve personal property, advises the Federal Emergency Management Agency.
Call 911 or have another motorist make the call to get emergency services on their way as soon as possible.
Attempt to put out the fire only if you have clear access to the source, have a suitable fire extinguisher, know how to use it correctly, and can maintain a safe distance from the car. Only use an extinguisher approved for Class B or Class C fires; a label on the extinguisher will identify which kind of fire it's suitable for.
Never open the hood or trunk if you suspect there's a fire there; the additional air flowing in could cause the fire to enlarge.
Be aware of your surroundings. Never stand on an active roadway. If you're parked by the side of the road, stay far behind the vehicle to avoid being hit if another car strikes your vehicle.
The Details
Vehicles recalled: 372,251 Kia Sportage SUVs from the 2017 through 2021 model years, and 7,680 Kia Cadenza sedans from the 2017 through 2019 model years.
The problem: An electrical short circuit within the HECU may short circuit, which could lead to a fire. The cause of this short circuit is unknown, according to Kia.
The fix: Kia dealerships will replace specific fuses in the vehicle's electrical junction box that will prevent a short circuit in the HECU. These fuses will have a lower amperage than the ones they replace. Certain vehicles will also require a software update.
How to contact the manufacturer: Kia will contact owners of affected vehicles starting in late April. Owners may also contact Kia at 800-333-4542.
NHTSA campaign number: 21V137. Kia's own number for this recall is SC206.
Check to see whether your vehicle has an open recall: NHTSA's website will tell you whether your vehicle has any open recalls that need to be addressed.
If you plug your car's 17-digit vehicle identification number (VIN) into NHTSA's website and this recall doesn't appear, it means your vehicle doesn't currently have any open recalls. Because automakers issue recalls often, and for many older vehicles, we recommend checking back regularly to see whether your vehicle has had a recall issued.
Stay informed about recalls that might affect your vehicle using our Car Recall Tracker. Create a free account now to become a CR member.