When you shop through retailer links on our site, we may earn affiliate commissions. 100% of the fees we collect are used to support our nonprofit mission.
Learn more.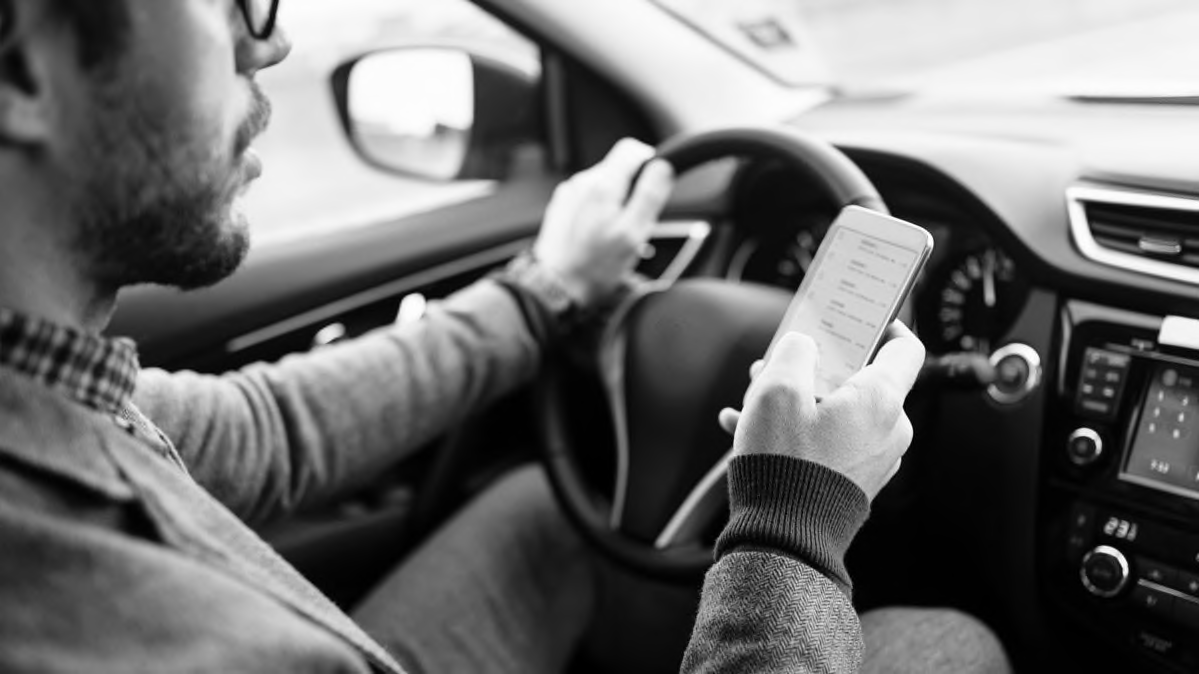 Warnings to motorists about the dangers of handling a phone while driving haven't discouraged them from doing so, new research from the Insurance Institute for Highway Safety (IIHS) suggests.
Based on its observations of nearly 12,000 real-world drivers in Northern Virginia, IIHS estimates the number of drivers manipulating cell phones increased by 57 percent from 2014 to 2018. Research shows an increased risk of death for drivers who have been distracted by their phones, and because of that, IIHS estimates this kind of behavior could be responsible for more than 800 fatalities a year on all U.S. roads.
"The latest data suggest that drivers are using their phones in riskier ways," said David Kidd, a senior research scientist at IIHS. "The observed shift in phone use is concerning because studies consistently link manipulating a cellphone while driving to increased crash risk."
The National Highway Traffic Safety Administration (NHTSA) estimates that 3,166 fatalities on U.S. roads in 2017 were linked to driver distraction—about 8.5 percent of all U.S. traffic deaths.
IIHS and other researchers think NHTSA's estimate is probably low because police reports rely on people admitting to doing something dangerous, or surrendering their phones to investigators after an incident.
The laws and public warnings about distracted driving can't overcome the basic reality that driving is a boring, monotonous task that a lot of people view as a necessary evil, said Kelly Funkhouser, vehicle usability program manager at the Consumer Reports Auto Test Center.
"Society increasingly expects people to multitask at all times of day, so there is going to be pressure to accomplish something if they're getting pinged on their phone," she said.
Automakers can help by building smartphone compatibility into cars, and better integrating into the vehicle such products as Android Auto or Apple CarPlay. Those systems allow drivers to use only select smartphone functions through a touch screen, reducing the time spent using those functions and the time spent handling phones while driving.
"The fact is that some people are going to use their cell phone while driving, and increasing eyes-off-road time makes it much more dangerous to do so," Funkhouser said. Poorly designed in-vehicle infotainment systems perpetuate the problem of drivers choosing to perform a task on their phone because they're more comfortable with it, she said.
Consumer Reports has urged the auto industry not to design features that encourage drivers to take their eyes off the road for any significant amount of time and to disable distracting content on infotainment systems while a vehicle is in motion. CR also believes automakers should make it as easy as possible to pair phones with built-in car systems and add driver-monitoring technology so that operators are warned when they're not paying enough attention to the road.
Tips to Avoid Phone Distractions
Here are some basic safety tips for drivers from Jennifer Stockburger, director of operations at CR's Auto Test Center:
To state the obvious: Avoid using your phone while you're driving.
If you're going to use it, program music or navigation information into your phone before you start driving.
Stow your phone where you can't see it or get at it during your trip. Even the flash of an incoming text can be distracting.
Make use of "do not disturb" features in your phone if you have them.
Make use of the systems that are already built into your car.
Bluetooth (whether built in to the car, or an aftermarket device) can route a call through your audio system, so you don't have to hold the phone. Apple CarPlay and Android Auto can mimic familiar phone functionality on a vehicle's screen.
If you're using your phone as a navigation tool—or using its speakerphone function—consider using a phone mount to position it at eye level and keep it out of your hands, treating it as its own touch screen.
Enlist your passengers to help. Ask them to answer texts, change the audio settings, or work the navigation system when needed.
Using a Cellphone in the Car
The best bet is to not use your phone when operating a car—but smartphone navigation and Bluetooth is a common feature nowadays. On the 'Consumer 101' TV show, CR expert Jen Stockburger shows host Jack Rico and friends how to stay safe while on the road.