When you shop through retailer links on our site, we may earn affiliate commissions. 100% of the fees we collect are used to support our nonprofit mission.
Learn more.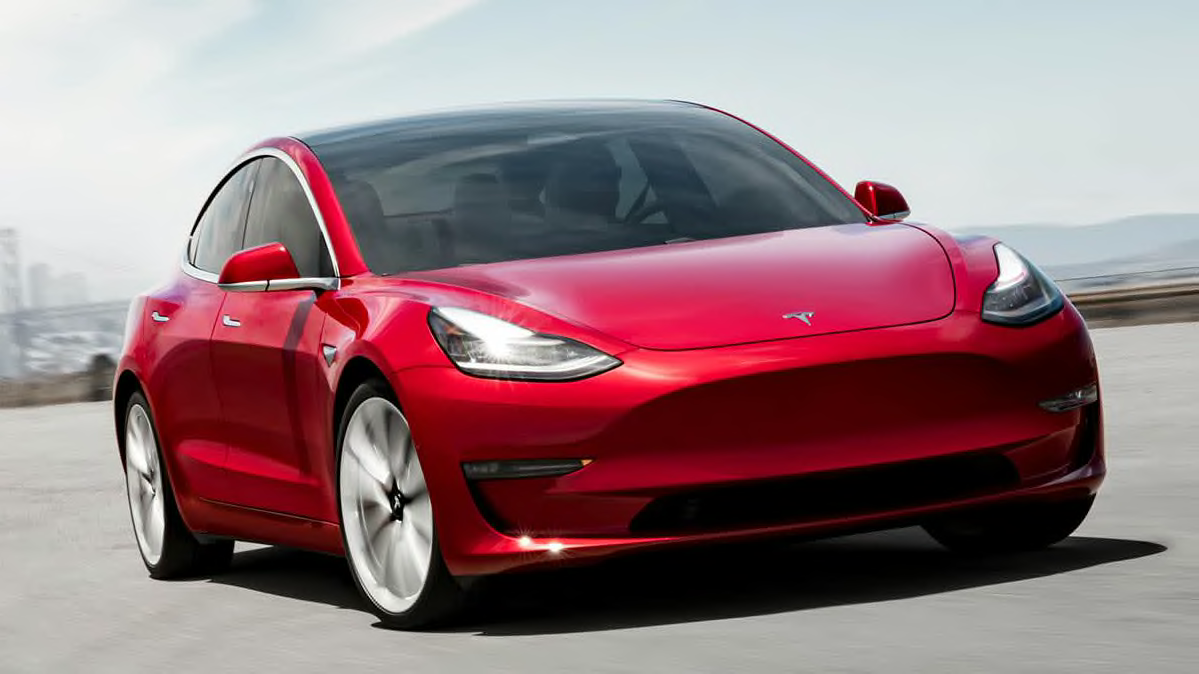 A claim by Tesla that its Model 3 sedan is the safest-ever in federal government testing is under scrutiny by safety regulators. Newly released government documents show that behind the scenes the federal government has been pressing the California-based automaker to stop making the claim and that Tesla has been pushing back.
At issue is Tesla's assertion in an October blog post that the company's Model 3 sedan has the lowest crash probability of any vehicle ever tested by the National Highway Traffic Safety Administration. It's the second time NHTSA has objected to the way Tesla has characterized crash-test results. The electric car company has discussed NHTSA data in ways that other automakers have not, which could mislead customers.
NHTSA has established guidelines for how companies should talk about its crash tests. The agency warns automakers about making statements about the comparative safety of different types of vehicles—especially those in different weight classes. Those types of statements can confuse consumers and undermine the crash-testing program, which aims to promote the sale of vehicles with high levels of safety, says David Friedman, vice president of advocacy for Consumer Reports.
"The rules are there so consumers can make informed decisions," he says. "Tesla doesn't get to pick which ones apply to them."
Consumer Reports factors the results of government crash tests into evaluations of vehicles and vehicle safety. CR weighs NHTSA's crash ratings as well as those from the Insurance Institute for Highway Safety. Tesla's vehicles have scored well in all of NHTSA's crash tests, but so have a number of other vehicles. (See our list of 5-Star Rated vehicles, below.) Not all of Tesla's vehicles have earned the highest possible scores on IIHS tests.
In an October letter, newly released to the public, NHTSA tells Tesla that it's misleading to compare overall safety scores of vehicles with different weights because of the physics of car crashes—it's possible that occupants of a larger, heavier SUV would fare better in a crash than an occupant of a Model 3, contradicting the claims Tesla made in its blog.
Tesla told the government in a reply letter that it used the government's data and methodology to establish the claim. Despite NHTSA's urging, the car company has so far declined to remove the blog post. The NHTSA documents were posted today on Plainsite.org, a website that promotes legal transparency.
In response to questions about how the company uses crash-test results in marketing its vehicles, Tesla referred CR to its letter to NHTSA from October.
NHTSA, in a written response to CR, reiterated its commitment to providing crash-test results for consumers to make informed decisions about safety. It didn't respond to specific CR questions about Tesla's continued claim or any next steps the agency plans in response.
Tesla's safety claims are under scrutiny in part because of its influence in the auto industry. As a leader in battery-electric vehicles and advanced technology, such as its Autopilot suite of driver-assistance features, Tesla is seen as a leader in some of the most important trends shaping the future of the auto industry.
NHTSA vs. Tesla
The released documents depict an ongoing struggle between regulators and the upstart electric-car maker over what the agency alleges is misleading marketing of Tesla vehicles.
It isn't the first time Tesla has been criticized by NHTSA over the characterization of crash tests. In 2013, Tesla backed off claims that its Model S sedan deserved 5.4 stars on NHTSA's five-star scale. (CR's Friedman was deputy administrator at NHTSA at the time.) Consumer groups and safety advocates also have criticized Tesla for overhyping the capabilities of technologies, such as the Autopilot driver-assistance system and the company's "Full Self Driving" feature.
Tesla made its Model 3 claim in an Oct. 7 blog last year, saying that the Model 3 sedan has "the lowest probability of injury of all cars the safety agency has ever tested."
In response, NHTSA made a public statement on Oct. 9 that said it doesn't distinguish safety performance beyond its star ratings and that there is no "safest" vehicle among the vehicles with 5-star ratings. A cease-and-desist letter followed Oct. 17, saying that Tesla was violating the agency's guidelines for how companies are to convey crash-test data to the public. The agency also said it was referring the matter to the Federal Trade Commission, which investigates deceptive marketing.
NHTSA's letter notes that it was the second time it was investigating Tesla for publishing what it deemed to be misleading information about crash tests.
In the Model 3 case, NHTSA said it was inaccurate to compare overall safety scores of vehicles with different weights.
"A number of NHTSA studies have evaluated the impact of vehicle mass on fatality rates, and these potential safety differences are not reflected in a vehicle's front crash-test results," NHTSA's chief counsel, Jonathan Morrison, said in the letter. "It is impossible to say based on the frontal crash test results or the Overall Vehicle Scores whether the Model 3 is safer than other 5-Star rated vehicles."
Tesla's Oct. 31 response showed that the company had no intention of backing down. In fact, the blog is still available on the company's website. A Tesla spokeswoman said Wednesday that the company wouldn't comment beyond its letter to NHTSA.
In that letter, Tesla emphasized that it was using NHTSA's own publicly available data for nearly 1,000 vehicles. Based on that, the Model 3's overall vehicle safety score of 0.38 translated into an overall probability of injury of 5.7 percent—better than any other vehicle.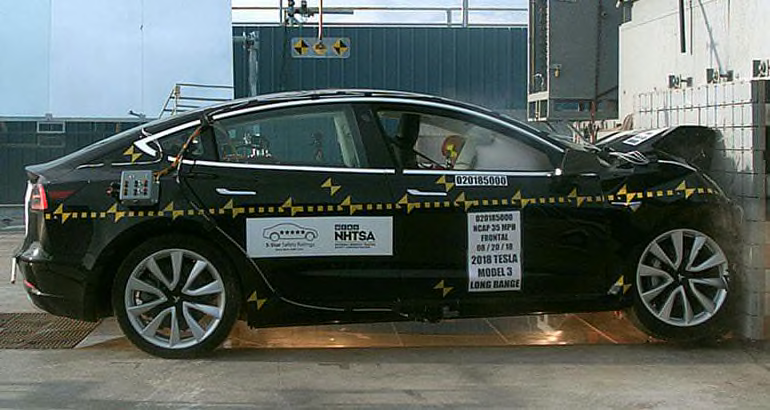 "Tesla's blog statements are entirely based on actual results and NHTSA's own calculations for determining relative risk of injury and probability of injury," Al Prescott, the company's deputy general counsel, said in the letter. "We do not see a reason to discontinue use of our safety blog or these statements as long as no other vehicle surpasses the Model 3 Long Range RWD's Vehicle Safety Score and overall probability of injury."
At Consumer Reports, safety is factored into the Overall Score given for each car we test. It is one of four key components of the Overall Score, along with road test, reliability, and owner satisfaction.
The safety component factors crash-test data from IIHS and NHTSA, if they've been conducted. CR gives extra credit to vehicles that have the advanced safety systems that have been shown to reduce crashes, injuries, and deaths, but only when they're offered as standard equipment across all trim levels of a model. Those systems include automatic emergency braking (AEB), forward collision warning (FCW), pedestrian detection, and blind spot warning. We deduct points if a vehicle gets an inferior rating in a federal or IIHS crash test. And we deduct points from monostable gear selectors that lack fail-safes (such as automatically returning to Park or engaging the parking brake when the engine is shut off to prevent the possibility of rollaway crashes).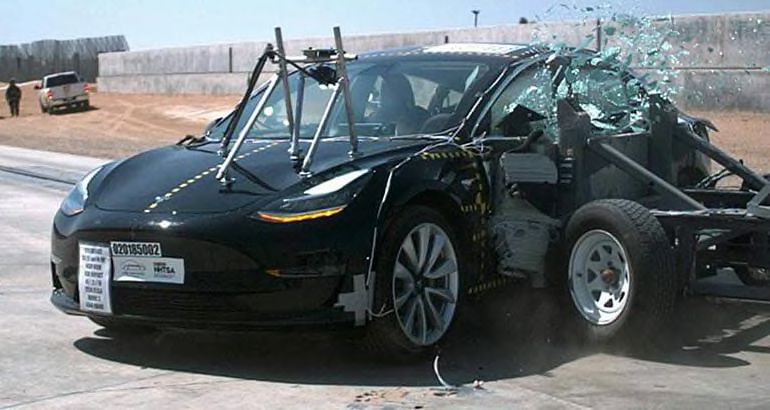 NHTSA 5-Star Cars
The Tesla Model 3 and Model X are in rare company, with only 10 current vehicles achieving five stars across the board in NHTSA crash tests. The Model S has not been tested in recent years, but it previously achieved five stars in the front and side crash tests and rollover evaluation.
There is a significant number of models that haven't been crash-tested by NHTSA, and some other models haven't been put through every test, factors possibly contributing to the short list of 5-star vehicles.
Although Tesla vehicles have scored high on the NHTSA tests, other vehicles have done better on certain IIHS tests. For example, the 2017 Model S earned an "acceptable" score on the small-overlap frontal crash test. IIHS also deemed the Model S's headlights to be poor.
The ratings boxes below share highlights from Consumer Reports' tests and surveys for the group of 10 vehicles that achieved five stars across the board in NHTSA crash tests.