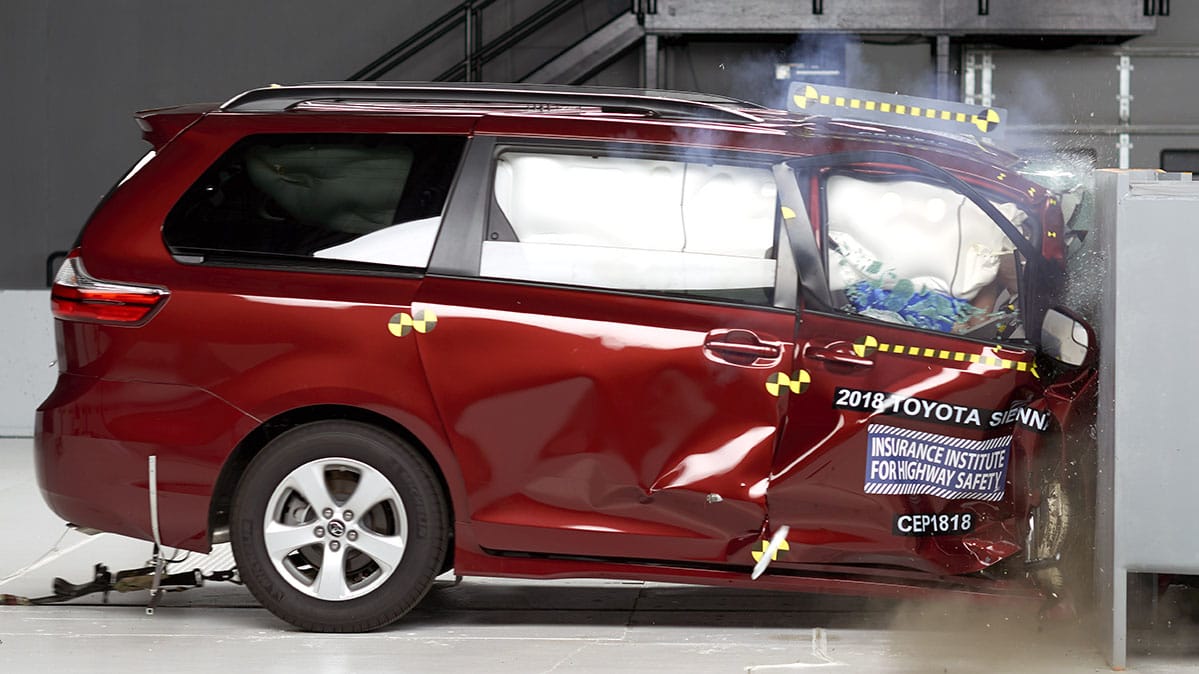 Some minivans are better than others at protecting passenger-side occupants during a crash, according to the latest tests by the Insurance Institute for Highway Safety.
The IIHS has just announced findings on a trio of minivans, and Honda's Odyssey came out on top with a Good rating. (There are four IIHS ratings: Good, Acceptable, Marginal, and Poor.)
The Chrysler Pacifica earned an Acceptable rating, and the Toyota Sienna got a Marginal rating in part because of the risk of possible leg injuries.
The passenger-side small-overlap crash test sends a vehicle into a barrier at 40 mph with just 25 percent of the vehicle's front end overlapping the barrier on the passenger side, according to the IIHS.
The test mimics what happens when the front passenger-side corner of a vehicle collides with another vehicle or with an obstacle, such as a tree or utility pole.
This is the most recent test added by the IIHS, and it has found that several vehicles provide less protection on the passenger's side than is offered on the driver's side.
Other models have done poorly because they're older and were developed before this test was created. CR takes into account how vehicles fare in both IIHS and federal crash tests when we rate them.
The Toyota Sienna is the oldest minivan among this trio, and that's reflected in the results. The Sienna's structure was rated Poor for the passenger side.
"The IIHS passenger-side small overlap test is a severe, specialized test that goes beyond federal vehicle safety requirements," a Toyota spokesperson told Consumer Reports. "However, after the introduction of the small overlap test, Toyota has taken steps to improve the performance of its vehicles in the test.
"Looking ahead," the spokesperson continued, "we've incorporated enhancements on both the driver's and passenger's side for vehicles built on Toyota's New Global Architecture platforms as the safety of our customers is a top priority. We continue to be transparent with IIHS throughout this process including the steps we have taken to improve the performance of Toyota vehicles on the small overlap test."
The IIHS explained in a statement that starting with 2015 models, Toyota modified the structure of the Sienna to improve the driver-side protection but it didn't make the same changes to the passenger side. The Sienna is rated Acceptable overall for the driver's side.
The recently tested Chrysler Pacifica earned an Acceptable rating for the passenger side. Although it got Good marks for potential injury risk to the passenger's head and neck, chest, hip and thigh, and lower leg, the van's structure was rated only Marginal, hurting its passenger-side overall score. The driver's side gets a Good overall for the small-overlap front crash.
In response to this latest test, Fiat Chrysler said: "The 2018 Chrysler Pacifica has been designated a Top Safety Pick by the Insurance Institute for Highway Safety. It meets or exceeds all federal safety standards. FCA US designs and engineers its vehicles for real-world performance. No single test determines vehicle safety."

Tested last year, the Honda Odyssey earned a Good rating overall for both driver- and passenger-side protection.
"In our latest passenger-side tests, we didn't find any performance issues with safety belts or airbags like we did when we evaluated small and midsize SUVs earlier this year and midsize cars last year," said David Zuby, IIHS' chief research officer in a statement. "Instead, we saw some structural deficiencies on the right side that still need addressing."
The IIHS also evaluated the car-seat anchors on several minivans, with an eye toward how easy they are for parents to use. Lower Anchors and Tethers for Children, known commonly as LATCH, are federally mandated metal loops located in the seat bight, where a seat bottom and back meet. These allow parents to easily and securing click car-seat straps to the car, eliminating seat-belt incompatibilities.
Here, the Odyssey got top marks. The Dodge Grand Caravan, Kia Sedona, and Toyota Sienna were each graded at Acceptable. The Chrysler Pacifica is rated at Marginal.
"These new results for both the crash and LATCH-connector tests are especially important for these minivans, as they are some of the most popular vehicles for carrying kids," says Jennifer Stockburger, director of operations at Consumer Reports' Auto Test Center. "Our own child-seat tests show that a secure installation is often easier to achieve using LATCH, so being able to get to the lower anchors more easily is key for parents."
Minivan Crash-Test Results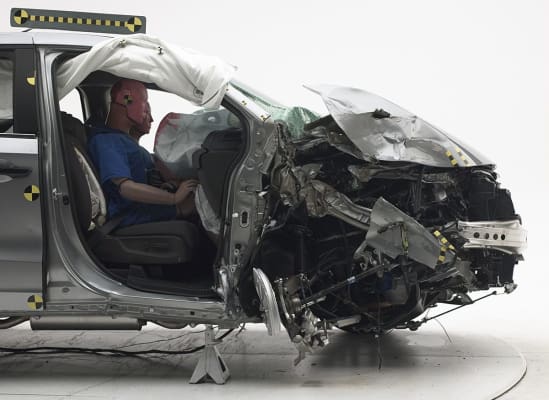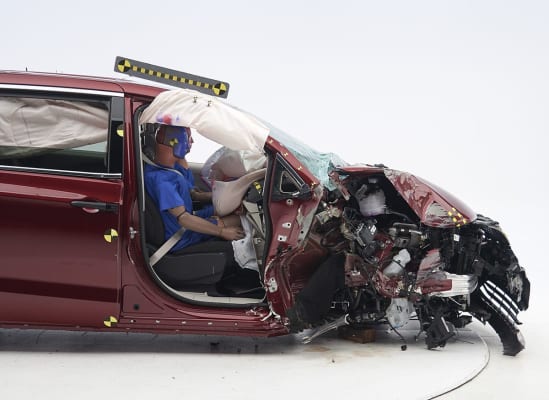 Consumer Reports is an independent, non-profit organization dedicated to helping consumers. We make it easy to buy the right product from a variety of retailers. Clicking a retailer link will take you to that retailer's website to shop. When you shop through retailer links on our site, we may earn an affiliate commission – 100% of the fees we collect are used to support our mission.
Learn more.
Our service is unbiased: retailers can't influence placement. All prices are subject to change.