When you shop through retailer links on our site, we may earn affiliate commissions. 100% of the fees we collect are used to support our nonprofit mission.
Learn more.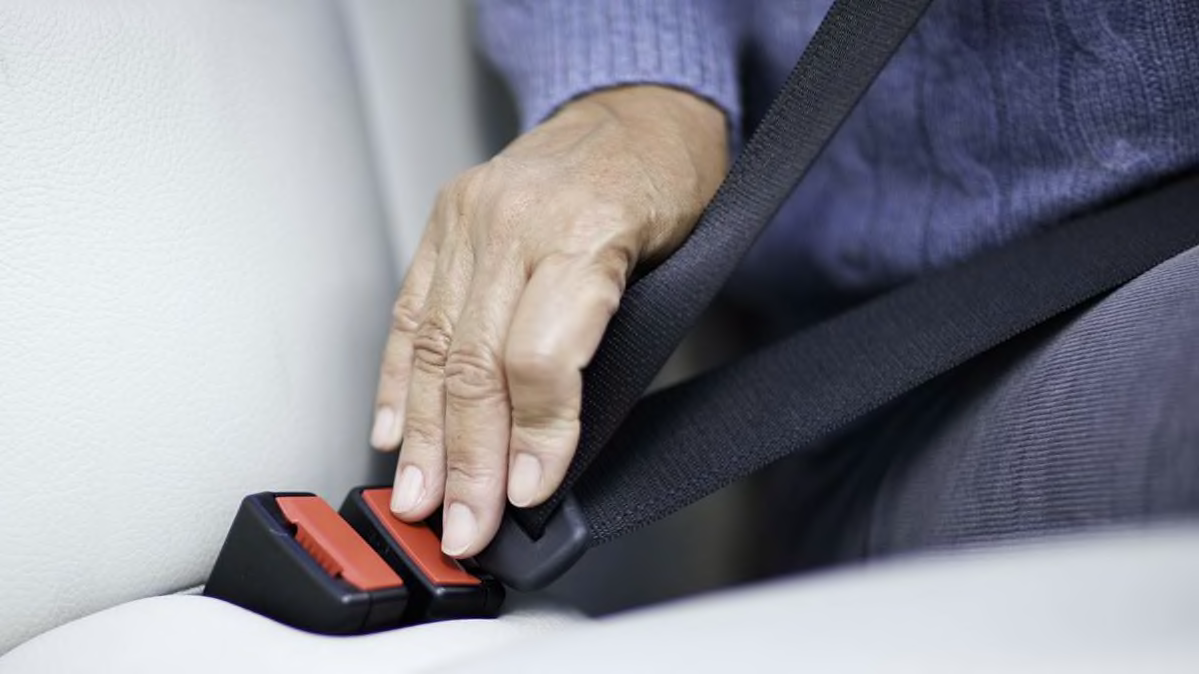 The majority of back-seat passengers are children, including those in car seats and boosters. But seniors who sit in the rear are especially susceptible to injury in a crash, largely because bones may weaken as people age. "They are a smaller piece of the problem of who is sitting back there, but they're a larger piece of who we need to protect in the back seat," says Jessica Jermakian, vice president for vehicle research at the Insurance Institute for Highway Safety (IIHS).
Older adults are especially vulnerable to seat-belt injuries, says Jingwen Hu, research associate professor at the University of Michigan Transportation Research Institute's biosciences group. "The seat belt can actually hurt you," he says. "Rib fractures can create internal organ injuries." A load limiter adds slack to a seat belt during a crash, keeping it from crushing the wearer's chest while maintaining its effectiveness. But most cars lack load limiters in the back, and Hu says that may be why those as young as 55 are more likely to be injured in the back seat than if they're sitting up front.
Car seats and boosters are designed to protect children, but research says that up to 46 percent of child seats may be used or installed incorrectly. And some parents rush their kids out of booster seats based on age, instead of using height or weight as guides, says Kristy Arbogast of the Children's Hospital of Philadelphia. "There are plenty of kids who do not fit the adult belt without a booster seat," she says. "It's not any commentary on how advanced your child is."
Tips to Keep Young and Old Safe
Older adults should consider sitting up front. Hu hesitates to offer a blanket recommendation for where older passengers should sit. Some rear seat belts have load limiters, for example, and an individual's posture and bone strength matter, too. But studies show that the front seat is slightly safer for older people in newer vehicles, provided they wear their seat belt and adjust it for proper fit.
Don't rush kids. "Children should remain in rear-facing child seats until at least age 2, or until they reach the height or weight limits of their rear-facing seat," says Jen Stockburger, director of operations at CR's Auto Test Center. Children in forward-facing car seats should remain harnessed as long as height and weight limits allow. Children under 4'9" don't typically fit vehicle seat belts and should stay in a booster seat until shoulder belts fit across mid-shoulder and lap belts fit low across the upper thighs, and low on their hips. State laws vary, so be sure your child meets age, weight, and height requirements. For help installing your car seat properly, go to nhtsa.gov to search for a child seat inspection station near you.
Always buckle up, regardless of age. Injuries caused by seat belts pale in comparison to the risk of severe injury and death for unbelted rear-seat passengers, who are twice as likely to die in a crash as those who buckle up. Seat belts also keep passengers from being ejected from the vehicle during a rollover.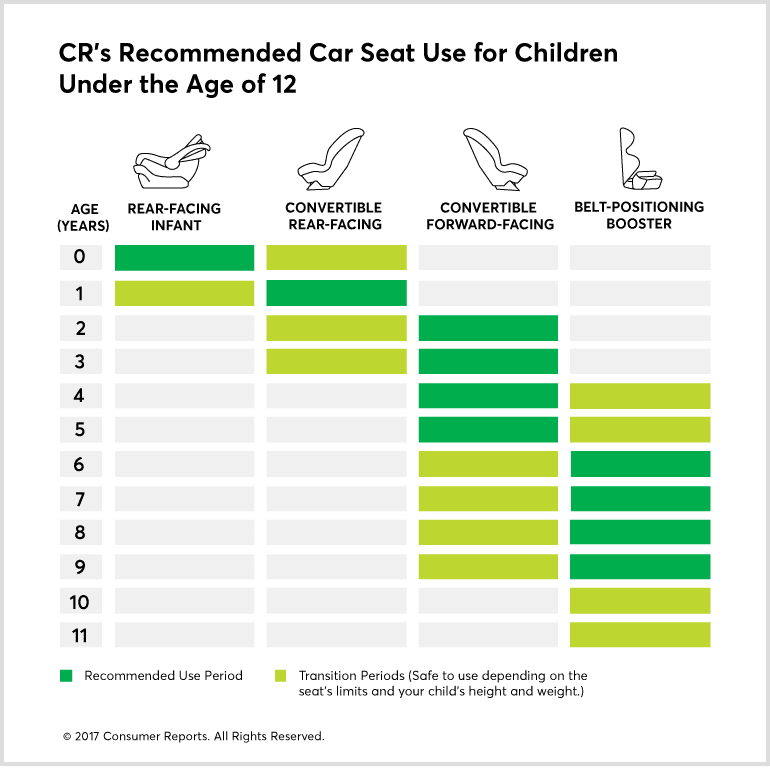 Editor's Note: This article also appeared in the October 2020 issue of Consumer Reports magazine.