When you shop through retailer links on our site, we may earn affiliate commissions. 100% of the fees we collect are used to support our nonprofit mission.
Learn more.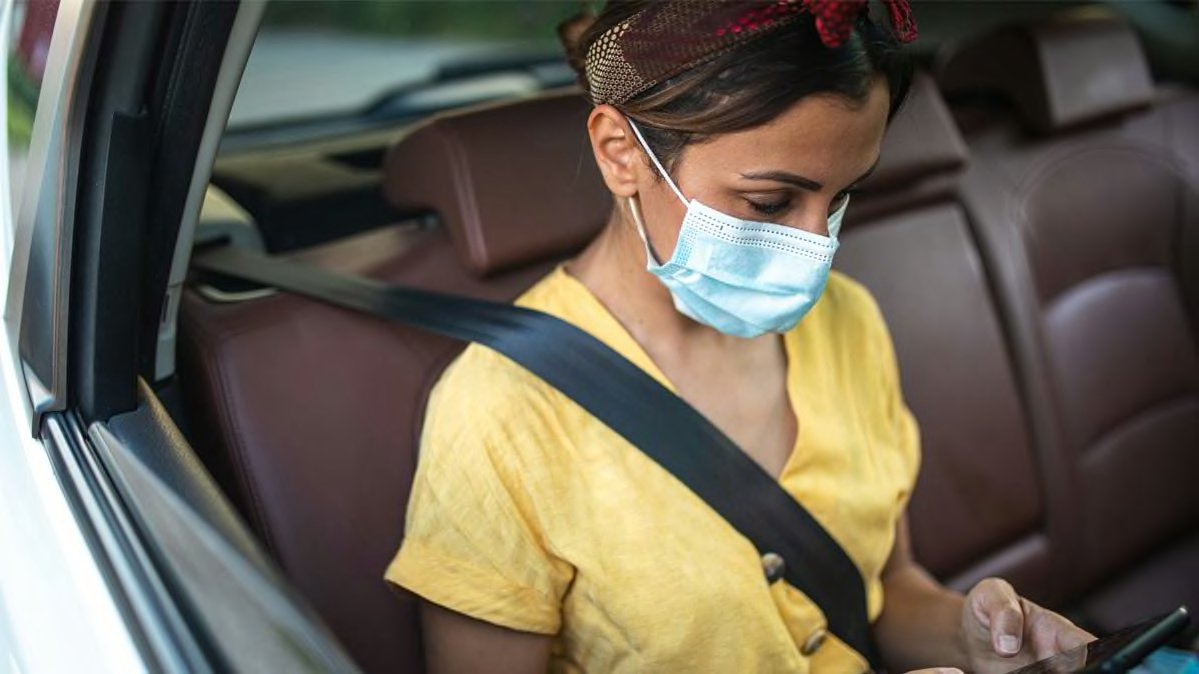 In the three years Bob Anderson has been driving for Uber and Lyft near the Blacksburg, Va., campus of Virginia Tech, he's developed a routine. "I take time to introduce myself. I tell them my name is Bob, which spelled backwards is 'Bob,' " he jokes. These days, he offers hand sanitizer, too. And then he pauses. If he doesn't hear the click of his passengers' seat belts, he'll ask, "Hey, are you buckled in and ready to go?"
Like other ride-hailing drivers, Anderson is on the last line of defense for keeping passengers safe in the back seat. Unbelted rear-seat occupants are eight times more likely to be injured and twice as likely to die as belted rear-seat occupants in a crash, but only 57 percent of ride-hailing and taxi passengers report always wearing their belt in the rear, according to a survey from the Insurance Institute for Highway Safety (IIHS). The problem is much more widespread than just Lyft, Uber, and taxis: Only 74 percent of passengers reported buckling up in the rear of private vehicles, compared with 91 percent of front-seat passengers. (Lyft and Uber told CR that they encourage riders and drivers to wear seat belts and to follow local laws.)
Some survey respondents said they find rear seat belts uncomfortable, so they don't wear them. Others said they think a belt is unnecessary because they perceive the back seat as safer than the front. "If rear occupants don't wear their belts, they're putting themselves at risk and putting other occupants in danger, too," says Emily Thomas, an automotive safety engineer at Consumer Reports' Auto Test Center.
Though it's true that sitting in the rear seat puts additional distance between passengers and the potentially deadly forces of a frontal crash, it's far from a substitute for wearing a seat belt. In a crash, unbelted passengers can become projectiles that could injure or kill others, and themselves, inside the car.
Even passengers who wear belts in the back seat may not be as safe as they assume: Recent safety advances designed to protect drivers and front-seat passengers aren't yet available in most new vehicle back seats. As a result, some belted rear passengers may be at a higher risk of dying in a crash than those belted in the front, especially passengers over 55. (Kids 12 and younger should always be in the back seat.)
Experts say this disparity is due to a combination of a lack of attention to rear-seat safety by manufacturers and a lack of urgency from regulators. So far crash-test evaluations, such as those performed by the IIHS and the National Highway Traffic Safety Administration (NHTSA), have prioritized front-seat crash protection because that's where people are more likely to sit. Those tests have led to a number of safety advances for the front seats that aren't yet available in the back. But experts say new crash tests that assess rear-seat safety are likely to spur automakers to create and add more rear-seat safety technologies.
The Safety Advantages of Sitting
in the Front Seat
Rear passengers are less likely to benefit from safety features that are often standard up front. But new tests may help close that gap, spurring automakers to install new safety systems in the back seat. Automotive component supplier ZF has developed a rear-seat airbag, but Steve Peterson, a ZF vice president, says automakers are reluctant to install it until they know the specifics of a coming—­and long-delayed—­back-seat government crash-test program. Tomorrow's cars also should have seat belts that adjust to better fit people of all shapes and sizes, and that passengers actually want to wear, says Kristy Arbogast, co-scientific director of the Center for Injury Research and Prevention at the Children's Hospital of Philadelphia. "There's a limit to how much we can change behavior," she says. On this page are several life-saving features found in modern vehicles—most of which prioritize front-seat passengers.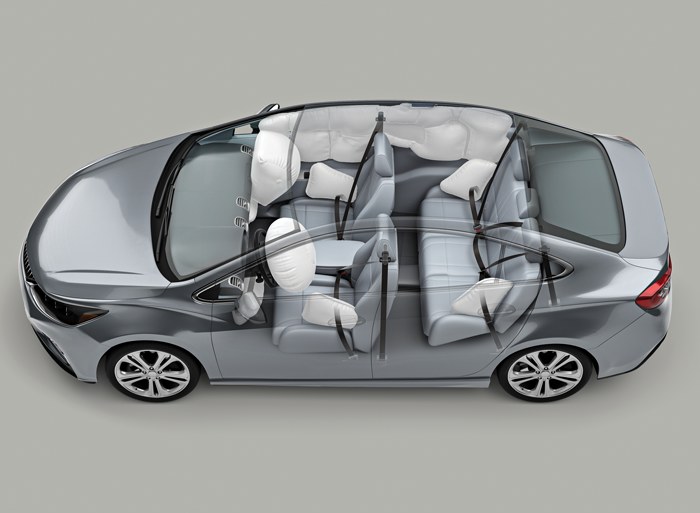 Click blue dots to learn more.
Playing Catch-Up
Until the mid-2000s, the back seat was always the safest place to sit. But modern safety advances have largely focused on the front seat, partially because of a simple cost-benefit analysis. "We always know the driver position is occupied, so it makes sense that we would spend so much time focused on getting occupant protection up to speed in that seating position," says Jessica Jermakian, vice president for vehicle research at IIHS.
Front passengers now get airbags that protect in front and side crashes. The front seat belts on most newer cars have pretensioners, which tighten the belt at the onset of a crash, and load limiters, which let the belt spool out a bit to reduce any jerking force that might injure the occupant's chest.
By contrast, rear-seat safety has stagnated: Only 36 percent of new vehicles evaluated by CR have pretensioners in the rear, and only 38 percent have load limiters there. Less than 40 percent of vehicles have side airbags designed to protect the pelvis and torso of rear occupants. Similarly, only about a quarter of vehicles have rear seat-belt reminders, and NHTSA has not yet followed through on a congressional mandate to require them on all new vehicles, even though they've proved successful in getting front-seat passengers to buckle up.
As a result, the front seats of cars from the 2007 and newer model years are so safe that some occupants may have a slightly higher risk of death or injury if they sit in the back. Of the more than 260 vehicles currently rated by CR, only the new Nissan Rogue and Sentra come standard with all these features, plus rear occupant alerts, a feature that reminds drivers to check in the back for children so that they aren't left behind and at risk for heatstroke. More than 100 cars, trucks, and SUVs have none of these features standard, including all Acura, Alfa Romeo, Chrysler, Dodge, Honda, Jeep, Mitsubishi, and Ram vehicles. Mitsubishi would not discuss future products, but the other automakers say they have plans to add at least one of these features in upcoming model years.
Crash Tests Make Cars Safer
One reason the back seat hasn't kept up with the front is that NHTSA's five-star new car assessment program (NCAP) and IIHS' crash-test programs have focused on the front seats first. "Vehicle manufacturers are not incentivized with ratings to put technological innovations back there," says Kristy Arbogast, co-scientific director of the Center for Injury Research and Prevention at the Children's Hospital of Philadelphia and a fellow of the Association for the Advancement of Automotive Medicine.
Currently, only side-impact and head-restraint tests put a dummy in the rear seat. By contrast, Europe's Euro NCAP crash-test program does more extensive testing to assess rear-seat safety, and as a result more vehicles sold in Europe have back-seat safety innovations. Before Euro NCAP added rear-seat crash tests in 2015, only about 10 percent of vehicles sold in Europe came standard with rear seat-belt pretensioners and load limiters. Today, nearly all vehicles sold in Europe come with the features.
"Our point of view is wherever you sit, you should be protected as much as possible," says Richard Schram, Euro NCAP's technical director.
Cars With Rear-Seat Safety Features
Important safety features that don't come standard in most vehicles' back seats include
seat belt pretensioners,
which tighten up belts at the onset of a crash; load limiters, which add slack to a belt during a crash to prevent chest injury;
rear seat-belt reminders,
which tell drivers when a passenger is unbuckled; and
rear torso and pelvis airbags,
which cushion the force of impact.
Rear occupant alerts
remind drivers to check for children or pets in the back seat so that they aren't left behind in a closed vehicle—which can be deadly even in mild temperatures. Most of these features are not visible to the naked eye, so it can be difficult to know whether an individual vehicle has any of them. It's also important to note that having these beneficial features doesn't automatically mean a back seat is among the safest, because there are multiple variables that factor into overall safety. On this page are new vehicles CR evaluated that come standard with back seat pretensioners and load limiters, and at least one of the other safety features.
Rear
Occupant
Alert
Rear
Belt
Reminder
Rear Side Torso/Pelvis
Airbag
Rear
Seat-Belt
Pretensioner
Rear
Seat-Belt
Load Limiter
Cars with 5 back-seat features
NISSAN
Rogue Sport, Sentra
Cars with 4 back-seat safety features
BMW
2 Series Gran Coupe, X5, X6, X7
LEXUS
ES 350, IS 300, LS, RX 350, RX L, UX 200
NISSAN
Altima, Leaf, Maxima, Murano
TOYOTA
Avalon, C-HR, Camry
Cars with 3 back-seat safety features
AUDI
A4, A4 Allroad, A6, A7, A8l, E-Tron, Q3, Q5, Q7, Q8, S4
BMW
3 Series, 5 Series, 7 Series, 8 Series, X3
JAGUAR
E-Pace, F-Pace, I-Pace, XE, XF
LAND ROVER
Defender, Discovery, Discovery Sport, Range Rover Evoque, Range Rover Sport, Range Rover Velar
LEXUS
GS 350, GX 460, LX 570
MERCEDES-BENZ
CLA-Class, G-Class, S-Class
NISSAN
Titan Crew Cab, Titan XD
PORSCHE
Cayenne, Cayenne Coupe, Panamera
VOLVO
S60 T5, S90, V60, V90, XC40, XC60, XC90
Change Is Coming
The IIHS is already in the process of introducing a rear-seat front-crash test. Jermakian says that test results will be available as soon as next year, and that testing is already underway. "When we look at the vehicles we've crashed already, we see that some vehicles are definitely doing better than others," she says, adding that early results show that vehicles with load limiters and pretensioners appear less likely to cause severe chest injuries.
IIHS will start evaluating rear seat-belt reminder systems as soon as 2022 and will incorporate those ratings into its influential Top Safety Pick ratings, which highlight the safest vehicles it evaluates each year. These reminders are designed to make sure kids in the back seat stay buckled and secured, but it will also help ride-hailing drivers like Anderson know whether their passengers are belted. "The best belt reminders tell you to buckle up at the start of a trip but also alert the driver if a rear passenger unbuckles during a trip," says Thomas, the CR safety engineer.
Congress ordered NHTSA to mandate rear seat-belt reminders in all new vehicles by 2015, but the agency is only now deciding how to implement the requirement after years of delays and a lawsuit filed by safety groups. NHTSA spokeswoman Kathryn Henry told CR the agency is also conducting research into rear-seat occupant protection that it expects to be completed by the end of next year, although William Wallace, CR's manager of safety policy, expects delays. "NHTSA misses many deadlines, in part because it's chronically under­funded," he says. "Congress should provide NHTSA far greater resources and push its leaders to set sensible priorities that could save lives today."
In the meantime, all the reminders, crash tests, and advances in the world won't matter if rear passengers don't buckle up. "Wear your seat belt every single trip," says Thomas. "It doesn't matter if you're just going around the block or have a cautious driver. Your seat belt is your first line of defense."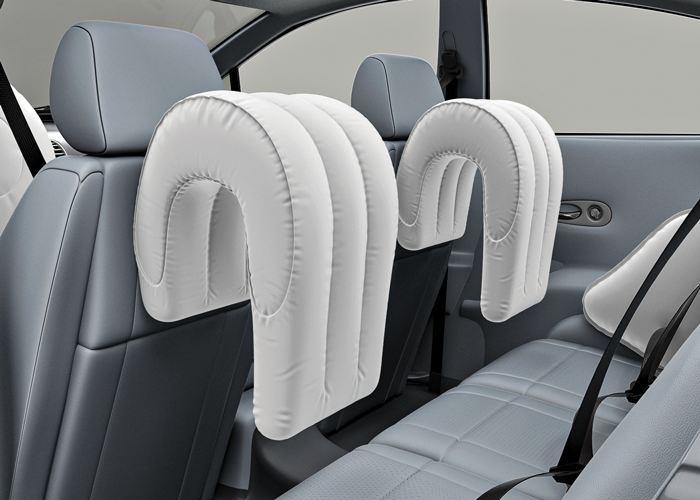 Production-Ready SCaRAB airbags can protect rear occupants no matter the position of the front seat.
The Future of Back-Seat Safety
As the auto industry and regulators begin to focus on rear-seat safety, researchers and auto­makers are developing new ways to keep passengers safe. Here's a look at what you might expect to see in the near future.
Virtual crash tests: Crash-test ratings aren't yet available for rear-seat safety, but researchers are already using computerized models of the human body to help fine-tune safety systems for rear passengers. For example, Jalaj Maheshwari of the Center for Injury Research and Prevention at the Children's Hospital of Philadelphia is using these human body models to evaluate how well booster seats protect children even if they're not seated properly. "Children don't sit in an ideal seating position," he says. "They move about, they have a lot of energy." So Maheshwari "places" human body models in seating positions that aren't included in traditional crash tests. Other labs run simulations of occupants of above- or below-average weight—neither of whom are represented by existing crash-test dummies. See car seat ratings here.
Rear-seat airbags: Airbags prevent injury by spreading out crash forces and keeping occupants from striking hard surfaces. Mercedes-Benz and Ford already offer optional inflatable rear seat belts, which are designed to reduce forces on the wearer's chest. The 2021 Mercedes S-Class sedan will get rear airbags that deploy from the backs of the front seats and are meant to offer additional head, neck, and shoulder protection for rear occupants. Automotive supplier ZF also has developed a production-ready rear airbag called Self Conforming Rearseat Airbag, or SCaRAB, which the company says several automakers have expressed interest in installing in upcoming vehicles. Additional testing may be necessary to make sure rear airbags are compatible with child car seats.
Personalized safety: In the future, back seats might be designed to automatically adjust to meet the safety needs of occupants of all ages, shapes, and sizes, says Kristy Arbogast of the Children's Hospital of Philadelphia. Just as today's vehicles have presets that can adjust seats for comfort, tomorrow's vehicles may have presets that customize safety features for different occupants. And some of those adjustments may be automated. Already, the driver's seat of some Mercedes-Benz and Genesis vehicles can automatically adjust to an ideal driving position when a driver inputs his or her height and weight.
Seat manufacturers and safety researchers are working on how to use that data to optimize safety features, too. "The position of the shoulder belt adjusts to you, the seat bottom you're sitting on may adjust to you," Arbogast says. "All of that is technologically possible. It costs money, it adds weight to the car, it's not a simple calculus, but it's one we can do."
Editor's Note: This article also appeared in the October 2020 issue of Consumer Reports magazine.