When you shop through retailer links on our site, we may earn affiliate commissions. 100% of the fees we collect are used to support our nonprofit mission.
Learn more.
Aside from the car itself, your child's car seat is the primary protection in a crash. So it's important to pick the safest seat for every stage of his or her development.
Consumer Reports recommends that children move through three types of car seats as they grow to ensure they are in the safest car seat for them. Babies should ride in a detachable, rear-facing-only infant seat that snaps in and out of a base that's anchored to the vehicle.
After that, they should move to a convertible seat that's first installed facing the rear, then switched to forward-facing as the child gets older.
And last, kids should transition to a booster seat, which raises them up to allow the car's seat belts to fit safely. (See our car seat timeline.)
Conventional wisdom has been that parents should keep children in an infant seat until they have outgrown it based on height or weight. But our crash-test results, combined with the fact than many babies will outgrow their infant seat by height rather than weight, refine that transition point. Consumer Reports now advises parents to move their children from infant seats to rear-facing convertible seats by their first birthday to prevent potential head injuries. (Learn how Consumer Reports tests car seats.)

All of the child seats marketed in the U.S. must meet federal safety standards. Our crash testing determines whether a seat provides an additional margin of safety beyond the government standard.
We evaluate car seats by testing them on a seat cushion that better represents the dimensions and firmness of the seats in current vehicles rather than the flatter, softer "test bench" equipment required by the government. We also test at a higher crash speed (35 mph) and with the addition of a simulated front seatback surface that resembles the environment of a real vehicle. Government tests are done at 30 mph and don't include a simulated seatback.
Our rear-facing crash-test results showed that a dummy representing a 12-month-old child was protected from striking its head against the simulated front seatback in 24 of 25 convertible models. In contrast, when using the same-sized dummy in infant seats, 16 of the 30 seats allowed head contact. Research shows that when a child suffers a serious injury in a crash, it's frequently because of head contact with an interior component, such as the front seatback.
Once your child does transition to a convertible seat, Consumer Reports and the American Academy of Pediatrics recommend keeping them rear-facing until he or she is at least 2 years old or has reached the maximum weight or height limit for a rear-facing convertible seat. Why? Because real-world crash data show there's a reduced rate of head and spine injuries when children ride facing the rear.
Not only is it best to keep your child rear-facing until at least age 2, it's now the law in some states. Since 2015, California, New Jersey, Oklahoma, and Pennsylvania have passed laws requiring children to sit rear-facing until that age. Failure to comply can result in a fine.
Child-seat manufacturers are also getting onboard. Evenflo seats and some Dorel products will begin to be labeled with the recommendation that children be 2 years old before facing forward. Britax has also begun labeling some of its forward-facing seats with a minimum recommended age of 2.
It's easy to assume that making the transition from an infant seat to a convertible is the right time to also switch to a forward-facing position. But a change in seat type shouldn't mean a change in orientation. Convertible seats can be installed in both rear- and forward-facing configurations. This will probably be the seat your child sits in for the longest period of time.
You might think that your kid looks uncomfortable riding rear-facing, but research has found that children are just as comfortable, if not more so, riding that way as those who face forward. Children are much more flexible than adults, so even though their folded legs might look awkward, it probably doesn't feel that way to them.
Getting the Right Fit
Your child seat should fit not only your child but also your car. If you can't test-fit a seat before purchasing it, make sure you can return or exchange the seat if it doesn't work out.
Here are some tips to help you install a child seat in your vehicle:
Carefully read the manuals for both the car and the seat.
Check the recline angle of rear-facing seats. That's critical, especially for newborns. An overly upright seat may allow an infant's head to fall forward, obstructing his or her breathing. Look for rear-facing seats with a built-in level indicator to help you get the seat properly reclined.
Child seats can be installed using your vehicle's seat belts, but it's often easier to get a secure fit using LATCH, a standardized system of anchors built into most vehicles since September 2002.
To secure a forward-facing child car seat, always attach and tighten the top tether, whether the seat is installed with the LATCH system or a seat belt.
You might have to remove the vehicle's head restraint to allow a forward-facing seat to fit properly against the vehicle's seatback.
Make sure that the harness is tight enough; you shouldn't be able to pinch any fabric at your child's shoulder.
Go to safekids.org to find out where and when you can have your seat installation checked free.
New Advance in Car-Seat Safety: The Load Leg
Cars seats for children have improved significantly since they were first designed in the early 1960s, and that progress is continuing. One advancement, which is more commonly available in Europe, is the "load leg." It gives an infant car seat additional support by extending a rod from the seat's base to the vehicle's floor.
Load legs, also known as foot props, provide additional stabilization by limiting the seat's forward motion during a crash. That helps reduce the transfer of crash energy to your child in the event of a collision.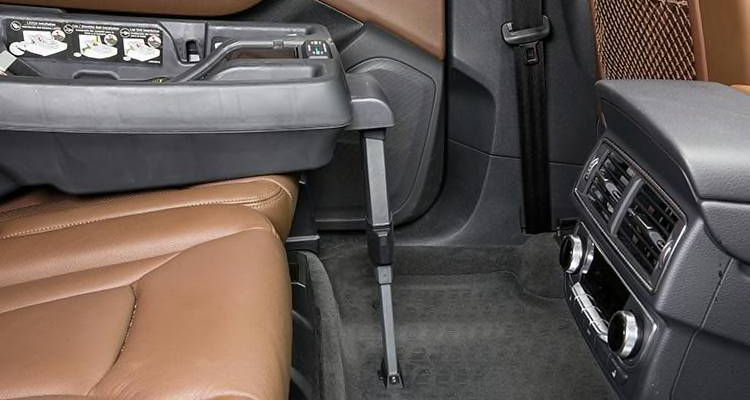 In our recently updated infant-seat ratings, the four that have the load-leg feature are rated Best for crash protection. Specifically, our crash results demonstrate a 46 percent decrease in head-injury risk in seats with the load leg compared with seats without it. In order for this feature to become commonplace, car floors will need to be designed with it in mind. The owner's manual for the Chrysler Pacifica with Stow 'n Go folding middlerow chairs specifically prohibits using a load leg because the hatches for storing the vehicle seats may not support the additional crash forces.
Check your owner's manual for load-leg compatibility. Seats with a load leg also tend to be more expensive than other models. More affordable seats are still safe when used and installed correctly, but load-leg seats can offer an additional layer of safety.
How to Install a Car Seat
Child seats have come a long way over the years, but proper installation is key. On the "Consumer 101" TV show, Consumer Reports expert Jennifer Stockburger shows host Jack Rico what to do to keep little ones safe in a car.