When you shop through retailer links on our site, we may earn affiliate commissions. 100% of the fees we collect are used to support our nonprofit mission.
Learn more.
Car seats for children have improved dramatically since they were first designed in 1968. And as our testing shows, that progress is continuing.
One of the latest advancements is known as a "load leg." Originally from Europe, this feature gives the car seat extra support by extending a "leg" from an infant seat's base to the vehicle's floor.
In our recently updated infant seat ratings, four of the 32 seats include the load leg design. All four rate a Best for crash protection, our highest rating, because they provide an additional margin of safety in a crash.
Load legs, also known as foot props, provide additional stabilization, and they better tie the child seat to the vehicle during a crash. The load leg also helps reduce the transfer of crash energy to the child occupant.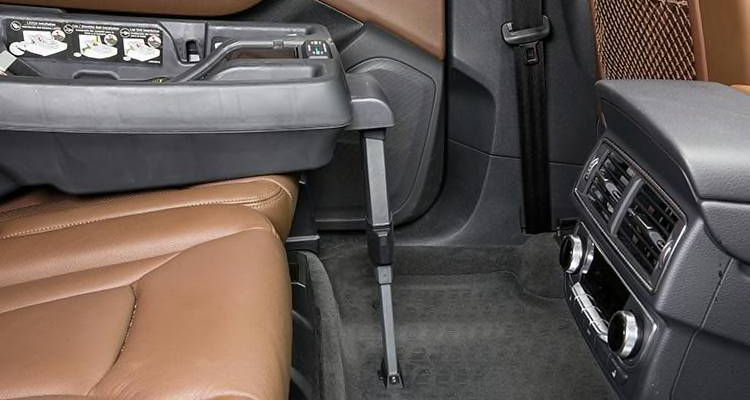 Which Car Seats Have Load Legs?
Seats that are currently available on the market and in our ratings:
What Is Consumer Reports' Take on the Load Leg?
In our crash tests, all four of these car seats rate a Best for crash protection. This was largely due to the fact that their head-injury risk, as measured by instrumentation within the child-sized dummies, was approximately 46 percent less than the average head injury risk of car seat models with no load leg.

Ease-of-use for all four seats rated a Very Good or an Excellent. Though the load leg is an additional step, it's a feature that is easy to use in most vehicle seating positions. The only issue might come from center seating positions that have a large driveline "hump" in the floor, which might prevent the leg from being fully extended. It is important to note that our results for these seats are based on assessments and crash protection all performed using the load leg, but that these seats meet minimum government standards without using the leg.
The LATCH fit-to-vehicle assessment for all four seats was better than the belt fit-to-vehicle, as these seats include features that aid LATCH installation.
These seats also tend to be more expensive than seats that include fewer features. Less-expensive seats are still safe when used and installed correctly, but these seats offer an additional margin of safety and potential for an easier installation.

Although this feature shows great promise, in order for it to be fully implemented and gain full market acceptance, the floors of some American cars might need to be reinforced to support them. Some vehicles, such as our Chrysler Pacifica with the Stow 'n Go foldaway middle-row chairs, caution against using the load leg, as the floor is not designed to support the load. Be sure to check your vehicle manual for load-leg compatibility.
It is important to note that you should still move to a rear-facing convertible seat no later than a child's first birthday to reduce the potential for head injury. The 22-lb. dummy that represents a 12-month-old child had head contact in three out of four of these seats when the seat was installed with a seat belt and the load leg in place. When the seats were installed with LATCH and the load leg, the dummy had head contact in only one out of four of the seats.
We are pleased to see load legs become available here in the US because of its clear crash protection benefit. This is a feature worth considering when shopping for an infant car seat.

See our complete infant car seat ratings. Learn how we test car seats.

Clarification: This story initially listed the GB Asana 35 AP as having a load leg. That seat has been discontinued and was replaced by the GB Asana 35 DLX, which was tested and is now listed here.