When you shop through retailer links on our site, we may earn affiliate commissions. 100% of the fees we collect are used to support our nonprofit mission.
Learn more.
4Moms Self-Installing Car Seat
This week, 4Moms previewed a new rear-facing-only infant child car seat with features that pairs with a smartphone app to automatically tension and recline the seat once it's attached to a vehicle using LATCH. For those who have struggled through child seat installation that sounds very appealing. The accompanying app also monitors the status of the seat once the carrier portion is installed on the base.
Data indicates that about 80 percent of child seats still aren't used correctly, and one of the aspects with the highest levels of misuse is that the seat is not securely installed in the car. A seat that 'self-tensions' and 'self-reclines' may improve those statistics. With an anticipated June 2016 launch date, the 4Moms child seat's technology comes at a premium price of $499.99, which would make it one of the most expensive rear-facing only infant seats on the market. We will certainly be interested in seeing how it works and how well it fares in our full round of tests once it's available. In particular, we'll be interested in how the seat's "high-tech" features perform with a seat belt installation.
Check out the video below.
BMW i Vision Future has 3D Air Touch Gesture Control, Touch-Sensitive Surfaces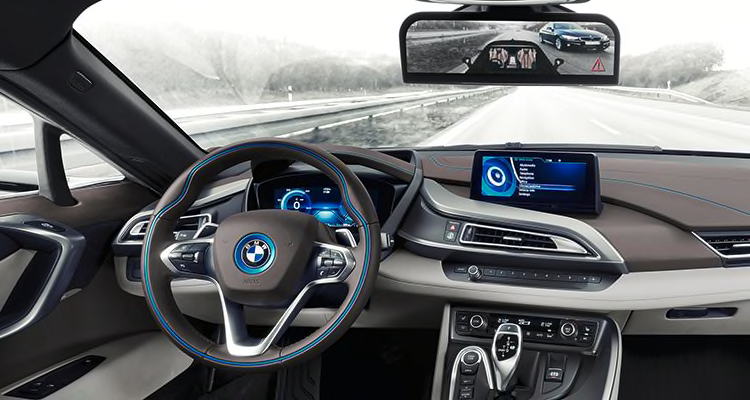 BMW rolled out the i Vision Future Interaction concept vehicle to demonstrate its view on the future of the networked vehicle cockpit. Building on the gesture control found in the 2016 BMW 7 Series, which was first shown last year at CES, the i Vision employs high-resolution displays that interact with the driver in a variety of ways.
Air Touch is a system that uses sensors to recognize hand movements on multiple planes, so that the gestures are similar to using a touch screen without any physical interaction with the screen surface. Information is communicated to the driver through three screens: a head-up display, a three-dimensional instrument cluster, and a 21-inch panoramic display. The Air Touch system works for both the driver and passenger.

BMW also showed systems designed to compensate for reduced visibility in its highly stylized i8 supercar. The i8 Mirrorless uses three cameras that replace the rearview mirror, covering larger areas in an effort to eliminate blind spots. The images are stitched together on a single display. The i3 Extended Rearview Mirror takes the image from a roof-mounted camera and overlays it on the interior rearview mirror, to extend the field of view. These technologies provide an interesting look at potential future production technology.
BMW Head-Up Motorcycle Helmet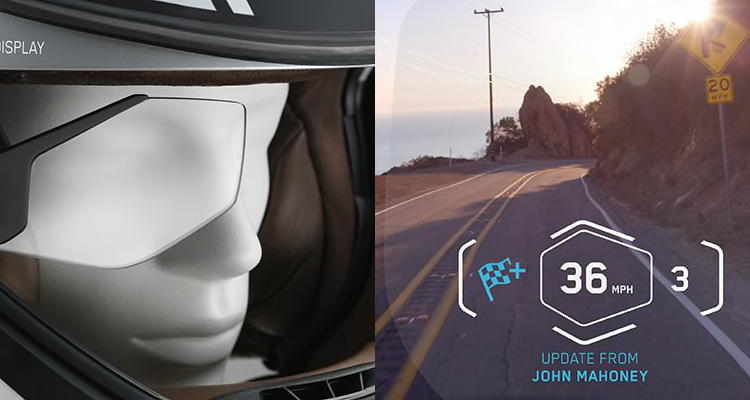 BMW showcased a motorcycle helmet fitted with a head-up display, as it explores the potential for increasing safety and convenience. Just as keeping the eyes on the road is important for drivers, it is even more critical for riders due to their vulnerability.
The BMW Motorrad helmet is programmable, allowing the rider to choose the information that would be displayed, including speed, tire pressure, oil and fuel level, gear, speed limit, and warnings. BMW conceives that in the future, when vehicle-to-vehicle communications becomes the norm, the helmet could likewise provide localized travel advisories, warning of slowing traffic or an accident just a short distance ahead. It would seem the technology could be quite helpful, so long as the rider is able to minimize the information, focusing on safety and warning elements.
BMW says that such a helmet could also add an action camera, rearview monitor, and speakers to further enhance the ride. These ideas are quite similar to the pricey, aftermarket Skully AR-1 helmet that provides a head-up display, surround view, and navigation guidance. Together, these helmets point to ongoing innovations that can really enhance the experience commuters and long-distance riders—those who could best justify the investment in the technology.
2017 Chevrolet Bolt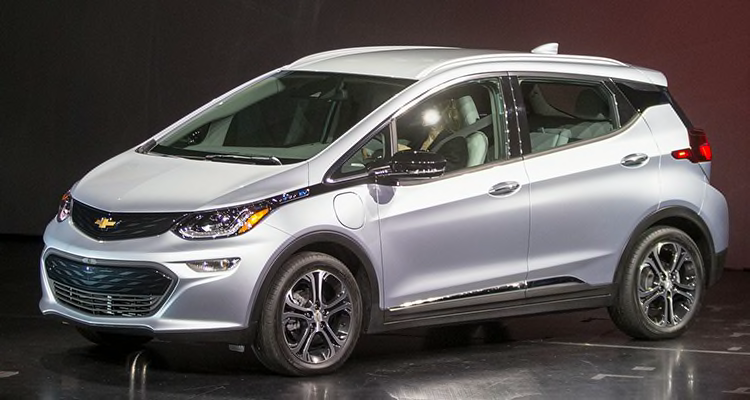 Production of the pure electric Chevrolet Bolt is scheduled to begin by the end of 2016, but we had a chance to drive one briefly at CES. (Watch video below.) Until the Bolt, most electric cars had 100-mile range, at best, with the pricey Tesla Model S being a notable exception. GM claims the Bolt will exceed 200 miles on a full charge.

Based on GM's global subcompact platform, the Bolt tucks its batteries into the floor, providing a flat floor and low center of gravity. Using a DC fast charger, the battery can reach 80 percent of capacity in 60 minutes.
Learn more about the Chevrolet Bolt.

2017 Chevrolet Cruze Hatchback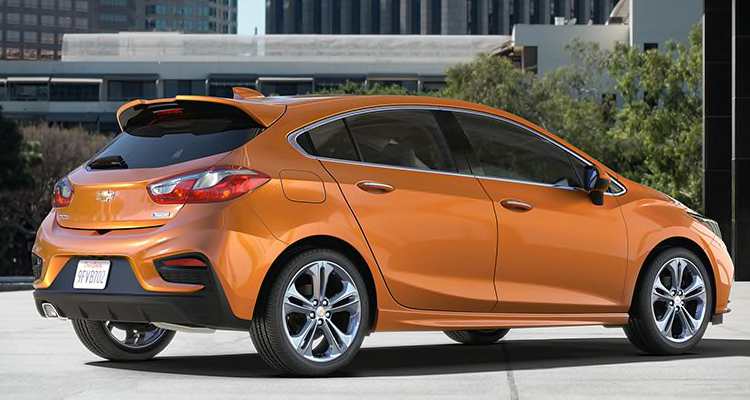 General Motors unveiled the 2017 Chevrolet Cruze Hatchback at CES 2016, ahead of its appearance at the Detroit auto show next week, underscoring the increasing role cars are playing at this industry event. The hatch will be another body style offering of the redesigned 2016 Cruze sedan, sharing its essential mechanicals and features. The liftgate exposes 22.7 cubic feet of cargo space behind the rear seat, capable of expanding up to 47.2 cubic feet.
On sale in fall 2016, the hatch benefits from the same weight reduction measures made to aid fuel economy and performance in the sedan. Both versions boast a generous roster of available high-tech features, such as Apple CarPlay/Android Auto, mobile Wi-Fi, Teen Driver monitor, and a full suite of active safety systems. In addition, there are some luxury touches, such as a heated steering wheel and heated rear seat.
Faraday Future FFZero1 Electric Car Concept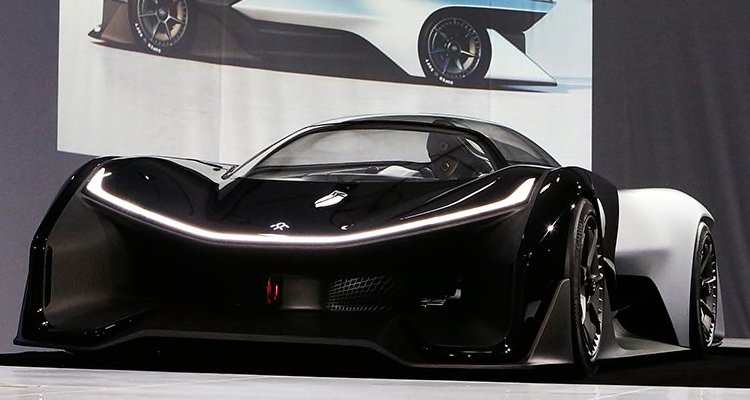 Faraday Future stepped out from the shadows to reveal a striking electric-powered concept car, dubbed the FFZero1. This car serves as a showcase for the company's concept of a flat, scalable platform that could be adapted to numerous vehicle types (luxury sedan, crossover, compact sedan, and pickup truck) and drive configurations (FWD, RWD, and AWD).
The single-seat concept car features four "Quad Core" motors producing over 1,000 horsepower, with 0-60 mph times promised in less than 3 seconds and a top speed over 200 mph. As technology showcase, the FFZero1 demonstrates augmented reality projected ahead on the road and boasts the ability to educate itself about the driver's needs in real time and make comfort, convenience, and performance adjustments. Read more here.

Ford & Smart Homes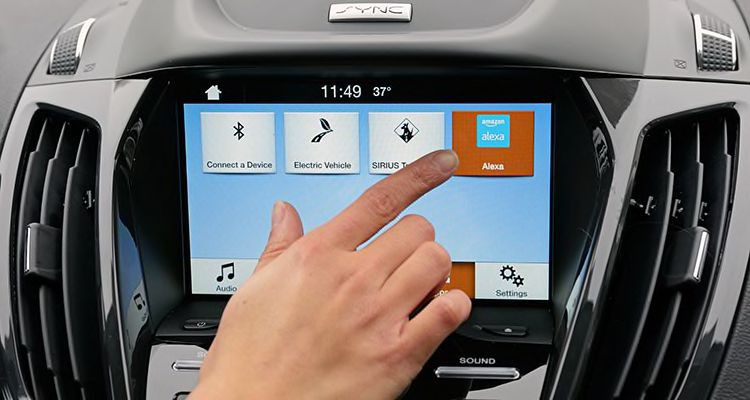 The next step in car connectivity may involve homes. At CES, Ford demonstrated how its cars could link with smart devices like Amazon Echo and Wink. Such a connection could allow consumers to access the car from home to lock/unlock, start/stop the car (think: warm up, cool down), and check trip stats. From the couch, you could use the Amazon Alexa voice service to perform these functions in plain language, mimicking the abilities some automakers are enabling via smartphone apps. Going a step further, the car could be programmed to start at a certain time and to schedule service appointments.
Conversely, such a cozy car-home relationship could allow drivers to make adjustments to the home through voice commands. Such functions could include verifying the garage door is closed or porch light is on. Through Wink, a smart home platform, the Ford Sync AppLink could control devices, to turn on/off things around the house, such as open a garage door. The trend is clear: The Internet of things will soon network more things.
Garmin BabyCam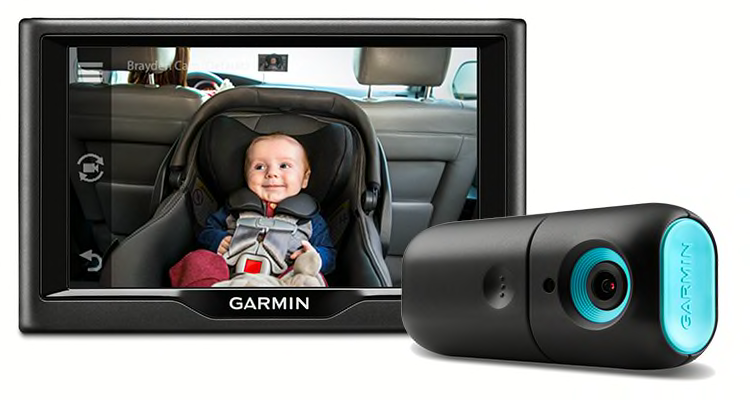 Garmin continues to find ways to add value to its portable navigation devices. The company's latest trick is to pair the camera with a camera to monitor a baby in the second row. With the Garmin Drive 50 USA LM and BabyCam, the driver can choose to interrupt the displayed map to check on little ones. (The key is to not let this become a driver distraction.)
With the ability to place the camera where you want, the driver can readily monitor a rear-facing infant. Among the benefits of this system, the lack of a view of a their child is one of the reasons some parents cite for moving their child to forward-facing too soon.

The camera has night vision, enabling a discrete peek after dark. And the system will provide an onscreen alert to remind drivers to check for passengers before exiting the vehicle—a clever safety feature that could help avoid a tragic incident of unknowingly leaving a baby in a hot car.
The navigator and camera bundle will retail for $350 this month, and the camera is available individually for $200.
Kia Drive Wise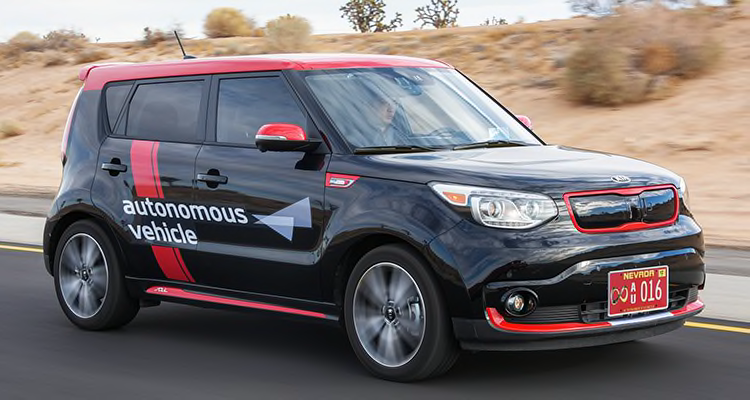 Kia announced that it plans to offer partially and fully autonomous vehicles for sale under the "Drive Wise" name. Building upon current technologies used in driver-assistance systems, Kia's partially autonomous vehicle will arrive by 2020. By 2030, Kia plans to introduce completely autonomous vehicles that will "provide the driver with greater levels of assistance, anticipating and reacting to changing road conditions and potential hazards."
The system on display at CES 2016 include Highway Autonomous Driving, which uses radar and camera systems to stay in or switch lanes; Urban Autonomous Driving, which relies on GPS and sensors to navigate through cities; and Emergency Stop System, which will bring a vehicle to a controlled stop if it detects the driver's eyes stray from the road for too long.
The Drive Wise technology doesn't entirely remove the driver from the equation, however. Kia says that the tech is designed to identify hazards as early as possible, giving the driver or the car enough time to take action.
Drive Wise will usher in new ways for the driver to interact with the vehicle. Shown in the i-Cockpit on display, these features range from changing driver preferences via fingerprint sensors to allowing the driver to change any cabin setting using gestures.

Toyota Next-Generation Maps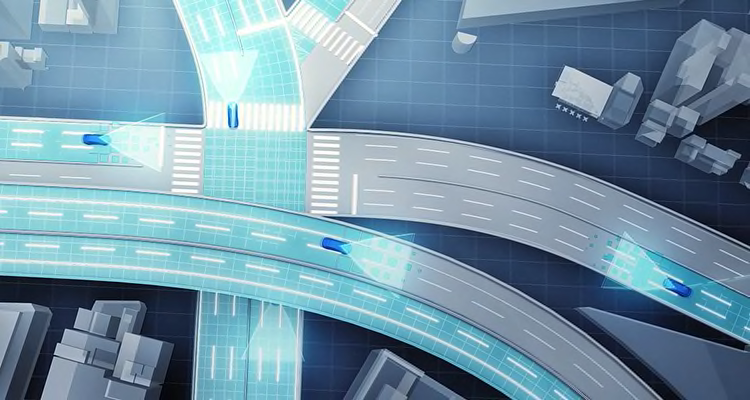 To support automatic driving, Toyota is looking to improve mapping data by collecting information from cameras and GPS devices in production vehicles. The concern is that mapping for these purposes has depended on special vehicles with three-dimensional laser scanners. While precise, they travel roads infrequently. By essentially crowd-sourcing the data collection, Toyota seeks a cost-effective way to collect more timely information.
The automaker admits that this method may be less precise, but by combining data, it estimates a margin of error of just 5 centimeters on straight roads. Toyota plans to integrate this ability in automated vehicles around 2020. It will seek to collaborate with mapmakers, and look for opportunities to share the information with other companies and governments.
Volkswagen BUDD-e Electric Minivan
Shifting attention away from combustion engines, Volkswagen introduced an electric concept vehicle at CES that the classic Microbus. Dubbed BUDD-e, this 181-inch minivan demonstrates the potential for a new modular, electric platform that could be adapted to other body styles. Fitted with a 101-kWh battery, the company claims this plug-in vehicle has a range of up to 233 miles.
Being CES, it is no surprise that BUDD-e is a connected machine that speaks to home devices, showcases the latest in-car display customization, and operates via gesture controls. The car can link to your home to allow remote control of air conditioning and lights, as well as to check if the kids are home via cameras. VW conceives that there could be links with maintenance items, allowing the driver to order replacement wiper blades or other parts, on the road as needed and have them delivered to the car itself. An interesting evolution of gesture control is the switchless steering wheel that operates common functions via pressure or swipes, and the wheel can respond with haptic feedback.
Volkswagen says both the electric powertrain and the connectivity demonstrate vehicles it could produce at the end of the decade. Learn more in the video below.