Disney and Eddie Bauer Inclined Infant Sleepers, Made by Dorel, Recalled
It's the fourth recall of such products following a Consumer Reports investigation linking similar products to deaths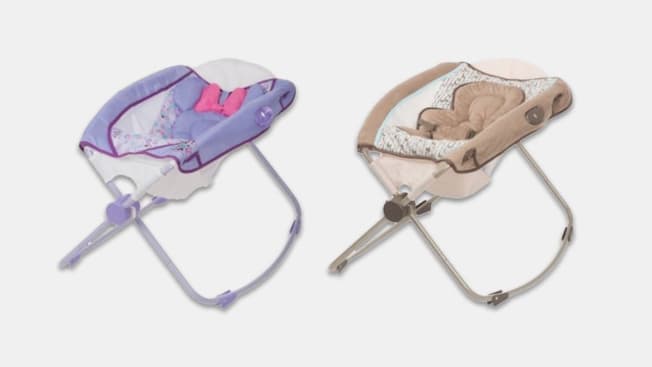 Dorel Juvenile Group USA recalled about 24,000 inclined sleepers because of infant deaths linked to other similar inclined sleep products, the Consumer Product Safety Commission announced today.
The recall involves two inclined sleeper models made by the company: the Disney Baby Doze and Dream Bassinet (model BT071DHS) and the Eddie Bauer Slumber and Soothe Rock Bassinet (model BT055CSY). The company says they have no reported incidents or injuries associated with these products.
Consumers should immediately stop using the sleepers and contact Dorel for a refund in the form of a $60 voucher (see below for contact information).
Inclined Sleepers Are Still on the Market
Dorel sells at least two other inclined sleep products, which have not been recalled. Sold under the brand name Tiny Love (Tiny Love 3-in-1 Rocker Napper, and Tiny Love Cozy Rocker Napper), CR previously warned caregivers not to use these particular products for sleep. Dorel did not immediately respond to questions from CR about why the company did not also recall its other inclined sleep products.
Given the inconsistent approaches companies have taken with their inclined sleep products, CR asked the Consumer Product Safety Commission if the agency plans to address the risks posed by all products in the same category. A CPSC spokesperson stated that the agency "continues its investigation of inclined sleepers and intends to aggressively address this product category in its entirety."
While the CPSC continues its investigation, some lawmakers aren't waiting, introducing bills in the House and Senate to ban the the manufacture, import, and sale of inclined sleepers altogether. Debate on that bill is scheduled to resume in September when Congress returns from recess.
"While this Dorel recall is a good development, the CPSC should recall all inclined sleep products," says Rachel Weintraub, legislative director and general counsel with Consumer Federation of America. "No inclined sleep products should be available on the market—and whether or not an inclined sleep product has been recalled, parents and caregivers should not use them."
In the meantime, the AAP recommends that babies should be should be put to bed on their backs—alone, unrestrained, and on a firm, flat surface free of bumpers and other soft bedding.
To contact Dorel for a refund, call 877-657-9546; text 812-373-6673; or send an email to inclinesleeperrecall@djgusa.com. For more information, visit doreljuvenile.com and click on "Recalls and Safety Alerts."
To report an incident linked with this inclined sleep product or any other product, go to saferproducts.gov or call the CPSC Hotline at 800-638-2772.