When you shop through retailer links on our site, we may earn affiliate commissions. 100% of the fees we collect are used to support our nonprofit mission.
Learn more.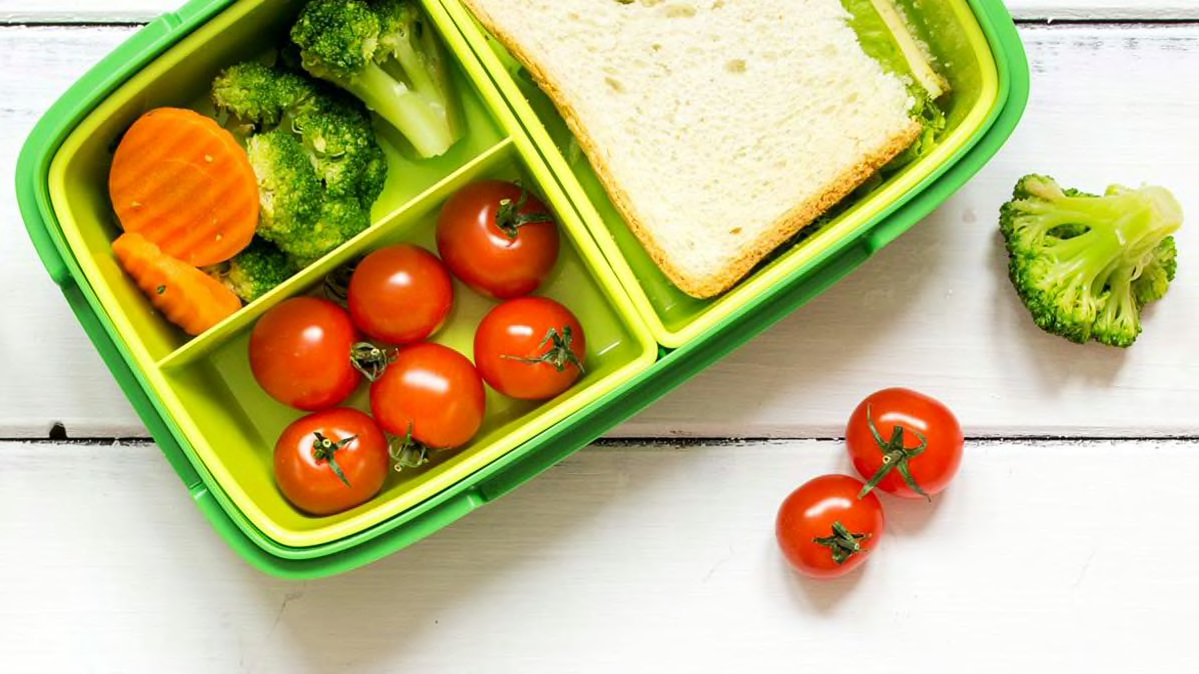 Getting children ready to head back to class often brings a flurry of activity: ticking items off the classroom supply list, checking the school calendar for important dates, and picking up new clothes to replace the items they've outgrown during the summer months.
But it's key to keep back-to-school health in mind, stresses Dyan Hes, M.D., medical director of Gramercy Pediatrics in New York City and a clinical assistant professor of pediatrics at the Weill Medical College of Cornell University.
The following steps will help ensure that youngsters feel and perform their best throughout the school year.
Check Up on Immunizations
Many schools won't allow students to enroll unless there's proof that certain shots are up to date. If your youngsters have had a physical within the past year, chances are good that they're covered, says Hes.
But if you have kids entering middle school (ages 11 to 12), be aware that they'll need a Tdap (tetanus, diphtheria, and pertussis) vaccine, the HPV vaccine, and the quadrivalent meningococcal conjugate (MenACWY) vaccine. (High-schoolers should get a booster at age 16.)
More on Students and Their Health
Schoolchildren also should have an annual influenza vaccine, preferably in the early fall, because the flu can make even a usually healthy child very sick with a high fever, muscle aches, a cough, and headaches.
If your doctor's office already has the vaccine, you can consider having your child get it now so that you don't forget, Hes says. Otherwise, do so when the vaccine becomes available in September. (Older adults and people with certain conditions may want to wait a bit, however.) You can also get it at pharmacies and through some schools.
Other must-do's: making sure the school has any medications you child might need (whether it's asthma meds or EpiPens), all necessary medical forms, and your current emergency contact information.
Reboot Their Sleep Schedule
As summer's late sunsets begin to give way to the coming fall, it's important to steer youngsters toward a school-year sleep schedule. One recent study suggested that children who got less sleep were at a higher risk for weight gain and diabetes.
For good back-to-school health, about two weeks before classes begin, start setting their bedtime about 15 minutes earlier each night. Do this until you reach the sleep and wakeup times that will work for the school year, recommends Andrew Bernstein, M.D., an assistant professor of clinical pediatrics at the Northwestern University Feinberg School of Medicine.
To make sure they're getting sufficient sleep, keep these 2016 guidelines from the American Academy of Pediatrics in mind: Children between ages 6 and 12 should get 9 to 12 hours of shut-eye a night, and teenagers need 8 to 10.
One way to help with back-to-school health: Have kids power down electronics, including tablets and phones, at least a couple of hours before bedtime. These devices emit blue light, which studies show can suppress levels of the sleep-inducing hormone melatonin.
One Harvard study found that people who used iPads to read before bed took longer to fall asleep, spent less time in the important REM phase of sleep, and were drowsier and less alert the following morning.
Help Ease School Jitters
It's normal for kids to experience some anxiety as school approaches, especially right before transition years such as kindergarten or middle school—or if they'll be entering a new school.
You may have some worries, too. More than 40 percent of parents admit to feeling uneasy when the new school year starts, according to a survey done by the National Center for Families Learning.
Talking with kids about the coming school year and their specific worries and brainstorming strategies to ease concerns can be soothing, say experts.
"Work on having open communication with your children. Find out what they're excited for, and what they're not excited for, and ask why," recommends Bernstein.
For some children, test runs are useful. Visit the school several times before the year begins, even if it's simply to walk around the playground or ball fields. Many districts also offer a back-to-school day, where children can meet teachers and classmates, find their locker, and familiarize themselves with rooms such as the cafeteria and library.
If your youngster seems especially anxious, ask whether he or she can come earlier on that day to meet the teacher one-on-one before the other kids troop in.

For children with special needs, consider creating a student passport. This one-page document should have a photo of your child and offer information on likes and dislikes, communication style, areas of strength, motivators, where he or she needs help, and sensory issues or triggers. The teacher can refer to it quickly if necessary.

Make a Healthy Lunch More Appealing
Do your kids end up eating the same old cream cheese and jelly sandwiches day after day or bring home food you've packed uneaten?

Here's one way to tempt children to mix things up. "I encourage clients to get a bento-box-style lunch box and fill them up with finger foods that kids can eat quickly and easily," says Jen Bruning, R.D.N., a spokeswoman for the Academy of Nutrition and Dietetics.
Fill the box with a whole-grain item (such as a whole-grain roll), a protein (such as a few slices of turkey or cheese) a fruit, a veggie, and dairy (such as yogurt or milk).

For children who turn up their noses at veggies, make them more appealing by using a peeler to create long, slender carrot peels, or wrap thin slices of turkey or cheese around celery sticks.
Remember to pack a drink. More than half of all children and teens aren't properly hydrated in general, according to a 2015 study published in the American Journal of Public Health.
Go Over Hand-Washing Basics
Because you won't be supervising your children's hygiene habits when they're away from you, make sure they're clear on how—and when—to wash their hands for back-to-school health.
Children who wash their hands frequently are 38 percent less likely to have to stay home from school with an upper respiratory infection, according to a study published in 2015 in the Journal of School Health.

Best hand-washing practices: Kids should wet their hands with warm running water, apply soap, and rub them together vigorously for 20 seconds before rinsing and drying off with a paper towel or hand dryer. (An alcohol-based hand sanitizer works, too, but can be irritating and drying.) They should do this after they use the bathroom, before meals and snacks, and after being outdoors, says Bernstein.

While you're at it, send kids with their own water bottle rather than have them drink from a water fountain. These are the germiest spots in school, according to the National Safety Foundation.