When you shop through retailer links on our site, we may earn affiliate commissions. 100% of the fees we collect are used to support our nonprofit mission.
Learn more.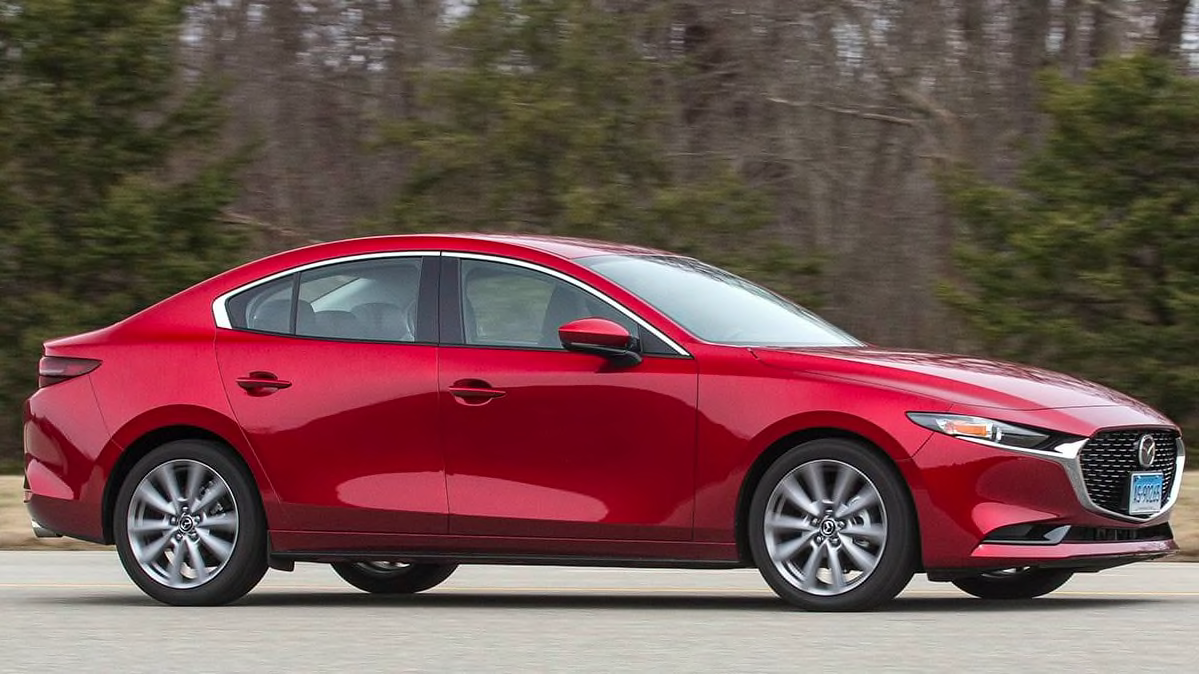 The Mazda3 has always stood out as a sportier, more elegant choice than compact cars from Honda, Nissan, and Toyota that are viewed as commodities. Many driving enthusiasts who were reluctant to choose the Ford Focus or fun-to-drive Volkswagen Golf because of their questionable reliability understandably gravitated toward a Mazda3. The question surrounding the newly redesigned 2019 Mazda3: Can it still fill that same role?
The answer is mixed because the Mazda3 has dialed back on its performance quotient and instead became more comfortable, quiet, and substantial. It still stands out from the pack, but for different reasons than before.
Here are our first impressions based on the sedan we bought, as well as an all-wheel-drive sedan and a hatchback with a manual transmission that we rented from Mazda.
What we bought: 2019 Mazda3 Sedan with Select Package
Powertrain: 186-hp, 2.5-liter four-cylinder engine; 6-speed automatic transmission; front-wheel drive
MSRP: $22,600
Options: $595, Soul Red Paint
Destination fee: $920
Total cost: $24,115
What We Like … So Far
Beauty is in the eye of the beholder, but in our eyes, the new Mazda3 looks good, particularly in the sedan form. That interior has that same visual appeal, and there's an elegant simplicity and harmony between the soft-touch materials and quality knobs and buttons.
When it comes to driving, it becomes clear from the first mile or two that the engine and transmission work well together. The only engine is a 2.5-liter four-cylinder; its size and power output are more typical of a midsized sedan than that of a compact. The car always answers the driver's right foot requests promptly and predictably. The brake pedal is particularly satisfying, with a firm, gradual action, making it easy to bring the car to a smooth stop.
Those who like to shift for themselves will find the slick manual shifter a delight to operate. And, for the first time, the Mazda3 is available with all-wheel drive, ending the Subaru Impreza's monopoly among compacts.
Ride comfort is typically not a strong suit of compact cars, but the Mazda3 absorbs bumps effectively. Even though the ride is firm, it easily handles bumps and ruts.
More COMPACT CAR ROAD TESTS
The engine emits a pleasant hum, and this redesigned version is significantly quieter than the previous, rather loud Mazda3. The addition of sound insulation material helps to explain how the 3 gained 150 pounds, according to our scales.
The infotainment system includes a high-mounted 8.8-inch center screen that's controlled using the center knob positioned between the front seats. This approach eliminates the need for drivers to make a long reach to the touch screen, but this system does require a learning curve. Android Auto and Apple CarPlay compatibility come on all versions except the base sedan.
More expensive trims offer premium features, such as heated power seats, leather upholstery, paddle shifters, head-up display, and headlights that swivel in turns. Sure, that gear comes at a price, but the number of options might embarrass the offerings from a few luxury brands.
The Mazda's i-ActiveSense suite of advanced safety features is standard on most versions. This comprehensive package includes a driver attention alert, blind spot warning, and rear cross traffic warning. But these aren't on the base Mazda3. Rival Toyota Corolla comes with some key advanced safety items as standard equipment across all versions, however you do need to pay extra for blind spot warning.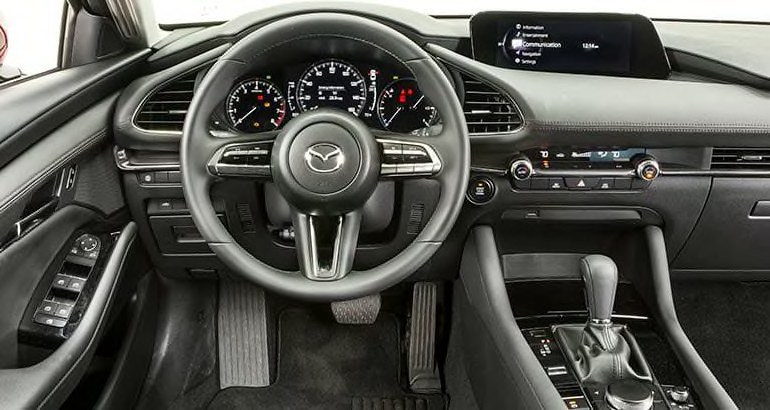 What We Don't Like
Because of its past, any Mazda3 brings with it a high expectation that it will have agile handling. The new 3 is responsive and capable, but it's not as engaging or inspiring as the previous generation.
Buyers who choose the Select package get a rather basic driver's seat that's short on lower-back support. Shoppers who opt for the next rung up the price ladder, the Preferred package, benefit from a much more comfortable and supportive power seat with adjustable lumbar support. The new 3 gained an inch of wheelbase (that's the distance between the front and rear wheel), but rear-seat room is not very generous—typical among compact cars.
Some people will lament the loss of the touch-screen infotainment system. (The previous generation allowed drivers to use that while stopped or when traveling at very low speeds.) Now, those tasks must be conducted exclusively by using the rotary knob. The menu structure is simplified, but many tasks still require at least two steps and aren't immediately obvious.
Of course, the hatchback version adds versatility with its liftgate, although the design, with its small rear side windows and large rear pillars, hurts visibility.
It's too bad that the base Mazda3 sedan doesn't come with automatic emergency braking as standard equipment. That's particularly glaring because the 3, starting at almost $22,000, is one of the most expensive compact cars.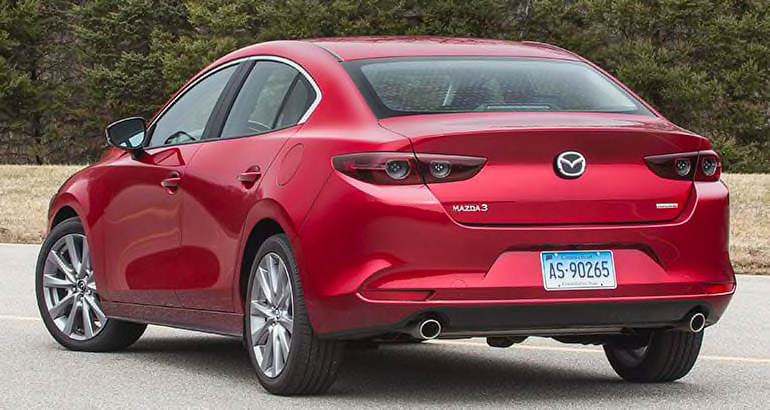 What We'll Keep Our Eyes On
We got an excellent 33 mpg overall with the previous 3, which had a smaller, less powerful engine. We doubt that the new 3 will be as fuel-efficient. So far we've been seeing around 30 mpg on the trip computer, but we'll have our measured figure in due course.
As soon as we complete the 2,000-mile break-in period, we'll be able to nail down some findings from instrumented testing regarding acceleration and braking. By then we'll also have a definitive evaluation of the infotainment system.
Mazda would like potential customers to view the 3 as a semi-premium offering that's an alternative to an Acura ILX or Audi A3. The Mazda3 gives the ILX a run for its money, but going against an Audi A3 might be a stretch. The Mazda brand has, to date, been more often associated with mass-market entries, but we'll see how the move upmarket shakes out.
So far, the Mazda3 comes across as a likable car because of its styling, interior quality, and mature demeanor. We'll see how all of that translates into its ranking among compact cars.
About the cars we rent: Consumer Reports tests only the cars that we purchase. We pay automakers on occasion to drive early or different versions of cars we ultimately buy (we do not borrow press cars free of charge, as many other publications do), but those impressions are never part of the 50-plus-evaluation regimen that we put our purchased cars through.