When you shop through retailer links on our site, we may earn affiliate commissions. 100% of the fees we collect are used to support our nonprofit mission.
Learn more.
As President-elect Donald Trump prepares to take office and a new Congress settles in, Consumer Reports asked Americans what their most pressing consumer concerns are for the coming year.
Top of mind, according to our inaugural CR Consumer Voices Survey, are important subjects where significant policy changes could unfold very soon. Quality healthcare, followed by its affordability, overwhelmingly top the list, together totaling 31 percent of all responses. Other priorities include matters that have long been fundamental to American life, such as affordable education, and food safety and quality. People told us they're also feeling squeezed over the high price of necessities like energy, food, taxes, and housing.
Newer and fast-evolving concerns also came up, including how their personal data will be secured in a complex digital age and whether affordable, clean energy options will continue to be available.
As the marketplace and political landscape evolves, Consumer Reports will be there testing, researching, and uncovering what consumers need to know to make smarter choices in their daily lives. That has been our mission as a nonprofit, nonpartisan organization since 1936, and this year will be no different.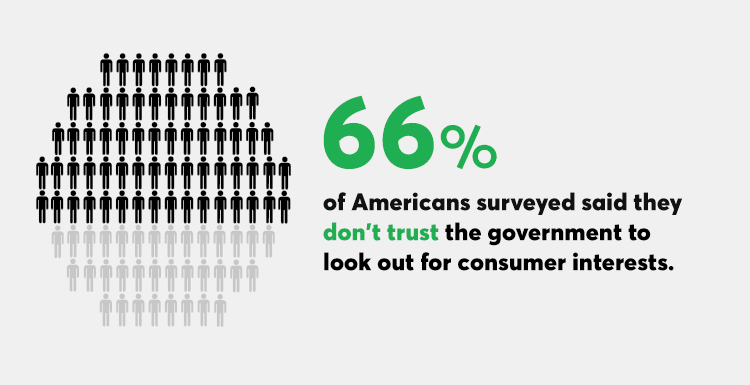 Taking the Pulse of Consumers
To better understand which issues are at the forefront of consumers' minds, we've developed this new survey that will be repeated and expanded upon in months and years to come, depending on what's happening in the consumer landscape. The aim is to gauge consumer confidence on key issues over time.
With a dramatically reshaped administration about to make its mark in our nation's capital, CR sought to benchmark in this first survey whether Americans are confident that our government is looking out for consumer interests. The initial results were striking. Sixty-six percent of those surveyed said "No," they generally do not trust the government to protect their interests as consumers. Only 31 percent answered "Yes," and the remaining 3 percent said they had no opinion.
"I just wish we would have the protection that we need," a retired woman from the South said in response to the nationally representative survey of 1,012 adults 18 and older conducted January 5 to 8. Another consumer, a full-time worker who makes more than six figures, said his primary worry for the coming year was "that safeguards do not take second place to profits."
Over the next few months we expect to see a lot of changes to the laws, policies, and regulations that will affect the issues that our survey indicates matter most to consumers. Here's a guide to the opportunities and challenges that lie ahead and what to watch for:

Healthcare for All, Only better
Loud and clear, Americans told us they're confident of having access to good healthcare (64 percent), but 55 percent of consumers say they are not so sure they or their loved ones will be able to afford insurance to secure that care.
One survey respondent, echoing many others, said affordable healthcare was her primary concern for 2017—the higher cost of both securing insurance and paying for actual medical services. "The government needs to control how much money is profited for each dollar spent," she said.
Since its creation, the Affordable Care Act has been a source of intense debate, but it has given roughly 20 million more people access to health insurance. And it has afforded all insured consumers—not just the previously uninsured—important marketplace protections.
The president-elect has made it clear that he plans to overhaul the Affordable Care Act as quickly as possible, and Congress has already taken steps, and cast votes, to make that happen.
The act's best provisions prohibit insurers from denying coverage to people with pre-existing conditions and from setting annual or lifetime cost limits on most benefits. Another key tenet of the act for consumers is the availability of an array of free preventive-care services.
In other ways, however, the act isn't perfect. Americans tell us, and our reporting has found, that costs remain too high and that there aren't always ample meaningful choices in the way of provider options, either from plan to plan or within specific networks. CR will be examining any new approaches to the health insurance marketplace to assure that changes improve the value of plans and the overall consumer experience, while also increasing participation.
Lower Drug and Medical Costs
Ensuring that prescription drugs are affordable, safe, and effective is essential to personal and public health. And so is the safety and sustainability of our drug supply, especially as the over-reliance on antibiotics has resulted in the troubling emergence of drug-resistant superbugs, reducing the efficacy of these lifesaving drugs.
Just last week, the president-elect spoke out against outrageous drug prices, noting the lack of competition in the marketplace. Although there is not yet a plan to fix the problem, CR is encouraged that this is on his agenda, and consumers should watch for proposals from the new administration.
Consumers can also help support innovative new marketplace initiatives that may reduce the burdensome cost of prescription drugs, medical devices, and procedures.
That can take unusual collaboration among industry, government, consumers, and their advocates, but there's evidence that it can be done. Consider what happened soon after CR's Best Buy Drugs team and other outlets reported last August that the cost of the EpiPen, a potentially lifesaving medication for people with severe allergies, had risen to $300 per dose. Public outrage led to government hearings—and, ultimately, more affordable choices. Now, an effective EpiPen alternative costs as little as about $50 per dose.

Good Food, Only Safer
Six out of 10 Americans told us in our survey that they are either not at all confident or only slightly confident that our country's food supply is safe, free of contamination, and produced without unnecessary antibiotics.
One man from the Midwest, a 35-year-old full-time worker, said he and his wife "aren't materialistic and buying things" and added that his "only concern" for the coming year is "that the food supply is not tainted or contaminated."

Each year in the U.S. about 48 million people are sickened by foodborne illness, and at least 2 million are infected with antibiotic-resistant bacteria.
Congress has already passed the Food Safety Modernization Act, which sets enforceable protections for the safety of farm produce—both fruits and vegetables. Yet equivalent protections are lacking for meat and poultry.

Such governance is critical to making our food supply safer by preventing deadly outbreaks before they begin. A key component to reducing the number of people affected by antibiotic-resistant bacteria is to minimize the amount of antibiotics used in raising food animals.
One way to achieve this is for the Food and Drug Administration to eliminate a loophole that still allows producers to use antibiotics on healthy animals in the name of disease prevention—making resistant bacteria more prevalent in the food supply and rendering these antibiotics less effective when people need them most.
Progress has already been made on clear and transparent food labeling, from the new Nutrition Facts labels to those that explain how the food is sourced and produced. Consumers tell us they want more of that kind of transparency when it comes to their purchasing choices and health.
Consumers should be watchful that this kind of progress to ensure food safety and better labeling continues.
Safe Loans, Nest Eggs
When consumers open a bank account or take out a loan, they should feel confident that companies will treat them fairly and keep their money safe.
Instead, consumers told us, they are wary. Almost two-thirds of our survey respondents said they are either only slightly or not at all confident that banks and investment companies are acting transparently and responsibly to charge reasonable fees and protect their investments.
The Wells Fargo scandal of last year only added to the concern when it was revealed that for years, consumers were unwittingly being signed up for and charged fees for extraneous accounts they never wanted in the first place. Survey respondents used words like "truth," "transparency," "verifiable," and "accountable" when talking about the financial services industry.
The Consumer Financial Protection Bureau is a watchdog agency that was launched in 2011 in direct response to the financial crisis and these types of consumer concerns. The agency works to protect consumers from unfair and deceptive practices by banks and credit card companies, among others. The CFPB has cracked down on abuses by shady lenders, dubious for-profit colleges, and other bad actors in the marketplace, helping return more than $11 billion to roughly 27 million consumers who were ripped off.
This kind of marketplace accountability is what consumers tell us they want more of.
Another concern for consumers is how to save money for retirement. A new rule from the Department of Labor would require all financial advisers giving retirement advice to put their clients' needs first.
Implementation of the rule is to begin in April, but some industry lobbyists are pushing hard to delay or weaken it. This is a rule for consumers to keep an eye on in the next few months, and consumers should monitor whether the CFPB maintains its ability to continue being an effective watchdog.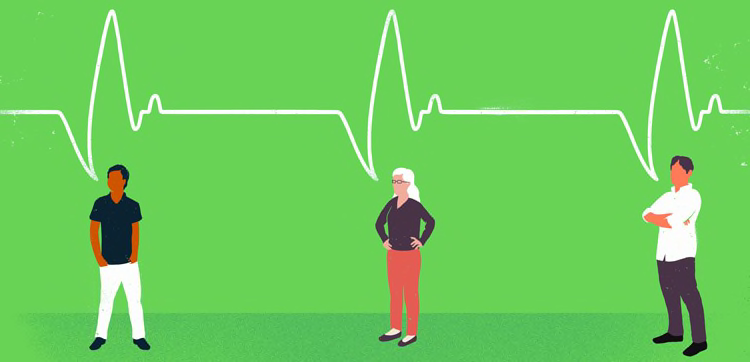 Illustration: Sébastien Thibault
Data Privacy, Consumer Control
As we enter into the era of the Internet of Things (IoT)—where everything from thermostats to coffee makers to cars can be connected to the internet—experts expect that more than 20 billion devices will be connected to the internet by 2020. As the cost of connectivity drops, new products will be connected as a matter of course. This sort of ubiquity allows the internet—and all the concerns about privacy and data security that come with it—in every inch of our homes, where we are least able to pay attention to its potential for harm.
Many Americans—65 percent of those we surveyed—told us they are either slightly or not at all confident that their personal data is private and not distributed without their knowledge.
Manufacturers and service providers should offer consumers clear communication and reasonable choices in how their data is collected and used. Whether it's from toasters or pacemakers, consumers should know and be able to control the information being collected about them. This is a critical new frontier for consumer rights and interests, one we'll be actively working on.
CR will be unveiling its own plan to support the creation of meaningful data security standards in the weeks to come, and will also begin incorporating privacy and security criteria into expert testing and rating procedures for applicable products and services.
Why? Because securing privacy matters to consumers. Or as one man from the South put it bluntly, "I want to be able to go online without worrying about someone stealing my information."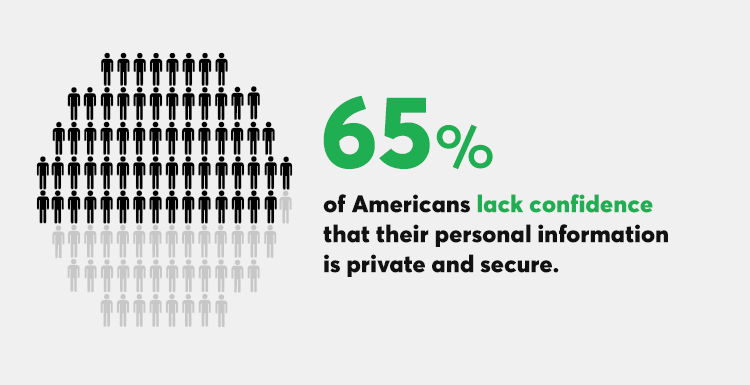 Higher Ed, Lower Debt
During the primary and presidential races, much attention was paid to the increasing cost burden of a college education for families and students. Students sign on for enormous loans to attain expensive degrees that may not deliver in terms of return on investment or meaningful employment.
Our CR survey last spring of 1,500 younger Americans found that a staggering 45 percent of those with student loan debt didn't think going to college was worth the cost. And in our Consumer Voices Survey this month, almost 70 percent of Americans told us they were not confident that going forward, those who want to attend college will be able to afford it.
"You don't even want to look at how much you owe from the loan," said a 26-year-old woman from the Northeast who described herself as a homemaker.
Private lenders and loan-servicing companies have shown that they can't always be trusted to be fair and reasonable with student-loan consumers. CR advises students and families to take full advantage of federal financial aid options, and to be especially vigilant when dealing with loan servicers.
This is a national quandary ripe for innovation and in need of attention. CR challenges the new administration and Congress to encourage real change in the marketplace and to incentivize financial institutions to do better for students and families.

Consumers should be on the lookout to see whether, going forward, new Department of Education programs that have helped students handle their federal loans continue to be offered and improved.
Ideally, consumers say they want a financing system that is flexible, stable, and never predatory. Americans' ability to compete in a global economy may depend upon it.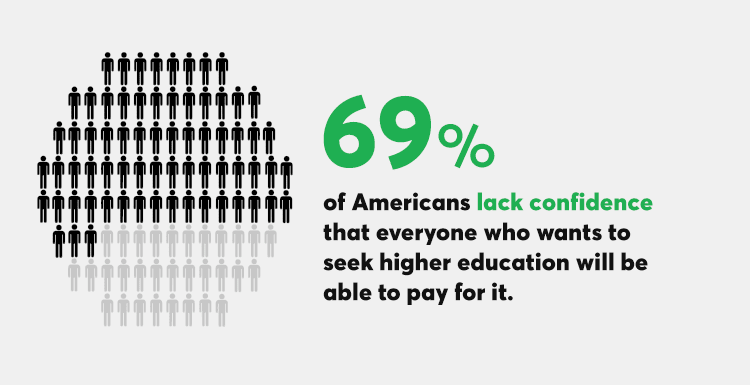 Auto Safety, Alongside Innovation
There has been a substantial decline in traffic deaths over the past 50 years. That's thanks to safety advances such as seat belts, airbags, antilock brakes, and crumple zones, as well as newer innovations such as stability control and autonomous emergency braking.
But as automobiles have improved, new threats to driver safety have emerged, such as driver distraction, which may be responsible for a recent uptick in road deaths, according to the National Highway Traffic Safety Administration. Also, new technologies are emerging that can allow for cars to drive themselves or operate semi-autonomously. These technologies may be promising in the long term, but in the near term, without proper oversight, they raise a number of questions, including some serious safety concerns. And new federal guidelines on automated systems are neither comprehensive nor mandatory.

Automakers, as well as the high-tech companies whose products increasingly play a role in the driving experience, must make safety their top priority when engineering and deploying new cars and technologies, and be quick to respond when their products are found to have problems. As CR's CEO, Marta Tellado, noted last fall: "The world needs visionary companies that push the envelope and create products that exceed our expectations. But ambition must be balanced with accountability: When emerging technologies bring with them new risks, it must be the company and not the consumer that shoulders them."
The nation is also at an interesting juncture in the area of fuel economy. The federal government has recently raised average fuel economy standards, starting with model-year 2022 to 2025 cars. For vehicles that meet those standards, consumers can expect thousands of dollars in fuel savings over the life of their vehicle—$3,200 per car and $4,800 per truck—even at today's low gas prices. So far, as these standards have been phased in, automakers have met or surpassed federal mileage benchmarks, and the industry has proved that it can meet higher goals while achieving record sales and lowering consumers' fuel bills. That's a win for everyone.

Some automaker groups have called for a delay in phasing in these standards. Consumers should be watchful, as we are, to see whether the new administration relents or continues to push for higher mileage and safety standards.
Sustainable, Affordable Energy
Our survey found that 53 percent of Americans were either slightly or not at all confident that renewable and sustainable energy sources would be affordable and available to them in the future.
And yet research suggests that by implementing the Environmental Protection Agency's pending Clean Power Plan, individual states can reduce pollution from power plants while expanding the use of clean, renewable energy. That's good for the environment—and is projected to help consumers save roughly 11 percent per year on their electric bills by 2030.

But the Clean Power Plan is facing a court challenge, and the EPA under the incoming administration could drop the program entirely.
Watching to see what happens with the Clean Power Plan will give consumers a sense of where the new administration stands on clean energy options. Even without that law, the federal government and states can continue to help lessen the burden on consumers by prioritizing energy efficiency and renewable energy investments.
Survey respondents overall talked about how difficult it is to keep up with basic bills and the high cost of living. One self-employed consumer who lives in the Northeast said he was most wary about just "having the money to remain a consumer."
Going forward, we at CR will continue to track consumer sentiment and concerns with our new Consumer Voices Survey. And we will offer fact-based solutions and best practices on our website and social media channels, as well as in our flagship magazine, about what matters most to your daily life and bottom line.