When you shop through retailer links on our site, we may earn affiliate commissions. 100% of the fees we collect are used to support our nonprofit mission.
Learn more.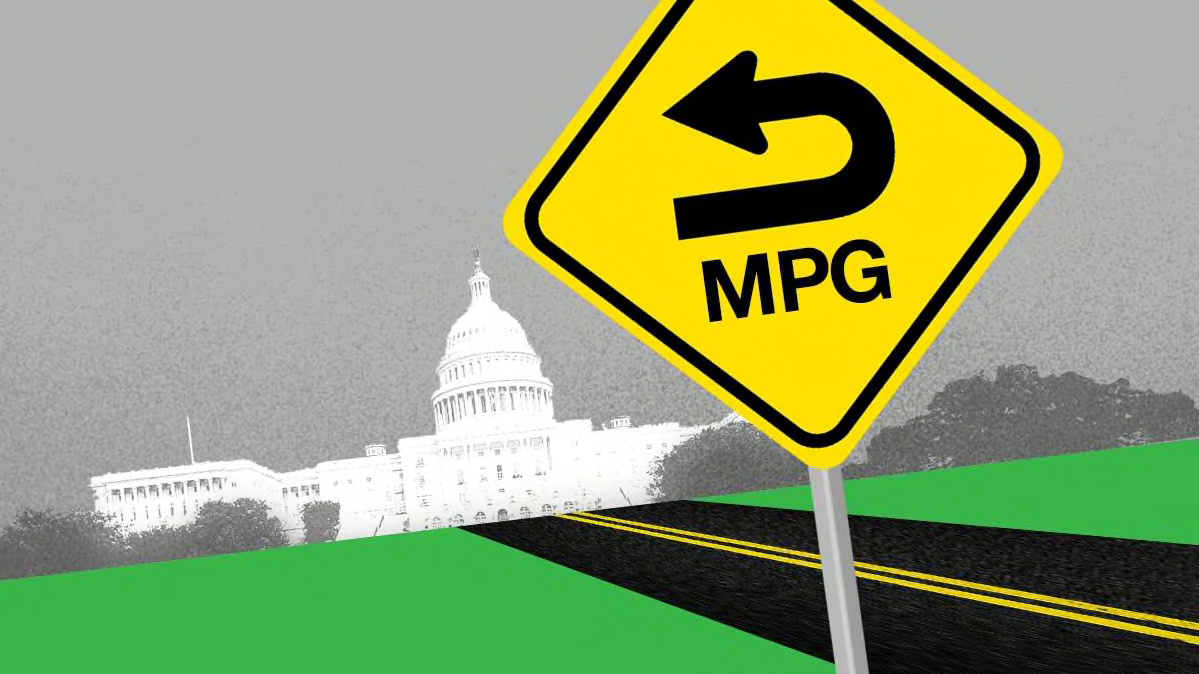 Illustration: John Ritter
Making Cars More Efficient
What's at stake: Whether you're motivated more by concern for the environment or your personal finances, you should care about an ongoing effort to roll back auto fuel-efficiency standards.
If finalized, a Trump administration proposal would result in more greenhouse gas emissions and hit consumers squarely in their wallets.
Better fuel economy, of course, means drivers spend less at the gas pump over time. How much less? A 2017 Environmental Protection Agency analysis projected that the so-called CAFE (Corporate Average Fuel Economy) standards—now at risk of being dismantled—would save consumers almost $100 billion. A separate CR study found that buyers will save $3,200 per car and $4,800 per truck or SUV over a vehicle's life if manufacturers meet the standards by model year 2025—even after considering the added cost of new technology.
There's also evidence that the proposed rollback could endanger drivers. Yes, occupants of smaller cars are at a disadvantage if they collide with a larger vehicle. But a 2017 study by the National Bureau of Economic Research found that by reducing the average weight of all cars on the road, CAFE standards "likely saved lives." Undoing them could undermine those gains.
How CR has your back: CR supports the existing CAFE standards and opposes the effort to weaken them. We will file formal comments with regulators, emphasizing that CR surveys have established that many Americans are willing to pay more up front to save fuel over time.
What you can do: The proposed changes aren't yet final. See "Gas Savings Under Threat" to tell the EPA and the Department of Transportation not to roll back fuel economy.
Tackling Student Debt
What's at stake: When for-profit Corinthian Colleges and ITT Tech shut down in 2015 and 2016, respectively, besieged by government investigations of deceptive advertising and other fraudulent acts, they left behind thousands of students burdened by debt—but lacking the career training they had been seeking.
The Obama administration put in place a loan forgiveness program for such students. But a new proposal by the Department of Education would make it practically impossible for them to cancel their debts. It would prohibit students defrauded by higher-education programs from making group claims even when large numbers of students are affected. And borrowers would have to default on their loans and then prove, independently, that a school acted recklessly or intentionally deceived them before even applying for relief.
At the same time, the DOE is planning to reverse an Obama-era rule that cut off federal funds to career education programs that fail to prepare students and leave them in debt they can't pay back.
"Instead of helping defrauded students move on with their lives, these proposed rules shield poor-performing schools from being held accountable for their misconduct," says Suzanne Martindale, senior attorney for Consumers Union, the advocacy division of Consumer Reports.
How CR has your back: Martindale pushed for stronger protections as a participant in a DOE-sponsored negotiation process, and CR has supported legal challenges by several state attorneys general to the agency's recent efforts to undermine the current rules. Now we're helping to lead a coalition of consumer and student groups fighting to maintain the safeguards.
What you can do: Learn more about how these proposals would harm borrowers, and strategies for choosing a college that will provide career training.
Is Technology Harming Kids?
What's at stake: Are we, as a society, conduct­ing an unintentional scientific experiment on an entire generation of children?
Consider this: A 2017 report by Common Sense Media finds that children age 8 and younger spend an average of 48 minutes a day on mobile devices, up from 15 minutes in 2013. And 42 percent of them now have devices of their own, up from 1 percent in 2011.
Educators are concerned that we have little idea what effect immersive exposure to screens and social media has on young children. That's because, to date, little independent, in-depth research has been done on the topic.
How CR has your back: CR is part of a coalition of groups promoting a bipartisan bill to rectify this situation.
If passed, the Children and Media Research Advancement (or CAMRA) Act would authorize a National Institutes of Health research program on technology and media's effects on cognitive, physical, and socio-emotional development.
"It's not enough to worry about the impact of technology on kids," says Katie McInnis, policy counsel for Consumers Union. "A serious, scientific investigation of possible real effects is long overdue."
What you can do: Contact your representatives, at congress.gov, and ask them to co-sponsor the CAMRA Act.
Editor's Note: This article also appeared in the November 2018 issue of Consumer Reports magazine.