Apple Self Service Repair Will Let Consumers Buy Parts for Their iPhones and Macs
In a major win for advocates, device owners and independent repair shops will soon have access to dozens of Apple parts, tools, and manuals—at the same price as authorized shops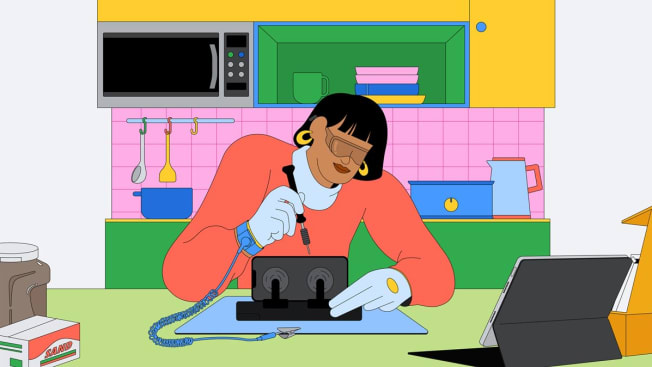 Apple on Wednesday surprised consumer rights activists by announcing a program that will provide spare parts and detailed instruction manuals for iPhones and Mac computers to individuals and independent repair shops, so they can feasibly fix the devices.
The program, called Self Service Repair, goes into effect early next year and will initially apply to iPhone 12 and 13 models and M1 processor-based Macs.
What We Know So Far About Self Service Repair
Beginning early next year, consumers will be able to purchase commonly replaced parts such as screens, cameras, and batteries, along with detailed repair manuals and required tools, from an online portal called the Apple Self Service Repair Online Store.
At the start, the list of options will include some 200 individual parts and tools, says Apple, but the company plans to expand on those offerings. 
Apple confirmed to Consumer Reports that independent repair shops, which have had to rely on the grey market to obtain things like replacement screens, will now be able to purchase official parts and tools via the program. Apple also noted that it will provide a full price list for the parts and tools—one that matches the price list used by authorized repair centers.
The announcement of Self Service Repair comes six months after the Federal Trade Commission sent a report to Congress detailing the ways in which manufacturers make it difficult for consumers to repair their own devices, chiefly by limiting access to spare parts and tools like diagnostic software. The announcement also follows a July White House directive to the FTC to begin crafting right-to-repair regulations.
Consumer advocates have pushed for years for right-to-repair protections that make it easier and more affordable for people to restore broken gadgets. 
They also question why manufacturers have any say in where you repair the smartphone, laptop, or game console that you paid for.
"This is just a basic protection of your property rights and your right to tinker so long as you're not harming anyone else," says Matt Stoller, director of research at the American Economic Liberties Project, an advocacy group focused on market power. "Manufacturers want everything to be a service so you don't own anything, so that you're beholden to them."
While news of Apple's repair program was generally well-received, advocates—including Consumer Reports senior policy counsel George Slover—caution that there's still work to be done.
"This is a good step, but it needs to go further, and it needs to become an industry requirement," says Slover. "Right to repair needs to apply across the board, to all electronics-enabled consumer products, and without unreasonable restrictions that undercut these rights."
In addition to proposed federal legislation, several states have considered right-to-repair legislation in recent years. 
Last June, the New York state senate approved legislation that would have forced manufacturers to make parts and tools available for repair, becoming the first legislative body in the U.S. to pass a right-to-repair bill. The legislative calendar expired before it could be passed by the state assembly.
"It was starting to feel like the dam was going to burst," says Nathan Proctor, senior director of the Campaign for the Right to Repair at the consumer advocacy organization US Public Interest Research Group, referring to progress being made toward right to repair. "And now it feels like, oh, the dam has burst."