When you shop through retailer links on our site, we may earn affiliate commissions. 100% of the fees we collect are used to support our nonprofit mission.
Learn more.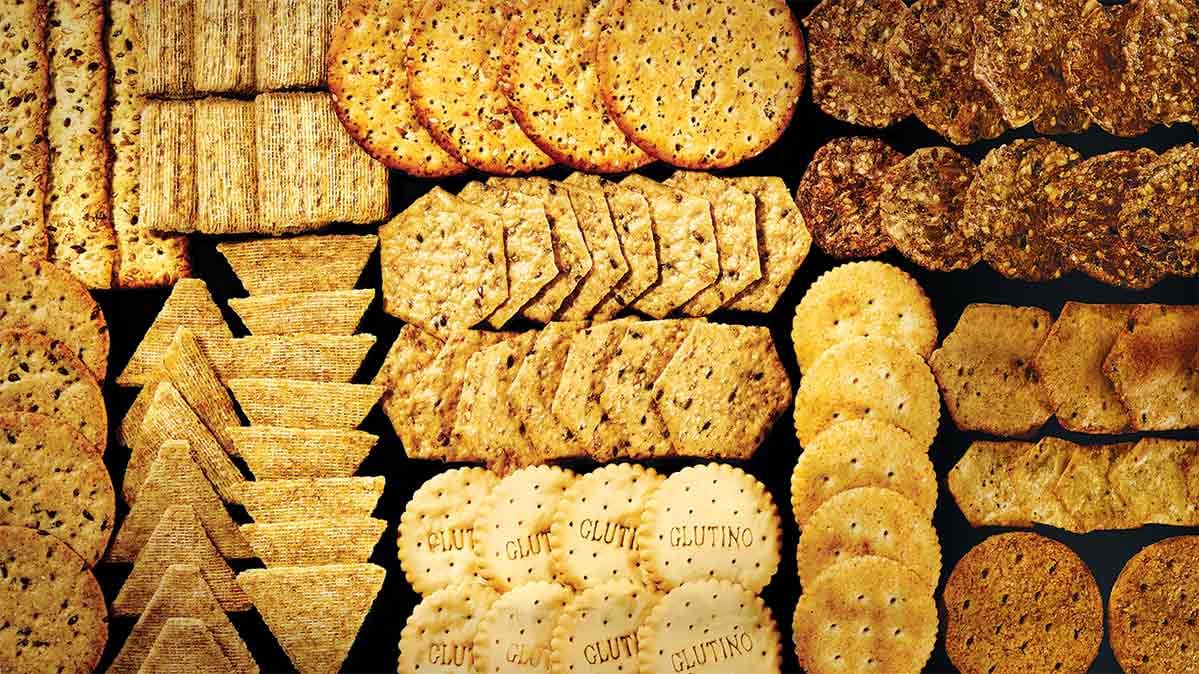 Whether they're dressed up on a party platter, served with soup, or eaten straight out of the box, crackers are a perennial favorite. Ninety-two percent of consumers said they bought them in the previous six months, according to a survey from the market research firm Mintel. Versatility is part of their appeal, but 65 percent of those polled also think crackers are an easy, healthy snack, and 56 percent think they're healthier than chips or pretzels.
Little wonder that manufacturers are working to muscle more cracker choices onto retail shelves. Uncommon ingredients such as chickpeas, hemp seeds, millet, teff, and triticale are touted on packaging. Flowery phrases—such as "Barley and flax explode with good-for-you-nutrients"—abound. But are these new crackers any healthier than the old favorites?
It depends on the cracker, CR found after its recent tests. "A serving of healthier crackers could actually amount to one of the three to four servings of whole grains you should have in a day," says Ellen Klosz, a member of CR's food-testing team. "Some crackers supply more fiber than chips or pretzels, so they may also be a more filling snack."
But you have to read the labels carefully. "A cracker's name or claims may make you think it contains 100 percent whole grains when it doesn't," Klosz warns. "And even whole-grain crackers can have as much sodium—or more—as chips, or contain added sugars."
Snack Cracker Do's and Don'ts
Of course, nutritional advantages don't matter much if the cracker tastes like cardboard. Our testing found several flavorful choices­. But keep these pointers in mind:
Go for whole grain. Brown rice, farro, teff, and whole wheat are just a few of the whole grains you'll find in this new group of crackers, along with amaranth and quinoa—which are technically seeds but count as grains. These healthy carbs provide a variety of phytonutrients and fiber, which have been linked to a lower risk of cardiovascular disease, colorectal cancer, and stroke, and may also help to reduce the risk of type 2 diabetes.
Refined white flour, on the other hand, is stripped of these valuable nutrients in the refining process. Ideally, you should pick a cracker that contains only whole grains or at least has a whole grain as the first ingredient, Klosz says. For example, replace four Carr's Table Water Crackers (made with refined white flour) with four Reduced Fat Triscuits (made with 100 percent whole-grain wheat), our top-rated cracker, and the fiber count goes from less than 1 gram to about 3 grams, and the calorie count stays about the same (60 vs. 73).
Always check the ingredients list to see just how "whole grain" a cracker really is. For instance, the whole-grain Ritz crackers we tested had "whole wheat" stamped in big type on the front of the package, but a closer look revealed the words "baked with" right above. White flour is actually the first ingredient, and five Ritz crackers have less than 1 gram of fiber—about the same amount as in the original Ritz. Watch out for "multigrain" crackers, too. They aren't always 100 percent whole grain or even have whole grains first on the ingredients list.
Monitor portion size. If you stick to the recommended serving sizes, crackers aren't going to do a ton of diet damage, says Amy Keating, R.D., a Consumer Reports dietitian. Among the products we tested, the calories ranged from 5 to 40 in just one cracker. If bigger portions make you feel more satisfied, choose a thin or small cracker. For example, you could have 15 Crunchmaster Original Multi-Seed Crackers for just 140 calories and 110 mg of sodium, just a small amount more than what's in three Back to Nature Multigrain Flax Seeded Flatbread Crackers.
Be smart about toppings. "What you put on crackers can really push you over your calorie, fat, or sodium limit," Keating says. Half an ounce of Brie cheese, for example, has 50 calories, 4 grams of fat, and 90 mg of sodium. Instead, opt for healthier dips and toppings. The best crackers for this are those that are firm and won't snap under pressure, such as Crunchmaster Original Multi-Seed Crackers, Trader Joe's Some Enchanted Crackers Multigrain, and Triscuits. (Check out our recipes for healthy cracker toppings.)
Count the sodium and sugars. While crackers may not have as much sodium as some other packaged foods, they can still contribute more of the mineral to your diet than you think. The sodium count per serving of the crackers in our tests ranged from 90 to 280 mg; sugars ranged from 0 to 6 grams.
Go easy on rice products. Gluten-free diets have made rice products popular, but rice can be a source of arsenic, a carcinogen that's especially risky for young children. CR testing conducted in 2012 and 2014 found measurable levels of the heavy metal in almost all the rice products we looked at. There are crackers made with other gluten-free ingredients that have negligible levels of arsenic, such as amaranth, buckwheat, corn, and millet. Gluten-free Dare Breton White Bean With Salt & Pepper Crackers are made with navy beans and tapioca flour instead of rice flour. Also consider whether you need gluten-free at all; less than 7 percent of the population does. Barley, bulgur, and farro, which contain gluten, also have very little arsenic, CR tests found.
Are the 'Reduced' Versions All They're Cracked Up to Be?
Three classic crackers come in two variations of the original—lower fat and lower sodium. But do you have to sacrifice flavor to get the nutritional benefits? Our trained sensory panelists did a blind taste test of the three varieties of Ritz, Triscuits, and Wheat Thins, and we analyzed the nutrition. Here, we recommend the best pick from each brand.
Triscuit Reduced Fat
• Tastes similar to the original.
• Only slightly lower in calories and fat than the original, but with an extra gram of fiber.
• Though you save 100 mg of sodium with Hint of Salt Triscuits, the reduced-fat version is the top-rated cracker in our tests.
Ritz Hint of Salt
• Same buttery flavor with the same crisp, flaky texture as the original.
• About two-thirds less sodium than the original (30 milligrams vs. 105 milligrams per serving).
• Reduced-fat Ritz has more sodium than the original and is noticeably drier and less tender and flaky.
Wheat Thins Hint of Salt
• Flavor and texture are very similar to the original.
• Big sodium savings: 55 milligrams per serving vs. 200 milligrams in the other two versions.
• Reduced-fat Wheat Thins also tastes similar to the original, but sodium savings make Hint of Salt the better pick.
Editor's Note: This article also appeared in the January 2018 issue of Consumer Reports magazine.
Correction: Due to an editing error, an earlier version of this article misstated the difference in sodium between Ritz Hint of Salt and the original Ritz crackers.
Shop Like a Nutritionist
Eating well isn't always easy—or fun. On the 'Consumer 101' TV show, Consumer Reports' expert, Amy Keating, heads into the grocery store to show you how to make healthy decisions when it comes to food.