When you shop through retailer links on our site, we may earn affiliate commissions. 100% of the fees we collect are used to support our nonprofit mission.
Learn more.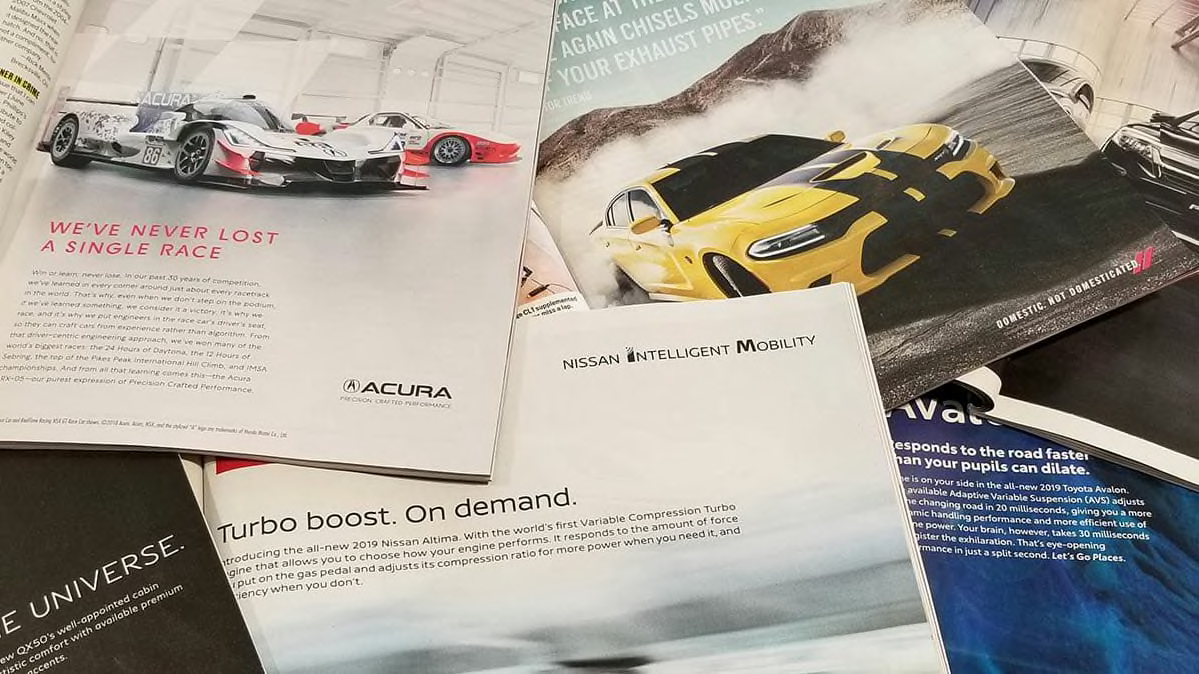 Automakers spend more than $14 billion a year on advertising in the U.S., but not many of the ads promote fuel efficiency or safety features—two attributes consumers say they most value when shopping for a new car, a new analysis shows.
The industry is six times as likely to make emotional appeals—such as emphasizing the macho nature of a pickup truck or the wilderness-stomping abilities of an SUV—over promoting good fuel economy or safety, according to an analysis by researchers at the University of California, Davis commissioned by Consumers Union, the advocacy division of Consumer Reports.
David Friedman, vice president of advocacy at Consumer Reports, says the industry's choice of marketing and ad campaigns undermines the automakers' position that they need relief from future government fuel-economy targets for their fleets through 2025.
Friedman says automakers already have shown that they have the innovation and technical know-how to reach mpg goals, but they'd rather push pricier, less efficient cars, trucks, and SUVs in the marketplace.
"Consumers clearly want cars and trucks with better mileage, but automakers are steering them in a completely different direction," Friedman says. "Adding insult to injury, they also aren't offering much choice in the showrooms."
Automakers blame low gas prices and a growing love of trucks and SUVs for the lagging sales of their most fuel-efficient cars, including hybrids and battery-electric vehicles. Car companies say those are the kinds of vehicles they'll have to sell to meet more aggressive federal fuel-economy targets, especially after the 2021 model year.
Those cars aren't selling well right now because consumers don't always follow through on their stated preferences for efficient vehicles when they actually make a purchase, says Wade Newton, a spokesman for the Alliance of Automobile Manufacturers, the largest U.S. trade group for the auto industry.
Industry surveys of consumers immediately after a purchase show that fuel economy is just one of many factors in the buying decision, Newton says. For example, 32 percent of buyers say fuel economy was a consideration, but that was the 20th most-cited consideration in their purchase decision, he says.
"Automakers have invested billions of dollars in bringing new technologies to market," Newton says. "We're eager for shoppers to embrace them."
The study looked at a sample of more than 12,000 print and television ads from as far back as 2005. The analysis found that auto industry ads are three times as likely to brag about vehicle performance attributes as about efficiency or safety.
The analysis found that ads that were focused on fuel-efficient electric vehicles or plug-in hybrids made up just 1.4 percent of ads.
Instead, advertising dollars tend to steer consumers toward vehicles that emphasize power and performance, which is not surprising, says Len Sherman, an adjunct professor of marketing and executive-in-residence at Columbia Business School.
Across industries, plenty of companies—from Coca-Cola to Apple—focus on emotions rather than technical specifications to sell their products, Sherman says.
The Trump Administration already has shown signs that it's willing to change future fuel targets, also known as CAFE standards. Earlier this year, the U.S. Environmental Protection Agency and the Department of Transportation proposed rolling back the targets in future years. Regulators cited low consumer demand for fuel-efficient vehicles as one reason to freeze mileage targets after 2020.
The original regulatory targets called for a fleetwide average of about 37 mpg in real-world driving in 2025, according to an analysis by the Natural Resources Defense Council. The revised regulations would mean an average closer to 30 mpg.
The auto industry's huge investment in advertising is aimed at coaxing vehicle buyers "to make emotional, irrational decisions that cost them thousands of dollars," while also de-emphasizing safety and jeopardizing the planet, says Daniel Becker, director of the Safe Climate Campaign, a group based in Washington, D.C., that advocates for higher fuel-economy standards.
But advertising alone doesn't determine what consumers do—there are many factors that shape a market, such as gas prices, cultural shifts, and societal attitudes, says Marcus Collins, a marketing lecturer at the University of Michigan's Ross School of Business. Automakers watch consumer behavior and build the vehicles they think they'll be able to sell, he says.
"I don't think it's a conspiracy theory," he says. "They have products they have forecasted demand for; they're trying to sell them."
Still, the new CR advertising study shows that consumers who are hungry for information about fuel-efficient choices in the market are having a hard time finding it, says Shannon Baker-Branstetter, senior policy counsel at Consumers Union.
For 23 percent of all vehicle owners, the only source of information about mileage is what they find on the government-mandated window sticker, the survey showed.
Consumers can find the mileage of most makes and models on the Energy Department's fueleconomy.gov website. Also, Consumer Reports conducts real-world fuel-economy tests as part of our vehicle evaluations, publishing the results in our ratings and in articles such as "The Most Fuel-Efficient SUVs."
"Fuel economy standards are saving people money and driving innovation in the auto market, Baker-Branstetter says. "Weaker standards mean more pain for consumers at the pump, and consumers want to see continued improvement in fuel economy."