Land Rover Discovery Sport Review
Form over function for this ill-mannered pretender
Published: September 24, 2015 06:00 AM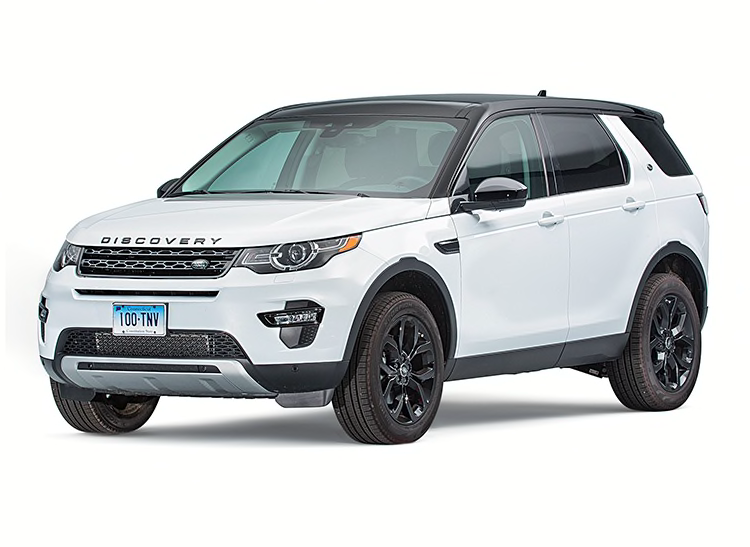 The new Land Rover Discovery Sport looks good, like a scaled-down version of the luxurious Range Rover. But don't be fooled. Beneath its posh, proper English exterior is an ill-mannered pretender. And though it may be the lowest-priced Land Rover, the real discovery is that this compact luxury crossover nonetheless carries a regal price tag—almost $50,000. Although it is among the priciest of its peers, this SUV finishes at the bottom of the pack.
Winston Churchill said the British are "the only people who like to be told how bad things are." In that case, they're about to get an earful about the Land Rover Discovery Sport.
And though bearing the crest and warrant of the British royal family is a cool branding touch, it gets you only so far around the country club forecourt.
We paid almost $50,000 for our midtrim HSE, making it one of the costliest crossovers in the category. Skipping our early release model's extra-cost paint and decorative trim options could shave off a couple grand, but this SUV would be overpriced no matter what.
At first blush things look promising. Though hardly opulent, the interior is as tidy as Lord Grantham's drawing room. Drivers will find plenty of space, easy access, and good sight lines to the sides and rear. The rear seats are unusually spacious and comfortable for a vehicle of this size. A giant fixed panoramic roof lets in a lot of light, but it doesn't tilt or slide open. A cramped third row of seats is available for an additional $1,750.
But it doesn't take long behind the wheel for the Cool Britannia vibe to wear off. The nine-speed automatic transmission's inept shifting, combined with the four-cylinder engine's erratic turbo boost, creates a frustrating and inconsistent driving experience.
Tromp on the gas pedal, and the slow-witted transmission clings to the taller gears far too long, denying you the quick getaway you asked for—until a sudden downshift delivers a jarring kick in the trousers, accompanied by rudely noisy engine revs. Although the gearbox is designed to save fuel, the vehicle was thirstier than the RDX or X3; we averaged 21 mpg.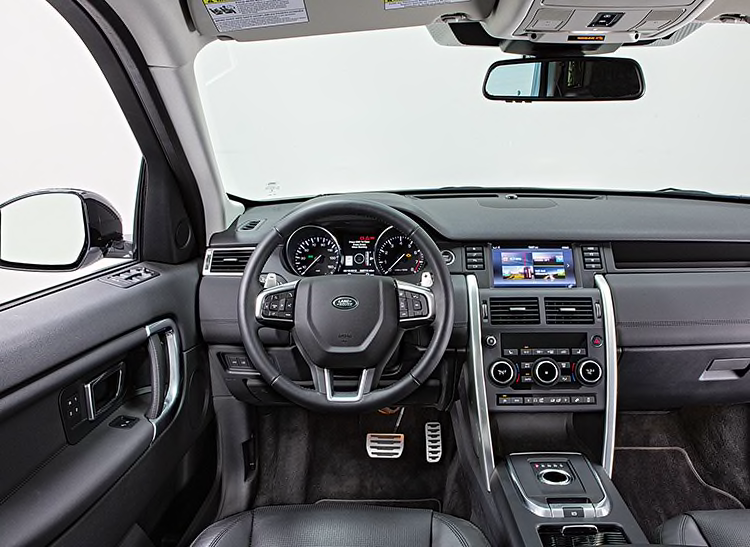 The Sport also isn't all that sporty to drive. It lumbers and leans around corners. On a winding road, your abdominals get a workout keeping your torso in the seat. Pushed hard, the electronic stability control ultimately kept the Land Rover on course in our emergency-handling tests, but the car was quite sloppy, first running wide, then displaying the onset of a tailslide.
The Discovery Sport's ride falls short of luxury-­level expectations as well. The suspension feels brittle, with every pavement rut and ripple reverberating through the body structure. That's irritating in any car, let alone a luxury crossover.
Land Rovers are known for their go-­anywhere tenacity. The Disco lacks the low-range gearbox of a true off-roader, but with a bit of struggle it managed to clamber its way up our steep off-road rock slope. That's thanks to the help of electronic modes designed for mud, ruts, or sand, part of a Terrain Response system that all Land Rovers possess.
And if you're facing a whoa-this-is-really-steep ravine or gully, hill-descent control lets you stay off the brakes, allowing the vehicle to automatically crawl down the scary stuff.
Those are challenges that other light-duty SUVs wouldn't have the capability to surmount. But let's face it, most Sports will discover a parking spot at the mall before blazing a trail.
Niceties in our car included heated seats fore and aft, a heated steering wheel, a push-button start, navigation, and a rear camera. The infotainment system is operated by a too-small touch screen that's mounted too far away, and system response can be frustratingly slow and glitchy.
As for safety gear, our Discovery Sport featured forward-­collision warning with automatic braking, and lane-departure warning. But the available blind-spot warning and surround-view camera systems are bundled in a $1,900 option package, an annoying upsell for a modern so-called luxury crossover.
The Discovery Sport's few advantages aren't enough to lift it out of the cellar. There are many better compact luxury SUVs out there.
| | |
| --- | --- |
| Highs | Access, rear seat comfort, off-road capability |
| Lows | Ride, handling, transmission, power delivery, controls, headlights, value |
| Powertrain | 240-hp, 2.0-liter turbo 4-cyl.; nine-speed automatic; all-wheel drive |
| Fuel | 21 mpg |
| Price | $38,065-$46,565 |