Oreos: Doubling Down on Double Stuf
There are more than 60 types and package sizes of Oreo
Last updated: October 09, 2015 05:50 PM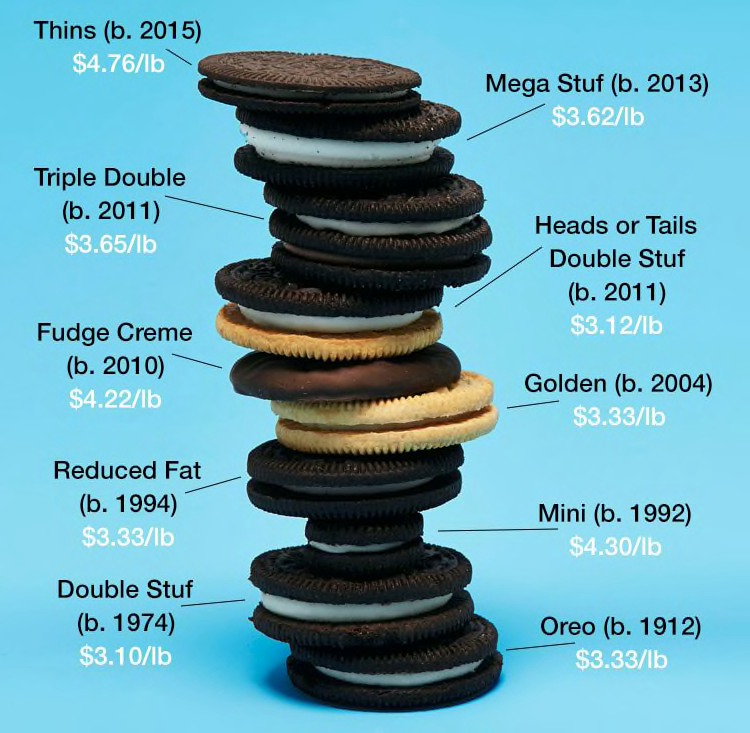 Each year, more than 40 billion Oreos are sold in more than 100 countries around the world­­—so many cookies that, if lined up, they'd circle the earth five times. Not bad for a confection quietly born in Manhattan a month before the Titanic sank, in 1912. The original cookie was packaged in bulk tins and sold by weight to grocers at 30 cents per pound. It has looked pretty much the same since 1953—12 flowers, 12 dots, and 12 dashes per side, and 90 ridges.
Times have changed. The Nabisco cookies are now baked in Fair Lawn, N.J.; the once-standard, 1-pound package size is now 14.3 ounces. What has grown is the number of Oreos on the market: more than 60 types and package sizes, from the classic sandwich cookie to Mini, Double Stuf, Triple Double (three cookies and two layers of crème), Mega Stuf, and the newest addition, Thins. With no "typical" Oreo or package size, it can be tough to track your snack-food spending, not to mention your cookie calories.
When we called Oreo to ask the reason behind the brand extensions, we were told that the goal was to offer something for everyone: "We know that consumers enjoy variety when it comes to snacking, so we continuously deliver surprising new tastes and twists on the classic cookie," said Janda Lukin, senior director for Oreo North America at Mondelēz International, the global conglomerate that manages snack-food brands, including those of Nabisco, maker of Oreos. "This helps Oreo stay relevant."
Harvard University marketing professor John T. Gourville takes another view. "The strategy of multiple offerings assures that Oreo commands more shelf space for its popular products," he said, "and, by extension, less for the brand's competitors."
The variety also helps boost the bottom line. As you'll see in the stack above, which compares the prices of key Oreos in the most common size sold at Walmart.com, the classic Oreo cookie is among the least expensive compared with some of its spin-offs. On a unit-price basis, the cheapest version is the Double Stuf; the priciest, the new Thins, which hit store shelves this past July and are marketed to adults who desire a "more sophisticated snacking experience." Clearly, that sophistication comes at a cost.
Too many different Oreos?
Correction:
An earlier version of this article incorrectly stated that Nabisco is part of Kraft Foods.