10 dangerous mistakes parents make when using car seats strap covers
Avoiding these errors will help keep your child safe
Published: November 04, 2013 02:30 PM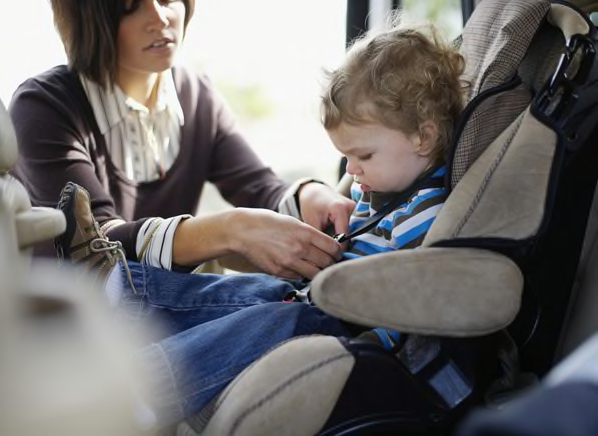 By law you need to transport children in an age-appropriate car seat every time you drive, but many parents make simple mistakes with car seat installation and use, putting their child's life in danger.
Every child seat is unique, so installation and use recommendations and requirements differ. That's why it's so important to read the owner's manual for both the seat and the vehicle (check the child-safety section). Taking that time will lower your chances of making a mistake.
Our staff experts have compiled the following list of common car seat errors, along with tips on how to easily correct them. By making a few simple changes, you can help prevent an injury.
Loose installation of car seat. Loose installation is the number-one mistake most parents make when installing a car seat. When installed the seat should move no more than 1 inch from side to side. Some seats require quite a bit of effort or a few installation "tricks" to secure. Some parent's are tempted to use a "belt and suspenders" approach and secure a seat using both the lower-LATCH and seat belts to secure a seat. Many child seat manufacturers recommend against this; the belt and LATCH hardware can often overlap in your car, so we don't recommend it either. A child-passenger-safety technician trained in car-seat installation can show you how to get a correct and secure installation. Locate one near you.

Straps are too loose. The harness straps are supposed to be secured tightly over the child. If they are too loose a child could be ejected out of the car seat. There should not be any slack in the harness webbing. When pinched at the shoulder, you should not be pinching any harness webbing with your fingers. Also avoid putting bulky clothing on children such as a thick winter coat before you put them in a car seat. Instead cover them with a blanket or coat after they are secured in the seat
Harness straps incorrectly positioned. They should be at or below shoulder level in a rear-facing seat to avoid a child moving upward in the event of a crash, and at or above shoulder level in a forward-facing seat. Be sure to check the straps often, as children grow quickly and the harness position can be easily overlooked.
Not using the top tether. An Insurance Institute for Highway Safety study found that only half of car seats were attached by the top tether and most parents didn't think it was necessary. Contrary to this misperception, the top tether is very important, because it significantly reduce a child's potential for head and other injuries in a crash. Consumer Reports recommends always using a top tether.
Turning the child forward too early. Consumer Reports, the Academy of Pediatrics and other safety organizations,recommend that children should stay in rear-facing seats until age two. For most, this will mean that when a baby grows out of an infant seat, you'll need to switch to a rear-facing convertible seat. From our experience, often a baby will outgrow the height of their infant seat before the weight. A convertible seat offers forward- and rear-facing orientation options but has an increased height limit. Rear-facing is safer for children than riding forward-facing as it does a better job in supporting and aligning a child's head, neck, and spine in a crash. Many child-seat laws haven't been updated to current best practice and although not recommended by child passenger safety advocates, by law 1 year old and 20 pounds are the minimum requirements before a child can be forward facing.
Adding padding, neck and head support, or covers to the seat. Do not use any aftermarket products with your car seat since often they were never crash-tested with these products and may alter the seat's functions during a crash. Some child-seat manufacturers make products specifically designed and tested for their car seats, and most approve of using rolled towels to add recline to rear-facing seats or on the side of an infant's head for support.
Placing toys, mirrors, or other items in or around a car seat. These items, while convenient, can become dangerous projectiles in a crash. Securely store all loose items in the car in a console or pocket or the trunk. Something as innocent as an umbrella could become dangerous in a crash.
Not placing an infant seat at the correct angle. Most seats have built-in recline indicators that properly angle the seat. If the seat is installed too far upright, a very young child's head can tilt down and potentially cut off her breathing passageway; if the seat is too reclined, it can affect a seat's crash performance. For a newborn, position the seat at the most reclined position allowed by the child-seat manufacturer. As the child becomes older you may be able to move the seat to a more upright position.
Moving children up to booster seats too soon. Many booster seats advertise that they can fit a 30-pound child, and some have a 20-pound minimum-weight limit. What they don't tell you is the child needs to be able to sit properly in a seat for the entire ride—not something a young child is likely to do. In addition, the belt needs to fit the child correctly. Children generally can move to a booster between the ages of 4 years and 7 years. But the test is checking to see whether the seat belt lies midway between a child's shoulder and neck, flat across the lap; whether her knees bend at the edge of the seat; and whether she can sit properly for the entire ride. We also prefer high-backed boosters to backless versions as they do a better job of positioning the shoulder portion of the seat belt, particularly for the smallest booster aged children.
Improperly positioning the chest clip. Too many times we see the chest clip way down by a child's belly. The clip is supposed to slide up and be placed at arm pit level. If it's positioned too low a child can be ejected from the seat in a crash; too high, and it can interfere with breathing.
If you are searching for a car seat, see our buying advice and full ratings of infant, convertible, and booster seats.
—Liza Barth