Motorola Moto 360: What it's like to use the coolest smart watch of the year
The round design makes this Android Wear device a design stand-out
Published: September 08, 2014 04:15 PM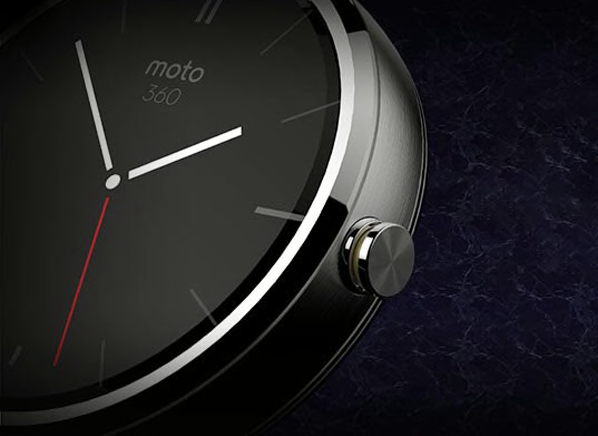 Wearing the new Motorola Moto 360 smart watch around town this weekend, I found something interesting: People noticed it, but they thought it was a regular (albeit large) watch. When I showed them it was a smart device, eyes lighted up with interest. It's the first smart watch with a circular face, and that looks to be positive evolution in this new device category.
This is a markedly different experience than I've had wearing other smart watches, which look like little smart phones on wristbands: While they have been conversation starters for sure, they haven't sparked much design admiration. The Moto 360 has. And I found it easier to wear, as well: For me, a round watch feels more natural and less bulky than the rectangular ones.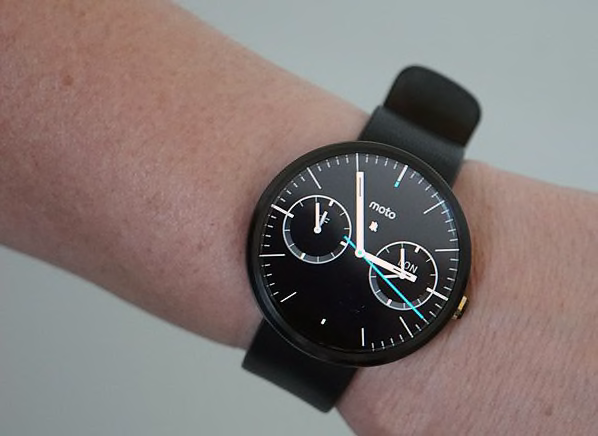 The round display isn't perfect; there is a little black strip at the bottom. And the Gorilla Glass covering the watch is beveled at the edge, a nice touch which only partially disguises the edge where squared-off pixels meet a circle. You can camoflauge both of these things pretty well if you choose a black watchface (there are eight choices out of the box).
Motorola has managed to fit a 1.65-inch display, with a could-be-crisper 320 x 290 resolution, into a round setting. The 360 does the usual smart-watch tricks, alerting you to incoming e-mails, texts, and calls, social site updates, and weather information. It also contains a heart-rate monitor and a pedometer for fitness tracking. And the watch charges wirelessly: Just drop it into its small cradle.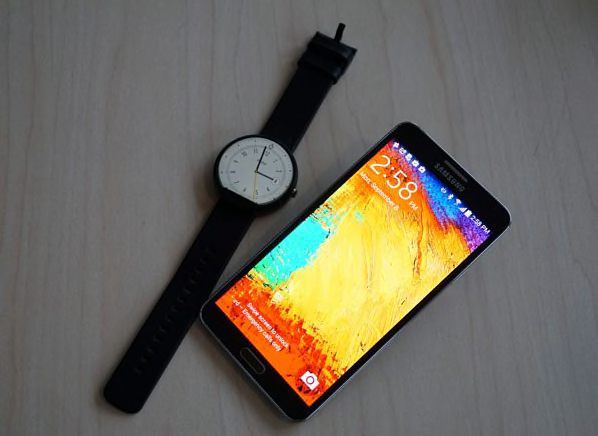 The Moto 360 runs on Google's Android Wear OS, which shows much promise as a wearables operating system (read more about Android Wear here), allowing voice commands and pushing relevent information to the wearer. LG has also announced that it will ship a round version of the LG G Watch, its Android Wear smart watch, to be called the LG G Watch R, in October. The Samsung Gear Live smart watch also runs on Android Wear.
Getting started
Getting up and running with this smart watch was simple. As with all Android Wear devices, it needs to be paired with a phone running Android 4.3 or higher. (I used the Samsung Galaxy Note 3, shown next to the phone above.) You just download Android Wear and turn on Bluetooth on your phone to find the watch; it took just a few seconds to connect.
You manage apps and some settings via the phone's Android Wear app. There are around 100 apps in the Google Play store for Android Wear—apps for messaging, activity tracking, and dating, among others—and the number is growing as developers get on board with this OS.
Another plus for the Moto 360 is that it supports auto brightness, so the display adjusts to the ambient light: Go to Settings, Adjust Brightness, and select Auto. Also in Settings, you can choose to turn on the Ambient Screen mode, which keeps a dimmed version of the watchface on all the time (just like a real watch). Bear in mind that this mode will use up battery power faster.
Otherwise, as with other Android Wear watches, you can turn on the display by lifting your hand to look at the watch's face, and dim the display by covering it briefly with your palm.
Bottom line
We'll test the Moto 360 (available now for $250) in our lab and get back to you with those results soon. Our first impression, though, is that it's a solid move forward for smart watches—at least in design. And design is a significant element with wearable tech devices.
—Carol Mangis