Stylish sinks that stand up to years of abuse
Find the best type of sink for your kitchen
Published: September 09, 2014 02:45 PM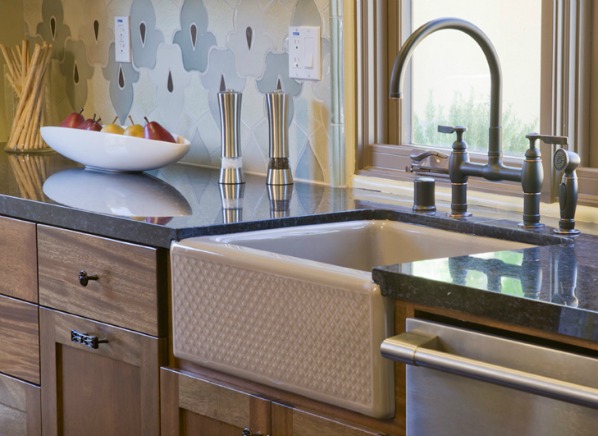 Gone are the days when a kitchen sink was just a rectangular stainless-steel hole in the counter. Today, you not only have a wide array of sizes, shapes, and configurations to choose from, but also à la carte accessories—like drop-in cutting boards or the utensil holders—that can turn your sink into a multipurpose prep and cleanup zone. Here are some types to consider plus the sink materials that did best in Consumer Reports' sink tests.

Top-mount (drop-in, self-rimming)
Best for a tight budget. It sits directly on top of the counter. Top-mounted sinks work with any countertop material and are the simplest type to install.
But grime tends to build up around the lip of the sink. And top-mounts can detract from the look of stone countertops.
Price: $100 to $500

Farmhouse (apron-front)
Best for many kitchen styles. Stainless-steel models work well with modern designs; copper or enameled cast iron suit a country style. It's typically a deep single bowl with the faucet installed in the counter or wall.
But farmhouse sinks are pricey and may require special cabinets. Plus, water can drip onto the cabinet below, causing damage to the finish or even the wood.
Price: $900 to $3,700

Undermount
Best for a sleek look and easy cleanup. You can wipe spills and crumbs from counters directly into the sink. Faucets are installed into the counter or mounted on a wall behind the sink.
But this type is usually more expensive and limited to waterproof solid-surface countertop materials, not laminate counters or most woods.
Price: $200 to $1,000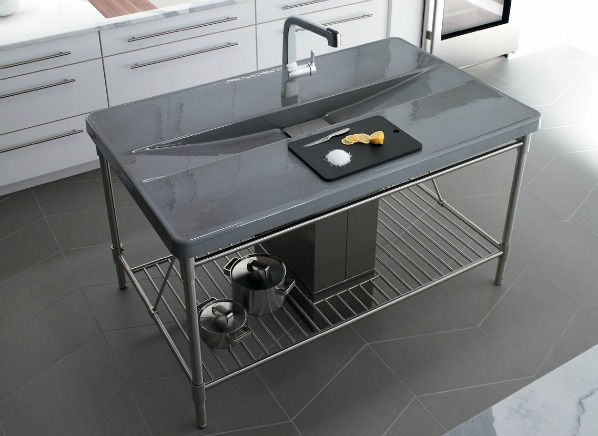 Trough
Best for use as a prep or bar sink because it's long and narrow—from 8 to 14 inches wide and up to 50 inches long. Longer versions can be used by more than one person at a time.
But they're expensive and more fun than functional. And they might require custom cabinetry; typical sink cabinets aren't designed for such a long, narrow fixture.
Price: $500 to $2,100

Top sinks in our tests
Stainless steel sinks outperformed all over materials in our sink tests. The stainless sinks were excellent at resisting stains, abrasions, sharp impacts and high heat. A drawback is that they can be noisy whenhit with running water. Next best was solid surfacing, which homeowners like because they can be paired with counters made of the same material for a seamless look. But in our tests high heat and dropping a sharp, light object, similar to a knife, damaged solid surfacing. Enameled steel and enameled cast iron typically cost less but stain more easily and the enamel can chip or crack if you drop a pot or sharp object. Acrylic sinks might look like enamel but they scratch more easily and heat can be damaging. Fireclay was the most expensive and the poorest performer.

Don't forget the faucet. Buying a new sink gives you the opportunity to replace your faucet. In our faucet tests, models with a physical vapor deposition or PVD finish stood up to the most punishment.
—Adapted from Consumer Reports' Kitchen Planning and Buying Guide

Photos courtesy of the Kohler kitchen gallery