Separate laundry rooms top Millennials' wish lists
Shoppers look for convenience and quiet in their washers and dryers
Published: April 02, 2015 01:00 PM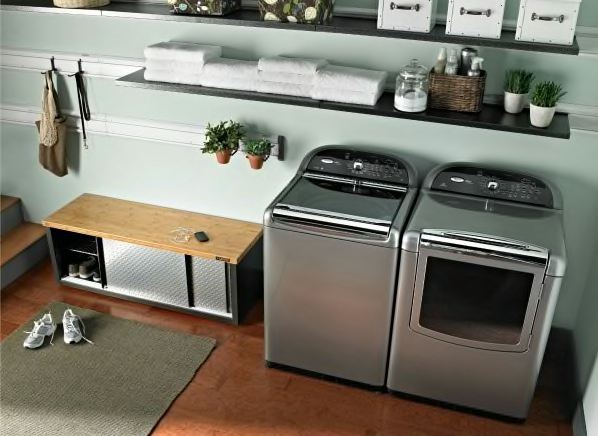 What feature do you want most in a new home? A separate laundry room tops the list for Millennials—adults 34 or younger—according to the American Housing Survey. Fifty-five percent of survey respondents said they would pass on a house without one. It's not that Millennials want it all. The survey found they want smaller homes, but with a laundry room please. Whether you're house hunting or shopping for new laundry appliances, keep in mind that washers and dryers have changed in recent years in ways that relate to your space.
Wide load coming through
Some high-efficiency top-loaders and front-loaders, like Consumer Reports' top-rated Samsung WF56H9110CW, $1,450, are two or three inches wider than usual; same with dryers. It's one way to increase capacity. In our ratings a machine that scores excellent in capacity held about 25 or more pounds of our laundry. Those machines are typically bigger. A very good capacity score indicates about 20 to 24 pounds; good, around 15 to 19 pounds.
Tip: Look at the dimensions in our Features & Specs box on the model page for each washer and dryer. Measure the space you have to work with and allow room behind the dryer for the vent, and measure the door to the house and to the laundry room for moving day.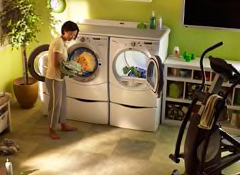 Height enhancers
Many front-loaders we test are excellent at cleaning, but the design isn't that convenient and requires lots of bending. That's why for $500 to $600 you can buy pedestals for the washer and its matching dryer. They raise the machines from 11 to 15 inches. And the GE GFWR4805FMC, $1,200, has a built-in riser that boosts the machine's height by about seven inches. So does its matching electric dryer, the $1,200 GE GFDR485EFMC.
Tip: If you're considering pedestals tally the height of the machine plus pedestal, especially if you plan to install your appliances below cabinets or shelves.
Stack 'em
For small laundry rooms or dual-purpose rooms—a mud and laundry room eliminates the middleman—stacking your appliances saves space. Most front-loaders we test can be stacked with a dryer, and we note this in the Features & Specs page in the Ratings so you can compare front-loaders. It's also mentioned on each washer model page.
Tip: Use the washer and dryer dimensions in our ratings to get an idea of how tall the stacked machines will be. When shopping ask the salesperson to add it up as the actual height may differ slightly depending on how the dryer attaches to the washer. With height in mind, will you be able to reach the dryer controls and inside the drum?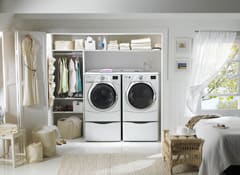 Quiet, please
Agitator top-loaders cost less than high-efficiency top-loaders and front-loaders and the best do a very good job cleaning, such as the GE GTWN5650FWS, $650. But agitator washers are usually noisy.
Tip: Look at the washers and dryers that scored very good or better in our tests for noise if you're placing these appliances near bedrooms or the family room. You'll know they're working but they shouldn't disturb you. You'll hear the machines that scored good or lower—they make sustained sounds that can be annoying. And while most manufacturers have reduced front-loader's vibrations, keep in mind that concrete floors can absorb vibrations well, unlike wood-framed floors. You'll see vibration scores in our washer Ratings.
Think like a kid
Keeping a front-loader's door ajar between loads allows air to circulate and helps prevent mold and funky odors from developing if water collects around the rubber door gasket. But with washers and dryers moving to a space adjacent to the family room, kitchen, or bedrooms, young children may have unrestricted access. So if you have young ones running about, think how you'll keep them safe—and be sure to keep detergent pods out of their reach.
Tip: See "How to prevent smelly mold buildup in front-loading washers" for more tips and consider a high-efficiency top-loader, such as the Samsung WA45H7000AW, $700.
Consumer Reports' washer and dryer Ratings offer all the details and you can easily compare models. Check the buying guides for news on features and the pros and cons of washer types. And if you have questions, e-mail me at kjaneway@consumer.org.
—Kimberly Janeway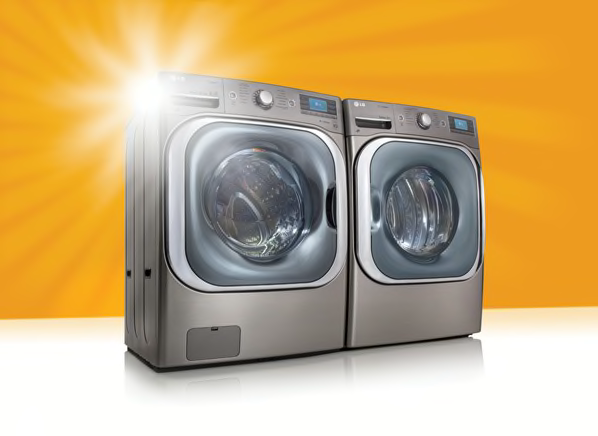 Best matching washers and dryers