Can antibiotics in shrimp spark allergic reactions?
Our tests detected drugs, including tetracycline, in shrimp
Published: July 06, 2015 06:00 AM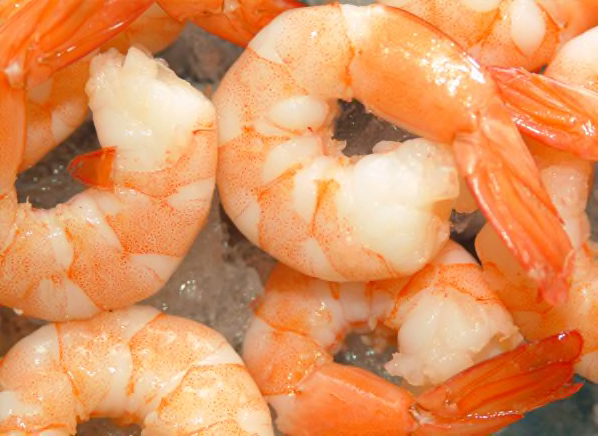 Alarm bells sounded for some consumers who read our recent report, "How Safe Is Your Shrimp?" Our analysis of 342 packages of frozen shrimp, purchased across the U.S., detected antibiotics in 11 samples of imported farmed shrimp. People allergic to those antibiotics, including some of our co-workers, came to us with concerns that their favorite food could result in an itchy rash—or worse.
Consider the dilemma of the reader who serves up a giant platter of shrimp to her guests every New Year's Eve. "As someone with allergies to sulfa drugs and penicillin, would the amounts in shrimp be enough to cause an allergic reaction?" she asked.
According to Franklin Adkinson, M.D., a professor of medicine at the Johns Hopkins Asthma and Allergy Center, the level of antibiotics we found in shrimp are highly unlikely to cause a problem. There is very little research focusing on allergic reactions caused by antibiotics in food, Adkinson says, but "theoretically, the amount in a reasonable portion of shrimp would not be enough to provoke an allergic reaction."
Just how much of the drugs are in antibiotic-tainted shrimp? Judging from what we found in our samples, an 8-ounce serving of shrimp would contain about one seven-thousandth of a standard medical dose of antibiotics. "This dose is too small to cause an allergic reaction," Adkinson says.
The real problem with antibiotics in shrimp—or any other food—is that overuse of the drugs in food production is leading to the global rise of deadly antibiotic-resistant "superbugs." "Eventually, these antibiotics may no longer work to treat common human ailments," says Urvashi Rangan, Ph.D., executive director of the Consumer Reports Food Safety and Sustainability Center. Antibiotics aren't approved for shrimp farming in the U.S., and they are not permitted in imported shrimp.
What does that mean for you?
We found very low levels of antibiotics in some of our samples, but that doesn't mean that shrimp with higher levels don't get into the U.S. food supply. If you're concerned about antibiotics for any reason, choosing responsibly caught wild shrimp, such as those certified by the Marine Stewardship Council, is a safer option. Or look for farmed shrimp with the following labels: Naturland, Aquaculture Stewardship Council, or Whole Foods Market Responsibly Farmed.