When you shop through retailer links on our site, we may earn affiliate commissions. 100% of the fees we collect are used to support our nonprofit mission.
Learn more.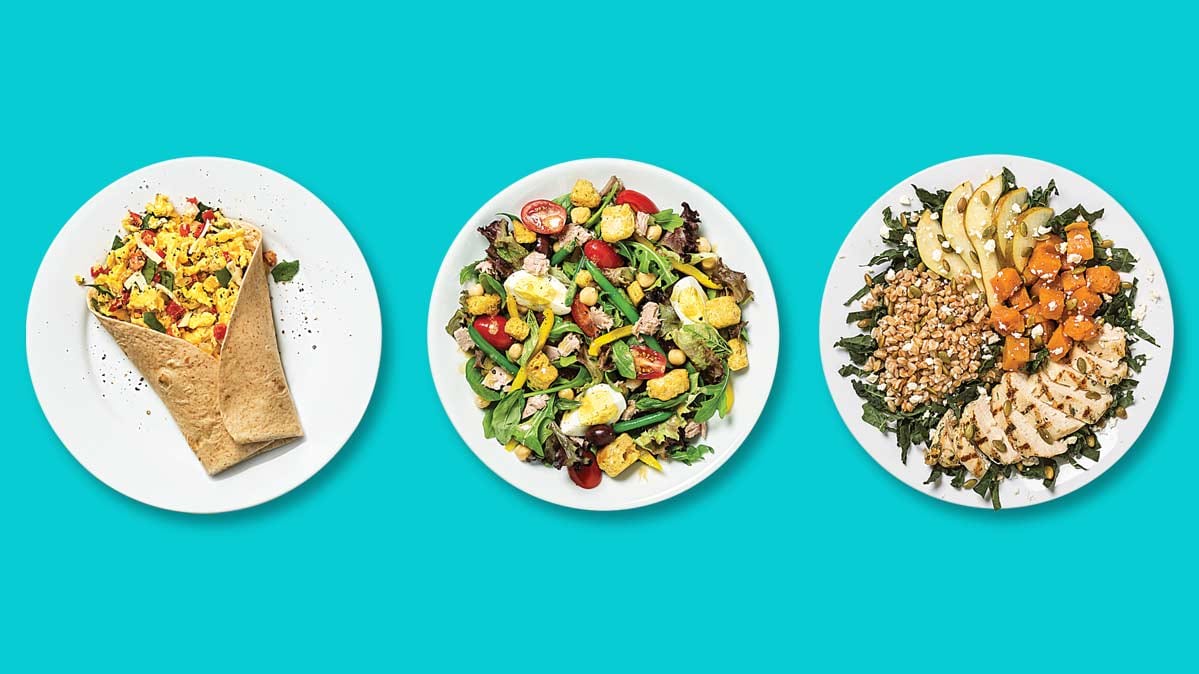 Cooking at home is probably one of the best ways to improve your diet. A Johns Hopkins University study found that people who make their own meals just twice weekly take in fewer calories, fats, and sugars and more fiber than those who cook once a week or less. That's probably because they have more control over ingredients and portion sizes than they do when they dine out.
The easy, good-for-you recipes below were developed in CR's test kitchen, and they're delicious. Each makes one serving. Try one or all to get on the road to a healthier diet.

Breakfast
Scrambled Egg and Veggie Wrap (shown above, left)
Sauté ½ red pepper and ¼ onion in 1 tsp. olive oil until tender. Whisk 2 eggs in bowl with 1 Tbsp. water; add to veggies and cook over medium heat until eggs are completely cooked. Spoon onto whole-wheat tortilla. Top with 1 Tbsp. shredded Monterey Jack cheese and ½ c. spinach; roll up.
Per serving: 370 calories, 19 g fat, 5 g sat. fat, 19 g protein, 4 g fiber, 310 mg sodium.
Overnight Oatmeal
Mix ½ c. each skim milk, vanilla Greek low-fat yogurt, and old-fashioned oats; ½ mashed banana; and 1 tsp. chia seeds in a bowl. Cover and refrigerate overnight. In the morning, top with ½ sliced banana, 2 Tbsp. chopped walnuts, and 1 tsp. maple syrup.
Per serving: 510 calories, 15 g fat, 2 g sat. fat, 23 g protein, 9 g fiber, 105 mg sodium.
Morning Quinoa
Bring ¼ c. quinoa, ½ c. skim milk, ¼ tsp. vanilla, and ¼ tsp. cinnamon to a boil. Simmer, covered, until quinoa is tender and liquid is absorbed, 10 to 12 minutes. Let sit for 5 minutes. Mix in ¼ c. unsalted cashews and ½ c. blueberries. Drizzle with 1 tsp. honey.
Per serving: 460 calories, 19 g fat, 3.5 g sat. fat, 16 g protein, 6 g ­­fiber, 60 mg sodium.
Lunch
Easy Salad Niçoise (shown above, center)
Top 2 c. baby lettuce with 3 oz. drained light canned tuna; 1 yellow pepper, thinly sliced; ½ c. blanched green beans; 6 grape tomatoes, halved; 1 hard-boiled egg, sliced; ¼ c. chickpeas; 1 Tbsp. nicoise (or other) olives; and ¼ c. basil leaves. Toss with 1 Tbsp. olive oil, 2 tsp. red-wine vinegar, and 1 tsp. Dijon mustard. Top with ½ c. croutons.
Per serving: 510 calories, 23 g fat, 4 g sat. fat, 33 g protein, 10 g ­fiber, 640 mg sodium.
Turkey and Brie Sandwich With Apple Butter
Spread 2 Tbsp. apple butter on both sides of a whole-wheat pita. Top with 3 oz. roasted turkey; 1 oz. Brie cheese; ½ apple, thinly sliced; and red leaf lettuce. Serve remaining apple on the side.
Per serving: 500 calories, 11 g fat, 5 g sat. fat, 39 g protein, 9 g fiber, 500 mg sodium.
Avocado Toast
Place ¼ c. shredded cheddar cheese on 2 slices whole-wheat bread; heat until melted. Top with ½ avocado, sliced, and a pinch of salt and cayenne pepper. Add 2 slices tomato and ½ c. arugula. Serve with ½ c. each black beans and corn mixed with 1 Tbsp. each chopped red onion and cilantro, and 1 tsp. each olive oil and fresh lime juice.
Per serving: 690 calories, 32 g fat, 8 g sat. fat, 27 g protein, 22 g ­fiber, 640 mg sodium.
Dinner
Farro With Grilled Chicken, Butternut Squash, and Kale (shown above, right)
Combine 2 c. shredded kale; ½ c. cooked farro; ½ c. roasted butternut squash cubes; ½ fresh pear, chopped; 2 Tbsp. crumbled feta cheese; and 2 Tbsp. pumpkin seeds. Top with 3 oz. grilled chicken cut into pieces. Toss with 1 Tbsp. olive oil, 2 tsp. balsamic vinegar, and ½ small garlic clove, minced.
Per serving: 640 calories, 28 g fat, 7 g sat. fat, 42 g protein, 11 g ­fiber, 260 mg sodium.
Penne With Asparagus and Peas
Cook 1 c. of whole-wheat penne. Add ½ c. asparagus pieces in the last 3 minutes of cooking and ¼ c. frozen peas during the last minute. Drain, saving ¼ c. cooking water. Mix ½ c. small-curd 2% cottage cheese, 2 tsp. olive oil, 2 Tbsp. grated Parmesan cheese, and a pinch each of nutmeg and black pepper. Stir in pasta, using reserved pasta water if needed. Top with 1 Tbsp. chopped parsley and 1 tsp. lemon zest.
Per serving: 620 calories, 20 g fat, 5 g sat. fat, 35 g protein, 20 g fiber, 630 mg sodium.
Pan-Seared Steak With Roasted Vegetables
Place 2 c. of assorted chopped vegetables on a sheet pan. Drizzle with 1 Tbsp. olive oil, a pinch of salt and black pepper, and 1 tsp. oregano (or any dried herb). Bake 35 to 40 minutes. Sprinkle a 4-oz. tenderloin steak with a pinch of salt, black pepper, and dried thyme. Heat a skillet over medium-high heat; add 1 tsp. olive oil. Cook 3 to 4 minutes on each side until desired doneness.
Per serving: 500 calories, 36 g fat, 10 g sat. fat, 25 g protein, 5 g ­fiber, 680 mg sodium
Editor's Note: This article also appeared in the January 2017 issue of Consumer Reports On Health.
5 Tips to Change the Way You Eat
Does your diet need an overhaul? On the 'Consumer 101' TV show, Consumer Reports' expert Paul Hope offers host Jack Rico 5 healthy eating tips.