When you shop through retailer links on our site, we may earn affiliate commissions. 100% of the fees we collect are used to support our nonprofit mission.
Learn more.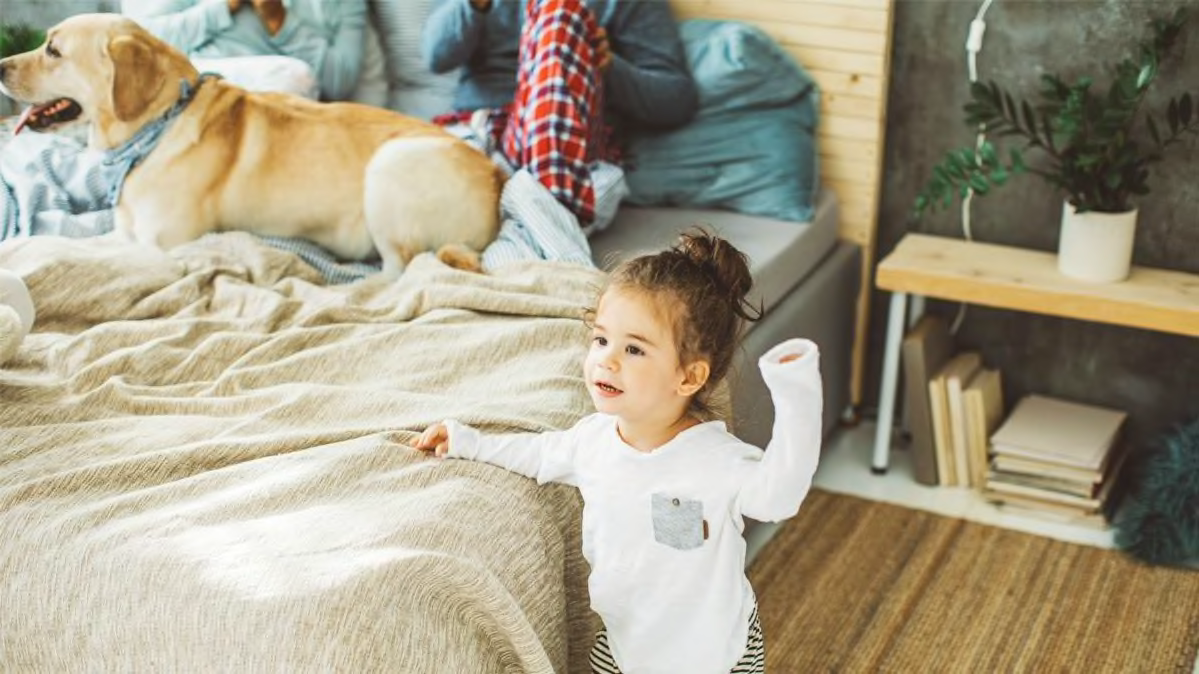 Consumer Reports tracks the prices of the products we test, so we can tell you month by month what to purchase on deep discount. Plus, we provide shopping tips, Buying Guides, and ratings to ensure that you'll find the best deal.
This month, look for deals on mattresses. And if you're thinking ahead to winter, this is also a good month to consider snagging a snow blower.

Read on for other items on sale in October. Looking for something else? Check out our calendar of deals.
Mattresses
You won't find the same models at different stores. Mattress manufacturers make exclusive models for each retailer, which makes it difficult to compare prices. Your best bet is to follow our ratings and negotiate the best deal you can get on the mattress you like best.
Many retailers, especially the specialty chains, charge big markups so that they can lower prices by 50 percent or more during their frequent sales. That gives you room to strike a deal.
Sleep on it. If you're shopping in a store, wear comfortable clothes and give yourself at least 15 minutes to lie on the mattress, moving around as you would if you were sleeping. Don't feel self-conscious; you won't be the only one doing this. And it's time well spent, given the hours you'll spend in bed over the next decade or so.
Shop back to front. Start out with the least expensive bed from a few top brands, and work your way up in cost. Stores keep the priciest models up front, so head to the back of the store first. Our mattress Buying Guide has lots of additional shopping tips. We put mattresses through tough tests; see which ones came out on top in our ratings.
Snow Blowers
Get a jump on winter. You can spend as little as $200 for one that will handle light dustings or well over $1,000 for a model that takes care of heavier snowfalls. Check out our recommendations.
We have advice on snow blowers that are best for short, level driveways, decks, and walkways as well as advice on what kind to buy depending on whether you might need to remove 6 inches of snow or 18 inches.
Consider the features. A good snow blower has clearing ability and a smooth, single-lever chute control that sends snow any direction you want it to go. Be sure you're comfortable with the height of the handle and with the controls.
Choose the right size. You don't necessarily need a behemoth. Compact machines work well on smaller driveways, and midsized models can dispatch drifts left by the occasional heavy storm. Large or hilly driveways and deep snow, however, demand a larger snow blower with power-driven wheels.
Interior Paint
Buying a can of paint should be easy. But walk into any home center or paint store and you'll see just how confusing the choices can be. Brand lines keep expanding, and the price might jump $5 to $20 per gallon.
We've tested dozens of interior and exterior paints in a variety of finishes to help you find the best one for the job and your budget. Check out our Buying Guide.
Flat finish: These finishes hide imperfections well but are the least stain-resistant and are better suited for low-traffic areas.
Eggshell and satin finish: Use only on fairly smooth, well-prepared surfaces because their shine can accentuate imperfections on the walls.
Semigloss finish: Shinier still, these paints are formulated to stand up to stains. They're generally the easiest to clean, but some may tend to dull when scrubbed. Check out our ratings.
Smoke & Carbon Monoxide Detectors
Installing and maintaining smoke and carbon monoxide detectors can save your life. Luckily, they're inexpensive and easy to install.
Basic smoke detectors start at $15, with carbon monoxide alarms costing $35 and up. Newer models offer more features. Read our Buying Guide.
Smoke detectors are a must in all homes, and carbon monoxide detectors are needed for any home with fuel-burning appliances such as a furnace, water heater, range, cooktop, or grill.
Before you shop. Check regulations in your region because what you need, including types of detectors and their placement, can vary. Also, some insurance companies offer a 5 percent discount for homes with smoke detectors.
Avoid a combination smoke and carbon monoxide detector. Currently no single smoke or carbon monoxide detector on the market does a good enough job at detecting both. You're better off installing both a smoke and a carbon monoxide detector.