When you shop through retailer links on our site, we may earn affiliate commissions. 100% of the fees we collect are used to support our nonprofit mission.
Learn more.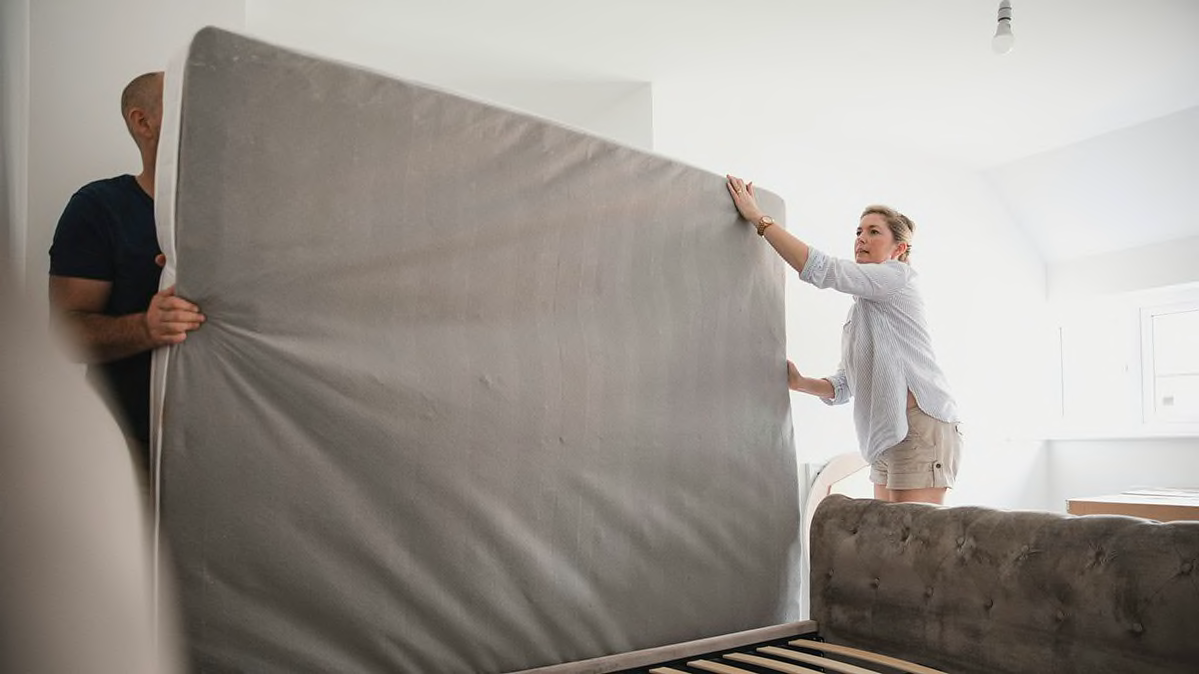 With autumn underway, it's a great time to make sure your home and yard are prepped for falling leaves and the coming winter weather.

During October, you can find good deals on mattresses, leaf blowers, chainsaws, snow blowers, smoke and carbon monoxide detectors, as well as thermostats.
Consumer Reports tracks the prices of the products we test month by month so that we can provide shopping tips, buying guides, and ratings to ensure that you'll find the best deal.
To see more items on sale in October—and the rest of the year—check out our calendar of deals.

Mattresses
Choosing the right mattress can be challenging—and that's by design. Retailers typically carry brands that are manufactured exclusively for their stores, which makes it difficult to compare prices. But if you check our ratings—and negotiate the best deal—you can nab the right mattress for your needs at the right price. Here are some shopping tips to consider.

Be skeptical of sales. It's a classic retail strategy to charge big markups, followed by markdowns of 50 percent or more during frequent sales. Still, knowing there's leeway to lower prices can give you room to haggle.
Test it out. If you're shopping in a store, be sure to wear comfortable clothes and plan to spend at least 15 minutes lying on the mattress. Shift positions as you would if you were sleeping. Don't feel self-conscious; you won't be the only one doing this. It's worth your time to really try out the mattress, given all the hours you'll spend in bed over the next 10 years or longer.
Shop back to front. Begin your testing by trying out the least expensive bed from a few top brands, then move up in cost. Stores display the priciest models up front, so head to the back of the store first.
Our mattress buying guide has additional shopping tips. We put mattresses through tough tests; see which ones came out on top in our mattress ratings.
Yard Equipment
Leaf Blowers
Get a jump on the season by grabbing a deal on leaf blower. These tools are also handy for clearing sandy decks in the summer or light snow in the winter. You'll want to find a machine that is easy to maneuver and offers convenient controls.
Pick your priorities. Gas handheld models are easier to maneuver than corded electric blowers, but they're also heavier to carry and noisier. For those with lot of leaves and a level property, you'll may do well with a walk-behind leaf blower on wheels, but these models can be unwieldy and take up a lot of storage space.
Protect your ears. Even the quietest leaf blowers can be deafeningly loud. Be sure to purchase hearing protection, and be considerate of your neighbors by not using it very early or very late in the day. Some towns limit leaf blowers to certain hours, so check with your municipality for the local rules.
To find our top-rated models, go to our leaf blower buying guide.
Chainsaws
Before cold weather sets in, you may want to clear brush in your yard or prep firewood. Take a look at our newly updated chainsaw ratings, which include plenty of top-rated battery-powered models, as well as gas and plug-in electric options. We also include electric loppers, which are a good option for small cuts and are safer to use when cutting above shoulder level.
Before using any model, make sure you're dressed for the task—wear snug-fitting clothing and sturdy work boots, preferably steel-toed. You'll also need to protect your legs with cut-resistant chaps, as well as wear protective gloves and a helmet with a face shield. And add hearing protection, because practically all saws, including electric models, exceed the 85-decibel level at which hearing damage can occur.
For more safety guidelines, see our chainsaw buying guide.
Snow Blowers
You can spend as little as $200 for a snow blower that will handle light dustings or well over $1,000 for a model that takes care of heavier snowfalls. Check our recommendations for the best snow blowers.
We have advice on snow blowers that are best for short, level driveways, decks, and walkways, plus tips on what kind to buy depending on whether you might need to remove 6 inches of snow or 18 inches.
Consider the controls. A good snow blower has clearing ability and a smooth, single-lever chute control that sends snow in any direction you want it to go. Be sure you're comfortable with the height of the handle and with the controls.
Choose the right size. You may not need a tractor-sized model to get the job done. Compact machines are well-suited to smaller driveways, and midsized models can dispatch drifts left by the occasional heavy storm. Large or hilly driveways and deep snow, however, demand a larger snow blower with power-driven wheels.
Smoke & Carbon Monoxide Detectors
Smoke and carbon monoxide detectors are both simple to install and inexpensive—plus they can save your life. So make sure yours are installed and working.
Basic smoke detectors start at $10, with carbon monoxide alarms costing $20 and up. Newer models offer more features. For more details, read our buying guide.
Smoke detectors are a must in all homes, and carbon monoxide detectors are needed for any home with fuel-burning appliances, such as a furnace, water heater, range, cooktop, or grill.
Before you shop. Check regulations in your region because what you need, including types of detectors and their placement, can vary. Also, some insurance companies offer a discount for homes with smoke detectors.
Avoid a combination smoke and carbon monoxide detector. Currently no single smoke or carbon monoxide detector on the market does a good enough job at detecting both. You're better off installing a smoke detector and a carbon monoxide detector.
Thermostats
As cold weather sets in, a good thermostat can keep you comfortable, as well as save you money.
You may want to consider a smart thermostat, which could save you $50 a year on your energy bills, according to Energy Star. Some thermostat manufacturers claim those savings can reach $100 or more.
Smart thermostats tend to have simple controls and touch-screen displays that make programming easier. They also connect to the internet via WiFi, allowing you to change the temperature at home remotely, through an app on your smartphone. Smart thermostats can also factor in your local weather forecast and "learn" your temperature preferences through sensors and computer algorithms.
You can also choose a non-connected programmable thermostat. Previously, these types were often difficult to program. But today manufacturers offer relatively easy-to-use programmable options, making them a good choice for consumers who don't want an internet-connected thermostat.
See our buying guide for tips on choosing and installing thermostats, as well as our recommended models.