When you shop through retailer links on our site, we may earn affiliate commissions. 100% of the fees we collect are used to support our nonprofit mission.
Learn more.
You don't need to be a data scientist to know that holiday sales are great opportunities for bargain shoppers—but to understand precisely when you can snag the best deals, a little bit of big data goes a long way.
That's why Consumer Reports teamed up with Gap Intelligence, a market research company that specializes in pricing information, to study a year's worth of product prices from key retailers. We examined three big-ticket product categories—ranges, dishwashers, and refrigerators—to help you navigate the sales between Labor Day and the end of the holiday season.
The steep discounts that occur around Black Friday demonstrate the magnitude of price fluctuation that exists during the course of a year. By November, the average price of a refrigerator, for instance, dropped almost $250 off the peak pricing we found in May. For the average price of a range, we found a $178 differential—or a 14 percent discount—between the high point in February and the low point in November.
More on how to shop smarter
Things got particularly interesting when we zoomed in on several high-performing models from our ratings. We found significant price fluctuation on certain models; others—especially at extreme low and high prices—barely budged.
So how can past pricing inform your purchasing decisions this fall? If you're in the market for one of these products now (as in, your fridge is on the fritz), the data show that keeping an eye on a model's price over a matter of weeks could save you hundreds of dollars.
In terms of 2017 sales events, Gap expects to see similar trends, especially when it comes to Black Friday. "That promotional period continues to get longer and longer," says Christine Edwards, Gap's senior market analyst for home appliances. On Black Friday, entry-level appliances might see a dramatic dip as retailers advertise these offers to entice people through the door.
But if you're shopping for a midlevel or premium appliance, there's no need to wait until the day after Thanksgiving. "The retail industry is now referring to November as 'Black November,' " explains Debra Mednick, CR's director of market trends and analysis. As 2016's data confirm, if you're after a new kitchen suite or television—and you can hold off—it pays to wait out Labor Day sales and shop come November.

To calculate the average price in the product categories below and track the price of specific models, we teamed up with Gap Intelligence, a market-data company that tracks pricing and promotional activity for in-store and online products selling in key national, regional, and online-exclusive retailers on a weekly basis. (For each category, we excluded extreme outliers, eliminating ranges and refrigerators more than $10,000.)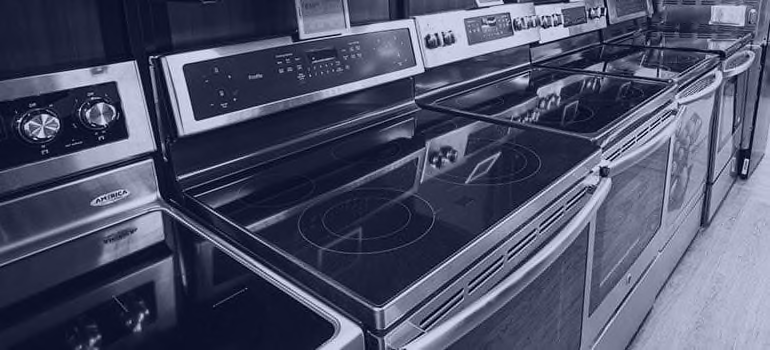 Ranges
We studied 12 months of pricing data for roughly 1,500 ranges, and we tracked four high-performing models from CR's range ratings during that same time.
New models, released early in the year, kept the average price of a range high through the spring, but that figure dipped lower with each holiday after July Fourth. The individual ranges we looked at exhibited mostly parallel pricing patterns, from an entry-level Whirlpool electric to higher-end GE gas and LG electric models, which sell for more than twice as much. And though prices generally ebbed and flowed according to the same promotions, the discounts were deeper for higher-priced models (the GE saw a variance of $350, as opposed to the Whirlpool's $100 spread).
With pro-style ranges, such as a $6,400 Wolf in our ratings, we found that prices were relatively consistent all year. "Rather than discounting those products, premium brands offer free installation or some other incentive," Edwards says.
The graph below includes the average price for the whole category over 2016, plus the following models:

• LG LSE4613ST range
• GE PGB911ZEJSS range
• Samsung NX58H5600SS range
• Whirlpool WFE515S0ES range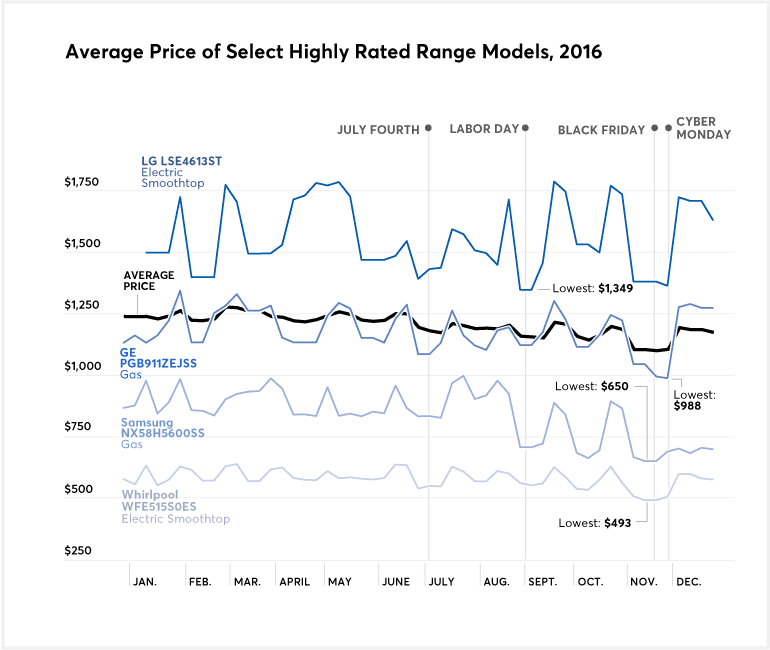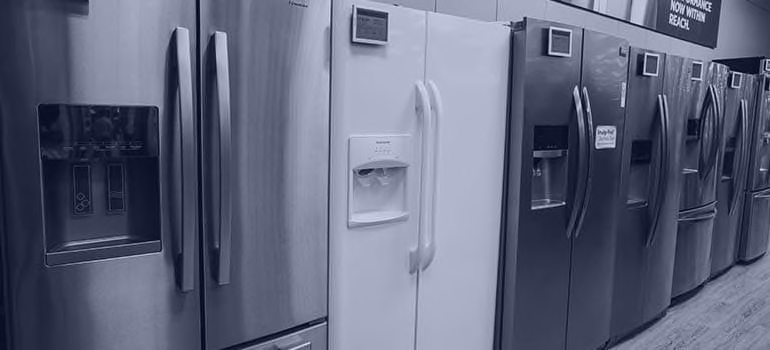 Refrigerators
Our analysis of the refrigerator category found it to be far more volatile than other home appliances. That means plenty of opportunity for an attentive shopper to save money. It's also a highly diverse category, with a wide variety of models within several subcategories, including French-door, side-by-side, and top-freezer.
But a closer look at high-performing models from our refrigerator ratings did reveal a few takeaways: First, we found the deepest discounts on midrange models. Whirlpool's French-door, released in July 2016, was discounted $500 by November. And as the price grew, discounts got smaller, as evidenced by our top-scoring GE side-by-side, which moved less than $140 throughout 2016.
On average, the best prices for refrigerators came on Black Friday, but we found a few deals that were even better on July Fourth. Last year that was when the Samsung French-door model we analyzed dipped by $266 and the LG French-door came within $50 of its Black Friday low.
Here are the specific models we investigated, in addition to the category average, below:
• GE Profile PSS28KSHSS refrigerator
• Whirlpool WRF555SDFZ refrigerator
• Samsung RF20HFENBSR refrigerator
• LG LFC24770ST refrigerator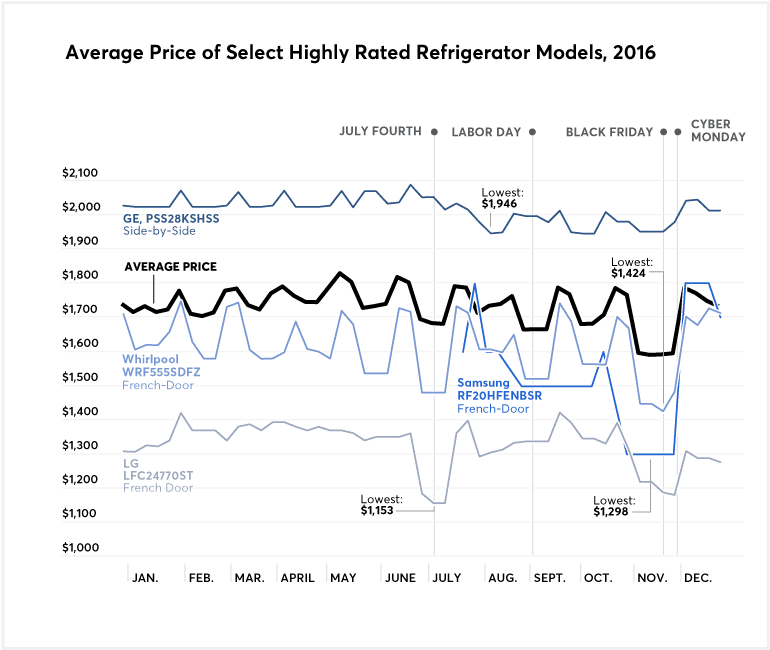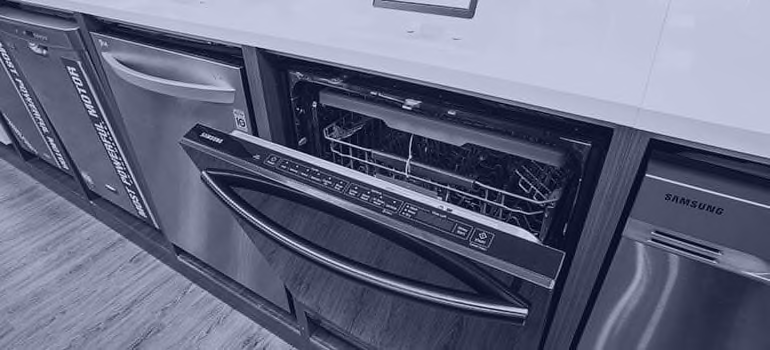 Dishwashers
Manufacturers turn out countless configurations of refrigerators, but a dishwasher is more or less a dishwasher. "So, similar to cooking ranges, you're not going to see a whole lot of fluctuation between brands, as far as how they're pricing and promoting," Edwards explains.
Indeed, much like ranges, we found the average price of a dishwasher over one year steadily dipped lower and lower as Black Friday approached. And the models we plucked from our dishwasher ratings, with one exception, experienced almost simultaneous markdowns as retailers put their inventory on sale for holiday shopping events.
The anomaly? The stainless steel Bosch Ascenta, which we recommend as a CR Best Buy. The data show that Bosch seems to discount far less often than its competitors. When we asked Bosch about its pricing strategy, the company's spokesperson pointed us to mail-in rebates available on its website.
We analyzed the average price of a dishwasher in 2017, compared to these particular models:
• KitchenAid KDTE254ESS dishwasher
• GE GDT695SSJSS dishwasher
• Bosch Ascenta SHX3AR75UC dishwasher
• Whirlpool WDT720PADM dishwasher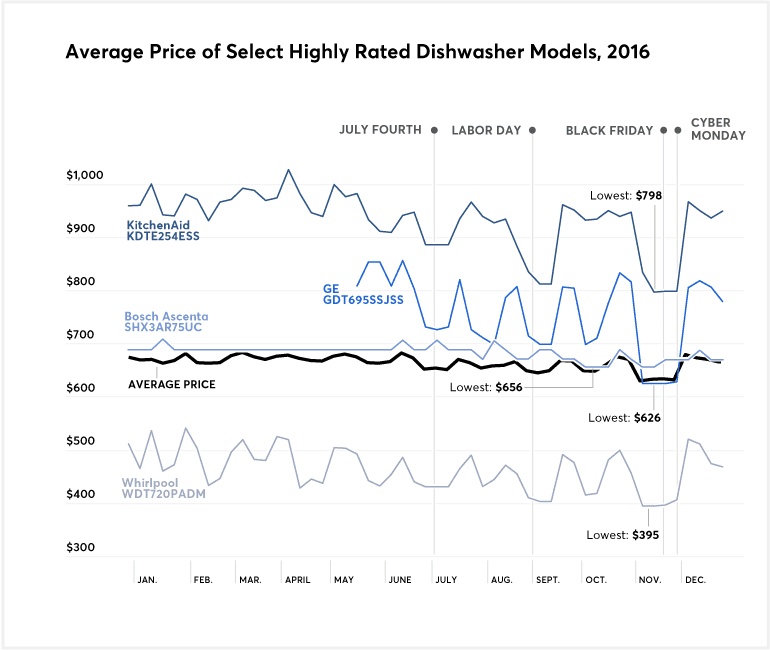 Editor's Note: This article also appeared in the September 2017 issue of Consumer Reports magazine.