When you shop through retailer links on our site, we may earn affiliate commissions. 100% of the fees we collect are used to support our nonprofit mission.
Learn more.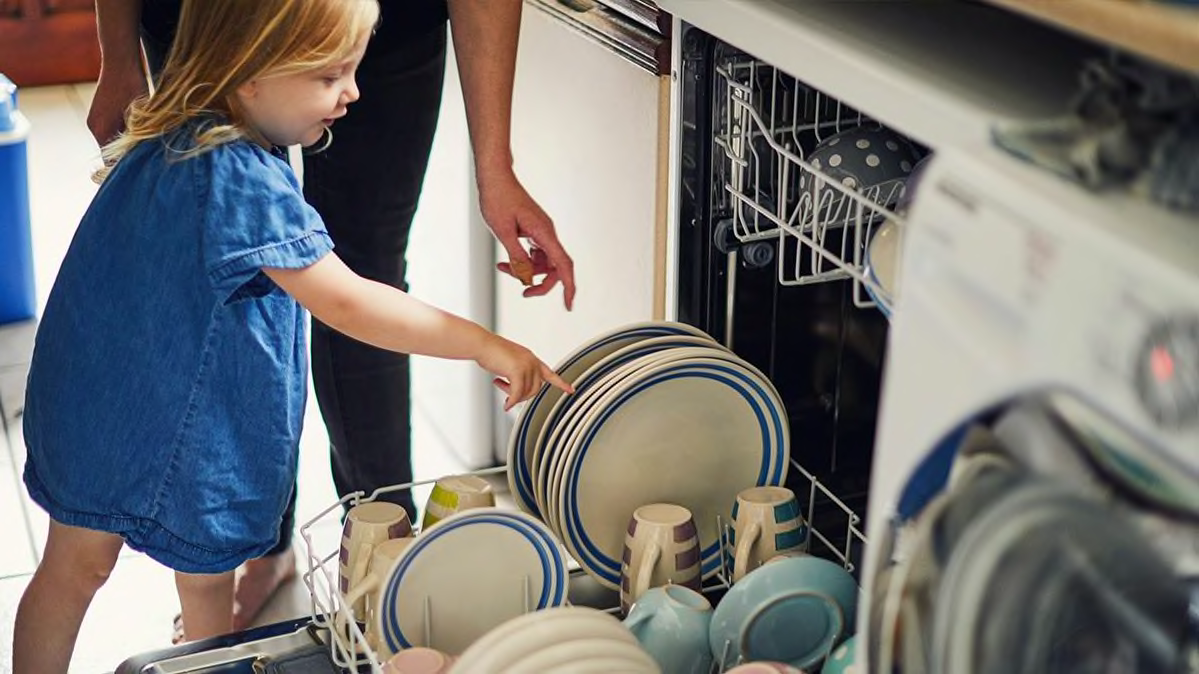 Considering how often babies and young kids eat and drink (like, all the time), a family could very well run their dishwasher multiple times a day. These appliances need not only to do an exceptional job cleaning and drying dishes but also to stand up to the kind of abuses toddlers can inflict on appliances. Safety features that help keep kids from hurting themselves by, say, picking up sharp knives, are also important.
"The dishwasher is like a toy box for kids," says Arvey Levinsohn, a certified childproofer and owner of A&H Childproofers in Chicago. "They just come running!"
If only they'd help put away the dishes! Instead, kids constantly mess with the buttons, open the door midcycle, and use the door as a trampoline. You want a dishwasher that cleans and dries well, and doesn't make a racket, but you also want certain safety features.
Safety First
According to the Consumer Product Safety Commission, between 2014 and 2017 there were 4,197 dishwasher-related injuries involving children under 10 that required a visit to the emergency room. Kids grab knives and cut their fingers or they fall onto the door or lower rack and hit their heads. To help keep your child out of the ER, we identified four safety features to look for.
Third rack. An extra tray at the top helps keep utensils and sharp objects out of sight and out of mind. "Not only are they higher and more difficult to pull out, but they're also more hidden and less inviting to children," says Karen Woolf, the pediatric ER director at the Medical Center of Aurora in Colorado.
Top-panel control buttons. Also good to keep out of sight: control buttons. Ones that are located on the top, rather than in the front, of a machine are harder for kids to see and reach.
Child locks. Some manufacturers offer locks for control panels, which keep your little one from inadvertently starting or interrupting a cycle. Of course, your child can still just yank the door open to stop a wash, which is why the next feature is also important.
Recessed handles. It's hard to open a dishwasher door and sit or jump on it if you don't have anything to grab. A model with a recessed pocket handle rather than a bar on the front can help keep your child from opening the door mid-wash or possibly breaking it, which could set you back about $250 to fix.
Squeaky Clean
Our testers smear a composite of sugars, starches, proteins, and fats—elements found in common foods—and then bake it on to make it a challange to clean. If the dishwasher can tackle this stuff, it can handle your kids' crusting egg yolks, sticky raspberry jam, and dried up spaghetti.
The results: Almost all of the dishwashers we test today—including the four models we recommend here—easily clean the caked-on residue with a normal wash cycle. In fact, all but one model in our rankings earn a rating of Very Good or Excellent for washing. The trickier test is drying plastic.
No More Drippy Sippies
Between the bowls, bottles, and sippy cups, babies go through a lot of plastic in a day.
"Plastic is more difficult to dry than glass and ceramic," says Larry Ciufo, the test engineer who runs CR's dishwasher lab. "It doesn't retain heat that would otherwise contribute to the evaporation process."
To test a dishwasher's drying capabilities, we use sippy cups. The models that earn Excellent ratings get plastic bone-dry. One tip: Put dishwasher-safe plasticware only in the upper racks, away from the heating elements at the bottom.
Do Not Disturb
You shouldn't have to choose between clean dishes and a soundly sleeping baby. "Luckily, new dishwasher models have gotten even quieter than models from five years ago," Ciufo says. Manufacturers list noise levels in decibels, but that rating is an average over an entire cycle, which isn't all that useful because it doesn't account for spikes in noise.
A better way to measure noise levels? Human ears. Ciufo and his panel of judges listen to each dishwasher we test through its entire cycle, noting peaks in noise—the moments that may wake a baby. The quietest models earn ratings of Very Good (you can hear them from a couple of feet away) or Excellent (silent unless you put your ear right up to the dishwasher's door).