When you shop through retailer links on our site, we may earn affiliate commissions. 100% of the fees we collect are used to support our nonprofit mission.
Learn more.
All assisted living facilities offer communal living, but their physical settings vary widely. Here are the main types:
Apartment-Like Living
Many residential care communities are in large complexes where residents rent an apartment with a small kitchen and private bath. They also offer communal dining and shared activity rooms, such as libraries and fitness facilities. About 68 percent of residents live in facilities with 50 or more people, according to the Centers for Disease Control and Prevention. The biggest places typically are part of for-profit chains, including the three largest, Atria, Brookdale, and Sunrise.
Small Group Homes
Sometimes called board and care, these assisted living residences offer a more intimate, homelike feel, housing just four to 25 people. These smaller places are often located in residential neighborhoods, where seniors can rent single rooms, share common spaces, and dine together.
More on Elder Care & Assisted Living
Continuing-Care Communities
Though most assisted living facilities are standalone, some are connected to nursing homes or are part of continuing-care communities that offer multiple levels of care, from independent living to nursing-home care. Residents can move from one level to another, which may mean a move to a different section if their healthcare needs change.
Specialized Care
Some assisted living facilities offer specialized services for particular medical conditions, such as Parkinson's disease, depression, and diabetes. But as the U.S. population ages, the biggest trend has been the number of assisted living facilities offering dementia care, says Sheryl Zimmerman, director of aging research at the University of North Carolina at Chapel Hill. Today about 60 percent of residential care communities provide a dementia care program. And almost one-quarter of assisted living communities maintain a dedicated floor or wing for memory care, or they are standalone facilities that serve only people who have more severe forms of dementia, according to the CDC.
Why Making Friends and Fitting In Are Essential
The right assisted living facility will help your parent feel comfortable and stay engaged, which can improve health and happiness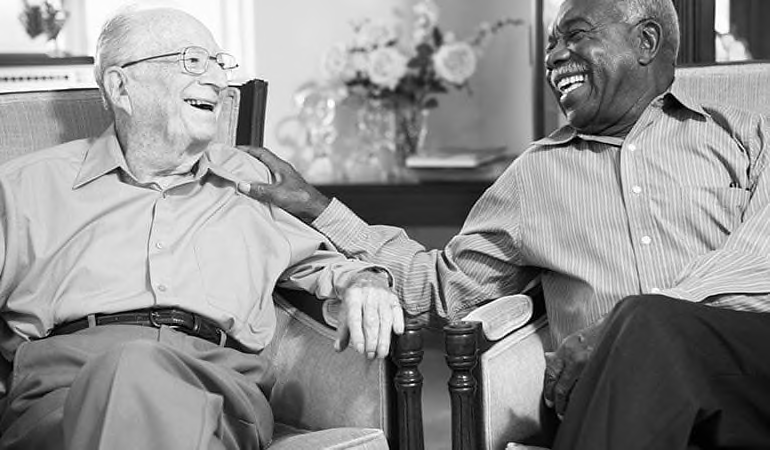 A particular assisted living facility might look like a solid choice based on location, care services, and your family's finances. But what's also important is finding a good fit for yourself, or for Mom or Dad, a place where you or they can feel comfortable socially and make new friends. "A person's physical and psychological well-being can be improved by staying active and engaged," says Carolyn McClanahan, a financial planner and doctor in Jacksonville, Fla. Here are tips for finding a good match:
Use Your Instincts
Look for activities and facilities—such as field trips, a book club, or a pool—that your parent(s) might enjoy with others who have similar interests. Consider the size of the residence, its appearance, and how you see staff members interacting with residents and each other. For a potential resident, "sometimes it is just kind of a gut instinct: Do I feel comfortable here?" says Stephen Maag, a director at LeadingAge, an association of not-for-profit senior-care groups.
Visit Strategically
To really get a feel for a place, talk to as many residents as possible and make multiple visits at different times. Arrange for Mom or Dad to observe or participate in one or two activities that are appealing. Consider an overnight visit, if offered.
Ask About the Welcoming Strategy
The initial weeks after a move could be emotionally difficult. Your parent will be adjusting to a smaller space, as well as unfamiliar faces. "These places can be very cliquish," McClanahan says. Still, the better facilities help residents feel at home as soon as possible, says David Schless, president of the American Seniors Housing Association, an industry group. That might involve a plan to connect Mom with other retired teachers, or to bring your Dad into the bridge group.
Help, but Don't Hover
Visit, but avoid weighing in on every small concern. "Let your parents do for themselves as much as they can do," says Jeff Pine, an aging-life-care expert, also known as a geriatric-care manager, in Santa Fe, N.M.
Touch Base With the Staff
Check in with a manager about how your parent is adjusting. Mom might be making friends and enjoying activities, despite complaints you may be hearing. You might also make specific requests, such as asking a staff member to remind your parent of an activity of particular interest.—Karen Damato
Editor's Note: This article also appeared in the October 2017 issue of Consumer Reports magazine.