When you shop through retailer links on our site, we may earn affiliate commissions. 100% of the fees we collect are used to support our nonprofit mission.
Learn more.
When you shop through retailer links on our site, we may earn affiliate commissions. 100% of the fees we collect are used to support our nonprofit mission. Learn more.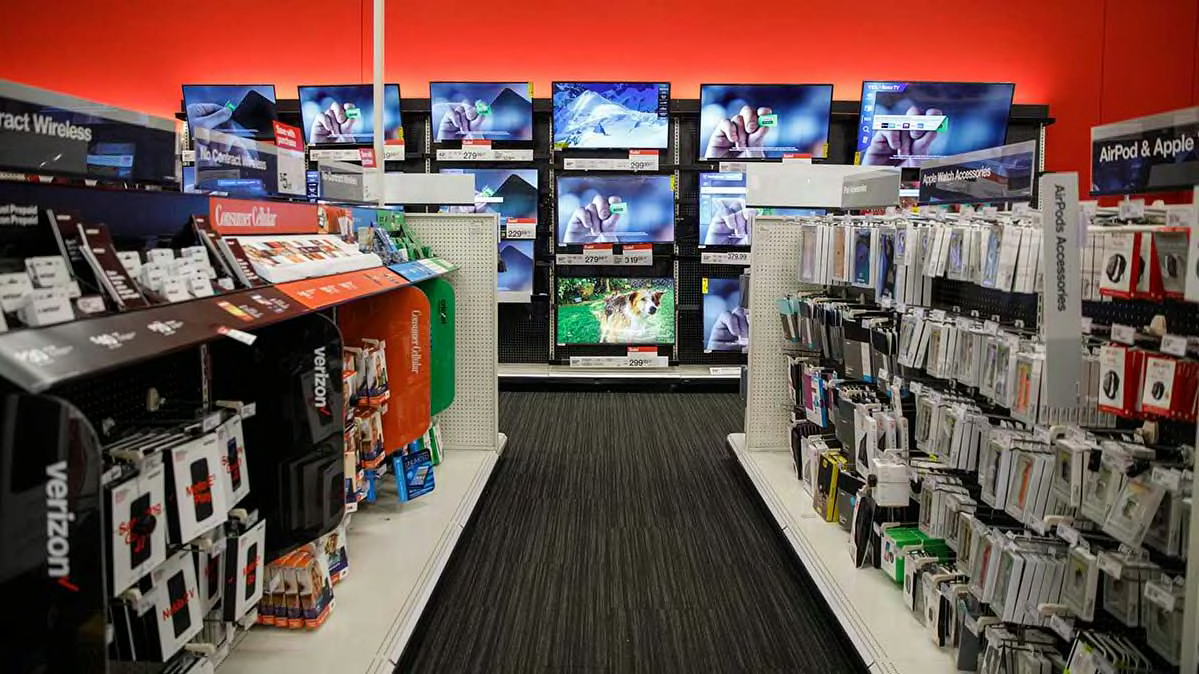 Target has dozens of electronics deals planned for the holiday season, and like a lot of retailers, it won't be waiting for Black Friday to start offering significant discounts to shoppers.
Among the more attractive offers in the company's holiday ad circular are bargains on a 65-inch 4K Roku smart TV, Apple's new iPhones, an Apple Watch, HP laptops, and assorted wireless speakers, including Amazon Echo models.
This year, the retailer will roll out the deals in four waves, starting this weekend (Nov. 8-9) and continuing each successive weekend through Dec. 15. Oddly, though, the circular does not specify when most of the offers begin.
More on Black Friday Deals
Target RedCard credit or debit cardholders and members of the company's Target Circle loyalty program can start getting the Black Friday deals on Wednesday, Nov. 27, the day before Thanksgiving. (When they buy, RedCard shoppers get added 5 percent discounts, as well.)
Special Black Friday deals start Thanksgiving morning on Target.com for everyone else, but in-store shoppers have to wait until 5 p.m. for doorbuster specials, which run until the doors close at 1 a.m. Target stores will reopen at 7 a.m. on Black Friday.
We've combed through all 54-pages of Target's Black Friday ad circular to find you the best electronics deals, which are listed below. It pays to shop around, though. If you want to start now, we've rounded up the best Black Friday deals at Costco (TVs and laptops), Kohl's, and Sam's Club, too.
65-Inch Element 4K Roku smart TV
The deal: $280 at Target
This appears to be some kind of special buy; we don't see a 65-inch 4K Roku model at this super-low price anywhere else. Our best guess is that it's the Element E4SW6518RKU, which was on sale earlier this year for about $450. If that's true, the set did well for HD picture quality, but was below par for 4K and HDR performance.
43-Inch Samsung 4K smart TV
The deal: $220 at Target
CR's test results: Samsung UN43NU6900
We know this set is the Samsung UN43NU6900, an entry-level TV from 2018. It usually sells for about $280, so this is decent savings. It was $280 just a couple months ago during Labor Day TV sales.
For more Target TV sales options, check out this Black Friday deals story, too.
iPhone 11, 11 Pro, and 11 Pro Max
The deal: On Nov. 29–Dec. 1, you receive a free $200 Target gift card when you buy an iPhone 11, 11 Pro, or 11 Pro Max at Target
CR's Test Results: Apple iPhone 11, Apple iPhone 11 Pro and Apple iPhone 11 Pro Max
This is the first Black Friday deal we've seen for Apple's latest smartphones. iPhones are rarely discounted until the new models roll out, but retailers sometimes offer up gift cards, which is the case here. But there are a few catches. The deal requires you to activate the phone with AT&T or Verizon service, and you have to finance the phone with that carrier. Cancel your service before the phone is paid off and the balance is due immediately. Return the phone and you'll also have to return the value of the gift card. You also can get a $200 gift card if you buy last year's iPhone XS or XS Max from Target. The same conditions apply.
HP 11.6-Inch Chromebook
The deal: $100 at Target
You'll save about $100 with this deal for an 11.6-inch Chromebook. Chromebooks, of course, have modest specs, use Chrome OS instead of Windows or macOS, and are primarily intended for lightweight work like browsing the web, watching streaming videos, and using productivity apps like spreadsheets. We didn't test this specific model, but have tested other Chromebooks from HP (including this Chromebook 14) and they've generally done well in our tests.
HP Pavilion Gaming Laptop
The deal: $600 at Target
CR's test results: HP Pavilion Gaming 15-CX0058WM
This deal will save you about $200 for a 15.6-inch gaming laptop. A "gaming" laptop is merely a powerful laptop that includes top-of-the-line (or close to it) specs, including a dedicated graphics card, which is useful for playing high-end games and demanding tasks like editing high-res video. This model did well in our tests—it has an Intel Core i5 processor, 16GB of memory, and 256GB of solid-state storage—with the possible exception of the so-so battery life (about 8 hours), though that's not unusual for a gaming laptop.
HP Omen Gaming Laptop
The deal: $900 at Target
You'll save around $250 with this deal on a 15.6-inch gaming laptop. It's roughly similar to the Pavilion Gaming laptop above, but has twice the storage (512GB) and a high-end graphics card. We tested a 17-inch version of this laptop and were largely impressed, again with the possible exception of so-so battery life (around 5 hours).
10-Inch Amazon Fire 10 Tablet
The deal: $100 at Target
CR test results: Amazon Fire HD 10 (32GB)
Normally sold for $150, CR's best-rated Amazon Fire tablet is a savvy choice if what you need is a tablet to watch movies and TV shows. Our testers rated the bright screen, capable of showing movies in 1080 resolution, as Very Good, and the 11 hours of battery life keeps it running nearly a full day (or a long flight) without a recharge. The size and aspect ratio also make the Fire HD 10 a great reading device, especially for comic books and graphic novels—it can display a single full page of a comic in nearly the same size as the print original.
Apple Watch Series 3
The deal: $160 at Target
CR's test results: Apple Watch Series 3 (38mm) Aluminum case + GPS
This is the first Apple Watch Black Friday deal we've spotted. After the rollout of the newest models this fall, Apple cut the price of the most basic version of the Series 3 to $200. While it's been out for two years, the model is still highly rated by our testers and a great pick for the entry-level smartwatch user.
Sony SRS XB41 Speaker
The deal: $125 at Target
CR's test results: Sony SRS XB41
That's half off the price we've usually seen for this speaker. The XB41 makes a visual statement with a series of LED lights that sync to the music and can be customized via a smartphone app, and you can also bang on it to trigger a series of fun sound effects. The bass of XB41 is strong (the XB stands for eXtra Bass) and the speaker has enough volume to fill a medium-sized room. Our testers also found the XB41 to be easy to use, noting that pairing two units in stereo improved the sound.
JBL Charge 4 Speaker
The deal: $99 at Target
CR's test results: JBL Charge 4
Target's sale price represents a substantial discount on the Charge 4's $180 list price. Our testers found the JBL Charge 4 very easy to use, with prominent volume controls, while the sound quality ranked near the top of our portable-speaker ratings. The Charge 4 features a power bank to charge other devices, and the manufacturer says it's waterproof to three meters, a claim CR didn't test. Kohl's offers the speaker at the same price, but includes $30 in Kohl's Cash, too.
Google Nest Hub Smart Speaker
The deal: $79 at Target
CR's test results: Google Nest Hub
The Nest Hub, a smart speaker complete with a screen, usually sells for $129, so this is a good deal. The model got high marks for versatility and ease of use in CR's test program, but the less-than-impressive sound quality was a throwback to the days when sound was an afterthought for most smart speakers. The 7-inch touch screen performed well in bright and low light, and offered a wide viewing angle.
Amazon Echo Smart Speaker (3rd generation)
The deal: $60 at Target
This price represents a significant discount over the Echo's regular $100 price, but Amazon smart speakers are likely to be widely discounted this holiday season. Consumer Reports hasn't tested the latest version, but our testers like the ease of use and versatility of the previous generation model, while its sound quality ranked behind the best-sounding smart speakers.
Amazon Echo Show 5 Smart Speaker
The deal: $50 at Target
That's a significant drop from the $90 list price, although the Show 5 is likely to be discounted at other retailers during the holiday season. Consumer Reports hasn't yet tested the Echo Show 5, but our testers did like the sound of the larger and more expensive Echo Show, calling it the best-sounding Amazon product they'd yet listened to.
Ultimate Ears Wonderboom Speaker
The deal: $40 at Target
CR's test results: Ultimate Ears Wonderboom
The price is right—the $40 sale price is half off the normal $80—which brings this speaker into the stocking-stuffer range. However, the Wonderboom didn't fare particularly well in our sound quality testing, with a midrange that's "thin, gritty, and a bit echoey." If you're willing to trade sonics for a low price, our testers did find the Wonderboom to be quite easy to use.
Amazon Echo Dot Smart Speaker
The deal: $22 at Target
CR's test results: Echo Dot (3rd generation)
Target's price is much lower than the $50 list, but expect the Echo Dot to be discounted quite widely this holiday season, too. Our testers gave this latest Echo Dot Alexa-powered smart speaker high marks for ease of use and versatility, but while the sound quality was improved over the previous model, it still falls far below the best-sounding smart speakers.