When you shop through retailer links on our site, we may earn affiliate commissions. 100% of the fees we collect are used to support our nonprofit mission.
Learn more.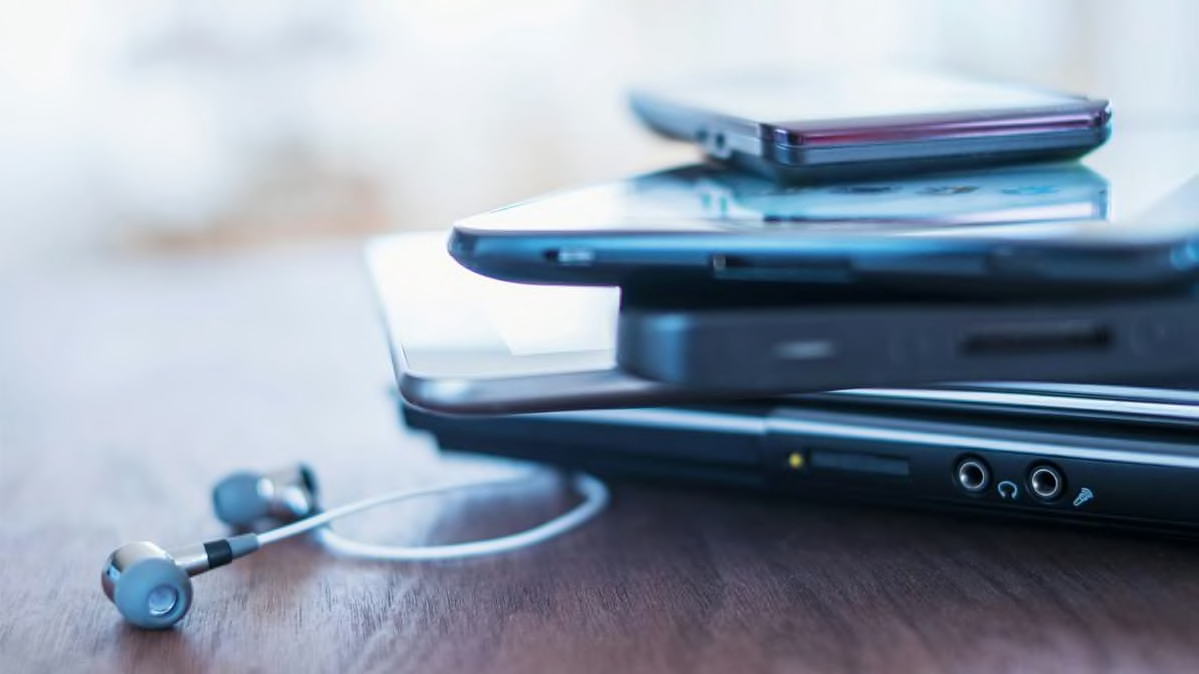 As the holiday shopping season approaches, you're probably wondering how to pay for all those shiny new gifts. You might want to start by taking a look around your home.
All your old smartphones, laptops, cameras, and tablets can earn you hundreds of dollars in sales in a digital marketplace. In fact, given the growing pool of online and mobile platforms devoted to such sales, it has never been easier to turn your unwanted gadgets into cash.
Before you go and sell yourself short, though, note that you can significantly increase your payouts with a little extra legwork.

The quickest way to unload all your gadgets is to use a buyback service, such as Decluttr, Gazelle, or TradeMore.
You simply go to the website, identify the make and model of the item you wish to sell, rate the condition it's in, and receive an instant valuation. If you like the price, you print the free shipping label, box up your device, and send it off in the mail. Gazelle will even accept items in one of the 2,700 ecoATM kiosks located across the country.

After the buyback company receives the item—assuming it passes inspection—you get paid the quoted amount via check, direct deposit, PayPal, or gift card.
"We're often likened to the Lazy Man's eBay," says Liam Howley, group marketing director at Decluttr.
These buyback services services tend to shell out the biggest bucks for popular devices that fit neatly into a cardboard box. Think smartphones made by companies such as Apple and Samsung. Buyback companies are far less open to old TVs, cameras, printers, and sound bars. Laptops not made by Apple don't tend to fetch big sums, either.
If an item you send off fails to pass inspection, you can either accept a lower price for it or request that the service send it back to you free of charge.
Sell It Yourself
If you don't mind doing a little more work, you get a better return by pitching your gadgets directly to other consumers.
If you don't feel like going through the hassle of arranging payments, boxing up items, and shipping them off in the mail, opt for services such as Craigslist, Facebook Marketplace, Letgo, and OfferUp—they function sort of like classified ads.
That means they make your sales pitch available to people within driving distance of your home. In many cases, these companies don't charge listing fees.
Just be prepared to handle the final transaction face-to-face with the buyer—and ideally in cash. Peer-to-peer payment apps such as Apple Pay and Venmo prohibit commercial use, and scammers have been known to take advantage of that loophole, canceling the transaction when you thought it was complete.
Reluctant to do business with a stranger at your home? That's when you turn to eBay or Mercari, marketplaces that require you to do a little more work but permit you to handle financial transactions via PayPal and delivery through the post office.

You might have to spend more time taking photos and working on the listing, not to mention ironing out the payment and shipping details, but the rewards can be significant.
"Your items are connected with the millions of people using the app in all 50 states," says Jordan Barnes, senior director of brand and public relations at Mercari. "And there are no meetups, never a need to meet with strangers."

The buyback services offer $160 to $230 for an unlocked, fully functioning, mostly blemish-free iPhone 7. On eBay, the very same product could demand closer to $300, before shipping and seller fees are factored into the price.
Tips to Get More for Your Tech
Be proactive about selling. "The best time to sell something secondhand is the moment you realize you don't need it," says Jon Lowe, head of communications at Letgo. That not only reduces clutter but also gets you the highest price, because tech products tend to decrease in value from one year to the next.
Protect your privacy. Before you sell a digital device that once housed personal data, perform a factory reset to scrub it clean. You don't want bank account info, family images, or your browsing history lingering on the machine and in the hands of someone you don't know.
Presentation is key. "Better photos get you better offers," Lowe says. Before snapping the picture, find a spot with good light and an uncluttered background. Put smaller items, such as headphones or a smartwatch, on a solid-colored rug or bed.

Price fairly. Set a price that's competitive with other products in the marketplace. Some experts say bundling shipping costs can help your gadgets sell faster, too.
Be honest. While it may be tempting to fib about the product's description, you're only inviting trouble. If you get labeled a con artist in a review, you won't be earning top dollar in future transactions. By including crucial details in your description, you also shield yourself from paying for return shipping if the buyer isn't satisfied with the product.