When you shop through retailer links on our site, we may earn affiliate commissions. 100% of the fees we collect are used to support our nonprofit mission.
Learn more.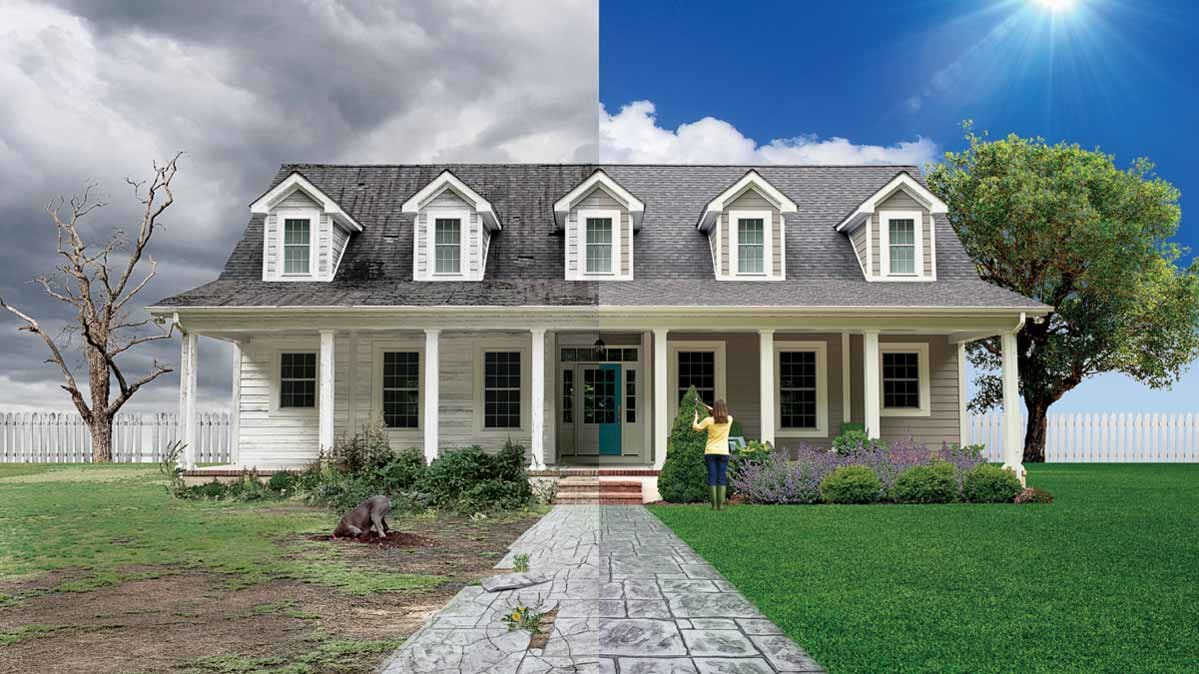 Photo-Illustration: Eric Heintz
Be it ever so humble, your home is always going to need upkeep. Beyond just making a good impression, tackling projects that might seem purely cosmetic can actually save you money. Ignore peeling paint or a deck that needs staining, for instance, and you could end up with rotted siding, cracked decking, and a repair bill that runs into the thousands.
Our expert tips and ratings on the best exterior paints, wood stains, and lawn mowers make boosting curb appeal easy. Get ready for the big reveal.
How to Paint Like a Pro
Water-based paints have become more durable and less prone to cracking and fading in the past decade. A number of our top picks will look good for nine years or longer. Most cost $30 or more per gallon but last longer than the cheapest paints we've tested.
Here, CR test engineer Rico de Paz shares his tips for doing the job right if you decide to do it yourself.
Prep. Clean with gusto. Use a pressure washer and a detergent, such as Red Devil TSP, to clear dirt. Remove peeling and cracked paint with a hand scraper or power sander.
Brushes. Use a 3- to 4-inch-wide flat paint brush for siding and a 2-inch angled sash brush for cutting in and trim. Synthetic bristles work better than natural with water-based paints.
Weather. Direct sunlight can cause paint to dry too quickly and not adhere properly. In summer, start painting the west side of your house in the morning; the east, in the afternoon.
Technique. Use long, smooth strokes, applying paint on a small area at a time. You don't have to prime if you use self-priming paints, but apply two coats for best results. Keep a wet rag handy to wipe away drips and drops. Don't wash brushes if you plan to paint the next day. Instead, cover them with plastic wrap and they'll be ready to go again the next morning.
Pick a Winning Color Palette
The right color can boost the curb appeal of your home and may even increase its selling price. The real estate website Zillow analyzed 32,000 images of homes across the U.S. and found that those painted grayish beige, or "greige," sold for nearly $3,500 more, on average, than similar homes in medium brown or taupe.
The front door is an easy spot to add personality—and it's easy to repaint if you change your mind. Here are favorite greige palettes from paint company pros for the exterior, trim, and doors, with advice on how to find just the right colors—whether you're into neutrals or you prefer a bolder palette.
Clark+Kensington
Exterior: Baby Elephant 3052
Trim: Natural White CW-W1
Front door: Magnetic Force 5022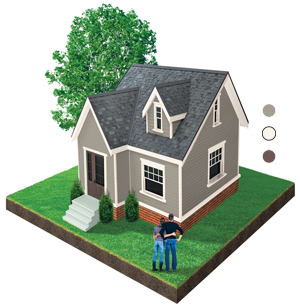 Benjamin Moore
Exterior: Coventry Gray HC-169
Trim: Snow White OC-66
Front door: Gentleman's Gray 2062-20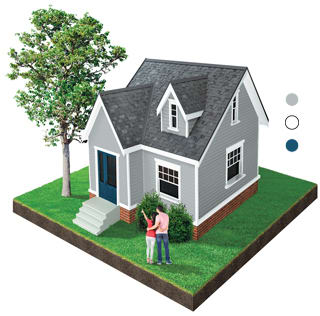 Behr
Exterior: Off the Grid T18-08
Trim: Soft Focus T18-09
Front door: Spiced Berry S150-6 or Civara T18-02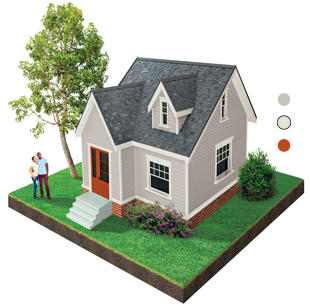 Take photos of your house from various angles and at different times of day, says Erika Woelfel of Behr. Study the pictures to get a fresh perspective. You'll notice elements you want to highlight and others you want to hide. You can upload your photos to Behr's ColorSmart website, where you can "try on" different paint palettes.
Other paint companies offer online color tools as well. Valspar's site, for instance, also lets you upload photos of your house, and its Ask Val website will suggest palettes to choose from after you fill out a questionnaire and share any inspiration you've found on Pinterest.
Once you've narrowed your options to two or three shades, buy samples, says Andrea Magno of Benjamin Moore. If you don't want to paint patches of your exterior, paint foam-core boards and move them to different spots. Note how the color looks at various times of day and with other elements of your home.
Work with—not against—your home's surroundings, says Sue Wadden of Sherwin-Williams. There's a reason charcoal gray, navy, and hunter green are widely used in areas with pine trees, mountains, and sea access, and terra-cotta reds, burlap, and rust colors dominate in desert areas.
How to Stain Like a Pro
CR tests and rates solid, semi­transparent, and clear stains. Solid stains hide all but the texture of wood grain and are usually the most durable. Clear sealers are ideal for showing off a beautiful wood's natural grain, but they need to be reapplied every year.
Prep. Your surface has to be free of dirt for stain to adhere properly. Sand splintered spots. Apply a deck cleaner and use a hose (or a pressure washer to save time). Allow the deck to dry completely.
Brushes. Synthetic brushes are best. Prefer a roller? Use one with a ¼-inch nap.
Weather. Don't work in direct sunlight. The stain will dry before the wood is able to absorb it.
Technique. If you're using several gallons of stain, mix them to ensure a consistent color. Apply a thin coat to two or three boards at once, using long, smooth strokes. (Two coats will give a more uniform finish.)

Safety Alert: Rags soaked with an oil-based stain can heat as they dry and spontaneously ignite, says Susan Bershad, a senior engineer with the National Fire Protection Association. Allow these wet rags to completely air-dry individually outdoors, either on the ground or on a metal rack. Once the rags are completely dry, put them in the trash on collection day.

Editor's Note: This article also appeared in the June 2018 issue of Consumer Reports magazine.