When you shop through retailer links on our site, we may earn affiliate commissions. 100% of the fees we collect are used to support our nonprofit mission.
Learn more.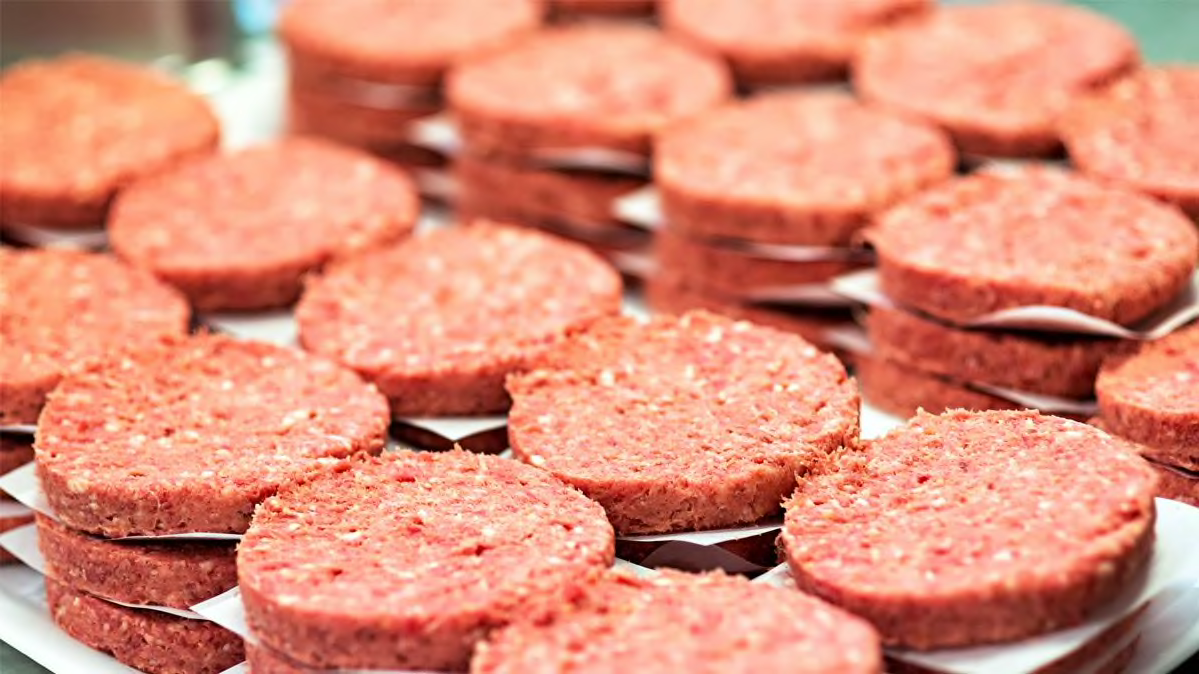 Update June 21, 2019: The Centers for Disease Control and Prevention has declared this outbreak over. In total 209 people became ill with an E. coli infection and 29 were hospitalized. There were no deaths. According to the agency, people who were affected ate ground beef from many sources and no common supplier, distributor, or brand was identified. If you have any of the recalled beef in your freezer, you should not use it.
Over 100,000 pounds of ground beef shipped to restaurants have been recalled because of possible contamination with E. coli O103, the U.S. Department of Agriculture's Food Safety and Inspection Service (FSIS) announced this week. The beef is from the Georgia-based K2D Foods, also known as Colorado Premium Foods. The recalled ground beef was sold only to restaurants, so it isn't in grocery stores.

It's not yet clear if the recalled beef is involved in an ongoing 10-state outbreak of E. coli O103, which has infected 156 people to date, according to the Centers for Disease Control and Prevention (CDC). People with infections in the ongoing outbreak said that they ate ground beef both in restaurants and at home.
The strain of E. coli involved is what's known as a shiga toxin-producing E. coli (STEC) that not only causes typical food poisoning symptoms, such as stomach cramps, diarrhea, and vomiting, but also can lead to organ damage in a small percentage of cases.
The ground beef involved in the recall was sent to two distributors in Florida and Georgia, and from there it was shipped to various restaurants. The beef was delivered in vacuum-sealed packages with "use thru" dates ranging from April 14 to April 30.
Of the 113,424 pounds of meat recalled, only around 21,000 pounds have not yet been returned or disposed of, Bernie Ruesgen, vice president of Colorado Premium Foods, told Consumer Reports.

The contaminated beef was identified after it was discovered that multiple patients who tested positive for E. coli O103 in the ongoing outbreak had gone to the same restaurant in Tennessee, FSIS told Consumer Reports. Testing of the restaurant's unopened packages of beef, which came from K2D Foods, was found to be contaminated with E. coli O103. However, that beef has not conclusively been determined as the cause of the patients' illnesses.
FSIS and other agencies, including the CDC, are continuing to test the beef from K2D Foods to determine if it is related to the ongoing outbreak. While K2D beef has been recalled, investigators are not yet ready to link the company's ground beef to the illnesses in the E. coli O103 outbreak. No supplier or brand of ground beef has been conclusively linked to the ongoing outbreak, the CDC says.
Ground Beef Is Particularly Risky
Numerous E. coli outbreaks in the past few years have been traced back to ground beef, including one in September 2018 that sickened 246 people in 25 states.
"This type of meat is particularly susceptible to bacterial contamination because of the way it's produced," says James E. Rogers, Ph.D., director of food safety research and testing at Consumer Reports. A package of ground beef often contains meat from many different cows. That means if the meat from one cow is contaminated, the bacteria can get mixed into a lot of batches of ground beef. And compared with steaks, where any bacteria present is only on the surface of the meat, any bacteria in ground beef is distributed throughout.
That's why it's important to handle ground beef with care: Always cook it to a safe internal temperature of 160° F—which is well done—and be sure not to let cooked ground beef touch any utensils that were used to handle it when it was raw.
What You Should Do
The name of the distributors that received the recalled ground beef from K2D has not been released, so it's not clear which restaurants received the products involved in the recall.
If you're heading out to eat in Florida or Georgia—or possibly in nearby states such as South Carolina and Tennessee—ask the restaurant if they source their ground beef from K2D or Colorado Premium Foods, Rogers says, or if they source their ground beef from a distributor involved in a recall. "If they don't know, then consider not eating dishes made with ground beef, such as hamburgers," he says.

The Details
Products recalled: 113,424 pounds of raw ground beef products. The products were shipped to two distributors in Florida and Georgia and then sent to various restaurants. The beef came in two 24-lb. vacuum-packed packages in cardboard boxes containing raw ground beef with "use thru" dates of April 14, April 17, April 20, April 23, April 28, and April 30. The boxes have the establishment number 51308.
The problem: The meat tested positive for E. coli O103, which can cause symptoms including stomach cramps, diarrhea, and vomiting.
The fix: FSIS says that restaurants should throw away or return the products. Customers should be sure to only eat ground beef that has been cooked to an internal temperature of 160° F.
How to contact the manufacturer: Consumers with questions regarding the recall can contact Ashley Barnes, Customer Service Director, Colorado Premium Foods, at 970-313-4400.